"Good looking means good money!" reads a tweet about Japanese volleyball player Saori Kimura's salary, posted Monday by the sports account of state-run Xinhua News Agency. Attached to the tweet is a collection of photos of the player, one of which has been digitally manipulated to increase the athlete's chest size.
To followers of Xinhua Sports' Twitter feed, the post's choice of language and imagery won't come as much of a surprise. The account, which is Twitter-verified and managed in English, covers both domestic and international sports news, and has a history of publishing content that focuses on the bodies of women, be they professional athletes, spectators, sporting events staff, or pregnant women doing yoga.
An image (left) of Japanese volleyball player Saori Kimura, and the digitally augmented version (right) posted by Xinhua Sports' Twitter account on Sept. 19, 2016.
Such content littered the account's coverage of the 2016 Olympic Games earlier this year. In a post that invited the account's 198,000 followers to "Meet Russia's only track & field athlete allowed to compete at #Rio2016," three of four photographs showed long jumper Darya Klishina relaxing in bikinis. According to Xinhua, "hot Danish swimmer" Pernille Blume was one reason you needed to tune into the Olympics, while the "secret weapons in Olympic beach volleyball" — hand signals behind the back — were depicted with close-up shots of female players' buttocks.
"In the past we have posted such images, but this isn't where our concentration lies," said Cao Jianjie, the newsroom director and spokesperson for Xinhua Sports. Cao is also operational director of Xinhua's various social media accounts, both domestic and global. "With our accounts, we're not trying to be eye-catching," he told Sixth Tone, adding that working for a government news agency meant that staff don't need to worry about increasing followers or attracting revenue since their salaries are secure.
Cao, who authored and subsequently removed a notorious Xinhua Sports tweet that expressed in flippant language disbelief that Great Britain had overtaken China in gold medals, said he has in the past stepped in and deleted tweets he believed to be inappropriate. Following the tweet about "hot Danish swimmer" Blume, he received a number of complaints, including feedback from Xinhua News Agency's headquarters, but in the end he decided to "let it go, as it had been viewed a great many times." Cao envisages in the future he will pay more attention to whether Xinhua has the rights to certain photographs, in accordance with a new company policy that forbids the use of images taken from the internet.
The frequency with which women appear on Xinhua Sports' Twitter feed may be a sign the outlet is trying to deliver balanced news of the achievements of male and female athletes, said Daniel Wilkinson, a project manager at a Shanghai-based marketing agency that manages the social media accounts of a number of Chinese companies. "But it's not quite hitting the mark in terms of gender equality standards," he told Sixth Tone.
China's state media sports coverage is not alone in its pandering to heterosexual male demographics. On Aug. 22, The Guardian published a "medal table of sexism" ranking news outlets according to their sexist treatment of women during this year's Rio Olympics. All of the offending media organizations were British or American.
Xinhua Sports' Twitter account, which was launched in May 2016, is managed in-house by a largely Chinese staff and a small number of "foreign expert consultants," according to Cao. Wilkinson believes this in-house management is one of the reasons Xinhua Sports' approach to depicting female athletes seems at odds with a Western audience's expectations of tastefulness. "If you are trying to penetrate the markets, media, and societies of other cultures," he said, "it's time to learn what is acceptable and what is not in those cultures."
Cao acknowledges there is a lack of cultural sensitivity among his team, citing his experience managing Xinhua Sports' Facebook account as an example. During the Rio Paralympics, Cao told Sixth Tone, he would frequently change the wording of posts that placed emphasis on athletes' disabilities ahead of their performances. "You might not think you have offended anyone," he said, "but actually you're wrong."
Unlike Facebook posts, tweets cannot be edited, which in terms of follower engagement isn't necessarily a bad thing. Sex sells, said Wilkinson, noting that posts with an "eerie focus" on the exteriors of female athletes "still rank as some of the page's more popular content in terms of likes and retweets."
Xinhua Sports' Chinese-language counterpart on microblog platform Weibo is noticeably devoid of sexualized imagery, and posts focus much more on domestic sports news. Xinhua Sports' Facebook page mirrors much of the same content as its Twitter account.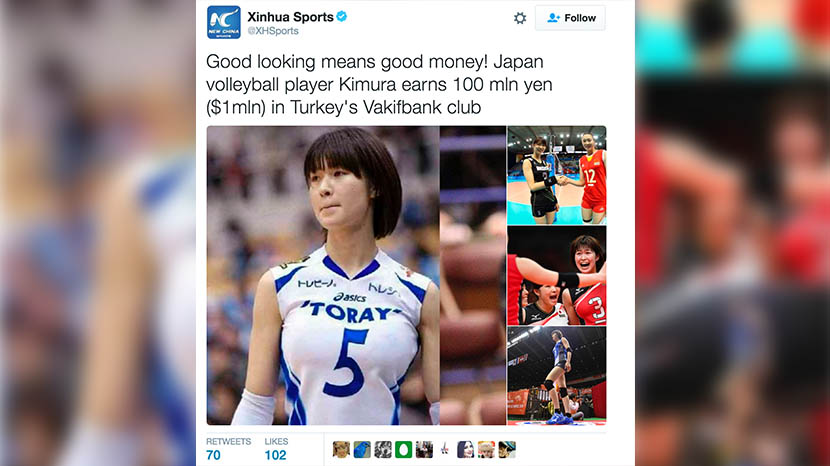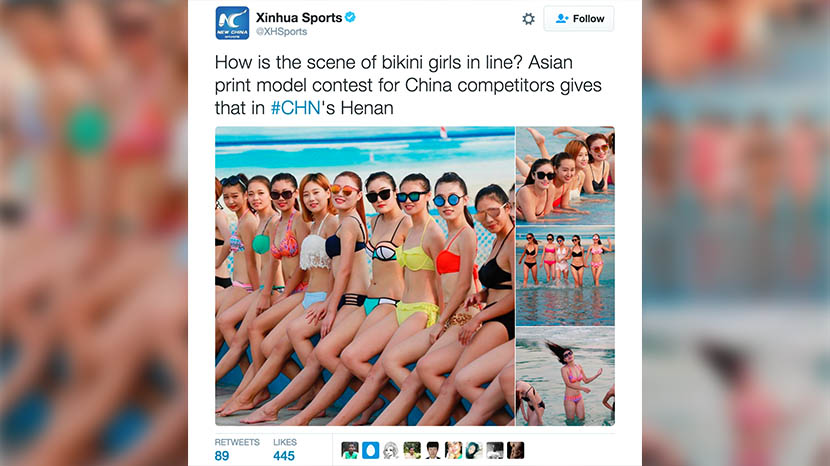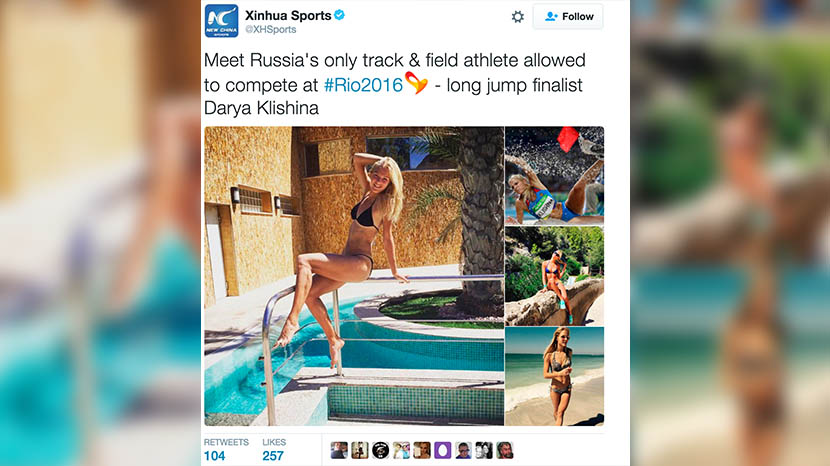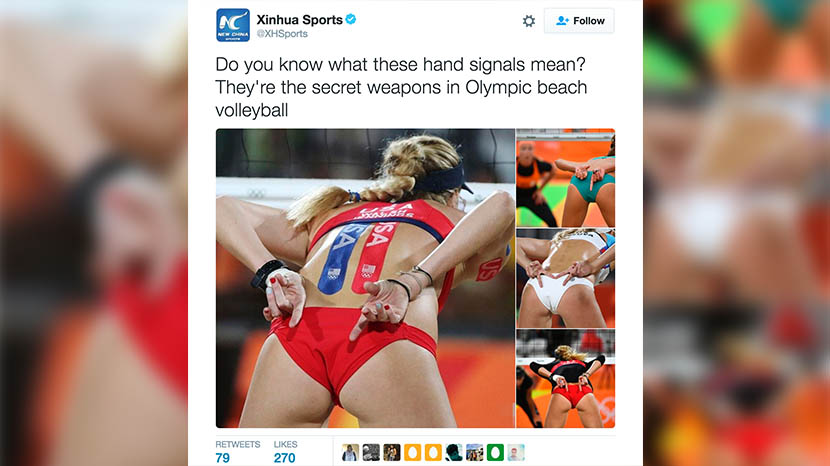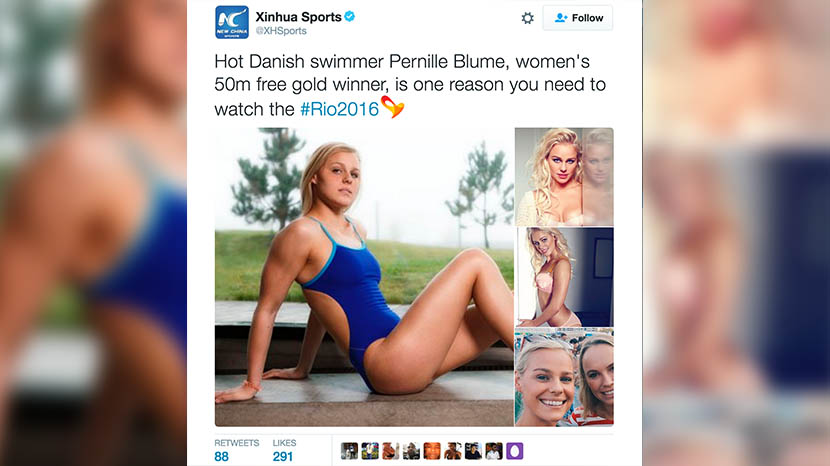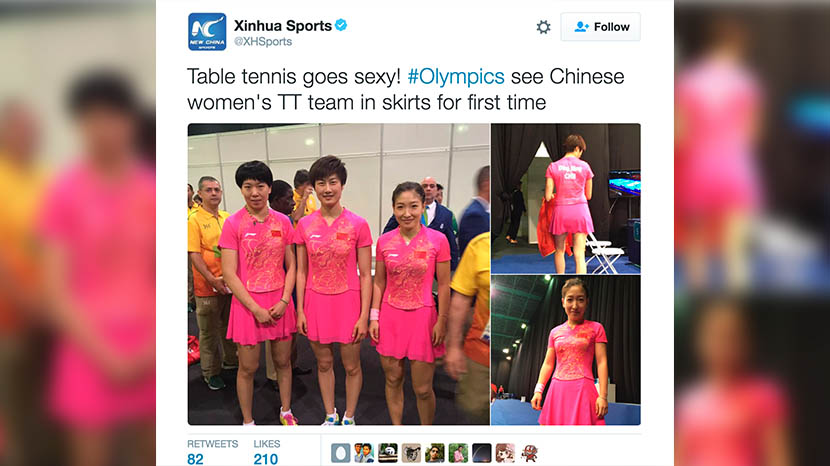 Xu Hui, a retired professional fencer and national champion, told Sixth Tone social media posts like the one depicting the Japanese volleyball player were inappropriate and made her feel like she was looking at pornography. Such coverage, she said, "puts too much emphasis on sexiness and ignores athletes' physical abilities."
Xinhua Sports' Twitter audience, however, is divided. "Where are your socialist core values now, Xinhua?" asked user Frankonomic in response to the account's decryption of volleyball players' hand signals via photos of their backsides. "I have never seen a more obvious excuse to post a bunch of lady butts," wrote user Rory Binks under a similar post.
But such criticism is outweighed by excitement. "Beauty," was the reaction of user MollyMok to a post about the Chinese women's Ping-Pong team's new skirts. That post began with "Table tennis goes sexy!" User Joao showed approval to another volleyball tweet, commenting: "I love Xinhua news, you guys are funny."
On Aug. 8 Xinhua News panned sexist coverage of the Olympics in an article titled "Most equal Olympics marred by lingering sexism at Rio 2016." The article drew attention to the fact that in terms of gender representation, this year's Olympics were "officially the most equal in history," but went on to criticize comments made by audience members and commentators about the appearance of female athletes. Regarding online sexism surrounding the games, the article said "such social media criticisms are difficult, if not impossible, to eradicate."
As to whether Xinhua Sports will eventually eradicate sexualized portrayals of women from its social media strategy, Cao said they would not be taking an all-or-nothing approach. "I'll oppose pictures of women wearing next to nothing," he said, "but if, for example, a volleyball player who is tall and in good shape takes part in something like a fashion show — in which case she'd be wearing a bikini — there's a possibility that I might post that."
This article has been updated to clarify comments made by Cao Jianjie about the operation of Xinhua Sports' Facebook account.
Additional reporting by Fan Yiying. With contributions from Darnell Gardner Jr.
(Header image: Zhang Changning of the Chinese women's volleyball team during a game against the United States at the 2016 Rio Olympics, Brazil, Aug. 14, 2016. Yves Herman/Reuters/VCG)