Chinese customers of ride-hailing app Uber have been getting their ride requests answered by scammers who have come to be known as "ghost drivers," Sixth Tone's sister publication The Paper reported Sunday.
With profile photos that look like they've just stepped off a horror movie set, the ghost drivers scare passengers into cancelling their trip, meaning they will owe the driver a few yuan for their troubles.
Another scamming method used by the ghost drivers is accepting rides, saying the passenger has entered the vehicle, and cancelling the trip. The customer will have been taken for a ride worth a few yuan without noticing. Either way the ghost driver wins.
Zhang Kun wanted to catch an Uber ride home with a friend on Sunday evening in Zhengzhou, capital of Henan province in central China. The 24-year-old told Sixth Tone that a ghost driver popped up on the screen. "I was scared to death," Zhang said, adding that he would never use Uber again.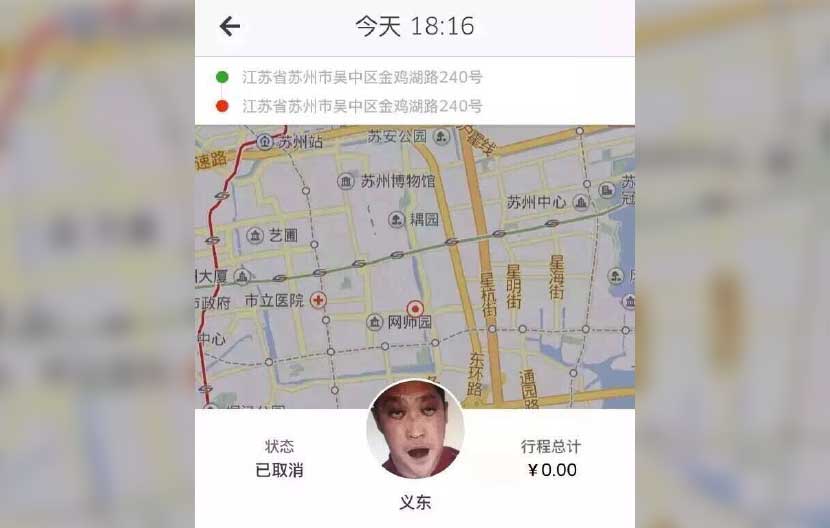 A screenshot shows the profile photo of an Uber 'ghost driver' and a cancelled trip.
Zhuang Chunhui from Uber China's public relations department told Sixth Tone that the company is working to put a stop to the phenomenon. "We are collecting all kinds of evidence and will pass them on the public security department," she said. Zhuang added that users can report incidents to customer service and that the company would refund the fees.
Zhang Kun's run-in with a ghost driver cost him 4.20 yuan ($0.60), which Zhang said was such a small amount he didn't bother to report the incident.
Chinese net users have taken to microblog platform Weibo to complain. "How did they get through screening with such profile pictures?" asked one commenter. "Uber is responsible, but it's more on people being dishonest and resorting to tricks!" wrote another.
China's ride-hailing industry is in the middle of a transformation. The Ministry of Transport in July announced new regulations to go into effect in November, which stipulate that prospective drivers must have held a license for at least three years before being hired, and may not have a record of violent crimes, dangerous driving, or drug abuse.
Market leaders Uber China and domestic rival Didi Chuxing merged on Aug. 1, raising fears among both drivers and passengers that the lack of competition would bring an end to subsidized rides. The merger has also been followed by complaints that Uber's customer service isn't operating as it should.
The Shenzhen Evening News reported on Monday that a government probe of ride-hailing drivers and their cars in the southern Chinese city found thousands of irregularities.
Among the drivers whose papers were not in order, 40 turned out to be wanted for crimes, and 2,191 had criminal histories that included major crimes or drug abuse. The licenses of 1,479 drivers were "abnormal," and more than 6,000 cars did not meet standards — some 660 to the point that they were considered ready for the scrap heap.
The numbers were made public during a meeting of the Shenzhen arm of the Chinese People's Political Consultative Conference, a political advisory body, on Sunday. The city government compiled the statistics in August.
In theory, ride-hailing apps have a safety advantage over traditional taxis because they leave traceable records of all rides. But users complain they frequently encounter drivers or cars whose information — such as their car's license plate — does not match the information they receive on the app.
A flurry of incidents involving ride-hailing drivers and their passengers have also raised security concerns. In May, a driver for Didi Chuxing became a suspect in the death of a 24-year-old woman, his passenger, in Shenzhen.
Additional reporting by Wang Lianzhang.
(Header image: A passenger holds a smartphone displaying the Uber app, Chengdu, Sichuan province, March 24, 2016. Mo Xiao/VCG)