Golden Week offers a rare chance for many Chinese to take an overseas break. For Chinese travel services providers such as vacation rental company Tujia, the coming weeklong National Day holiday also offers the chance to go head-to-head with rival Airbnb for a greater share of the market for overseas accommodation bookings.
To succeed, Tujia must win over those Chinese travelers who are already enamored with Airbnb, and convince others to try out a vacation rental rather than tried-and-trusted hotels. It's a tall order given the popular perception of Tujia as offering a slightly dowdy, domestic-focused service, and given the novelty of vacation rentals abroad among large numbers of tourists. Tujia's name roughly translates to "the road home."
It's a fight the company hopes to win by targeting popular destinations such as Japan and Southeast Asia first, and by pumping up its marketing, particularly the liberal use of one of China's most popular promotional tools: the coupon. All told, the company expects to see a 35 percent increase in overall bookings during the upcoming Golden Week from the same period last year — including growth coming from Chinese venturing abroad.
Airbnb and its formidable branding represent a considerable hurdle to Tujia. Shanghai resident Dong Ling is a die-hard fan of Airbnb. He's off to the United States during China's upcoming national holiday, staying in homes, and he plans to book with the San Francisco-based website. "Everything on Airbnb's website looks so awesome," says the 30-year-old, who works in a carmaker's sales department. "Tujia sounds too boring — I won't give it even a glance."
A comparison of the two companies' websites in the China market offers some insight. Tujia's is somewhat more cluttered. The emphasis is on its core domestic market, and prices per night are marked clearly in bright orange. By contrast, Airbnb's slick, photo-heavy page emphasizes travel as an effortless lifestyle choice.
Screenshots of Tujia (top) and Airbnb (bottom) websites illustrate the two companies' different selling points.
This "more than just travel" element appeals to many Chinese consumers. Zhu Ran, who works in tobacco sales and lives in Nanning, in southern China's Guangxi Zhuang Autonomous Region, says vacation rentals should offer something different from a hotel stay. "You always know what to expect from a five-star hotel," she says. "But with Airbnb, you never know who you will meet, and in what environment — and that brings more surprise and fulfillment to the trip."
More than 2 million Chinese have used Airbnb to book vacation stays since it launched in 2008, according to the company.
At stake for Tujia is a chance to take some of China's large and growing market for travel and related services. According to the China Outbound Tourism Research Institute, in 2015 China had 117 million outbound tourists, who spent a total of $104.5 billion — increases of 9.8 percent and 16.6 percent, respectively, from the previous year.
National Day Golden Week is one of two key travel periods, the other being the lunar new year holiday, which is sometimes referred to as Chinese Lunar New Year Golden Week. So for travel-related companies, such periods represent important flash points for introducing new strategies and building market share.
Tujia has already won over some customers, such as Liao Weicheng, 29, who is planning to use the Chinese service when he visits Osaka, Japan during the upcoming National Day vacation period. Liao, who works in information technology in Chengdu, in the southwestern province of Sichuan, is a relatively new customer, having made his first booking on Tujia around three months ago. Prior to that, he booked hotels through prominent travel websites such as Ctrip.
"I saw the app advertised in a subway station. I tried it and found it to be good. It offers a nice price-to-quality ratio," Liao told Sixth Tone. He has never used Airbnb but says he rules it out largely because the service fees are higher than Tujia's. "Airbnb charges much more than Tujia," he says. "So far, I think Tujia is good, so I'll keep using it."
Airbnb in China did not respond to a request for comment from Sixth Tone.
Still, even Liao is a little apprehensive about using the app outside of China. He worries about whether the company's China-based customer service team can provide timely assistance should he need it.
Tujia was set up in December 2011. A valuation from just over one year ago estimated its total value at more than $1 billion. By comparison, rival Airbnb is valued at $30 billion. Tujia has been expanding through acquisitions at home, purchasing online short-stay rental platform Mayi earlier this summer. The company counts Ctrip and American listings site HomeAway, a subsidiary of Expedia, among its investors. It also partners with Singapore-based vacation rental company Roomorama.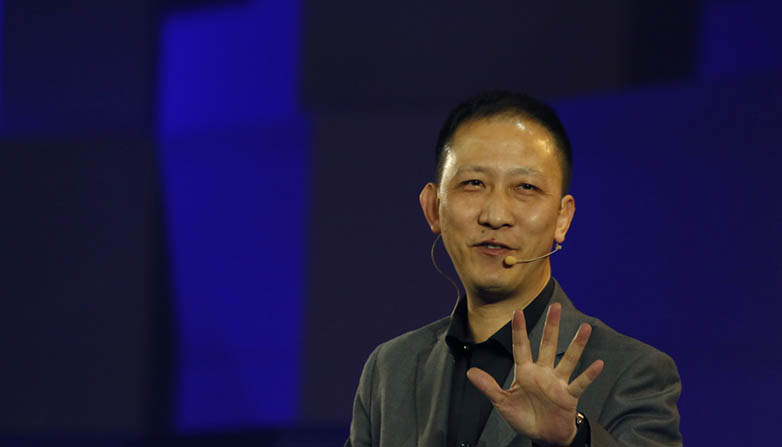 Luo Jun, CEO of Chinese vacation-rental website Tujia, delivers a speech during a conference in Beijing, Nov. 18, 2014. IC
Tujia's international ambitions hinge on a strong performance in China. But even at home, it has its critics. One Shanghai resident surnamed Wang says she rents three properties out to short-term visitors, mostly Airbnb guests. The one time she opened her doors to a Tujia customer, she had a bad experience: The visitor, a Chinese man in his early 30s, stayed for just one night, and left crayfish shells all over her carpet and a pile of dirty dishes in the sink. "As a homeowner, I prefer Airbnb," she says.
As a way to handle such complaints about guests, Tang Ting of Tujia's public relations department said the company is developing a function that allows hosts to comment on guests and vice versa.
Tujia has already developed its app in a way that more closely reflects the e-commerce environment in China, incorporating the online payment system Alipay, which is popular among Chinese consumers.
Now the company is hoping to entice more users by offering promotions. For example, during the three-day Mid-Autumn Festival, which kicks off Thursday, Tujia is offering travelers discounts as high as 50 percent on select bookings. In addition to promotions targeting hotels, discounts are also being offered on international vacation rentals.
But wherever Tujia digs in, Airbnb is sure to fight back. Ji Xiaoqing, 24, who plans to travel Spain at the end of October, says her party of five will use Airbnb. A key draw for her was the availability of a discount coupon, which allowed her to save around 1,000 yuan. "That's a big saving," she says.
When it comes to foreign expansion, Tujia says it plans to tread carefully. "We know that Airbnb is well-entrenched in the world," said Tujia's Tang. "For now, Tujia doesn't want to start a global war with it."
(Header image: A net user browses the website of Chinese vacation-rental site Tujia.com in Tianjin, June 19, 2015. IC)