The release of 6,387 sheep as part of a Buddhist ritual has raised concerns over potential threats to the local ecosystem in southwestern China's Sichuan province, Sixth Tone's sister publication The Paper reported Thursday.
News of the release surfaced Sept. 2, when Doma Yangjin posted on her Weibo microblog that nearly 100 Buddhists had donated more than 5.1 million yuan ($760,000) to buy the sheep from a slaughterhouse in Xining, the capital of neighboring Qinghai province. Doma wrote online that she had participated in releasing the animals on Aug. 30.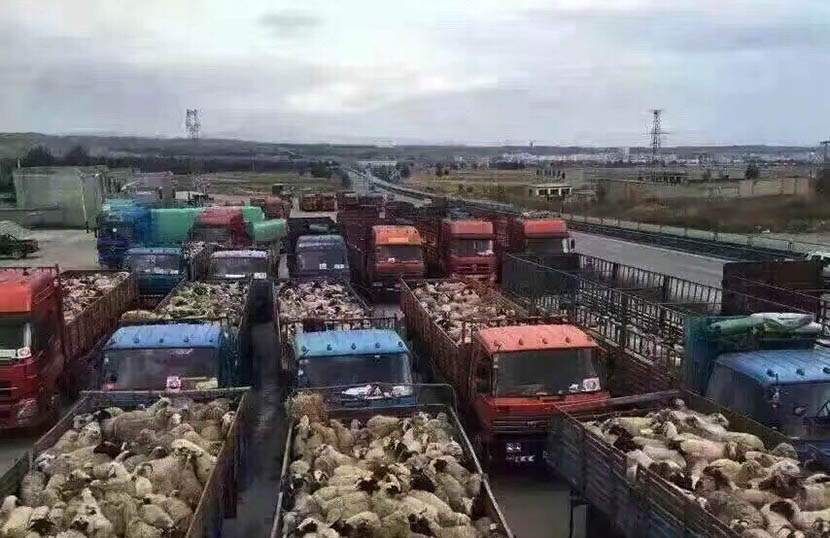 The sheep bought by Doma are transported by trucks. @DomaYangjin from Weibo
Life release, or fangsheng in Chinese, is a Buddhist tradition of freeing captive animals. Participants believe that by releasing the creatures, they earn a kind of spiritual credit. But what is meant to be a way to show compassion for animals has created a black market that critics say does more harm than good.
"Releasing animals has been a [Buddhist] practice since ancient times," Sun Quanhui, a scientific consultant with the China branch of London-based World Animal Protection, told Sixth Tone. "But the activity has now been mixed with ill intent and commercial drive."
The sheep were released on a steppe in Shiqu and Seda counties — a region mainly populated by Tibetans. According to Doma's posts, the sheep are temporarily being raised in pastures by local shepherds rather than being left free to roam. But Sun worried that some of the sheep could have fallen ill during the long trip from Xining, which would make them unsuitable for release as they could cause damage to the ecosystem.
An employee of the environmental protection bureau of Seda County who did not give his name told The Paper that this was the biggest animal release the bureau had ever heard of. The county relies on the livestock industry, and the employee said the area had already reached its capacity for accommodating sheep. The new additions, he said, would put immense pressure on the grasslands, a problem that would only worsen during the coming winter.
A Weibo user named Xireduojijushi said the event was organized by a group called Tibet Lifesaving Group. Xireduojijushi wrote that the group was founded by Tibetan businessmen.
Neither Doma nor Xireduojijushi responded to Sixth Tone's requests for comment.
Doma's account indicates this wasn't her first time at a life-release ceremony. She wrote on Weibo that she helped set 400 sheep free in June 2015.
Other netizens have reacted to the news with resentment. "No matter what kind of sheep they were," wrote one Weibo user, "their large-scale release without any restrictions poses a threat to the stability of the local environment."
Additional reporting by Dong Heng.
(Header image: Doma at a sheepfold, Sichuan province, August 2016. @DomaYangjin from Weibo)