The Rio Olympic Games may have ended two weeks ago, but Chinese audiences still can't get enough of their beloved Olympians.
Now that the sports stars are in high demand, live-streaming platforms and television series are beating a path to their doors, with propositions of fame and sometimes fortune.
Leading the pack is British television personality Bear Grylls, most famous for his TV show "Running Wild With Bear Grylls," where he invites celebrities from different fields, like U.S. President Barack Obama, actress Kate Winslet and former NBA player Shaquille O'Neal, to make guest appearances on the show.
Grylls is hugely popular in China, with nearly 2 million followers on China's microblog platform Weibo and his own survival reality television show called "Absolute Wild." Netizens have dubbed him "the man standing atop the food chain" for his voracious appetite for worms.
On Saturday, Grylls invited Fu Yuanhui, bronze medalist in the women's 100-meter backstroke swimming event, to appear on his show.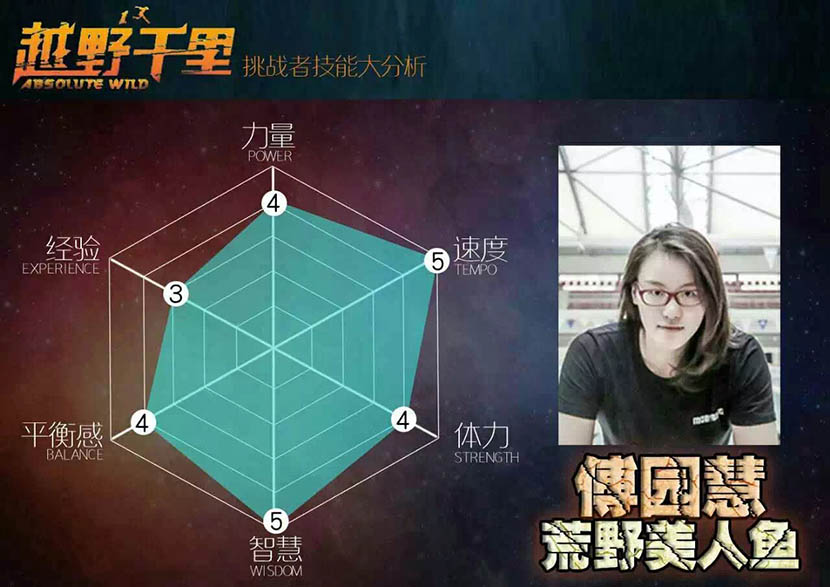 A promotional picture from 'Absolute Wild' shows Fu Yuanhui's characteristics. Courtesy of the production team
Fu charmed millions of fans around the world with her adorable personality and goofy facial expressions during her post-race interviews in Rio. One live stream of her during the Rio Olympics had 10 million viewers in one hour.
"You have conquered the pool, now nature awaits!" Grylls wrote. "It sounds like you truly are a fighter!"
In response, Fu posted: "Wow! Cool!"
In an earlier interview with One-On-One, a talk show on state-owned China Central Television, Fu said she never wanted to be a star and doesn't like the feeling of it at all.
According to the production team of "Absolute Wild," Fu has nevertheless agreed to take part in the show, joining others celebrities like Yao Ming, a former NBA player, and Robin Li, the founder of internet giant Baidu. Shooting for the show starts in September and will air on the Discovery Channel and Shanghai-based Dragon TV in the fourth quarter of this year.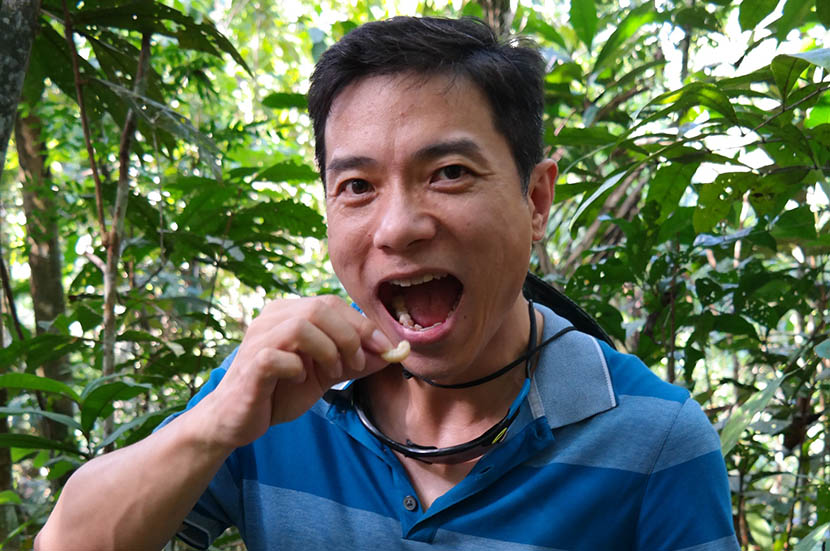 Robin Li, founder of internet giant Baidu, poses for a photo during filming of an episode of 'Absolute Wild.' From Robin Li's Tieba account
Other Olympians have also found their ways into the TV studio. Sun Yang, the winner of the men's 200-meter freestyle race, will appear on a reality show called "It Takes a Real Man," where he will subject himself to rigorous military training.
Zhang Jike, a champion table tennis player, will appear as a guest on a new episode of "Up Idol," on which he will teach a group of female entertainment stars how to play Ping-Pong.
This year's Olympic Games were somewhat of a turning point for Chinese sports. The gold medal tally was perhaps disappointing, but the athletes themselves won over millions of fans by showing their bright personalities.
Unlike previous generations of athletes, who were under the rigid control of the state-sponsored sports system, today's millennials have more access to the outside world — and through social media, the outside world has more access to them.
Deputy dean of Peking University's Institute of Cultural Studies Chen Shaofeng told Sixth Tone that because the sports system is more open than before, athletes have become stars in China. "They don't just have a better sense of humor and fashion nowadays, they also know how to attract an audience," he said.
In any case, net users can't seem to get enough. Many social media users have voiced their excitement about the coming show. "Bear! Watch out for Fu's prehistoric power," said a user of microblog platform Weibo, referring to one of the swimmer's famous quotes. "I can't wait to see a new series of her memes," said another.
(Header image: A promotional photo from 'Absolute Wild' shows Bear Grylls holding a snake. From the reality TV show's Weibo account)