In June, 54-year-old entrepreneur Li Zhenqian got a 400-page document charging him with "maliciously" copying a trademark of Chinese internet giant Alibaba. In August, the file doubled in size to 800 pages.
The documents were copies of filings Alibaba had lodged with one of China's top regulatory bodies, the State Administration for Industry and Commerce (SAIC), which oversees trademark disputes.
Alibaba argues that the name of Li's startup, Ant Tree, too closely resembles the branding of one of the group's key affiliates, Ant Financial, a major online payment and lending company whose services include the highly popular Alipay service. Alibaba owns the trademark for Ant Financial.
In the past, trademark battles involving China usually pitted big Western brands against smaller Chinese companies, with the foreign company usually crying foul that their brands or trademarks had been copied. But this case has a Chinese company at odds with a compatriot firm, highlighting the growing power of Chinese brands and an increased desire by owners to protect them.

Left: Ant Tree's company logo. Right: Ant Financial's company logo.
It also points to a worrying development: After a decade of exponential growth, internet companies in China — particularly the "big three" of Baidu, Tencent, and Alibaba — are rapidly monopolizing the digital lives of Chinese consumers, effectively throwing up road blocks to the field's new entrants, such as Li and Ant Tree.
Ant Tree was launched about a year ago as an online service provider that uses artificial intelligence to help companies manage incentive programs for their staff. Li said the name of the company was inspired by mayi shang shu, a famous Sichuan dish of sauteed vermicelli with spicy minced pork whose characters literally translate to "ants climbing a tree."
"It hurt me so badly to be branded a malicious trademark copier," said Li, who hails from Dalian in the northeastern Chinese province of Liaoning.
Despite urging from his family and friends, Li told Sixth Tone that to bow to pressure from Alibaba would mean wasting years of preparation and 2 million yuan (around $300,000) in seed money. In addition, his legal advisers were optimistic, assuring Li he had a 95 percent chance of winning the case.
Li decided to proceed with the suit and take on Alibaba.
After a round of fundraising in April this year, Ant Financial had a valuation of around $60 billion. The company was spun off from Alibaba when the latter became listed on the New York Stock Exchange in 2014. Both companies are led by prominent entrepreneur Jack Ma, and the Chinese sovereign wealth fund China Investment Corp. is a key investor in Ant Financial.
By comparison to its similarly named counterpart, Ant Tree is miniscule. It makes no money, attracts few clients and has about a dozen people on its payroll.
Alibaba doesn't see the situation as a case of David versus Goliath. Grace Liu, an Alibaba spokeswoman, told Sixth Tone that the company is fighting the case with due respect of law, customer interests, and corporate branding. "All companies are equal under the law, and this is not about one company bullying another, either in fact or theory," she said.
Li's confidence in his chances can be attributed in part to a sweeping government campaign steered personally by Premier Li Keqiang. Dubbed "Mass Entrepreneurship and Innovation," it intends to create more jobs and clear hurdles to make it possible for more people to climb the wealth ladder.
"I was truly scared to see the first stack of legal papers from Alibaba — just to think about all the marketing and promotion we had done around the Ant Tree name, and the confusion our clients would feel if we had to drop the brand all of a sudden," Li said.
Under Chinese trademark law, new applications are subject to a three-month vetting period during which any party can raise an objection to the regulator, SAIC. In the case of a dispute, a hearing committee from SAIC's trademark department will take charge and resolve the matter, usually within a period of six to 18 months.
Jack Ma, founder and chairman of Alibaba Group, gestures during a talk at the SoftBank World 2014 conference in Tokyo, Japan, July 15, 2014. Kiyoshi Ota/Bloomberg via Getty Images/VCG
Li Feifei from Beijing RocSail Intellectual Property Agency, which represents Ant Tree, said victory hinges on two factors: whether Alibaba has been registered across all 45 categories of trademarks in China, including 34 for products and 11 for services, and, if not, whether it has been certified for "special protection." This is where well-established companies that provide reputable, high-quality goods and services are given the distinction of "China famous brand" by the SAIC's trademark authorities.
Alibaba's Liu told Sixth Tone that despite its quick ascent to prominence in just the past few years, Ant Financial has not yet been named a "China famous brand," but indicated the company has plans to apply.
Liu added that Alibaba is in the process of expanding Ant Financial's trademark registration to cover all 45 categories. "There are many companies in China using trademarks and corporate names that are the same or similar to Ant Financial," she said. "It's confusing to customers and brings a high risk of deception, given that we operate a financial business."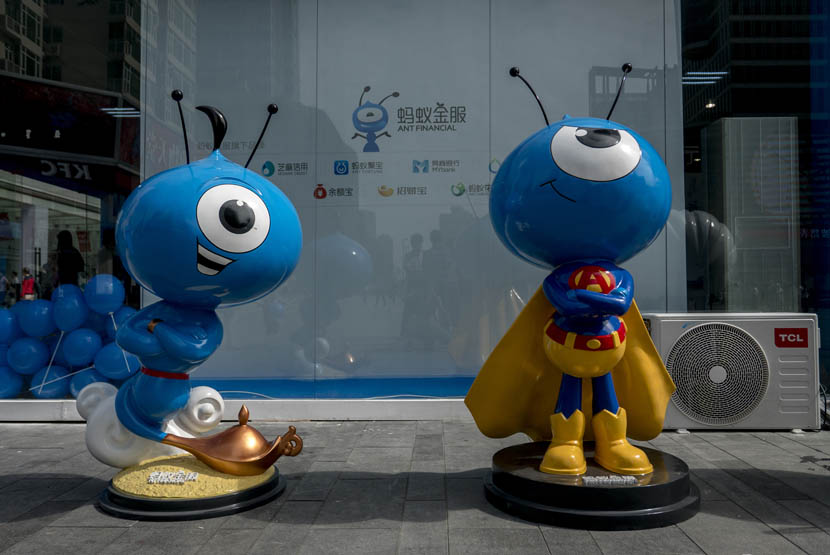 Ant Financial mascots at an exhibition in Chengdu, Sichuan province, Sept. 13, 2015. Zhang Peng/LightRocket via Getty Images/VCG
Shi Shuai, a sales consultant for an intellectual property agency based in Shanghai, said Ant Tree is just taking advantage of a loophole in China's trademark law. Shi said the smaller company obviously resembles the branding of Ant Financial, even though it operates in a totally different business sector. "Ant Tree shouldn't get away with this just because Ant Financial isn't fully covered across the 45 categories of trademark registration, or because it [Ant Financial] doesn't have a piece of paper saying it's a household brand in China," he said.
Shi described the act of intentionally registering a trademark before its "true" owner could do so as unethical speculation. He also added that doing so in China was becoming increasingly difficult due to closer scrutiny by authorities.
Li already owns Dalian Teslaman HVPS, a company that makes high-voltage electrical switches, with an annual revenue of around 20 million yuan ($3 million). He picked the name "Ant Tree" nearly three years ago when Ant Financial was still relatively unknown, which explains his trademark's approval in the SAIC's initial rounds of screening.
After the SAIC hearing, any party unhappy with the verdict can, at any point in the next six years, take the case back to court by appealing the initial ruling. When big brands fail to convince the SAIC or, in the case of lawsuits, the courts, they tend to offer big payouts. In 2012, Apple acquired the iPad trademark from Proview, a Shenzhen-based LCD maker, for $60 million. Two years ago, Tesla Motors also won back the right to use its brand in China from Zhan Baosheng, a Guangdong province-based merchant, for an undisclosed sum of money.
The SAIC hearing for the battle of the ants will take months, possibly years, to conclude. In the meantime, Li is hoping for some kind of truce that will allow Ant Tree and Ant Financial to coexist. "But if we fail in the hearings," he said, "I will definitely take Alibaba to court."
(Header image: A man speaks on his mobile phone in front of Alibaba's corporate headquarters in Hangzhou, Zhejiang province, June 25, 2015. Liang Zhen/VCG)