When the Yueyang Green Chemical Industrial Park opened its doors in 2003, there were great hopes for its future, and for good reason: China's economy at the time was booming, and the demand for chemicals seemed to know no bounds. More than a decade later, the park — located in a suburb of Yueyang, a city in the central Chinese province of Hunan — is suffering from industry overcapacity, sluggish demand, and increasingly strict regulations aimed at cleaning up polluting industries.
On a recent July morning, Xiong Xiaolai was chain-smoking between bouts of cleaning. Dressed in light blue worker's overalls, the 62-year-old is just one of two cleaners left on staff at the park. Five years ago, there were around 10. "Many factories have stopped production altogether," Xiong said. The park, which is primarily home to privately owned companies, aims to have a production output to the value of 200 billion yuan (around $30 billion) by the end of this decade. But last year, the park achieved less than half of that amount, at around 98 billion yuan. Around one-third of the park's chemical-producing machinery currently lies idle, according to officials there.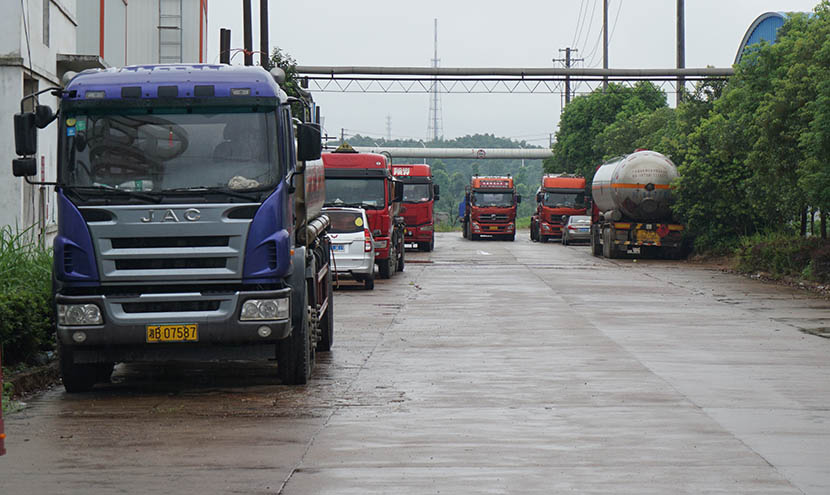 Several vans park inside the Yueyang Green Chemical Industrial Park, Yunxi District, Yueyang, Hunan province, July 13, 2016. Feng Jiayun/Sixth Tone
Attracting new investment is also a hard sell, in part because of the depressed investment environment brought about by general economic gloom. Xiong said his son, who works in the research division of one of the chemical companies in the park, hasn't had a salary review in three years, and earns around 3,000 yuan each month. Xiong also said delays in the payment of wages to chemical factory workers in the area is not uncommon. "The financial situation has deteriorated in recent years," he said, referring to the companies in the park.
In 2010 China became the largest producer of chemicals by value. Today the industry employs millions of people nationally and accounts for as much as 13 percent of China's GDP. Main chemical products produced include fertilizers, plastics, and synthetic rubber. Along with construction and automobiles, chemical production is considered a "pillar" industry, meaning it is seen as essential to the Chinese economy in the long run.
The pace of China's economic growth is slowing, and the fortunes of several cornerstone industries hang in the balance. But whereas the plight of industries such as coal and steel feature prominently in national headlines, with talk of massive layoffs and government bailouts, the chemical industry's woes have yet to receive much attention. In some respects, the chemical industry has become the hidden casualty of the country's economic downturn.
But that doesn't mean the industry isn't hurting. One reason for this is that the industry is less labor-intensive than steel and coal. Layoffs, when they do occur, tend to be discreet. In the case of large, state-owned players in the industry, management prefers more "creative" ways to cut labor costs, such as eliminating contract workers first, then implementing hiring freezes, or even asking employees not to show up for work — all the while continuing to pay them significant parts of their salaries.
The industry's current predicament is partially a result of overinvestment in additional capacity, which has led to a global supply glut and corresponded roughly with China's slowing economic growth in key markets such as cars and real estate. Adding to these woes, margins are being further squeezed by the raft of stricter regulations aimed at reducing the hazardous and polluting effects of the industry. Chemical manufacturers are also coming under closer scrutiny by the public in the wake of accidents involving hazardous chemicals such as the massive series of explosions that rocked Tianjin almost one year ago.
A group of chemical workers take their lunch break near the Sinopec Baling plant in Yunxi District of Yueyang, Hunan province, July 14, 2016. Feng Jiayun/Sixth Tone
Yunxi, the district where the Yueyang Green Chemical Industrial Park is heavily dependent on the chemical industry. Home to around 170,000 people, an estimated 60 percent of Yunxi's GDP comes from the chemical and related industries. The district is home to more than 200 chemical factories, including two major players: Sinopec Baling and Sinopec Changling, both units of the powerful China Petrochemical Corporation.
Chemical manufacturers in the area are major producers of synthetic rubber that is used mainly in the automotive and construction industries. In addition to chemical production, the industry also acts as an important stimulant to the economy through its ties to related suppliers and providers, as well as to other businesses in the hospitality and retail sectors, among others.
"The economic downturn is having a chilling effect on the chemical industry," Yuan Jianyu, an employee with one of the large, state-owned chemical companies told Sixth Tone. The 44-year-old said that the biggest influence has been to his bonus — every month he now receives 200 yuan, compared with the 600 yuan he received last year. His monthly income is around 3,300 yuan. Such a reduction in his income has meant changes for Yuan's life. For one, his plans to buy a car have been postponed indefinitely.
Yuan's company has devised ways to cut workers without having to resort to mass layoffs. In the past it identified entire departments that were underperforming and spun them off into private enterprises. Yuan said that this kind of solution was "widely welcomed" by workers. "They can still work for the private enterprise, and some even have the opportunity to become shareholders," he said. It wasn't immediately clear how these private enterprises have fared in the highly competitive market since they became autonomous.
Another approach to handling overstaffing at Sinopec Baling is to encourage workers to take long-term leave while still retaining a large chunk of their salaries. This seemingly too-good-to-be-true scenario essentially pays employees for not working — in fact, 100 percent of a worker's salary is paid in the first year of leave. That proportion then drops by 5 percent each subsequent year. It's hardly surprising that such a scheme is popular among workers. One middle-aged employee who spoke with Sixth Tone on condition of anonymity said that state-owned companies have the option of offering employees these kinds of privileges, and that she was interested in such paid-leave arrangements because they offered her a chance to start her own small business while still enjoying the security of being on payroll. "It's a chance at a second spring," she said.
Still, Sinopec Baling used to employ more than 20,000 people in its heyday around 15 years ago. Today it employs just 11,000 and plans to cut that number to 7,000 by 2017.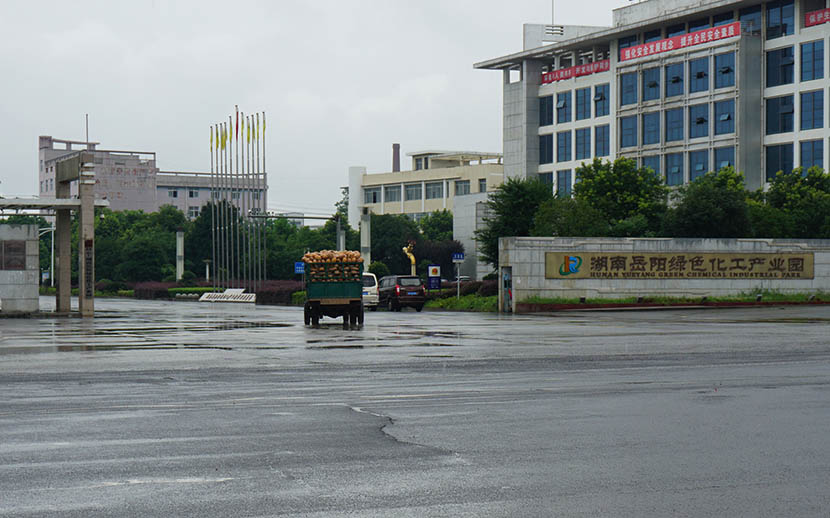 The front gate of the Yueyang Green Chemicals Industrial Park, Yueyang, Hunan province, July 13, 2016. Feng Jiayun/Sixth Tone
Xu Shizheng, vice president of Sinopec Baling, said he is confident in the ability of the authorities. "The slowdown of economy does have an adverse impact on our business," he said. "But the government has also figured out many ways to ensure people's livelihoods."
Chemical industry veteran Li Jing, a member of the China Synthetic Rubber Industry Association and a former Sinopec employee, cautions that while government support might exist, it may not be to the degree that some state-owned enterprises expect. Li also said that pay cuts ranging from 25 to 50 percent have become more common in the industry in the past year.
The situation for contract workers at state-owned companies is far worse: They can be laid off at any time, and without compensation. Experts also say that employees of chemical companies owned by local governments — and especially those working for the private sector — are particularly vulnerable.
Paul Pang, vice president of consultancy IHS Chemical, said that shutting down a company in China is a complicated process. "In any other part of the world, people would declare bankruptcy and walk away and start something else," he said. "But in China, that's hard to do." Even so, he said, bankruptcies are taking place, and many smaller companies are in financial distress.
Auxiliary industries serving the chemical industry are also suffering. Yang Yuan works as a chemical designer at a design institute in Yueyang. The 32-year-old said that the big state-owned chemical companies have no plans to launch new projects. Instead, they have been tightening their belts, cutting staff as well as budgets for outside service providers such as his institute. "In an effort to survive in this industry, where supply far exceeds demand, the only thing we can do is offer our services at a lower price than others do," Yang told Sixth Tone.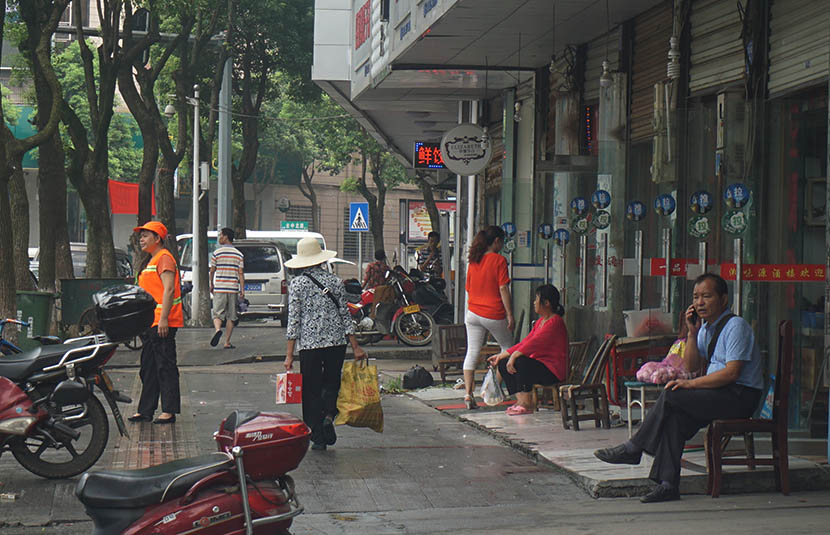 A man talks on the phone in front of a restaurant near the Sinopec Changling plant in Yueyang, Hunan province, July 13, 2016. Feng Jiayun/Sixth Tone
The knock-on economic effect of the downturn and its accompanying belt-tightening is even having an impact on the restaurant business of Wang Jiying, the owner of a small restaurant not far from the Sinopec Changling complex.
"Changling workers used to order a lot food because the company would reimburse them," she told Sixth Tone. "Now there are rules about how much they can eat, how many people can attend the dinner, and for what purpose a dinner may be arranged," she said.
Li of the synthetic rubber association said he is pessimistic about the future of the chemical industry. According to him, people who have worked in chemicals have become lazy as a result of living through the boom years. "They have no idea about the future and no idea about what other work they could do," he said. "They feel panic and emptiness."
Li said the triangular ties between government, banks, and companies have bound them together in a way that makes solving the issue of overcapacity in the industry hard to solve.
"Many problems in China's economy are not caused overnight," Li said. "Overcapacity has slowly accumulated until it has become like a bomb. How do you solve the problem when politics and economics are so inextricably linked? People just keep waiting for change to come — nobody sees the light."
Additional reporting by Shen Zhefan.
(Header image: A chemical worker waits for a shuttle bus outside the Yueyang Green Chemical Industrial Park, Yueyang, Hunan province, July 14, 2016. Feng Jiayun/Sixth Tone)