As "Pokemon Go" sweeps across the world, leaving in its wake hordes of screen-glued players roaming the streets in search of the franchise's cartoon creatures superimposed onto real-life scenes on their phones, those eager to get poaching in China have been left wanting.
The app, made by Californian-based software developer Niantic, relies on Google's mapping servers, which means that Chinese users need to use special software to breach the country's Great Firewall. Even then, however, players are reporting maps void of a single creature, after the game blocked vast swathes of Asia following an overload of traffic last week.
Players in areas of Liaoning province and the Xinjiang Uyghur Autonomous Region, which lie in the northeastern and northwestern extremities of China, respectively, have reported success in the game, leading some players to surmise that developers' attempts to block access to the game according to geographical position were not sufficiently thorough. A map circulating on microblog Weibo platform shows a rectangular zone stretching across much of Asia and parts of northern Africa, purportedly indicating where players would be met with terrains void of Pokemon. The post, uploaded by a user who described himself as an application tester at a games studio, had been shared almost 13,000 times as of Monday.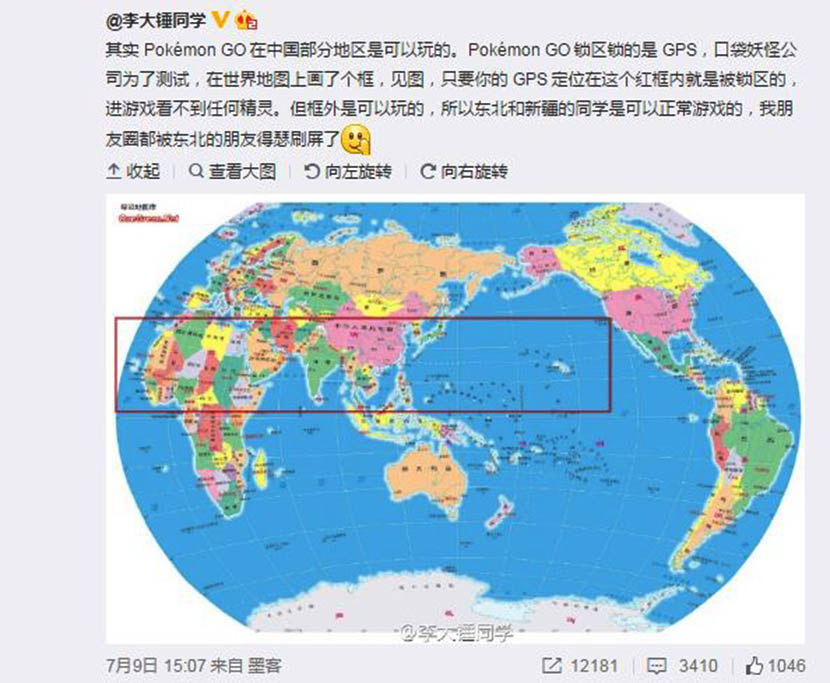 A Weibo user posts a graphic of a rectangular zone, stretching across much of Asia and parts of northern Africa, where 'Pokemon Go' access is restricted.
Guo Fanjun, a 23-year-old player in Liaoning's provincial capital Shenyang, told Sixth Tone he had been playing "Pokemon Go" since it became available on July 6. Using virtual private network, or VPN, software to hurdle the firewall, Guo said the user experience was good enough, apart from issues of precision with the game's global positioning system.
"It's so exciting encountering a new monster I haven't seen before," Guo said. "I'll get nervous that they'll run away or that I'll run out of Poke balls," referring to the in-game items needed to capture the game's elusive creatures. According to the IT professional, most of Shenyang's Pokemon reside between parks, shopping areas, and university campuses.
Han Yiyi, a 24-year-old electrical engineer from Xinjiang, told Sixth Tone she was able to play the game freely, and that most of her quarry had been living either in her house or in local parks.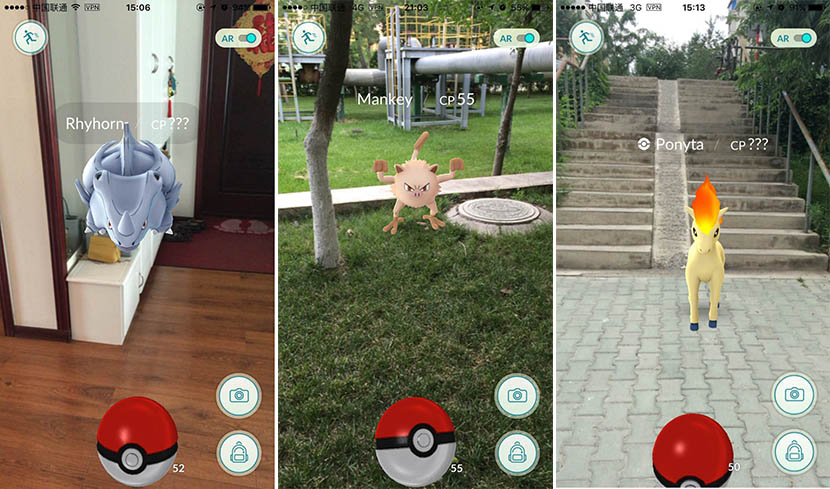 Screenshots show a 'Pokemon Go' player in China using a VPN to encounter Pokemon. Courtesy of Han Yiyi
For those unlucky enough to live outside the Pokemon havens of Liaoning and Xinjiang, decrypted versions of the game that bypass its geographical limitations may provide the answer. Nineteen-year-old Li Xinyi from the city of Chongqing in southwestern China told Sixth Tone that a decrypted version of the game given to her by a friend had "saved" her.
The Pokemon fan, who is studying in the U.S., said that since downloading the decrypted version Sunday evening, she had successfully captured around 30 specimens. "I'm currently at the airport in Beijing," she told Sixth Tone by text message, "where I've caught between 15 and 20. All of them here are bats."
"[The decrypted version] is not too stable, but it works just fine," Li said.
Frustration among those eager to enter the augmented reality of "Pokemon Go" has been exacerbated by an inferior Chinese knock-off game called "City Fairies: GO." In Chinese, the word for fairy, or spirit — jingling — is also used in mainland China in the official translation of Pokemon.
"City Fairies: GO," released by Shenzhen Tanyu Interactive Science Culture Co. Ltd., entered the market in March, at a time when Niantic, the developer of "Pokemon Go," announced that it was seeking volunteers to test the game environment of a new augmented reality game based on the Pokemon franchise.
"City Fairies: GO" provides users with virtual creatures that can be conquered and captured according to the player's position. Unlike "Pokemon Go," however, scenery is not rendered according to real locations.
The knockoff game is currently the number one free download in Apple's app store in China, a statistic that may be explained by those mistaking it for "Pokemon Go." "I thought I was playing 'Pokemon Go,'" lamented one user on their Weibo microblog. "After a few minutes I realized I'd downloaded 'City Fairies: GO,' the legendary China-made Pokemon. Awkward."
Hopes for unrestricted access to "Pokemon Go" and its augmented reality were ignited Monday when users reported that the geographical block had been lifted, only to find that it had been reinstated a short time after.
Additional reporting by Yin Yijun. With contributions from Li You.
(Header image: Giant Pokemon balloons float down Sixth Avenue during the Macy's 84th Annual Thanksgiving Day Parade, New York, Nov. 25, 2010. Ben Hider/Getty Images/VCG)