A 26-year-old mobile game developer is preparing to pit himself against the ultimate boss: China's media censorship body, the State Administration of Press, Publication, Radio, Film, and Television (SAPPRFT).
In protest against new regulations that require all developers to receive official approval for games before they enter the market, Shanghai-based Chen Yu intends to launch a legal case against SAPPRFT with money he has raised through a social media crowdfunding campaign.
"Our demands will be for the court to investigate SAPPRFT's new regulations with respect to their legality," Chen's lawyer Li Fangping told Sixth Tone. "Before, these small and mid-sized enterprises could do business freely on both Apple and Android app stores. After the new regulations, they will have to go through the censorship of SAPPRFT, which will effectively mean such enterprises won't be able to go on."
"With these new regulations, all independent game developers and small enterprises will be driven out of the market, with no glimmer of hope for survival," Chen told Sixth Tone. On the day before SAPPRFT implemented its new regulations, Chen, a founding member of Shanghai-based mobile gaming studio Jufu Internet Technology Co. Ltd., wrote on his Weibo microblog: "Starting tomorrow, mobile gaming in China will face the bloodiest showdown and shootout in history."
Part of the problem, Chen believes, is that the new regulations require developers to obtain new paperwork, at not-insignificant costs. The licenses, including software copyright and business licenses, will be impossible for independent developers and small businesses to obtain, Chen said.
These licenses have always existed, said Wei Jun, a project manager at one of China's largest gaming companies. "It's just that previously you could work around them," she said. Yet with enough funds, said Wei, large companies like hers will not suffer destructive consequences simply because a project is delayed or halted by the new regulations.
As Chen has argued, however, it is now a different story for those at the bottom.
One game developer, who gave only his surname Zhou out of concern for his professional prospects, told Sixth Tone that his small gaming studio had gone out of business following the implementation of the new regulations. "If you're lucky a game will make you 1,500 yuan (around $220)," the Shanghai-based 35-year-old said.
"With the new censorship process costing 15,000 yuan, who is going to keep making games?"
Another issue, Chen said, is the amount of time that the thickening bureaucracy will add to the game development process.
Twenty days before a game was to go online, the regulations stated, its developer would now be required to file an application with a provincial censor, who could take up to five days to process the submission. Following approval, the application would be forwarded to SAPPRFT's central offices for a 10-day screening process, before being passed back to the provincial censor, who would inform the developer of the result within three days.
Games that were already on the market would be required to retroactively apply for approval before October 1, the new laws stated.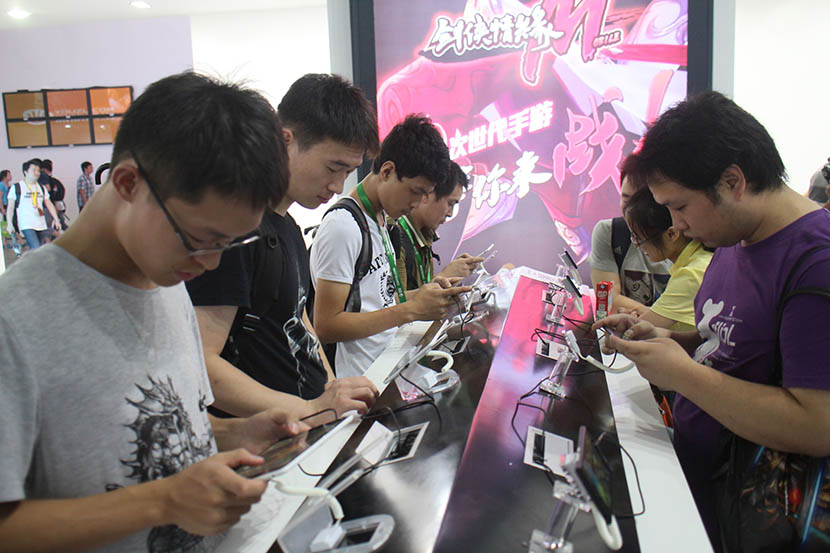 People playing games on mobile phones during a digital entertainment expo in Shanghai, Aug. 2, 2014. Xing Yun/VCG
On the day before SAPPRFT's new regulations came into effect on July 1, Apple announced to app developers operating within the Chinese market that releases would now have to indicate to Apple that they had express approval from SAPPRFT. Developers will now, the announcement stated, be required to provide Apple with case numbers and dates of approval for all new releases.
Apple's announcement seems to have been the final straw for Chen, who is known in game developing circles as "Krisirk." In a post on Quora-like knowledge-sharing website Zhihu, he said, "The road for China's independent developers is becoming increasingly hard to walk now."
According to Chen, that post has since been deleted by Zhihu, who cited reasons of "political sensitivity," and Chen's posting rights have been suspended by the site for seven days. A cached version viewed on July 6 shows that Chen's post garnered 1,284 responses before it was deleted.
To cover his legal expenses, Chen turned to social media, setting himself a target of 30,000 yuan. After launching his crowdfunding campaign on the morning of July 5, the target was met in under five hours, according to a log of donations that Chen has been periodically updating on his Weibo account.
Chen's lawyer Li told Sixth Tone that if all goes to plan, then legal proceedings will begin as early as Friday at the Beijing No. 1 Intermediate People's Court. China's intermediate people's courts generally hear local cases or appeals from lower courts. Li said that if the court does not accept their case, they intend to take their campaign to higher courts.
Li does not believe that the outcome of the case is the most important thing: "What is important is the process — that we can give these problems a judicial platform and incite discussion."
Chen shares his lawyer's pragmatism and has admitted that his chances of legal success are next to nothing. "This is SAPPRFT," he said. "Everyone is perfectly clear about what we are up against."
"But everyone needs someone to be that bird that sticks its head out above the parapet," Chen said. "If no one steps forward now, no one will step forward ever again."
Additional reporting by Yin Yijun.
(Header image: A man playing a game on his mobile phone, Huizhou, Guangdong province, May 24, 2014. Zhou Nan/VCG)