Just when it looked as if things couldn't get worse for Baidu, the Chinese internet giant known for its Google-like search engine, the company has yet again found itself in the center of unwanted media attention following an off-color presentation by one of its top executives.

On Saturday Liu Chao, the company's head of "user experience," took the stage at an industry conference to talk about "redefining user experience."

But the only thing that Liu redefined was his job title: He's since been removed from his position.

At issue was Liu's poor taste and less-than-professional delivery. He not only displayed a surprising lack of design chops, but also incorporated into his speech several sexist jokes.
Liu delivered an 18-minute speech over the weekend at an annual event organized by IXDC, or the Interaction Design Committee. He was in good company, as other industry executives representing internet heavyweights Uber, Microsoft, and Alibaba, and others also took the stage.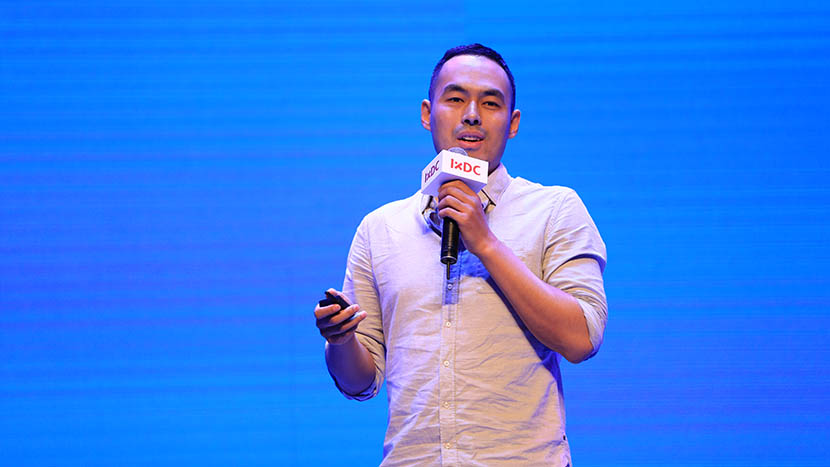 Liu Chao, former director of user experience at Baidu, gives a speech on the topic of 'redefining user experience' during the International Conference of Experience Design in Beijing, July 2, 2016. Quan Yajun/VCG
But while Liu's peers rolled out professional, well-designed presentations, Liu opted for another approach.
Perhaps pre-empting the lows he would stoop to, Liu said at the very beginning of his speech that "Instead of speaking English or adopting a high-end speech style, I want to do something more down-to-earth."
When speaking on how to understand consumer demand, Liu raised an example to illustrate his point: "If a girl says to me, 'The air conditioning in my dorm doesn't work, and I don't want to go home,' what does she mean? I think it means she wants to kiss and have some sex."
To illustrate a point about trends in the internet industry, Liu showed four photos of female Baidu employees. "Many would speculate whether they were recruited by Baidu just because they have pretty faces," he said. "It's not true. They were quite ugly before joining us. Later, after being influenced by us, their face scores have largely improved."
One of the women featured in the slide was Liu's wife, who used to be a car model and is now a product manager for Baidu's video-streaming website.
When Liu used his speech to promote the user experience school he is in charge of, some members of the audience had had enough. "It's too tasteless! You should get off the stage," a woman shouted.
Live streaming of the event was interrupted for a few minutes following the incident.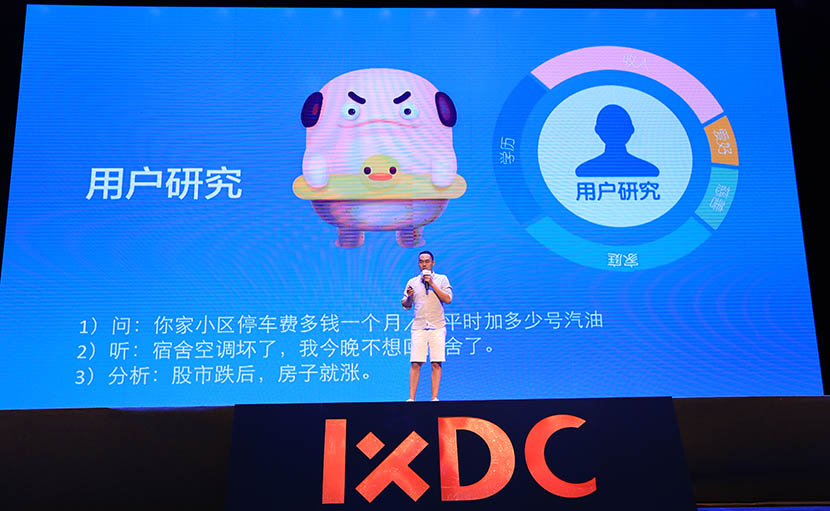 A cartoon graphic slide from Liu Chao's presentation, which has been widely criticized for poor taste, Beijing, July 2, 2016. Quan Yajun/VCG
Over the weekend, the speech faced backlash on the Internet. Many Chinese net users linked the lowbrow speech with an earlier scandal in which a 21-year-old cancer patient died in April after receiving contested treatments he found through a promoted search result on Baidu.
"Baidu is the company I most hope will go out of business," read one of the most upvoted comments on microblogging platform Weibo.
Seemingly basking in the criticism, Liu boasted on social media that he had become a "hot topic," according to screenshots shared by news portal Sohu.com.
Sohu later reported that Liu had apologized on Baidu's internal website, writing on Tuesday, "I sincerely apologize for the damage I caused to the company's image and to my co-workers."
Liu could not be immediately reached for comment on Tuesday by Sixth Tone.
Also on Tuesday, Baidu's human resources department said on the company's intranet that Liu had been fired from his position as director of user experience, screenshots on Sohu.com show.
An anonymous insider told The Paper, Sixth Tone's sister publication, that Baidu had only removed Liu from his position, but that he had not been fired.
According to Zhang Chen, a former co-worker, Liu is someone who likes to make jokes. Regarding Liu's controversial speech, she said: "He didn't apply his sense of humor in an appropriate situation."
(Header image: Speaking on trends within the internet industry, Liu Chao shows a slide featuring photos of female employees, Beijing, July 2, 2016. Quan Yajun/VCG)