On a wet Sunday afternoon in the middle of Shanghai's rainy season, a gallery in the city's quiet suburbs is cramped with people. They are there not for the art, but for a suppressed documentary that is being projected onto a stretch of bare wall between the gallery's paintings.
The 60-strong audience is there to see "We Are Alive," a documentary that tells the tale of Hong Kong's delinquent youth. Such productions are suffocated by China's unyielding grip on the media and marginalized by the country's booming blockbuster industry. Independent documentary makers like the film's director, Yau Ching, are looking to private screening clubs as sanctuaries where enthusiastic, if small, audiences can enjoy and discuss their works.
A speaker introduces a documentary in an art gallery on the quiet outskirts of Shanghai, May 22, 2016. Courtesy of Pure Movies
Through events like Sunday's free screening, organized by non-profit screening club Pure Movies, the film has reached a mainland audience that would otherwise have struggled to get their hands on it.
As its name suggests, Pure Movies strives to deliver carefully selected movies that are uncontaminated by money-driven production companies and unscathed by the official media watchdog, the State Administration of Press, Publication, Radio, Film, and Television (SAPPRFT). In China, no movies can be shown in cinemas without first being awarded a golden dragon stamp — a sign of SAPRFFT's express approval.
Freshly graduated 22-year-old Zhao Hui was in the audience at Sunday's screening. He tells Sixth Tone that, in most cases, the documentaries screened by the group cannot be found elsewhere, be that computer screens or cinema screens. Watching the documentaries in a group environment also gives Zhao the chance to share his reflections with others. "We always like to share our feelings on good movies and music with others," he says. "Whereas watching movies alone at home, you can only lose yourself in them."
Pure Movies has held over 500 screenings around the country since its founding by a small group of movie enthusiasts in 2012. After a dismal first screening in Beijing, attended by just a handful of people, the organization soon laid roots in 10 major cities around the country, 27-year-old founding member Yang You tells Sixth Tone.
Originally, Pure Movies charged audiences 15 yuan (around $2.25) for each screening. At the end of 2012, however, they received calls from the "relevant departments," a uniquely Chinese catch-all euphemism for the authorities. Due to China's laws and regulations, the group was told, they had to attain a business license from the State Administration for Industry and Commerce, even if their revenues barely covered expenses. Aside from a few special screenings in high-end venues, Pure Movies thus chose to scrap the entrance fee entirely.
The troubles didn't stop there, however.
Even though they operate outside of mainstream channels, private screening clubs exist in a grey area in China that is not completely beyond the reach of concerned official bureaus. "We are treading on thin ice and dancing in chains," says Yang of the delicate relationship Pure Movies must maintain with authorities.
A nine-person team puts considerable care into selecting which documentaries to show, Yang says, because they know what types of subject matter will attract the attention of the authorities, and what will enlighten an audience with truth without "crossing the mark." Experience has taught them how fine a line they must walk.
In October 2013, Pure Movies screened the young mainland director Liu Yuanchen's "To the Light," a documentary about the human tragedies of mining accidents in China's southwestern Sichuan province. Not long after the screening, the Chengdu art space that had held the event informed Pure Movies that they couldn't cooperate on further screenings following, in Yang's words, "tip-offs" from the local authorities.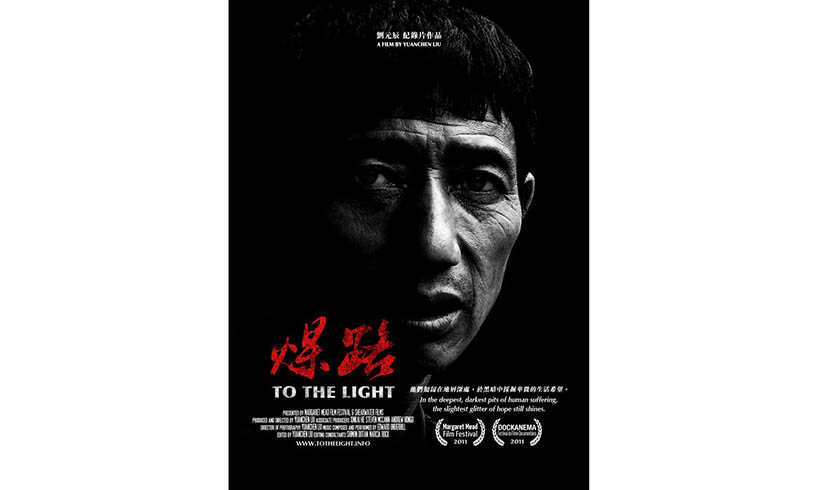 Promotional poster for 'To the Light.'
Another favored tactic is sudden power outages during screenings of films that address troublesome subject matter. The day before the Xian branch of Pure Movies screened a documentary about a 2004 mining incident in the northwestern province of Shaanxi, Yang recalls, the group received a notice from the bookshop where the film was to be shown saying that officials planned to cut the venue's power if they proceeded with the screening. "At the same time," Yang says, "the film's director [Lin Xin] had been located and forbidden from traveling."
Interference by the authorities isn't limited to fringe groups like Pure Movies; government-backed screening organizations feel the pressure, too.
Wu Jiamin, 45, established local screening organization Shanghai Image Phenomenon in 2006 with the backing of his workplace, the Quyang Library, a state institution. The first movie his organization screened was "To Live Is Better Than to Die," a documentary following the lives of a family in one of China's so-called AIDS villages in the central province of Henan.
The library was displeased with Wu's selection of film, and he was invited "to have a discussion" with the library's director, during which he received a verbal warning. Crucially, the documentary implies that a mistake by an official department may have led to the spread of HIV infections. The film club was allowed to continue its screenings, but, says Wu, "After all these years, it is still hard for me to figure out which movies should be shown."
Promotional poster for 'To Live Is Better Than to Die.'
Besides harsh censorship, a relatively narrow market is another reason why China's low-budget documentaries so often must rely on niche platforms like Pure Movies to reach audiences. A recent documentary about poetry-writing migrant workers relied on crowdfunding and volunteers to reach the screens of only a select number of cinemas around the country.
Private screening clubs provide important channels for promoting small-budget movies, says film industry expert Liu Jun, who is also a scholar at the Beijing Film Academy. "The market for indie documentaries is small," he tells Sixth Tone, "which makes it impossible for big cinemas to earn money from allocating screenings."
Mainland documentary director Fan Jian has won several awards with "The Next Life," which tells the story of the 8.0-magnitude earthquake that ripped apart Sichuan in May 2008. That documentary made its way to paid streaming site iQIYI, China's answer to Netflix. But Fan was sure that his latest work "My Land," which spotlighted the sensitive issue of forced demolitions in urban areas, would not pass the censorship of such platforms. It fell to Tsingying Film, another screening group similar to — and associated with — Pure Movies, to provide Fan the avenue to screen his work publicly. The film's first screening was held in Beijing this May.
Censorship aside, Pure Movies is haunted by its own operational problems. As a nonprofit organization, it relies on teams of volunteers in different cities to help with activities, including looking for places to hold the events and curating high-quality documentaries. But members usually leave within a year — mostly of their own volition, but several student volunteers have been forced to exit the group by their schools. Yang You is the only current member to have been involved in Pure Movies since its inception four years ago.
"People come and go, and volunteers join the group with different aims in their minds," Yang says. "regardless, they have contributed to the group. But for us, the most important thing is perseverance."
Unlike Pure Movies, Wu Jiamin's Shanghai Image Phenomenon is a two-man team: Wu and his friend take care of all technical aspects of the screenings. During the past decade, Wu has witnessed the ups and downs of his screening groups. Asked how long he would keep doing the screenings, Wu hesitates and says he cannot be sure.
"I am doing this purely out of my responsibility to society," Wu says with a bitter smile. "But actually, we are doing what the government should be doing."
(Header image: An audience watches a documentary in an art gallery on the quiet outskirts of Shanghai, May 22, 2016. Courtesy of Pure Movies)