With highs hovering near 40 degrees Celsius in much of southern China, pretty much everyone is looking to beat the heat. Some have flooded relatively cooler provinces like Yunnan; others are cranking up their air conditioners and debating whether to pay increasingly extortionate prices for ice cream.
For the rest of us, there's still the undisputed king of China's summer beverages: Guangdong-style leungcha. Literally meaning "cool tea," it's not to be mistaken for iced tea. In line with traditional Chinese medicinal practice, which proscribes icy drinks, authentic leungcha must be served at room temperature. Instead, the drink's restorative properties are derived from a mix of medicinal herbs with "cooling" properties, including Japanese honeysuckle, bamboo leaves, wax gourds, chrysanthemum flowers, and calla lily.
Like all good traditional Chinese remedies, the first sip of leungcha is always the hardest. A 1942 article in the influential Shanghai Shenbao newspaper described the then novel drink thusly: "The first taste causes many to furrow their brow and look aggrieved, as if they've wasted their money on bitter water. It's only after they've finished the drink that they appreciate its sweet aftertaste, which lingers on the tongue — and realize that the heat that plagued them has virtually dissipated."
Although originally a Guangdong delicacy, merchants were selling leungcha to Shanghai's growing Cantonese population as early as 1924. By 1946, cheap leungcha stalls were a fixture of the city's sweltering summers. In the words of the Shanghai weekly Fengguang: "Take a look at any busy intersection or streetcar station. Will you not see at least a few merchants peddling these drinks, hawking their wares with shouts of 'Hey! Just a copper coin a cup!'"
If Cantonese leungcha is the south's most emblematic summer beverage, another drink reigns supreme north of the Yangtze: suanmei tang, or sour plum soup.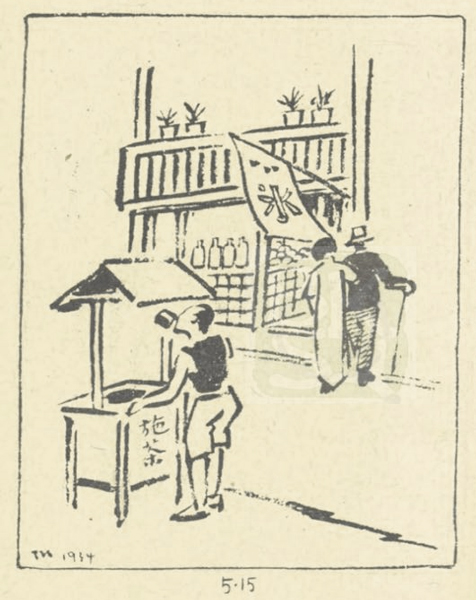 A scan of the comic "Offering Tea," by Feng Zikai, 1934. Courtesy of the author
Although not a Beijing invention, any history of suanmei tang must begin in China's capital, where the drink forms a key part of the "Old Beijing" mythos. In the 1930s, merchants were ubiquitous on the city's streets, clacking together two small bells shaped like tea stands or copper goblets to attract the attention of customers.
One advantage of suanmei tang is its relative simplicity. Remove the pits of some sour plums, mix them with sugar, steam them until they're soft, then add boiling water and let the mixture settle. Once it has cooled, it's ready for consumption, but vendors often placed a vessel of suanmei tang in a bucket full of ice to make it more refreshing on hot days.
Of course, just because something is simple doesn't make it easy. In 1937, the China Times shared a recipe for suanmei tang that suggests just how seriously aficionados took their drinks: "Put 10 dried plums, three small pieces of orange peel, and a pinch of chopped osmanthus flower in a ceramic pot with several cups of chilled water, then mix with white sugar and bring to a boil." The recipe's author exhorts the reader to perform every step carefully and, whatever they do, not to dilute the flavor by adding more water than is necessary.

Comic and photo depictions of "suanmei tang" vendors, published in Eastern Times and The Culture Arts Review, respectively, 1934. Courtesy of the author
In addition to leungcha in the south and suanmei tang in the north, the third essential summer beverage in China is mung bean soup. Although mung beans have been a popular hot weather palliative for centuries, traditional mung bean soup is not as soup-like as the name suggests. As late as the 1940s, it resembled a slightly runny dessert, and was often served with peppermint, crushed ice, or cherries. The following recipe, found in 1940's "The Guide to Making Cooling Drinks," is representative:
"First, rinse the beans and boil them in a pot until they turn mushy. Then, separately boil haricot beans and peeled lotus seeds until they are soft. Set aside to cool. Scoop eight parts mung beans and one part each of haricot beans and lotus seeds into a small bowl. Add white sugar and cool water, as well as a few drops of peppermint oil (or an infusion of peppermint leaves boiled in water). Garnish with five or six cherries. Crushed ice may also be added for extra refreshment."
Those looking for a more luxurious break from the heat might opt for mulian dong, or manglietia fruit jelly. A distant cousin to mung bean soup, albeit far more difficult to make, it involves putting mulian seeds and cigu, or arrowhead leaves, into a coarsely woven cloth bag, which is then placed in a bamboo basket and submerged in water. By rubbing the cloth bag against the basket, the contents infuse the water, which is then left to set into a kind of jelly to which sugar — or in more complex variations, honey and peppermint oil — is added.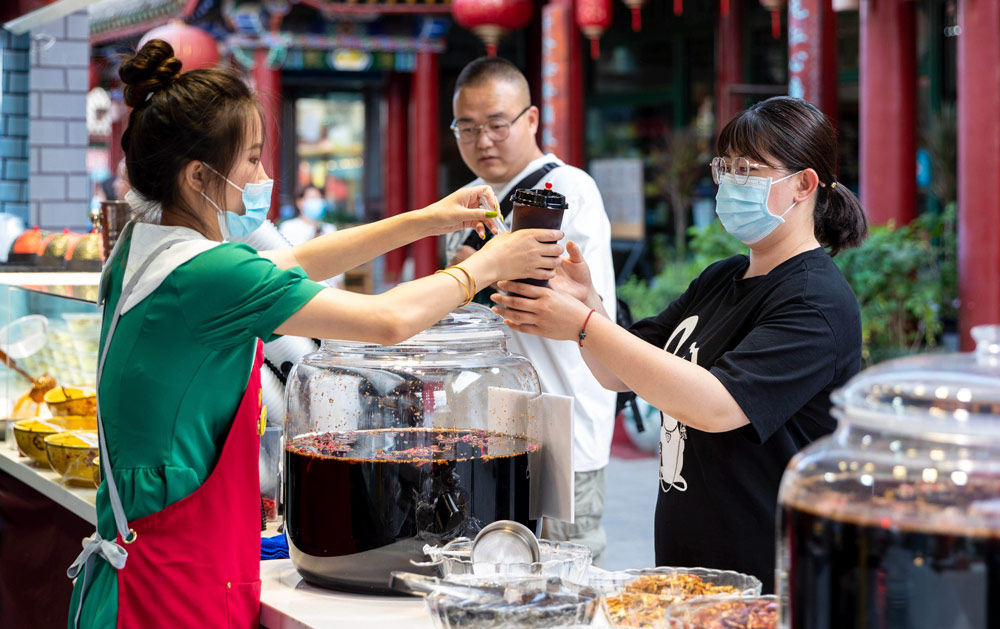 A woman sells "suanmei tang" to tourists in Hohhot, Inner Mongolia Autonomous Region, June 18, 2022. Ding Genhou/IC
The resulting jelly would have been an extravagant treat for the typical working-class urbanite a century ago. The lucky ones might be able to afford leungcha, but the majority would have to settle for free teas offered by philanthropists and charities — a longstanding practice in China. However well-meaning, the drinks could be hazardous: A 1923 exposé in a medical magazine found that many of the teas offered at roadside stalls were little more than tea dust or barley mixed with unsanitary water.
Similar class divisions exist today. As young white-collar workers order designer ice-cream brands like Zhongxuegao or Häagen-Dazs straight to their doors, the riders responsible for their delivery swelter in the sun, big bottles of cheap tea hanging from their handlebars.
Translator: Lewis Wright; editors: Wu Haiyun and Kilian O'Donnell.

(Header image: A booth passes out free "leungcha" to residents in Shantou, Guangdong province, July 2020. Du Dong'er/VCG)