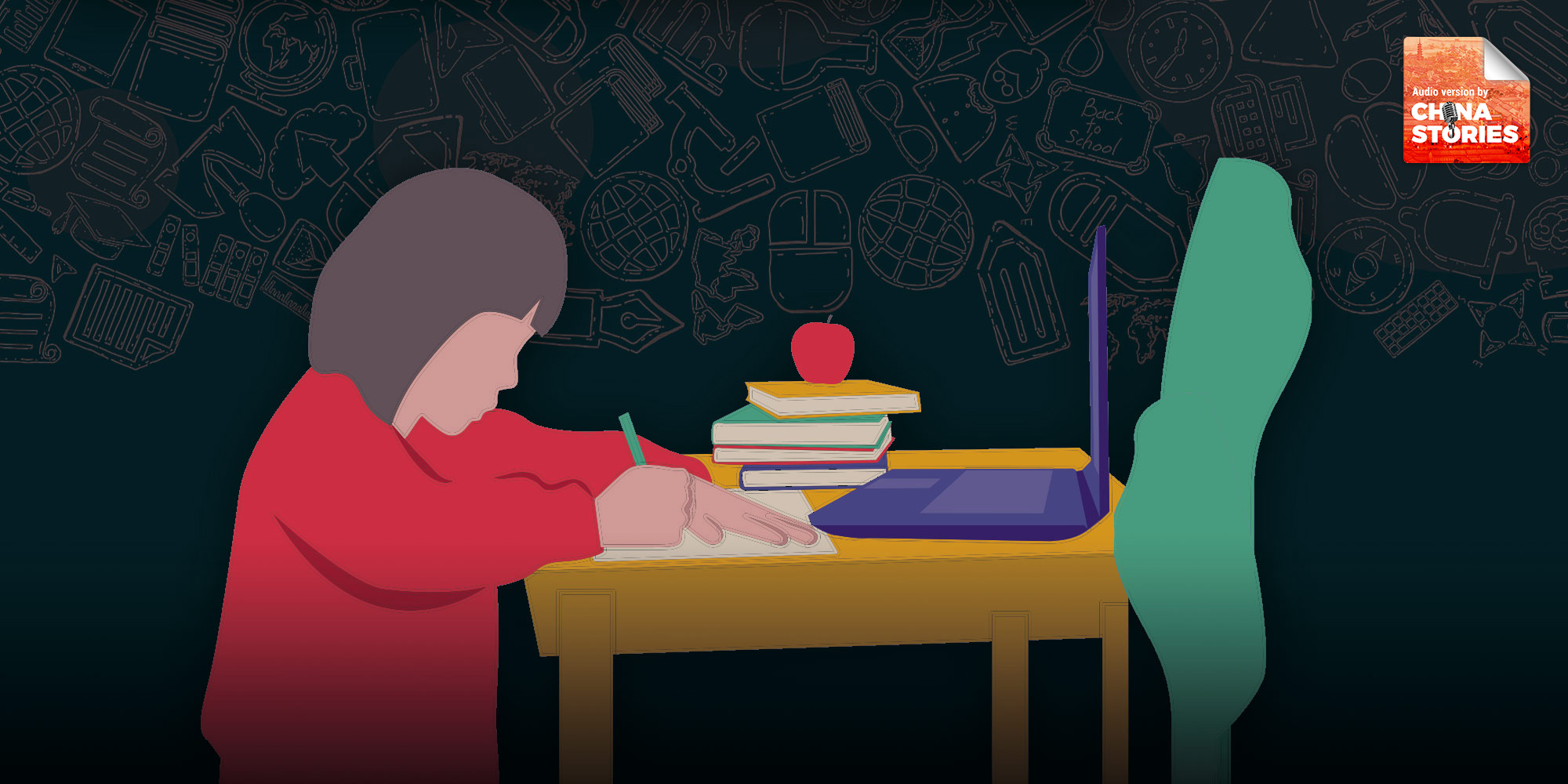 FEATURES
China Tried to Ban Private Tutoring. It Created a Huge Black Market.
Last year, China outlawed private academic tutoring in a bid to promote social equality. The result: a thriving network of underground study centers, serving the children of wealthy, well-connected families.
This is the second article in a two-part series on the impact of China's ban on private academic tutoring, which was announced one year ago, on July 24, 2021. You can read the first article in the series by clicking here.
Mingyu is busier than ever this summer. Like many children in Beijing, the 12-year-old's holiday schedule is jam-packed with extra academic training: one English language course, two math training programs, a physics camp, plus lessons at another three tutoring centers.
The only difference is that, this year, all of these classes are illegal.
It's now one year since China launched its "double reduction" reforms — a massive campaign to take the heat out of the country's educational rat race. In one fell swoop, the government banned excessive homework, academic classes during weekends and holidays, and all forms of private academic tutoring.
The policy torpedoed the country's vast tutoring industry — previously worth an estimated 2 trillion yuan (then $310 billion) — leading to large-scale layoffs and financial losses. The government hoped that, by doing this, it would ease the pressure on young children and promote social equality.
But things haven't turned out that way. A Sixth Tone investigation has found that a large black market for academic tutoring has emerged in China in the wake of the ban. These underground centers mainly cater to wealthy, well-connected families, making it easier for children from privileged backgrounds to get ahead.
Mingyu is a typical example. His parents, who both work in Beijing's finance industry, have managed to keep sending him to a whole range of private classes despite the ban. They're determined to do whatever it takes to help him compete in the capital's brutally competitive education system.
"If you're keen to find resources, there are always ways to access them," says Tao, Mingyu's mother, who spoke with Sixth Tone using a pseudonym for privacy reasons.
Many other Chinese families are doing the same thing. Sixth Tone spoke with over a dozen parents in Beijing and Shanghai who said they were sending their children to academic classes in violation of the "double reduction" rules.
Others said they wanted to sign up their kids for private tutoring, but lacked connections to a training center. Several of these parents, moreover, said their children were falling behind at school as a result.
The existence of this black market threatens to seriously undermine the "double reduction" policy. But China, like many countries before it, may struggle to eliminate it, says Hua-Yu Sebastian Cherng, an associate professor at New York University who researches China's education system.
"When you make a law that mainly affects upper-middle-class families, they will find a way to get around the law," says Cherng. "These are the families that are the most resourced and they have the most knowledge about how to do things in China."
Going underground
For Chinese authorities, policing the tutoring ban has become an endless game of whack-a-mole. After the "double reduction" policy was announced in July 2021, officials ordered thousands of tutoring companies to convert into nonprofits or cease operations. But many providers have resisted the ban.
Nonprofits are typically allowed to charge just 20 yuan per 30 minutes for academic classes in China, whereas private firms used to charge around 100 yuan, or sometimes far more than that. Centers are only able to break even by offering online classes to hundreds of children simultaneously.
As a result, a large number of tutoring firms have continued offering private classes in secret. During the second quarter of 2022, China's education ministry carried out an investigation of 140,000 tutoring organizations nationwide. They found that nearly 3,000 were providing illegal academic tutoring. The ministry also shut down 464 centers that had continued to operate after claiming to have closed their businesses.
Demand for private classes remains relatively high among parents, who are often dissatisfied with the quality of education provided by schools and cash-strapped nonprofits. In a June survey by China Youth Daily, 62% of parents said that schools needed to improve their standards.
In Tao's case, evading the ban has been straightforward: The majority of the centers where she sends Mingyu and his brother were never shut down. While the nation's biggest tutoring firms — New Oriental and TAL Education — have been forced to drastically scale back their businesses due to the ban, many smaller players have slipped through the regulatory net.
"Most of the tutoring services I chose, whether brick-and-mortar or online, are small businesses," says Tao. "They're not so easy to spot."
Tao has also managed to find replacements for the centers that got shut down by talking with other parents. She now sends her children to classes with two private English tutors, two tutoring centers for Chinese reading and writing skills, and a math Olympiad program.
"They never publicly advertised their services; their reputations have spread through word of mouth," says Tao. "Most parents I know whose children's classes got canceled have found new replacements."
Wu Xiaoxiao, another parent in Beijing, has done the same thing. When her daughter's English tutoring center was shut down last year, Wu teamed up with two other local families to find a solution. They soon managed to find a foreign English tutor, who agreed to organize private three-on-one classes for their children.
"It was like I saw the light in the darkness," says Wu. "All the big tutoring centers were closing and I had no idea where to turn. There's one thing I won't compromise on: my child shouldn't stop learning, as long as she can cope with it."
Wu lives in Haidian District in central Beijing — an area that's notorious for its ferocious competition for school places. Though just 7 years old, her daughter is already on the academic treadmill. This summer, she is attending two English programs, a Chinese course, and math lessons, as well as a host of non-academic classes: painting, ballet, computer science, and swimming.
"She's attending more classes and I'm paying even more for them than before the 'double reduction' policy," says Wu.
Hidden costs
One of the main goals of the "double reduction" campaign was to prevent parents from spending eye-watering sums on their children's education. Sending kids to multiple tutoring centers had become so common — and so costly — that it was putting off many Chinese couples from having more children.
But in some cases, the policy has led to parents like Wu paying even more for private classes than before. Affordable, mass-market tutoring services — such as those provided by New Oriental and other large companies — have disappeared, leaving only smaller, more expensive options.
Before the ban, Wu was paying just over 20,000 yuan a year to send her daughter to the English tutoring center. Now, she's paying double that for the three-on-one private classes. In total, her daughter's extra tuition is costing the family around 10,000 yuan each month.
For Wu and her husband, the fees are manageable: They have good white-collar jobs and their combined annual income is over 1 million yuan. But many families aren't so fortunate. The average couple in Beijing earns around one-quarter of that.
"Family tutoring is more expensive … Now, even average middle-class families can't afford it; only the upper-middle class can," says Professor Cherng. "When these policies are made, it's often about the follow-up: how the government enforces the law, how it can make sure it's not just providing even more advantages to the elite." 
Though Wu isn't concerned about the cost of the classes, she does worry about her daughter's grueling schedule. In Beijing, it's common for children to start attending even more private classes as they get older, she says.
"I think at the moment my arrangements aren't putting my daughter in a very stressful situation," says Wu. "But I don't know if she'll be troubled by the pressure of extra learning when she gets into the higher grades."
But Wu feels she has no choice: She knows that many of her daughter's classmates are having extra tuition throughout the summer, and she doesn't want her daughter to fall behind. It was precisely this self-reinforcing cycle of social competition — known in China as "involution" — that the "double reduction" policy was designed to tackle.
"Sometimes, I'm also confused about why parents in Beijing and Shanghai have to prepare their children so crazily," says Wu. "But when the overall atmosphere is like that, I feel pushed to enroll my girl in those tutoring classes. I'm not happy about it, but I have to."
Rising anxiety
Parents who have lost access to private classes, meanwhile, are often even more anxious. Fan, a mother living in Shanghai, used to send her daughter to two English tutoring programs and a math class before the ban. Now, just one of the centers is still operating, and since converting to a nonprofit it has stopped providing in-person classes and instead only offers pre-recorded online lectures.
"The other centers shut down after the reform without refunding me," says Fan, who gave only her surname for privacy reasons. "Fortunately, I hadn't prepaid for many classes, so my losses were negligible compared with other parents."
Until last year, Fan thought of herself as a relaxed parent. She wasn't the kind of mother who obsessed about her children's education, she says. But now, she's becoming increasingly worried for her daughter. The 11-year-old is gaining little from the online lectures, and her grades are starting to slip.
"To be honest, I feel upset and anxious that I'm not sending my child to any extra classes at the moment," says Fan. "It's true that I'm spending significantly less on extra tutoring classes now, but I have to spend more time teaching her by myself. And I can't teach her as systematically as the tutoring centers did."
Fan desperately wants to find an underground tutoring center for her daughter, but that's easier said than done. The illegal businesses don't advertise anywhere, for fear of being shut down. And the other parents at her daughter's school won't help, Fan says.
"I think their children are attending tutoring classes, but the parents just want to stay low-profile," she says. "Many families try to make others feel their children aren't doing extra learning, but just easily get high grades at school."
This attitude appears to be common. Several parents told Sixth Tone that they keep their children's private tutors a closely guarded secret. In some cases, this is because they worry someone might tip off the authorities. In others, it's because the competition at their children's schools is so fierce: they don't want other children to have access to the same tutor.
Cherng has also noticed a rise in anxiety among parents. For him, it's another side-effect of the "double reduction" campaign's failure to eliminate private tutoring completely.
"It just made middle-class parents more nervous," he says. "In the short term, the most elite, upper-middle-class families have found a way out."
New workarounds
In late June, hundreds of parents in Shanghai rushed to download an English app called Think Academy, after hearing the company would be offering math Olympiad training during the summer vacation.
The firm appeared to have found a new way to evade the tutoring ban. In an online conference, a Think Academy teacher told parents that, since the app is registered overseas, it doesn't violate Chinese regulations. The service charges in Singapore dollars and uses both English and Chinese teaching materials. Its teachers, however, are mostly local hires who used to work for TAL Education.
Think Academy knows it's playing a risky game: In December, another tutoring service caused a sensation in Shanghai only to meet a premature end. As a nonprofit, the outlet was technically legal, but it was staffed by former TAL Education teachers. Thousands of parents signed up their kids — so many that the app soon crashed. Yet, two days later, local authorities shut down the venture, saying the service might "create the misunderstanding that the private tutoring business is rebounding."
Parents, however, are paying Think Academy's high fees without hesitation. At one point, staff had to work past midnight registering children for the company's 12-session summer program, which is priced at 660 Singapore dollars (around 3,200 yuan), a teacher at Think Academy said.
"No one wants to miss a high-end class like this," one mother, surnamed Yang, tells Sixth Tone. "I thought there would be no math classes this summer, but I ended up paying for three math Olympiad programs."
The continued popularity of math Olympiad courses is another sign of the challenge China faces in changing social attitudes toward education. In Shanghai, private schools are legally required to select students via a blind lottery system. Yet many parents believe that schools are still finding ways to pick out the brightest students.
"As long as there remain backdoors into desirable schools, the competition will not stop," says Yang.
Another math tutoring center in Shanghai, which has registered as a nonprofit to comply with the "double reduction" policy, has also secretly launched online classes during the summer vacation. Parents sign up their children by transferring the tuition fees to a separate account on the Chinese social app WeChat.
"Don't ask too much. If you got the information from a source you trust, just pay for it," says Yang. "It's always harder to secure a place than to get a refund."
There's a feeling among some parents in Shanghai that tutoring services are quietly making a comeback, a former teacher at TAL Education tells Sixth Tone. But tutors are remaining cautious for now.
"We don't know how far we can go," says the teacher, who spoke with Sixth Tone on condition of anonymity. "The policy remains in place. The authorities could tighten their supervision anytime and that could mean the end of such classes. It's still a business filled with uncertainty."
Editor: Dominic Morgan.
(Header image: Ceydakocaturk and palau83/VCG, reedited by Sixth Tone)