At 9:30 p.m. Tuesday, Hu Dawu dropped his last customer of the day at Hongqiao Railway Station. With the rest of the night free, he drove towards the address of the next customer who had booked the cab for the next morning and was going to catch the first train leaving Shanghai.
"First I'll find a charging station, and then I'll sleep," Hu, a driver with Dazhong Taxi Company, told Sixth Tone Tuesday.
Hu's been sleeping in his car for a month. He's one of just a couple hundred taxi drivers who are allowed to take fares during the ongoing lockdown of Shanghai. The 50-year-old used a pseudonym as he is not authorized to speak with the media.
As Shanghai gradually reopens, thousands have been granted permission to leave the city by neighborhood committees and universities. Over 6,000 people departed from Hongqiao Railway Station on Monday.
But getting to the station is no easy matter. All public transportation is suspended until May 22. Private drivers are asking thousands of yuan (1,000 yuan is about $148) for a ride. Some passengers have simply taken rental bikes or gone on foot.
Only a small number are lucky enough to secure an appointment with a regular cab with a metered fare.
There are now around 70 Dazhong taxis driving people to railway stations and airports, according to Hu. Meanwhile, around 50 taxis operated by another company, Qiangsheng, have been giving rides to people going to hospitals and returning from quarantine centers since April 18.
Hu described driving through the empty city over the last month. This interview has been edited for brevity and clarity.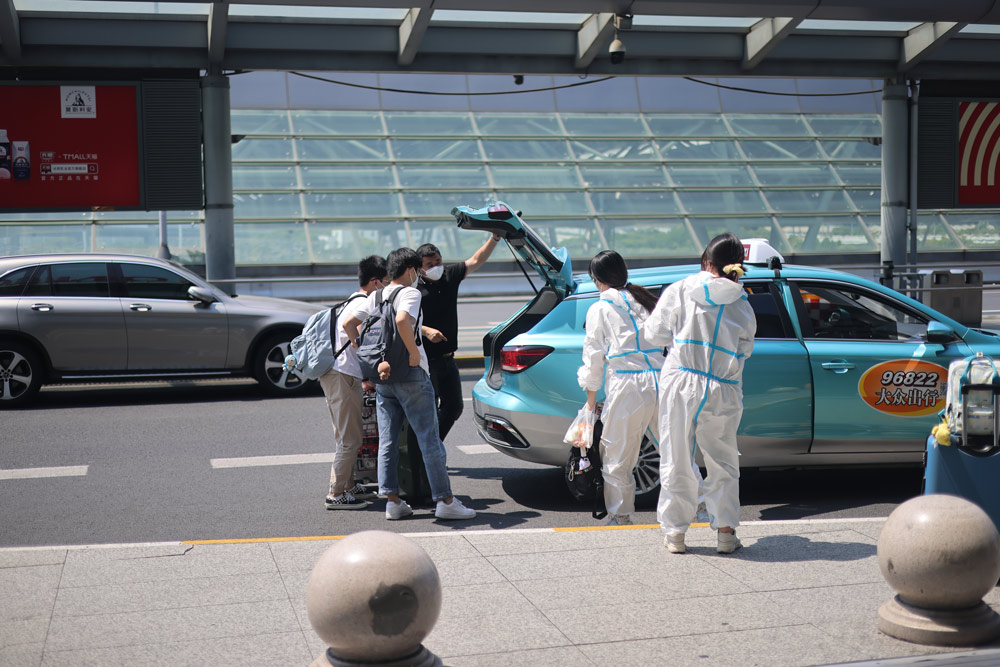 Passengers arrive at Shanghai Hongqiao Railway Station, May 17, 2022. VCG
Gloomy early days
I started to drive on April 15. I was assigned by the company to pick up people from Hongqiao Railway Station such as medical staff, volunteers, and people who came to build quarantine camps, and take them to designated locations in the city.
I also give rides to people who are stranded in the railway station. Many of them were tricked by labor agents. They ask me to drive them somewhere "outside," as there was no food or water inside Hongqiao Station. But I can only agree to give them a ride if they have a negative nucleic acid report from within the last 48 hours.
In addition, we are only allowed to take passengers from the pickup point at the railway station. Sometimes, when I'm waiting at a traffic light, stranded people come asking if I can drive them to a place where the supermarkets are open. All I can do is give them some instant noodles from my car.
READ MORE: He Was Visiting Shanghai. Then His Health Code Turned Red
Even though I follow a very strict protective routine and disinfect the car after every ride, I am still very worried about being infected. My wife has also been worried about me.
The company arranged accommodation. But it was in a hallway at their office. Everyone sleeps together. I spent one night there and decided to leave — it seemed easy to get infected there. I took a quilt with me and slept in the car.
Sometimes I take a "shower" inside the railway station. I get some hot water, and wipe my body with a towel.

"Savior"
Since May 5, Dazhong has been taking reservations from the public.
I picked up nearly 20 people today, most of whom are college students going back home. It hurts to see these students trapped in campuses and missing home for so long. My son, a graduate student who came to Shanghai for an internship, is also locked up in a rented room in Pudong District. I could only bring him food once.
Many passengers said that seeing me arrive was like seeing a "savior." One girl kept asking me to promise I would show up when making the appointment. As soon as she saw my car the next day, she flew out of the neighborhood gate like a little swallow, leaving her suitcase behind, jumping and dancing in the middle of the road.
My passengers have shared my phone number with other people. If I don't turn off my phone at night, it's impossible to sleep. One morning, I found 65 missed calls. But the company forbids us to take private jobs — the only way to make an appointment is to call 96822. The company needs to record the information of anyone leaving Shanghai: nucleic acid test results, train tickets, and their consent letter from the neighborhood committee.
I took three Tongji University students this morning, and they left me a lot of snacks as thanks. Some parents, too, called me from out of town to thank me because their children told them about me when they got home. There are more thank you notes on WeChat. One girl left me a message: Because of you guys, we have hope.
These are the best days of my career. I never received such respect.
I've been driving a taxi for 10 years. Before, I worked in a state-owned enterprise in my hometown, in Anhui, for 21 years. I switched to driving to ease a heavy financial burden my family faced. In 2012, the taxi business was good, and there was no online car-hailing. At that time, I could earn 800 yuan in 10 hours. Now I work 16 hours a day but only earn around 600 yuan. There is not much left after I give half of it to the company.
Taxi drivers made a great contribution to the city during the lockdown period. After the reopening, I hope that the government can limit online car-hailing and forbid companies backed by big capital from cutting prices to control the market.
Taxis are supposed to be the "business card" of a city, and thus we have high requirements. Besides a driver's license of more than three years, it requires three months of training and study for the service test. Now, this business card of the city is impacted by online car-hailing. You can't make money, you're in a bad mood. And if you're in a bad mood, once passengers complain, you're going to have arguments.
I used to play CDs while driving. I listened to Andy Lau and Jacky Cheung. Now I'm driving a new car and I don't know how to play music in it. People at my age are not good with digital devices. The only entertainment for me now is to try and strike up conversations with the passengers. I'm not cultured, but I know how to start a conversation with people from different walks of life.
During the lockdown, all the passengers keep thanking me as soon as they get in the car. I have never talked so much in a day.

Scams and sky-high fares
Why are passengers so grateful to me? Unlike unlicensed taxis, we charge passengers according to the meter. Many students from Fudan and Tongji University spend more than a thousand in order to go to Hongqiao Station. Since there aren't enough cabs, some people have to pay that much to leave.
I ran into two students waiting for a driver at the entrance of Tongji University yesterday. They told me they were paying 4,000 yuan for a carpool.
If they took a licensed taxi, they would only need to pay 130 yuan to Hongqiao.
I told them to keep the transaction record, write down the license plate number, and then file a report with 12345 or the police. Besides overcharging, some of those drivers are even using fake green passes. They should be heavily fined.
Some people have even been scammed by fake drivers. An old lady taking a flight at Pudong Airport told me, she transferred 1,500 yuan to someone who said they were a driver, and then they blocked her.
The old lady arrived in the US yesterday. She messaged me her WeChat chat and transaction records with the scammer, and asked me to help her file a report at the police station, hoping to get her payment back.
I've communicated with so many passengers recently, and I've added so many passengers on WeChat. I kind of lose track of who is who. But I will try my best to help her after this busy period.
Editor: David Cohen.
(Icons: appleuzr/Getty Creative/VCG)
(Header image: A taxi driver waits for passengers outside a residential community in Shanghai, May 14, 2022. VCG)