SHANGHAI — For Xixi, life now revolves around the color-coded QR codes installed on her smartphone.
People across China have grown used to showing a green "health code" to enter public buildings like malls and office buildings during the pandemic. But since the Shanghai lockdown began, some schools have taken the technology much further.
Xixi, a sociology student at Shanghai University, now has to show a green QR code to access the campus supermarket, or even the public bathroom to take a shower.
The bathroom code turns green for five and a half hours once every two days. The rest of the time, the postgraduate has to wash using the sinks in her dormitory.
"It's such a strange feeling: the idea that all our daily activities — what we eat, or when we can take a shower — are included in the authorities' plan," Xixi tells Sixth Tone. "Our generation has never experienced anything like this before."
Students across Shanghai are struggling to adapt to a surreal new normal, as the city's universities impose strict pandemic control measures amid China's largest COVID-19 outbreak since 2020.
Most of Shanghai's 25 million residents have now been under lockdown for over four weeks. Many students, however, have been confined to campus for even longer.
Shanghai University was locked down at the beginning of March. Since then, students have been attending classes online. At times, they have been unable to leave their dorms, where six students share a single room and there are no hot showers.
The atmosphere on several campuses has become tense, students tell Sixth Tone. Some students have resorted to violating lockdown, creating graffiti, and posting complaints on social media as their frustration has grown. Yet, others have tried to keep up their spirits by organizing times to open their windows and sing together.
Sixth Tone spoke with several young people locked down on campuses in Shanghai about the situation at their schools and how they're coping during lockdown. We have changed the students' names to protect their privacy, and the interviews have been edited for brevity and clarity. 
Xixi, master's student, Shanghai University
I've now been locked down inside my university for nearly two months. On March 2, the school abruptly told us that we could no longer leave the campus. It was a chaotic night.
All of us were asked to do a COVID-19 test. There was no official announcement explaining what was happening. We were just told that classes were moving online, and that soon the campus stores and canteens would close.
At first, we saw the lockdown as a fun experience — we could still move around inside the campus. The supermarkets and canteens were still open, and we even held music festivals in our school garden. But then, things changed dramatically.
On March 5, school officials informed several students, including myself, that we had been identified as close contacts of a positive case. We were moved into the university hotel. Twelve of us had to stay in the hotel's meeting room for four days. We were only able to shower once.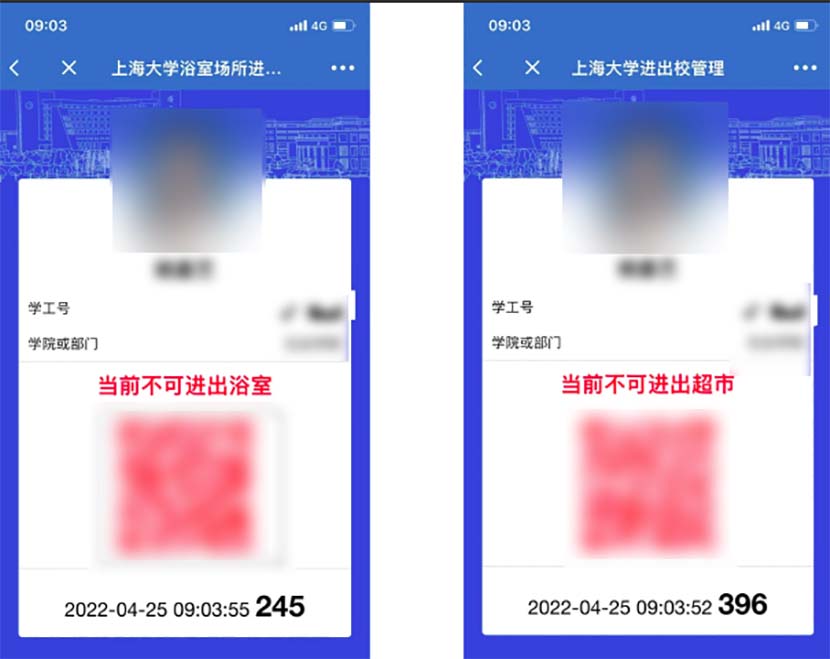 The supermarket code (left) and shower code (right) used to access campus facilities at Shanghai University. The red code indicates that Xixi is not currently allowed to enter. Courtesy of Xixi
By the time we were released, the school had ordered all students not to leave their dorm buildings, as new cases had been detected on campus. Things started to get more inconvenient.
Showering was a problem. We normally take showers in the public bathroom, which is another building on the campus. Since we couldn't leave our dorm, the only solution was to wash using the sinks in the toilets, which only had cold water. If we wanted to bathe in hot water, we had to boil it using a kettle.
During that period, we were all kind of depressed. All we could do was stay in our dorm room, which six of us shared. We weren't allowed to buy anything, except food from the canteen. Anything else — from fruit to sanitary pads — we relied on school officials to provide.
As a result, our mental health wasn't great. Life was an endless cycle: online classes, eat, play with our phones, sleep, repeat. How to describe this feeling? It was like we were floating in the air every day, without the feeling of touching the ground. Time started to blur.
At times, we tried to do something fun. One night, students held a small singing event, where we leaned out of our windows and sang together. But a school official put a stop to that after one song.
Since this past Monday, things have improved. We're now allowed to leave our dorm, meaning we can at least walk around the campus. But we have embraced a new normal: the school introduced new health codes — for example, a "bathroom code" and "supermarket code" — that only allow us to enter these locations at specific times.
My bathroom code turns green for five and a half hours every other day. Then, I can finally take a proper shower in the public bathroom. For the supermarket, we need to make a booking to enter, but the slots run out super fast. I tried once and failed. Since then, I've just been using the vending machines.
It's such a strange feeling: the idea that all our daily activities — what we eat, or when we can take a shower — are included in the authorities' plan. Our generation has never experienced anything like this before.
Sometimes, I wonder how much our lives have changed due to COVID-19 and the lockdown measures. I'm in my 20s. These are supposed to be the best years of my life, yet we're trapped in this situation. Some days, I find myself thinking: I didn't do anything wrong, why do I have to be locked in here for so long? 
We're still unsure when the lockdown will end. As a sociology student, the two-month lockdown has made me wonder: why is it that our society is seemingly moving forward, yet people face more restrictions? I often think about this question, but I can't find an answer.
Huanhuan, undergraduate student, East China Normal University
Our campus lockdown began in mid-March. The experience has totally changed my perception of the society we live in.
Like in other universities under lockdown, we're not allowed to leave the campus; for over two weeks, we couldn't leave our dorm building. Over time, difficulties have mounted up, and my trust in the school has eroded.
We're short of daily necessities — from toilet paper to sanitary pads — and have had to barter for these items with other students. More seriously, some of my friends have mental disorders that require medication, but the school has been ineffective at supplying it.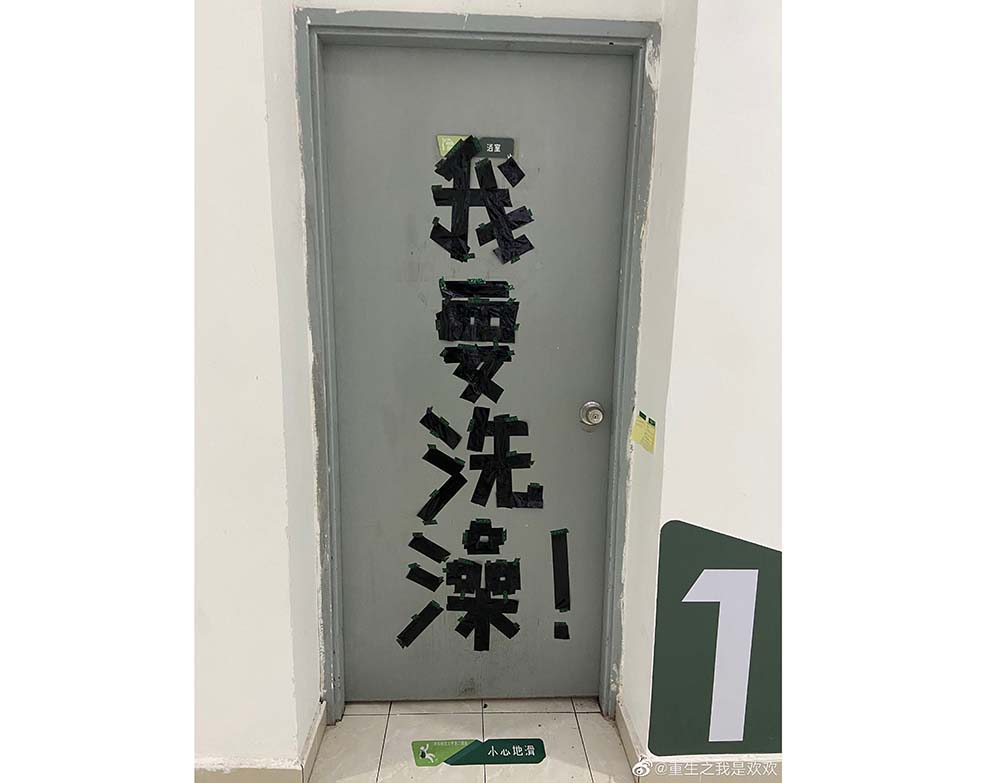 A photo of the message Huanhuan created using black tape at East China Normal University. The characters read: "I want to take a shower." Courtesy of Huanhuan
But the thing that bothered me the most was our inability to keep clean. On April 16, the school closed the shared shower room in our dorm. After 10 days of not being able to shower, I was so angry that I couldn't sleep. It wasn't just the fact it's unsanitary; it was the lack of respect we were being shown.
That night, I lay there thinking about my time in high school. We were only allowed to shower once a week then, too. We used to complain among ourselves, but never talked to the school about it. This time, I was determined to fight back: I grabbed some black tape, and used it to write "I need to shower" on the closed shower room door.
The next day, I was woken up by a phone call from my teacher, who told me what I did wasn't right. The tape was removed after just a few hours, but I posted a picture of it on social media and it went viral. After that, the school started issuing us "shower tickets" that allowed us to access the shower room.
The school has introduced a lot of new rules. The shower tickets state exactly how long we're allowed to bathe: a maximum of 20 minutes per day. If we want to leave our dorm, we first have to obtain a "leave permit" from the school. Only one person is allowed out of the dorm at a time.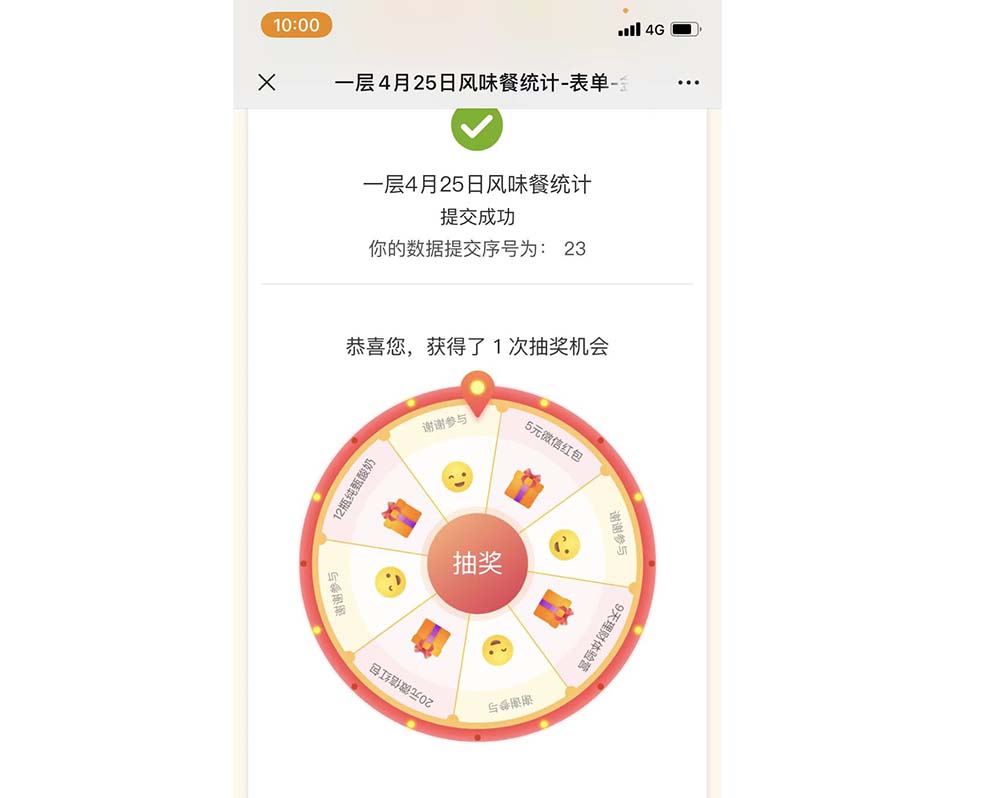 A screen grab of the lottery for "fancy" food run by East China Normal University. Courtesy of Huanhuan
If we want "fancy" food like noodles and bubble tea, we can enter an online lottery organized by the school. It's very hard to win: there are some 10 lots among hundreds of students. But I did get selected once.
As an art student, I've tried to use my talents to express my opinion. When the school put up barricades to limit our movement on campus, my friends and I put some graffiti on it. Funnily enough, the barricades disappeared soon after this.
After a fence appeared dividing the school in two, couples who had been separated began gathering at the fence. I decided to cover the fence with hearts made of red cotton thread. I thought it was fun. 
Editor: Dominic Morgan.
(Header image: Left: A red bathroom code (right) indicates that Xixi is not currently allowed to enter the public bathroom at Shanghai University; right: A leave permit (above) and shower ticket (below) provided to students by East China Normal University. Courtesy of Huanhuan and Xixi)