Late in 2020, at a two-hour televised musical competition in Beijing, the impatience and excitement coursing through thousands of delirious fans was clearly palpable.
They didn't know when their idol would perform, some had spent thousands of yuan on scalped tickets, but all had come hoping for just a glimpse of their preferred contestant, particularly since each performed for just around four minutes.
When Gao's favorite idol walked out, she barely stopped herself from screaming in elation. She could not afford to get too excited. She had to have her camera ready at all times to capture her idol's moment on stage: any distraction could ruin that one perfect shot.
As his song came to an end, Gao set down her heavy DSLR camera and long-focus lens, pulled out her laptop, and began editing photos on the spot.
"His skin isn't looking too good today," she muttered to herself as she expertly color corrected, airbrushed, and liquified the images. It was just enough to erase the singer's imperfections, without making him look unnatural.
Gao then quickly uploaded the images to the microblogging platform Weibo. As she watched a growing tide of praise roll in online, Gao smiled, and said: "Maybe tonight one of my pictures will go viral."
In China's multi-billion-yuan fan industry, actors, singers, and idols need ample exposure to maintain, engage, and grow their loyal fanbase. That's where the more dedicated fans, like Gao, come in — with extra time, energy, and money to spend, such fans buy professional equipment and follow their idols around, posting as many photos as possible.
The objective is simple: boost their celebrity's influence and popularity through hashtags, shares, and comments on social media. Such accounts are referred to as tuzhan, which literally translates as "image stations," while the people who run them, like Gao, are dubbed zhanjie or "station sisters."
As the industry continues to expand, such fan-made "stations" have played an increasingly important role in maintaining exposure. Though the practice seemingly infringes on privacy occasionally, celebrities often tacitly give it their consent believing it benefits their careers.
As a result, image stations that run on dedication alone and demand nothing in return for their content have developed alongside purely profit-driven paparazzi, as a quasi-profession.
Last year, China's top cyberspace watchdog vowed to strengthen oversight of online fan groups. The move was announced after allegations that fan groups often used organized activities to elevate their beloved idols' images or tarnish competitors' reputations.
But for the moment, dedicated fan groups are still an indelible link in a celebrity's business: they follow idols from one event to the next, photograph them, buy and sell their images, create stations, and sell photo books.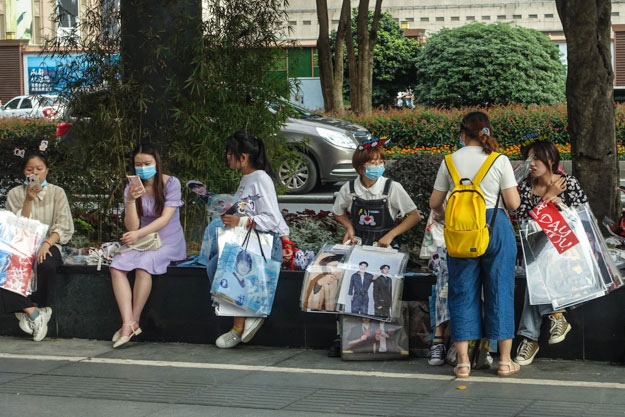 Fans hold posters of their idol outside a theater, Chengdu, Sichuan province, June 2021. Yuan Kejia/VCG
Starstruck
Gao was born into an affluent family in the Yangtze River Delta region and attended university in Shanghai. Here, students have much to do outside classrooms: eat at the city's most popular restaurants, go window shopping in the business districts, do volunteer work, and, of course, fawn over idols.
At first, Gao says she was just a "regular" fan; but that was before she saw her idol in the flesh for the first time in the summer of 2020. Until then, she had never considered the idea of becoming a zhanjie.
Her idol is an up-and-coming singer-dancer, who broke out after performing on a talent show. Though by the time she fell for him, she had already chased many stars and dabbled in fan clubs, she had never experienced an idol rising to fame, in real time.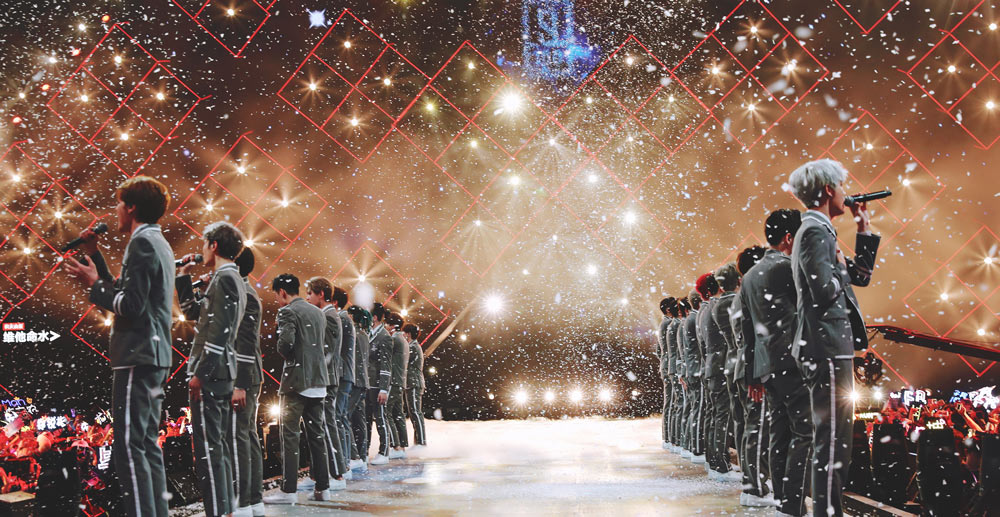 The final competition of a talent show, 2018. From @爱奇艺偶像练习生 on Weibo
"When I witnessed his vivacious stage presence and his determination to make his dreams come true, I was instantly swept away," Gao recalls with a smile. Soon after, she joined a dozen or so online fan groups, both official and fan-made, and began brainstorming strategies to boost her idol's social media relevance and help him win the competition.
In the grand final episode, her idol's moment of glory was confirmed in a flurry of confetti. Tears of joy rolled down her cheeks as she realized that all the time and money fans like her had invested into boosting his social media rankings hadn't been in vain.
She watched this normally timid and self-effacing man confidently stride onto a podium, symbolizing the next phase of his ascent to stardom. From then on, she began following his progress at every step.
At the time, she had little time to participate in offline events. "I had taken too many credits at school and was also hoping to receive a postgraduate recommendation," says Gao, adding that she did contribute by always buying the products he endorsed.
In the summer holidays, Gao bought her first ever scalped ticket and attended the recording of a show featuring her idol. After waiting outside the venue for close to five hours, she involuntarily let out a scream when he finally appeared.
Seeing him in person had an almost magical effect on her. In the few days that followed, Gao pored over the photos and videos she'd taken to try and relive that moment.
She searched forums and found posts by several zhanjie in which they recounted their experiences. After deliberating for a few days, she decided to join their ranks.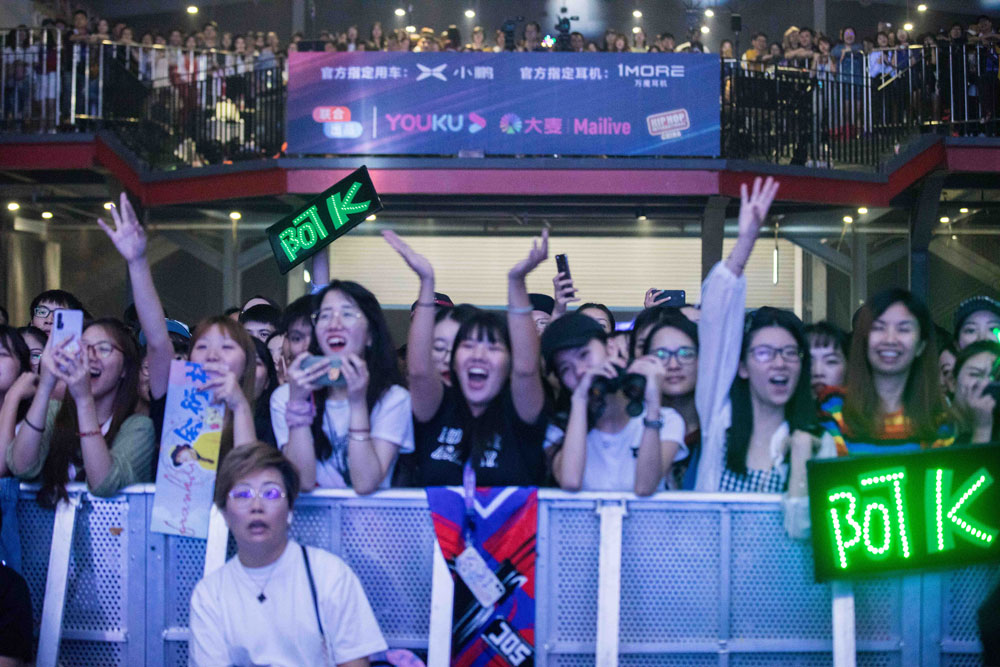 Fans wave to their idols during a performance in Shenzhen, Guangdong province, 2019. Xu Kangping/VCG
Euphoria
Gao started by looking up recommendations online and bought a Canon 5D4 SLR camera and a 100-400mm long-focus lens known as the "big white bunny," spending over 30,000 yuan ($4,500).
After hastily mastering its basic functions and learning elementary photography skills, she set off on her first "job": photographing her idol's arrival at Shanghai's Hongqiao International Airport.
Such an endeavor requires purchasing flight information in advance. Though considered a violation of privacy, it's still cheaper than the tickets to events that often cost several thousand yuan.
Her inexperience showed. At the airport, Gao found herself stuck behind a human wall of fans and paparazzi throughout the event. All she had to show for her trip were a few blurry images.
She sat down at the airport McDonald's and let out a sigh. The only thing left to do was open up a paparazzi group chat on WeChat and buy someone else's images for her station.
But practice made perfect. After attending a few offline events, she got the hang of finding exits, hiding her camera, evading security, and tracking down scalpers. She also met a few veteran zhanjie, whose help she sometimes enlisted.
Gao's image station gradually built up an online following. Comments and private messages such as "Sister, thank you for going to all this trouble," "Sister, get some rest," "Sister, your aesthetics are great," warmed her heart and made her feel like the hustle was all worth it.
Gao says she's always been a quiet person. While working, she never struck up a conversation with others around her — she often kept her mask on and quietly took photos in quick bursts.
It's why she refers to herself as a "ruthless picture machine." However, at events where she finds herself close to her idol, such as documenting his departure or arrival at airports, he'll occasionally look into the lens and smile or wave.
On such occasions, she felt on top of the world. "In those moments, I figured that he must remember me — that I must be a bit special."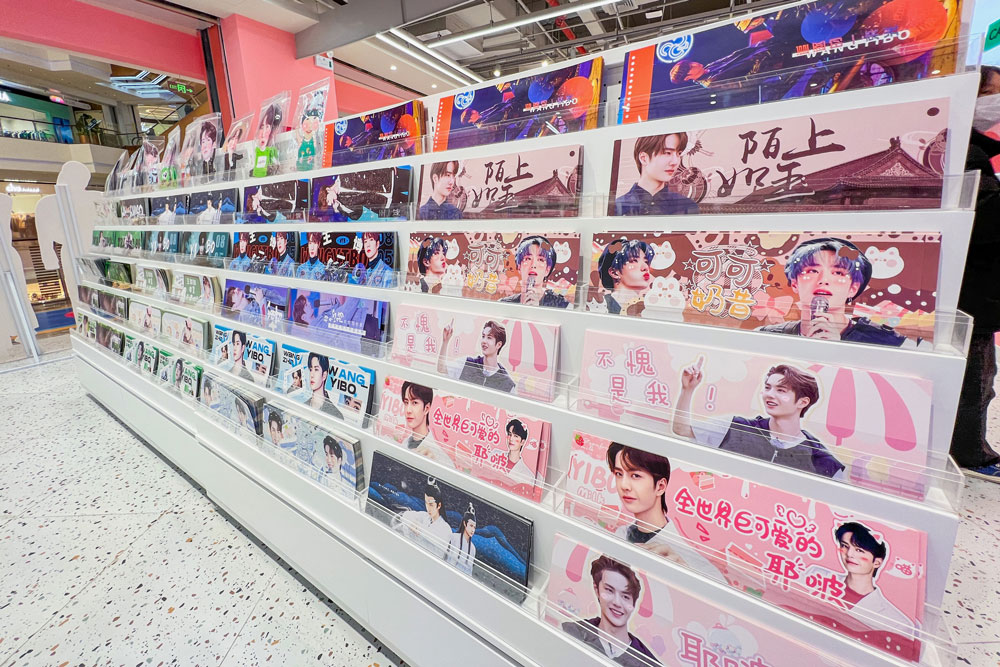 Posters for idols on display at a shop in Zhengzhou, Henan province, Feburary 2022. VCG
Hustling
The zhanjie circuit couldn't be more different from the casual fan groups that Gao was once a part of. "In this world, connections are extremely important. You need to have good interpersonal skills. As someone with social anxiety, I was at a natural disadvantage," she says.
"For example, to share rooms and rides, buy tickets to exclusive offline events, or even learn how to hide your camera, you need to be able to make new friends — zhanjie from other fandoms." A couple of zhanjie she met at previous events turned out to be little more than fleeting social media acquaintances.
On a typical day, a zhanjie tracks a flight, squats outside hotels and places of employment, purchases tickets, and attends events. Sometimes, they even follow the idol to another city for yet another event.
To get a better vantage point, they need to wake up earlier than regular fans and make their way to the venue hours in advance. They also require better post-production skills such as airbrushing and editing, which means that they sleep even later than their idols, who follow notoriously grueling schedules.
At performance venues, zhanjie have to stay completely focused on their work and restrain themselves from screaming and shouting like regular fans. They often don't get to enjoy the experience of seeing their favorite celebrity in the moment.
Once, when various TV galas and festivals were filmed in quick succession, Gao only slept six hours in three days so she could make it to every recording. "By the time I made it back to the hotels, my contact lenses had virtually dried to my eyes," she says.
Running across venues isn't just exhausting — it also implies tremendous costs. Apart from cameras, lenses, and travel, the main expense is tickets to events, which can cost anywhere from thousands to more than 10,000 yuan ($1,500) — something most fans can't repeatedly afford.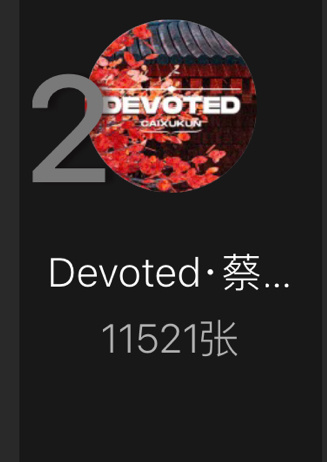 A screenshot shows a "zhanjie" who ordered more than 10,000 copies of their idol's new album. Courtesy of Li Wenfei
Moreover, while regular fans may purchase a few albums, magazines, or endorsed products, zhanjie must, to amplify their online station's role and prove their support, buy dozens or even hundreds of products. "Love" has, in this way, become quantifiable.
Despite her affluent background, these expenses were not easy on Gao. "In the last couple of days, I saw someone say that they'd spent the equivalent of a domestically produced car. I haven't quite spent that much, but I've certainly dropped tens of thousands of yuan."
The greater a station's engagement, the more likely its chances of becoming a dazhan (big station) or even shenzhan (legendary station). Such stations not only receive the support of fans and become important promotional tools for idols but their operators also often get concert tickets well in advance through official fan clubs.
When she first opened her image station, an ambitious Gao occasionally aspired to attain the rank of dazhan. In the first few months, however, though she skipped countless classes to go on trips following her idol, her station got little traction.
She discovered that the amount and style of photoshopping a zhanjie employs often requires a careful balance, and must complement the idol's image and branding. At the same time, Gao says, speed is of the essence: "If your images are essentially the same as everyone else's, then it comes down to who uploads them first."
Her impression is that pingmufen ("screen fans," a somewhat derogatory term for fans who only follow their idols online) place such an emphasis on speed that, rather than taking images and carefully editing them herself, she'd have better chances at increasing engagement by speed editing images bought from the paparazzi.
Once the initial passion had worn off, what kept her going was no longer her love for her idol, but rather the responsibility she felt toward her ever-growing base of followers.
Gao says, "Perhaps out of a combination of academic pressure, physical exhaustion, and fear, I was deluding myself; I never stopped to think too much about whether it was all worth it."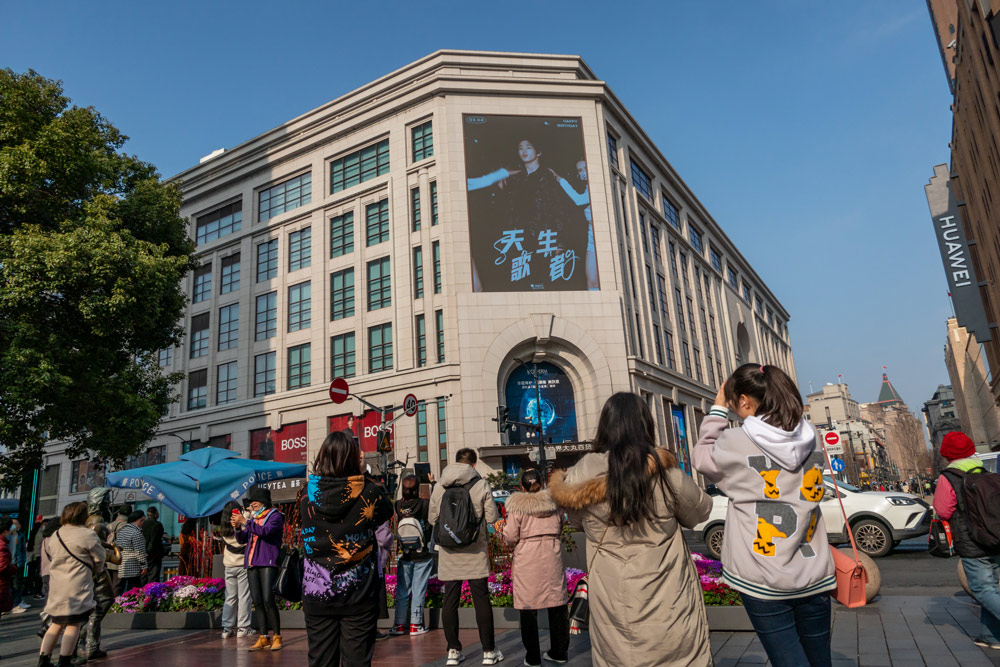 Fans take photos of a billboard displaying their idol's photo, in Shanghai, March 2021. Wang Gang/VCG
Rules of the game
Having made colossal investments of time and money, zhanjie sometimes exploit legal gray areas hoping for some returns, primarily from selling image compilations.
Such photobooks can rake in thousands of yuan, with particularly successful editions bringing in millions. Other than the same copyright infringement accusations leveled against paparazzi, photobooks can't have a CIP number — a government-mandated permit required to publish books.
Such violations can lead to the serious criminal charge of illegal publication. Moreover, zhanjie may also run the risk of tax evasion since sales of such books are not taxable.
But fans have no problems with these practices, as long as a zhanjie promises to reinvest the profits back into their stations. Operating under a shared love for their idol, zhanjie and official fan clubs often help each other out.
However, distrust erupts at the slightest suspicion of conflict of interests, and it's not uncommon for irate fans to cancel stations.
Gao once witnessed this. Members of an official fan club and an influential fandom figure teamed up to run a cancel campaign against one zhanjie.
The accusers produced evidence of "engaging in malicious private conversations with the intent to harm the idol's interests," "purchasing insufficient quantities of the idol's endorsed goods," and "selling photobooks and using the earnings for personal expenditures rather than purchasing the idols' magazines."
The two sides soon fell out, with the debate quickly growing vitriolic and deeply personal. Ultimately, the zhanjie was forced to shut down her account, while the influential fan who launched the campaign received thousands of hateful comments.
"At first, I just thought it strange — but, in retrospect, it scared me," says Gao. "Although I had witnessed this in the past as a regular fan, it became a lot more personal after I became a zhanjie."
Gao was also on the receiving end of this incident: she once got threats in private from fans that sent chills down her spine.
"Would I someday become the target of an online mob? Who knows what rabid fans will accuse you of. Poor aesthetic taste in your photography, not buying enough endorsed goods — they could even make up rumors about me violating their idol's private life," says Gao.
"I wasn't close enough to anyone I knew in these circles; if no one helped me, that would have been the end of me."
That's when she decided to quit.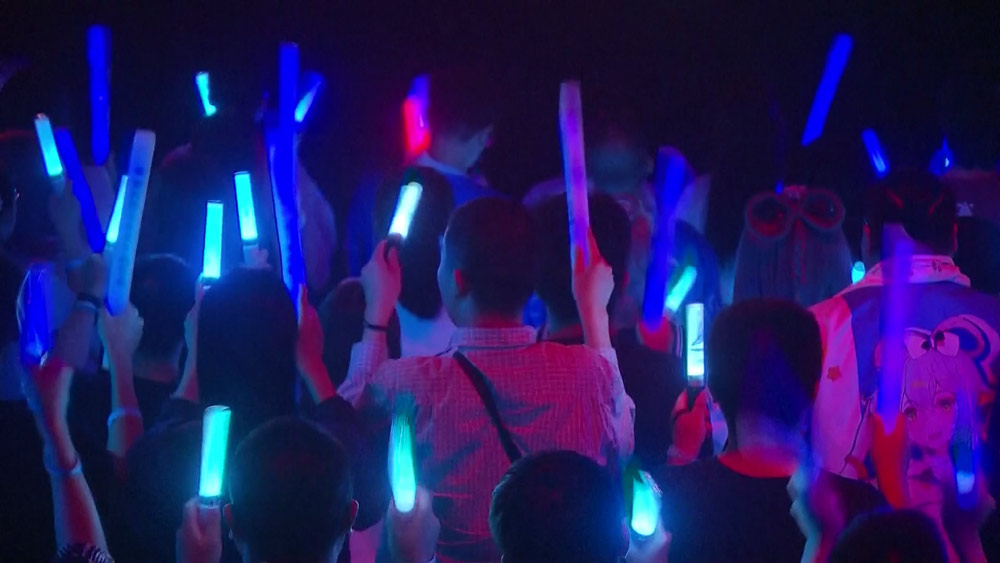 CCTV+/VCG
Exit
Early in 2021, her academic setbacks as well as negative revelations about her idol was a harsh return to reality for Gao.
Since then, she's left the game behind.
"I discovered it wasn't worth it. My life revolved around him [her idol] for so long, and I decided it was time for me to live for myself," she says.
Though her privileged background meant little worry about money, the time she spent and the lackluster grades caused anxiety and regret.
Several of her star-chasing friends have now given up too. Seeing her idol no longer evokes the passion or admiration it once did.
Instead, they were replaced by the exhaustion of witnessing the dark side of the fan economy — the emptiness of wasteful spending on endorsed goods, the toxicity of fandom feuds, and the unhealthy desire for validation.
In the summer of 2021, Gao was busy applying for studies overseas. She hasn't shut down her old station account — she has just stopped updating it. But she occasionally goes back to take a look.
Now, she has reframed her past as a celebrity chaser into a new life narrative. She said to a friend who also quit when it began affecting their performance in college: "Isn't rooting for your idol supposed to make you a better person? All we need to do then is just charge ahead."
Gao is a pseudonym.
A version of this article originally appeared in La Jeunesse Nonfiction Writing Bazaar, advised by Zhang Huiyu of Peking University. It has been translated and edited for brevity and clarity, and published with permission.

Translator: Lewis Wright; editors: Zhi Yu and Apurva.
(Header image: People take photos of celebrities and stars outside CCTV's building in Beijing, Feb. 22, 2021. Zhao Naiming/VCG)