As China contends with its largest COVID-19 outbreak since the first wave in 2020, the megacities of Shanghai and Shenzhen have imposed their toughest restrictions in two years.
The wide adoption of remote office software has helped white-collar workers and officers brush off widespread COVID-19 shutdowns, but the service and manufacturing industries, and their workers, have been hit hard.
Since Monday, most foreign companies in Shanghai required their staff to work from home, and state-owned enterprises asked workers to alternate shifts in the office, according to over a dozen residents Sixth Tone spoke to. Apartment complexes across the city will undergo 48-hour lockdowns for preventative testing on Thursday and Friday, in addition to many that are locked down following the detection of cases and close contacts.
Meanwhile, in Shenzhen, where a COVID-19 outbreak has continued for over a month, authorities on Monday ordered stores and factories to shut down and all enterprises to work from home. Restaurants are still open, but only for takeout. In Shanghai, retail is a mixed picture. In some areas, almost all restaurants are closed, while in other places it's possible to eat indoors.
Zeng Xifeng, the founder of Tangtangquan, a Shenzhen-based online medical platform for Type 1 diabetes patients, told Sixth Tone that his company moved its business and operation online after 2020, and employees had already adapted to remote work before the current wave. Staff only needed to visit the office on Sunday night to take their monitors home, so they can work on a large screen at home. Zeng said that his experience was typical for those at similar companies.
"This is the first citywide shutdown in two years, but I've seen almost no panic among companies, employees, or residents," Zeng said, adding that orders of diabetes medications in Shenzhen hadn't changed, as hospitals remain open.
Half a dozen Shenzhen residents told Sixth Tone that supermarkets and online grocery stores did not appear out of stock over the past week. Some areas in Shanghai have seen panic buying since last Friday, according to the residents Sixth Tone spoke to.
Confirmed cases and local lockdowns in Shanghai have mostly happened in residential compounds and office buildings. The hardest-hit areas in Shenzhen are mostly industrial parks and the city's distinctive "urban villages."
On Weibo, Shenzhen residents have described seeing food delivery drivers sleeping outside to avoid being sealed in their homes in urban villages.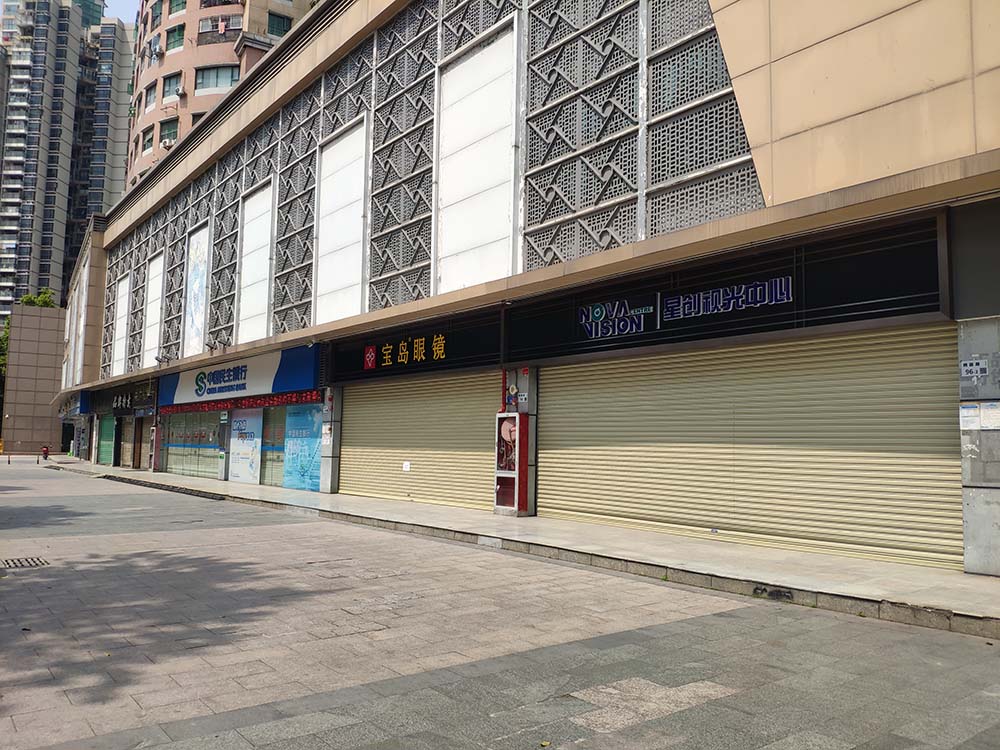 Shops are closed during a lockdown in Shenzhen, March 15, 2022. VCG
A screenshot of a food delivery driver's comment under a post from the Shenzhen Municipal Health Commission on messaging app WeChat last Sunday went viral online.
"I hope the outbreak will end soon. Even if I have to climb nine floors, I will have no complaints. I hope to hand over the delicious food to the customer and say have a good meal. I hope everything will return to normal," the driver wrote.
He Mengze, an electronic components supplier in Shenzhen's Bao'an District, told Sixth Tone that seven of his workers were infected over the weekend. Now, he is staying in the factory dormitory with his remaining 400 workers for centralized quarantine and daily nucleic acid testing. This will last for at least one week, He said.
"A week of shutdown is a huge loss for me," He said.
On video platform Douyin, workers have been discussing how they are going to get paid as factories shut down. Some workers in small factories complained about their boss' plans to deduct wages as the factory is closed.
Lai Weinan, a lawyer based in Shenzhen, told Sixth Tone that companies in the manufacturing and service industries are not allowed to reduce workers' wages during the business shutdown caused by the COVID-19 outbreak.
But, "to lower costs, companies can treat these days as paid annual leave," Lai said. Factories may also try to switch to piece rate pay with a low base wage, he added.
Spas and hair salon workers, who are usually paid a low base salary and earn money from commissions, are also hit hard, especially since many such shops are located inside closed compounds. A Shanghai masseuse surnamed Chen told Sixth Tone that even if she got her basic wage this week, it's not going to cover her daily expenses.
"I don't want to take a vacation, even if I'm given one. All I want is more customers and more shifts, and then I can afford to pay this month's rent," Chen said.
Editor: David Cohen.
(Header image: An aerial view of Shennan Avenue, a major road in Shenzhen, empty on March 14, 2022. VCG)