Last summer, Pan Jianxun eagerly awaited the start of the tourist season in central China's Henan province. A photographer in the provincial capital of Zhengzhou, he dreamed of capturing on camera the lucrative influx of tourists against the backdrop of endless wheat fields.
Pan is employed at "Unique Henan: Land of Drama," a gigantic complex that boasts 21 theaters spread over 100 acres. After four years of planning and construction, and millions of yuan in investments, it finally opened to tourists on June 6, 2021.
Then on July 20, disaster struck. As record rainfall from days of torrential downpours ravaged the province, one-fifth of the Unique Henan project went underwater, damaging at least five theaters. "The wheat fields were submerged under more than half a meter of water," recalls Pan.
After just 45 days in business, the project shut its doors. Instead of photographing the vast fields of wheat gently billowing in the wind, Pan could only record the choppy waters inundating his city.
The natural calamity could not have come at a worse time. July marks the beginning of the summer holidays, and with it, peak tourist season. It's why organizers chose to open Unique Henan in June.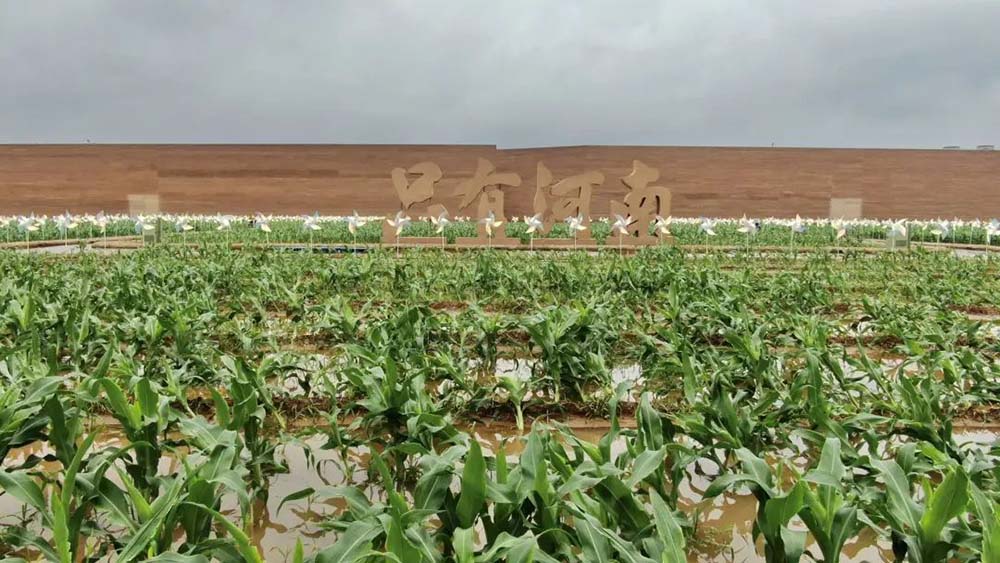 A view of the Unique Henan scenic area after the region experienced heavy flooding last year. Courtesy of Pan Jianxun
About 700 kilometers away, on the very day the floods ravaged Zhengzhou, Nanjing in the eastern Jiangsu province reported a fresh COVID-19 outbreak. Nine cases were detected at Nanjing Lukou Airport. In the week that followed, it spread to seven areas in five provinces, infecting close to 100 people.
"Scenic areas had just prepared for a resurgence of tourism during the summer holidays, but were forced to shut again," says Miao Wei, who works at the Sun Yat-sen Mausoleum in Nanjing's Purple Mountain Park.
Just two months prior, the pandemic had seemingly been contained across China, and tourists at scenic areas began returning to almost pre-pandemic levels.
"We were very confident; we figured the crowds were finally coming back," says Miao. But by mid-2021, after the floods and a fresh outbreak, tourist hubs in Zhengzhou and Nanjing realized they would not be able to make that triumphant comeback.
Three months into 2022, the COVID-19 pandemic shows few signs of abating, and the global economy still limps back to normal. While most industries in China have struggled, tourism was, by far, among the hardest hit.
People are traveling less than ever before and spending money more cautiously, leaving tourism hubs across the country struggling to cope.
If 2020 was already catastrophic for China's tourist hotspots, it has only gotten worse since. Instead of sudden outbreaks, infections now emerge sporadically, making it even harder for people to guard against it.
By March 14, the Chinese mainland has reported 8,531 currently confirmed COVID-19 cases in provinces and cities from the northeastern province of Jilin to southern Guangdong. And with infections still persisting in Henan province as well as the cities of Tianjin and Shenzhen, tourist destinations stare at another bleak year ahead.
Experts, however, see a silver lining: The endless setbacks over the last two years have finally compelled China's tourism industry to reinvent itself.
Stalled recovery
In Henan, the floods were only the beginning. Soon after, new COVID-19 cases were detected in the province, preventing Unique Henan from reopening until Sep. 3. The most lucrative season for tourism had been rendered a total write-off.
Early last November, another wave of infections shut Unique Henan again, this time for more than two weeks.
"In all my 16 years on the job, this was the most venue closures I'd ever experienced in one year," rued the complex's head of marketing, who requested anonymity.
He Xiu manages online reservations at the Autumn Harvest Uprising Memorial Park in Liuyang, a popular revolutionary site in Henan. During the pandemic, she also had to assume other responsibilities, such as checking health and travel codes, as well as reminding visitors to wear their masks.
"Safeguarding the park amid the unending pandemic control and prevention regulations was no easy task," she says.
Over the last year, He Xiu noticed that more and more tourists preferred to make reservations online before visiting the park.
"Because this is an educational space related to the communist revolution, it is free and open to the public. Initially, people didn't understand why they had to make reservations beforehand. Some tourists complained that the process was very complicated. But slowly, people became more understanding," she says.
Now, she has grown accustomed to patiently de-escalating volatile situations, assisting the elderly in making reservations, while simultaneously enforcing the park's disease prevention measures.
The unease is not limited to just Henan and Jiangsu. Tourism hubs across the country currently face two simultaneous challenges: plummeting footfall and maintaining the delicate balance between management and disease prevention.
Wei Xiao'an, chief expert of the World Tourism Cities Federation and director of the China Leisure Association's Holiday Branch, says that among all the nation's scenic areas and landmarks, most are looking at severe losses, a minority will manage to break even, while only a handful may eke out a meager profit.
According to Xin Hongye, vice-director at the Information Center of the Ministry of Culture and Tourism, three facts about the pandemic so far have caught people off guard: that it has lasted for so long, that its influence has been so wide, and that it emerges again and again.
"Preventive measures have become the new norm. Over the last two years, the tourism industry has been on a rollercoaster ride of shock, surprise, and fear. Now, every time things seem to be looking up, we pray it's not an illusion," says Xin, with a sigh.
Silver lining
Despite the persistent disruptions, there was an upside: the pandemic underscored the importance of reinvention. Across the latter half of 2021, China's tourism industry shifted gears, implementing a series of fundamental transformations — providing better services, tapping into new markets, and prioritizing quality.
Among the pandemic's biggest challenges the sector had to account for were changes to lifestyles and travel habits: people were more hesitant to travel greater distances, and fewer and fewer chose to even leave their home provinces.
Data from tourism platforms show that the percentage of trips over 300 kilometers significantly decreased, while trips within 50 km surged. Not only are shorter trips less expensive, but they also allow greater flexibility in terms of time management, as demonstrated by the continual increase in the percentage of weekend getaways.
Many interviewees indicated that they now preferred local tourism and staycations at resorts on the outskirts of their cities, over traveling to major destinations, which require week-long holidays and mean long queues.
"Currently, a lot of tourist consumption has been redirected towards urban leisure and countryside resorts," says Wei Xiao'an, chief expert of the World Tourism Cities Federation.
Pre-pandemic tourism — crammed into coaches, shuttling from one landmark to the next, taking photos, and going home — now finds little appeal among consumers, according to experts. Scenic areas no longer dominate the tourism ecosystem.
Take, for example, one particular hotel in the suburbs of Beijing, which, overnight, witnessed an exponential increase in footfall. To provide better entertainment for the sudden influx of guests, the hotel temporarily installed a bouncy castle for children in its luxury 500-people capacity banquet hall.
"We can't keep believing that, after doing nothing in the lockdown for so long, we can simply return to our old models of operation and achieve the same success as before," says Xin Hongye, vice-director at the Ministry of Culture and Tourism.
Heihe in the northern Heilongjiang province is China's volcano capital. Here, the Wudalianchi UNESCO Global Geopark once primarily banked on tourist traffic lining up at the "natural volcano museum" or relaxing in the hot springs.
When business ground to a halt during the pandemic, the base quickly pivoted to research. It proactively forged ties with several Chinese geological faculties and scientific expedition teams, and focused on becoming a leading center for field research.
Though the idea languished in the pipeline for years, the pandemic finally spurred the Geopark into action.
"China is a big country abundant in natural resources. Each of its scenic areas has unique geographical, cultural, and historical advantages. This pandemic has truly provided an opportunity to do some soul-searching about our purpose," says Xin Hongye.
The reinvention marked a fundamental shift away from the traditional business philosophy, which exclusively focused on revenue from entrance fees. "The days of simply setting up a toll booth at the foot of a mountain are well gone," says Xin.
Change has now seeped into every step of the management process. Take, for instance, ticket reservations. Since this is the first point of contact for visitors, it is also a crucial step in disease prevention. The service thus demonstrates a site's management capabilities.
Miao Wei, who has worked at Nanjing's Purple Mountain Park for over 10 years, says the park began testing an online ticket reservation system in 2017.
Since the pandemic, such systems have assumed greater significance. In addition to allowing tourists to confirm their itineraries in advance, they are also a critical tool used to limit entries and bolster disease prevention.
Miao explains that some out-of-town tourists did not realize that their health code information changed with sudden developments in the pandemic. This sometimes resulted in them being unable to enter the park or caused other issues with their travels.
During the National Day holiday in October 2021, the Jiangsu Provincial Culture and Tourism Bureau facilitated data exchange between its own intelligent platform and other online platforms so tourists could validate their health codes before visiting the province's many attractions.
This initiative allowed Purple Mountain Park to simultaneously validate a tourist's health code, travel code, and reservation code.
To complete reservations, visitors are first required to scan a QR code to validate their health codes. To enter the park, they simply open their health and travel codes from the QR code reservation page. This prevents tourists from traveling in vain and makes park entry more convenient.
"Before, we often talked about a triumphant comeback. What we're actually experiencing now isn't a comeback or a recovery — it's more like a business awakening," says Xin Hongye.

Striving, not struggling
As the tourism sector readies for a new year ahead in 2022, Wei Xiao'an, chief expert of the World Tourism Cities Federation, believes China's scenic areas have now achieved a relatively stable balance of offer and demand.
"There are now enough existing sites to satisfy tourists, negating the need to develop new ones on a large scale," says Wei, adding that the high-intensity development of scenic areas over the course of the last 40 years has essentially peaked.
"The two-year-long pandemic only burst the bubble. Those that need transformation and improvements must do so now. How we fare in the competition to come will depend on quality, not on cheap prices," he asserts.
Incidentally, the industry has already agreed on the need to shift from simplistic, excessive development to quality enhancement.
"Fine-tuning identities and branding, honing internal capacities, redefining approaches to the market, tapping into the core value of their resources, and providing more personalized services — honestly, there's a lot that scenic areas can do," says Xin Hongye.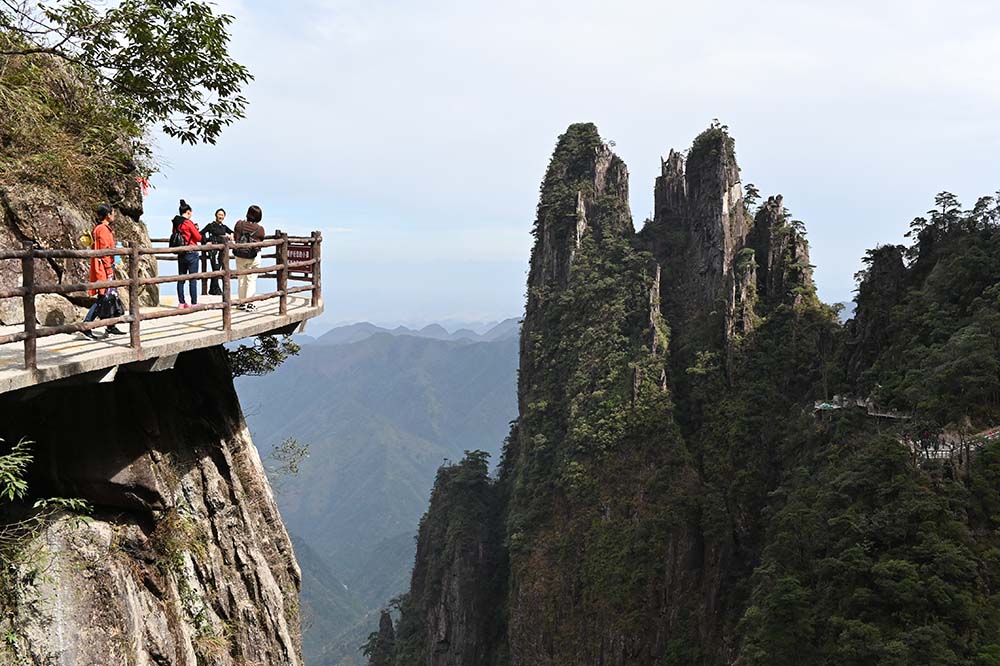 Tourists visit Mangshan National Forest Park in Chenzhou, Hunan province, Nov. 14, 2020. VCG
Wei Xiao'an points to Hunan province's Mangshan National Forest Park, which he visited thrice in the past year, as a prime example.
"Mangshan's greatest merit is the way it has made alpine tourism accessible. Thanks to the park's cableways, elevators, escalators, and wheelchairs, tourists of all ages and abilities are able to explore the mountaintop with no difficulty," he says. At the park, Wei saw people in their 80s or 90s as well as disabled people moving up the mountain in wheelchairs.
He also recommends that other scenic areas take a leaf out of Mangshan's book. "Larger scenic areas should take into consideration their unique advantages to provide comprehensive and diverse tourist experiences, rather than purely focusing on sightseeing," he says.
According to Wei Xiao'an, the elderly in China are a neglected demographic. "The opinions and travel habits of the elderly today differ greatly from their predecessors. Not only do they have time and resources — they're also more willing to spend," he says.
Before the pandemic, Wei Xiao'an made annual overseas trips, where he noticed that the vast majority of tourists were senior citizens. Now, this demographic depends on domestic sites to fulfill their desire for tourism.
For several years now, Purple Mountain Park has explored different paths of innovation to transition into a comprehensive holiday destination.
On Nov. 30, 2021, the structure of the park's tourist services center was completed, which will act as a hub for transfers between different modes of transport as well as provide tourist services, travel guides, and urban leisure.
Even with a clearly defined concept, polished products, and equally refined services, marketing is still king.
The marketing of Unique Henan made several breakthroughs that allowed the entire initiative to rapidly get off the ground. The first post on the initiative's WeChat account, titled "I'm Not a Real Henan Native," was written by Qin Shuo, an author and media professional from Henan. It has since amassed 300,000 views, thus creating tremendous visibility.
Unique Henan also prioritized multiple channels of collaboration. When it first opened its doors, it joined hands with lifestyle influencers and social media platforms to create online content that highlighted its unique attributes.
This online buzz increased footfall as well as profits. The initiative also employed multiple social media managers to respond to, and make changes based on online feedback.
In fewer than six months, despite closing shop thrice — first after the floods, and then twice during outbreaks — the theater complex nonetheless accommodated more than 500,000 visitors, with its performances attracting more than three million attendees.
Among the visitors, close to one-third came from outside the province. Many traveled all the way from Beijing, Shanghai, and even the Xinjiang Uyghur Autonomous Region in China's northwest.
In the future, thorough strategies that address the entire marketing process — from conceptualization and rebranding to promotion and reputation maintenance — will be essential to the development of any scenic area.
Challenges ahead
For tourist hubs, better business strategies were not the only positive takeaway over the last two years but also improved disease prevention and control, particularly since the pandemic shows few signs of abating soon.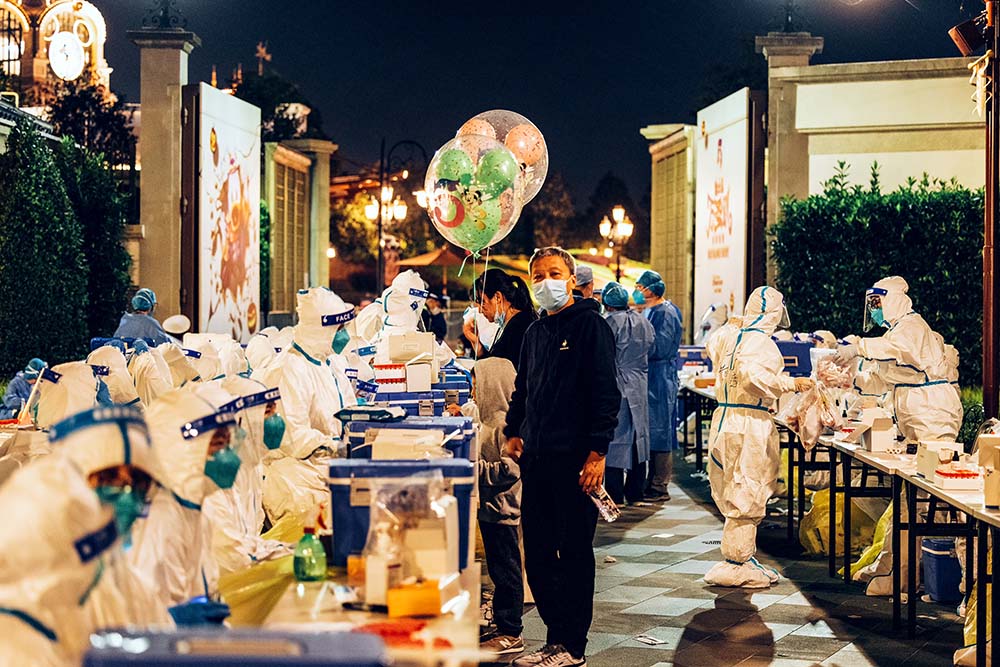 Visitors to Shanghai Disneyland undergo COVID-19 testing in Shanghai, Oct. 31, 2021. VCG
Breakthroughs were made in the areas of ticket reservations, restricting footfall, and encouraging off-season visits. As trans-regional tourism decreases, some hubs have attempted to gain a foothold in the staycation market.
Changes include membership systems to increase customer loyalty, fine-tuning branding, offering a greater range of services, and tapping into the location's unique cultural significance.
At a summit in November 2021, Liu Yanxiang, general manager of Meituan's tickets and travel division, said the tourism industry must abandon pipe dreams and keep up with the zeitgeist: "We must strive, not struggle."
Last year, Shanghai's Disneyland showed how. On Oct. 31, to comply with local COVID-19 orders, the park shut its doors at 6 p.m. so every visitor could be tested within one hour.
Despite the daunting task ahead, the park decided to go ahead with its fireworks display. It made for quite the scene: Under a night sky lit up by a cascade of colorful sparks, tourists and locals alike lined up in an orderly fashion to get tested.
That evening, Zhang Wenhong, an infectious diseases expert from Shanghai, wrote on the microblogging platform Weibo: "Thank you for today's display of fireworks. It allowed us to witness the calm composure of humans in the face of adversity as well as their confidence in the future."
As 2022 beckons, the battle ahead for China's tourism industry is evident. But embracing change with an open mind, doing what is difficult but right, and reinventing while still remaining true to one's essence will make the battle just that little bit easier.
A version of this article originally appeared in Shenran Caijing. It has been translated and edited for brevity and clarity, and published with permission.

Translator: Lewis Wright; editors: Xue Yongle and Apurva.
(Header image: Tourists take photos at the Fenghuanggou scenic area in Nanchang, Jiangxi province, March 12, 2022. Liu Lixin/CNS/VCG)