2021 has been a year of contradictions. It had joys. China's Olympic and Paralympic athletes competed in Tokyo, taikonauts and the country's first-ever Mars rover explored space, and a troupe of elephants won the internet's heart with a long cross-country trip. Meanwhile, people started taking vaccines during their second year living with a global pandemic, and flood victims in Henan and elsewhere suffered from disasters caused by extreme weather. 
Sixth Tone presents 35 photos that reflect the joy and sorrow in 2021. These photos show the year as experienced by front line medical workers, athletes, astronauts, animals, and ordinary people.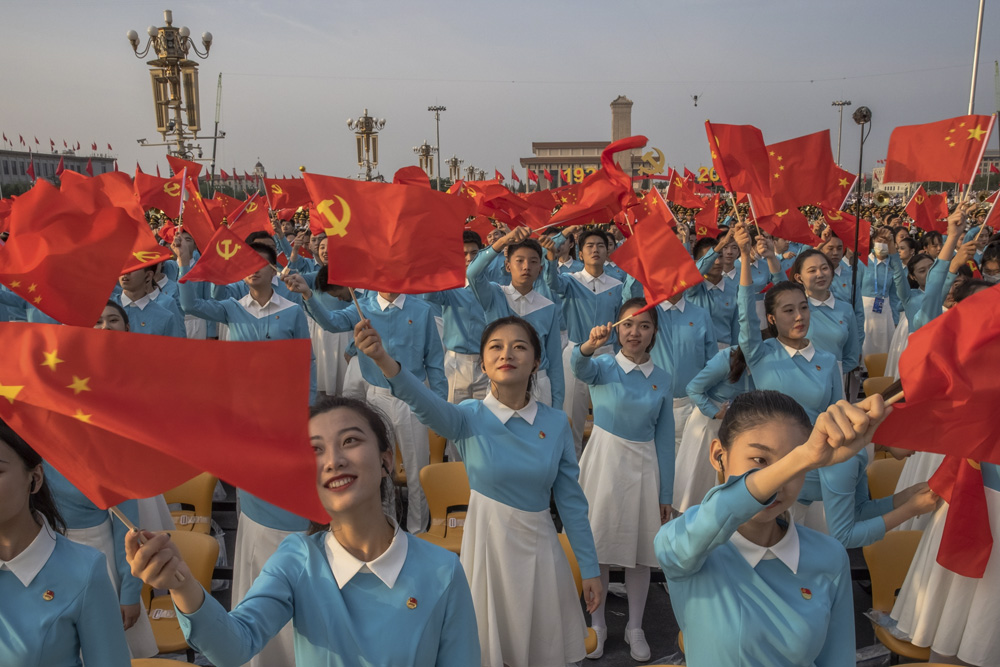 A snapshot from celebrations marking the centenary of the Communist Party of China at Tiananmen Square in Beijing, July 1, 2021. Roman Pilipey/EPA via IC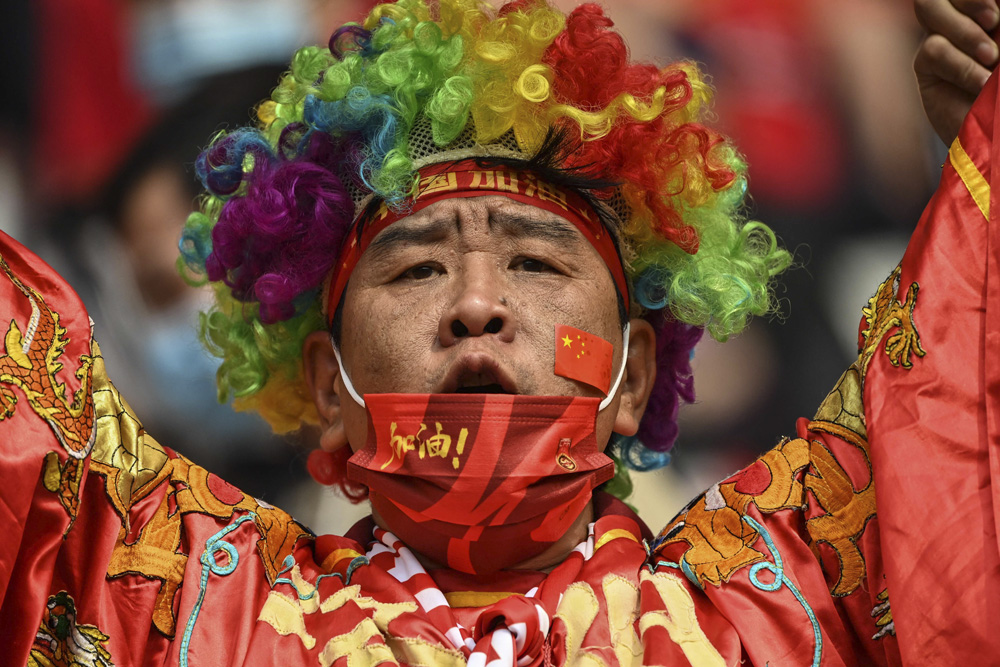 A Chinese fan cheers at a women's football game between China and South Korea in Suzhou, Jiangsu province, April 13, 2021. Hector Retamal/VCG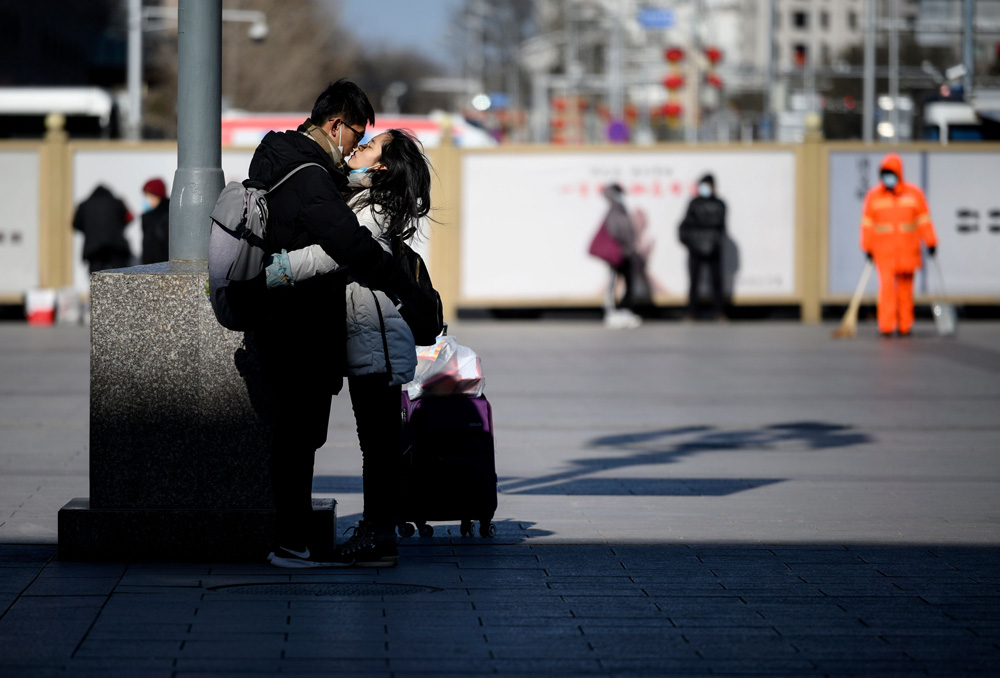 A couple embrace outside a Beijing railway station, Jan. 28, 2021. People Visual.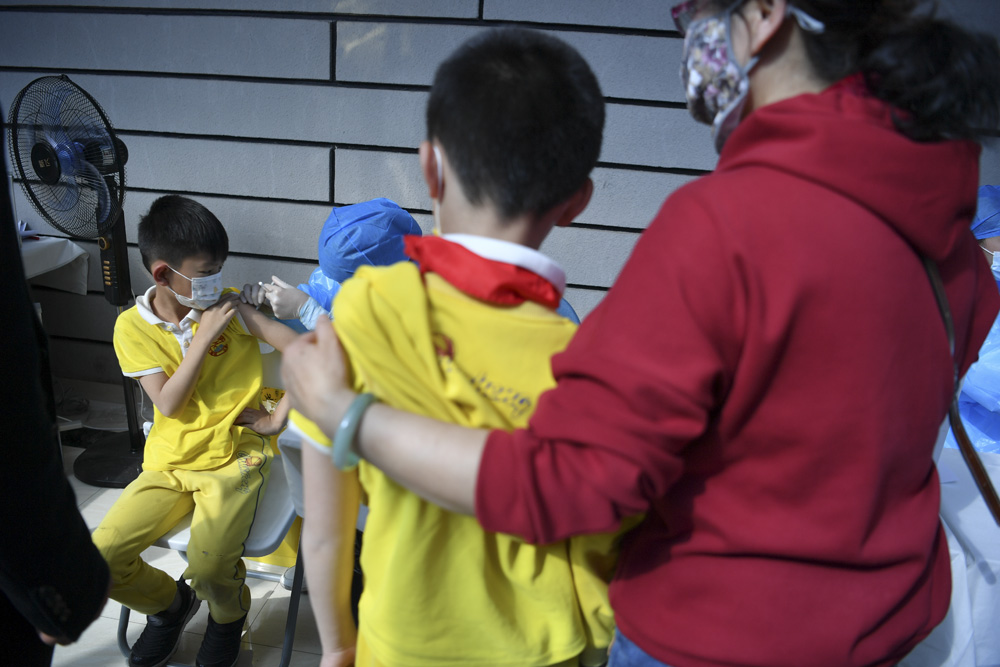 Primary school students get vaccinated with their parents in Kunming, Yunnan Province, Nov. 6, 2021. Liu Ranyang/ IC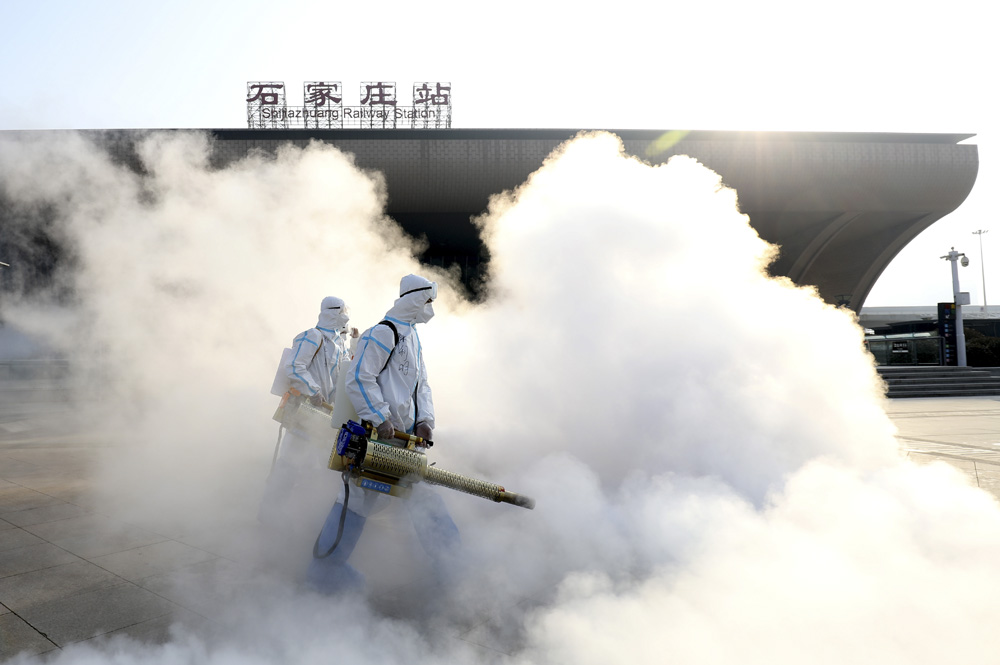 A volunteer during a sterilization operation at the west Square of Shijiazhuang Railway Station in Hebei province, Jan. 31, 2021. Liang Zidong/People Visual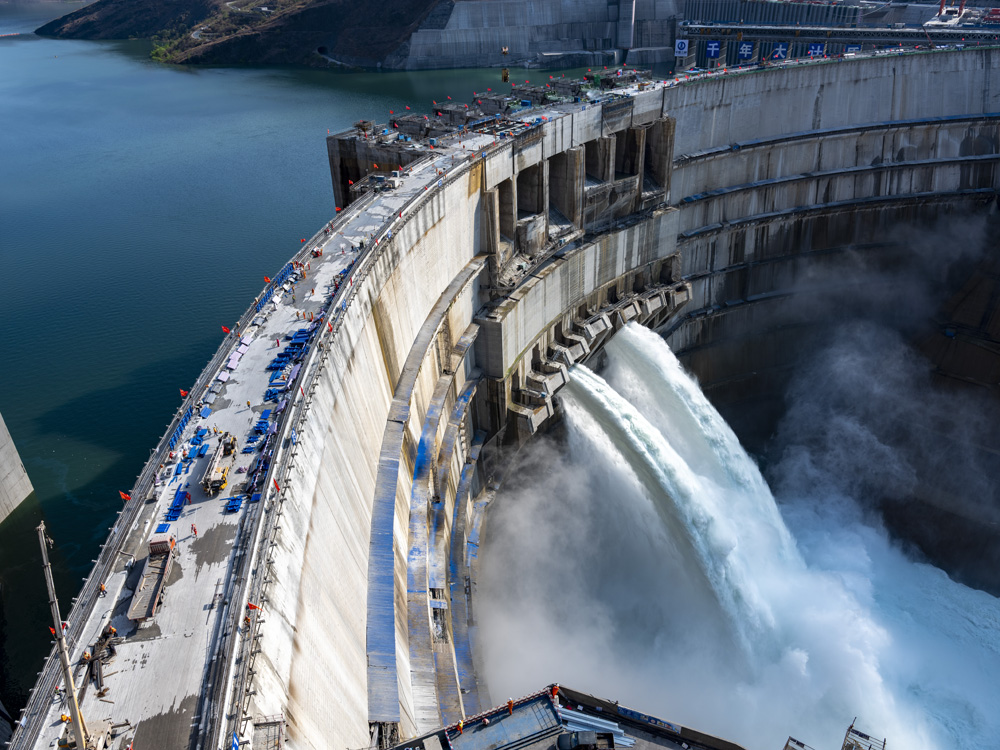 An aerial view of the Baihetan Hydropower Station in Liangshan, Sichuan province, May 30, 2021. The world's second-largest hydropower project, it started operations June 28. Huang Zhengping/People Visual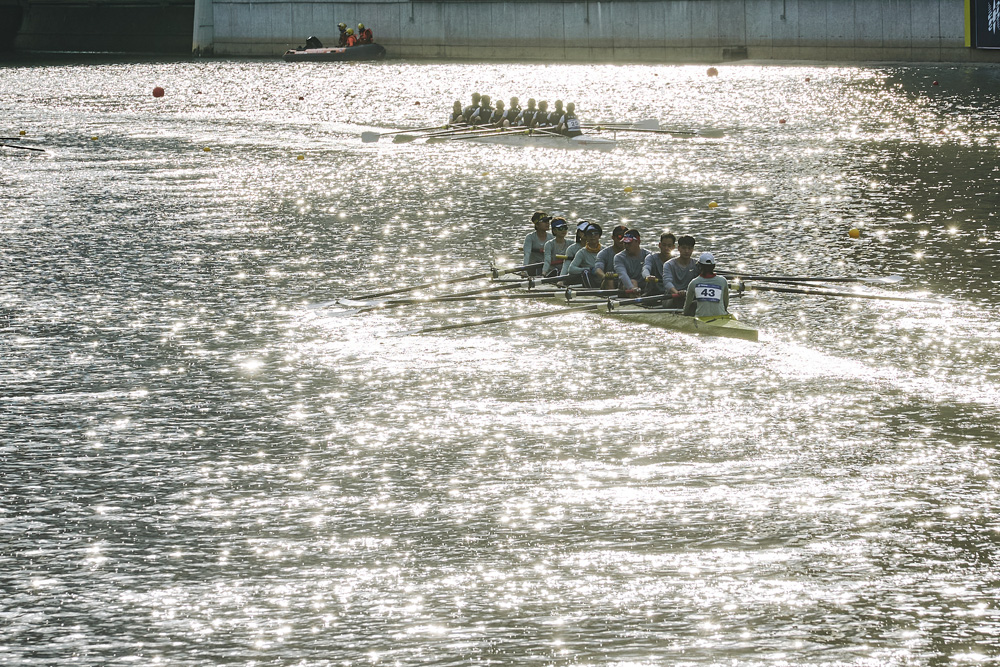 Rowers compete during the Head of Shanghai River Regatta, Oct. 24, 2021. Wu Huiyuan/Sixth Tone
A van driver waits for rescue during flooding in Yichang, Hubei province, April 7, 2021. Wu Lingjian/People Visual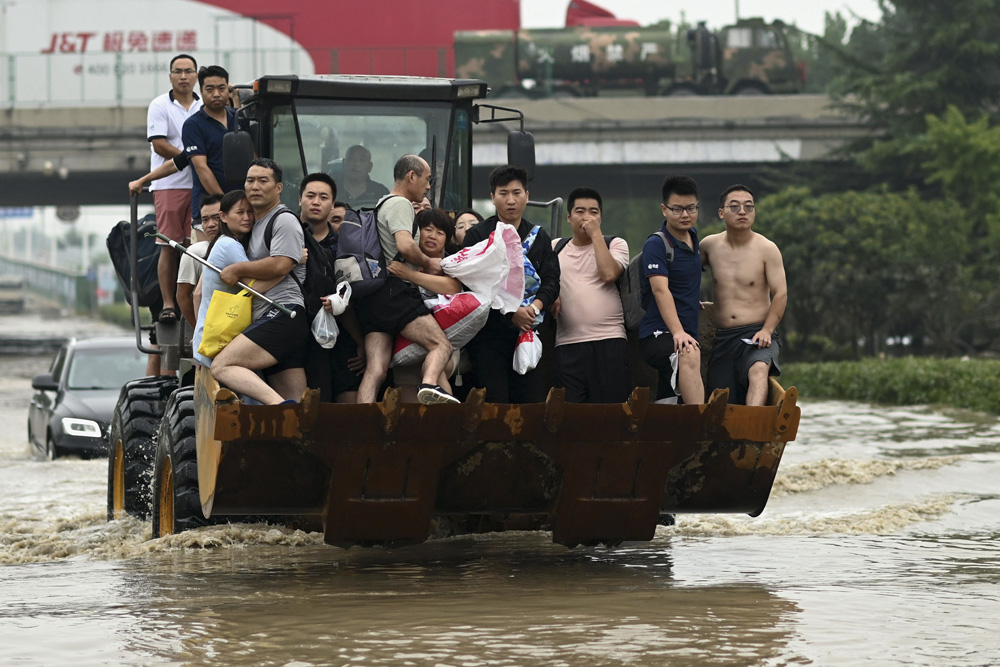 People ride in the front of a wheel loader to cross a flooded road in Zhengzhou, Henan province, July 23, 2021. Noel Celis/AFP
Members of a rescue team and residents save whales stranded on a mudflat in Taizhou, Zhejiang Province, July 6, 2021. Pan Kanjun/People Visual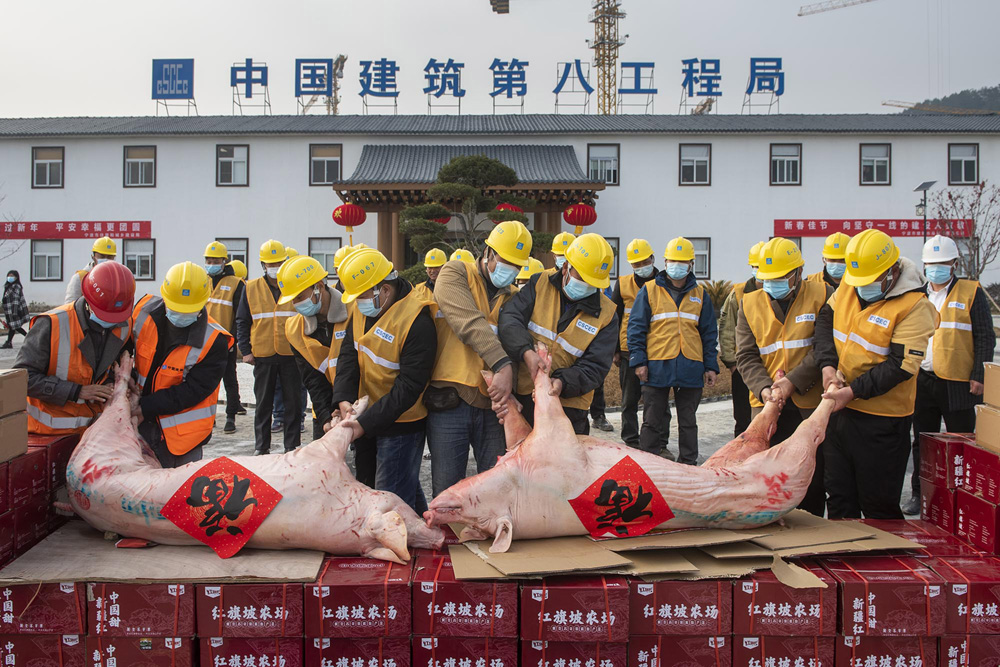 Construction workers distribute goods for the Lunar New Year at a construction site in Ningbo, Zhejiang province, Feb. 4, 2021. Hu Xuejun/VCG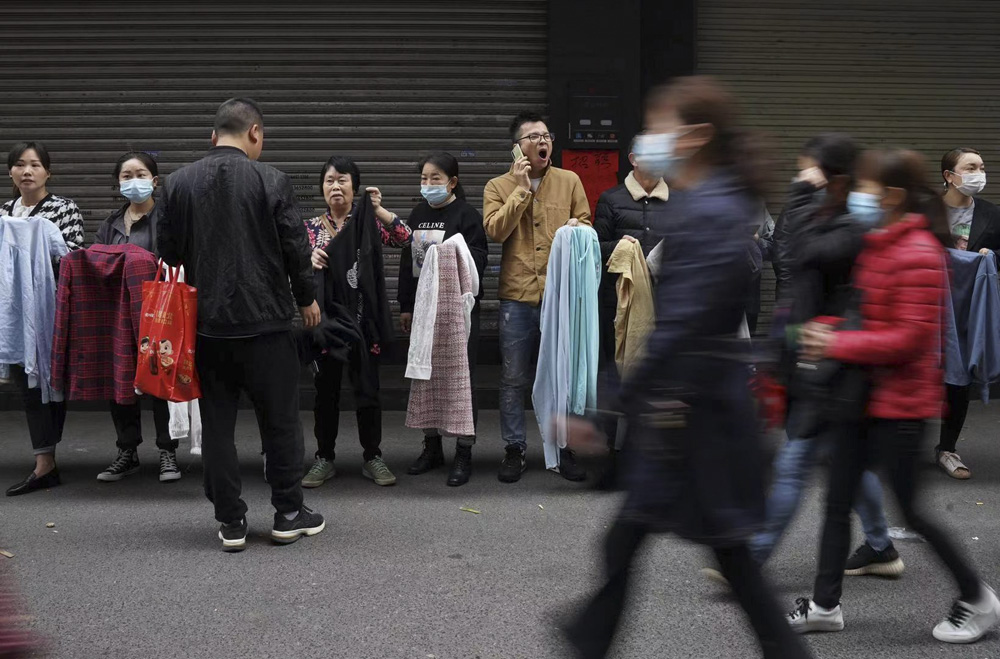 Garment factory owners stand in a line with samples in their hands on the street of Kangle Village to recruit migrant workers in Guangzhou, Guangdong province, March 3, 2021. Weng Huan/People Visual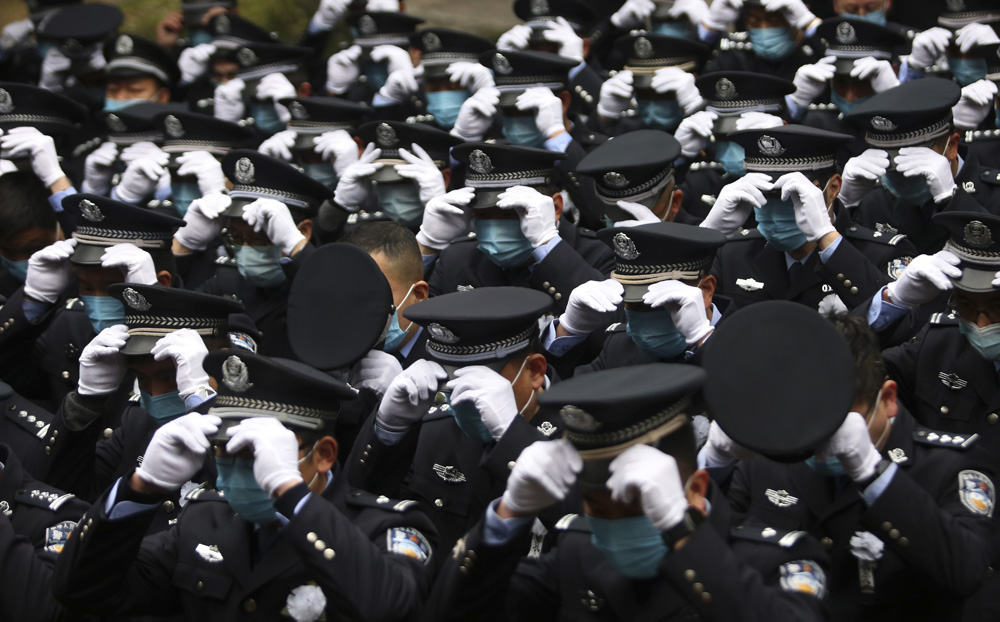 A funeral ceremony for 33-year-old police officer Ji Yuekan in Hangzhou, Zhejiang province, Jan. 31, 2021. People Visual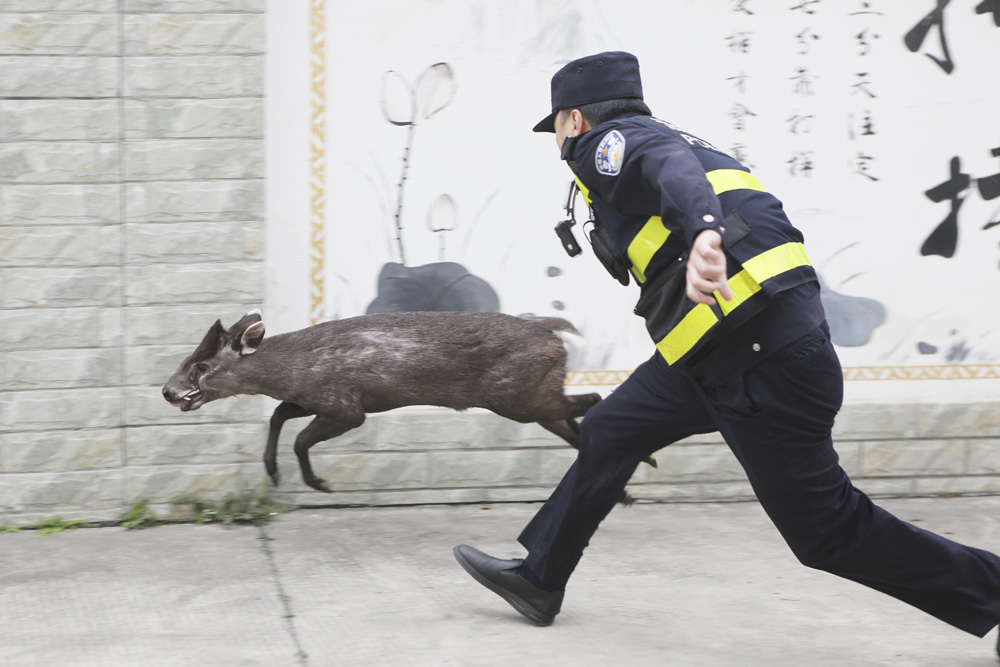 A police officer chases a wild animal that came down from a mountain in Mianyang, Sichuan province. March 17, 2021. Chen Dongdong/People Visual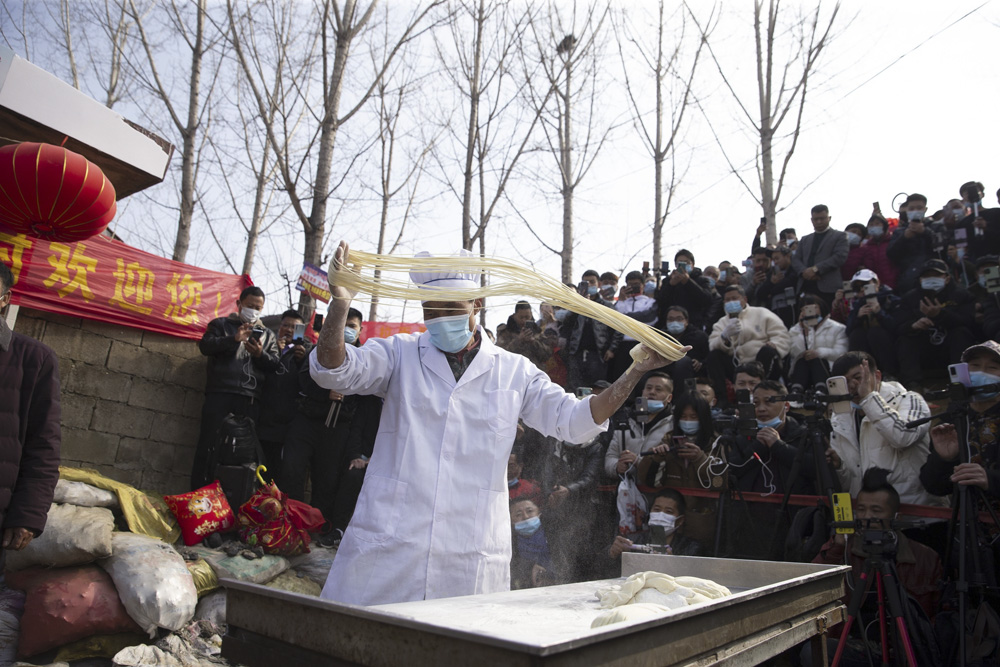 Cheng Yunfu makes noodles as livestreamers crowd around him at a village in Linyi, Shandong province, March 9, 2021. IC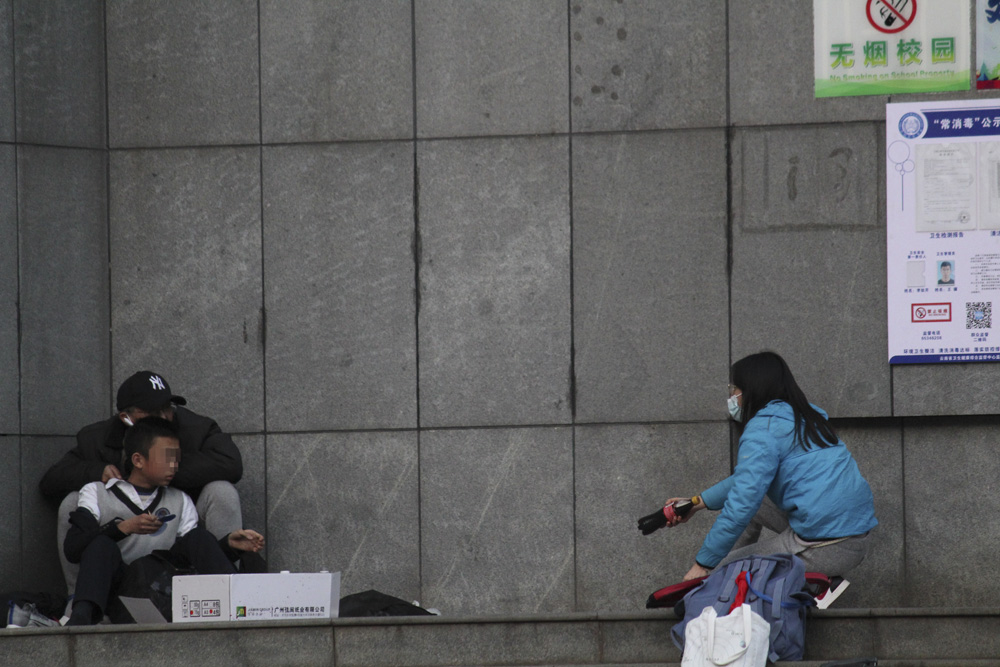 A female journalist (in blue) carrying a bottle of Coca-Cola approaches a man who wounded seven people with a knife and took hostages at the gate of a middle school in Kunming, Yunnan province, Jan 22, 2021. The attacker demanded to speak to a female journalist. People Visual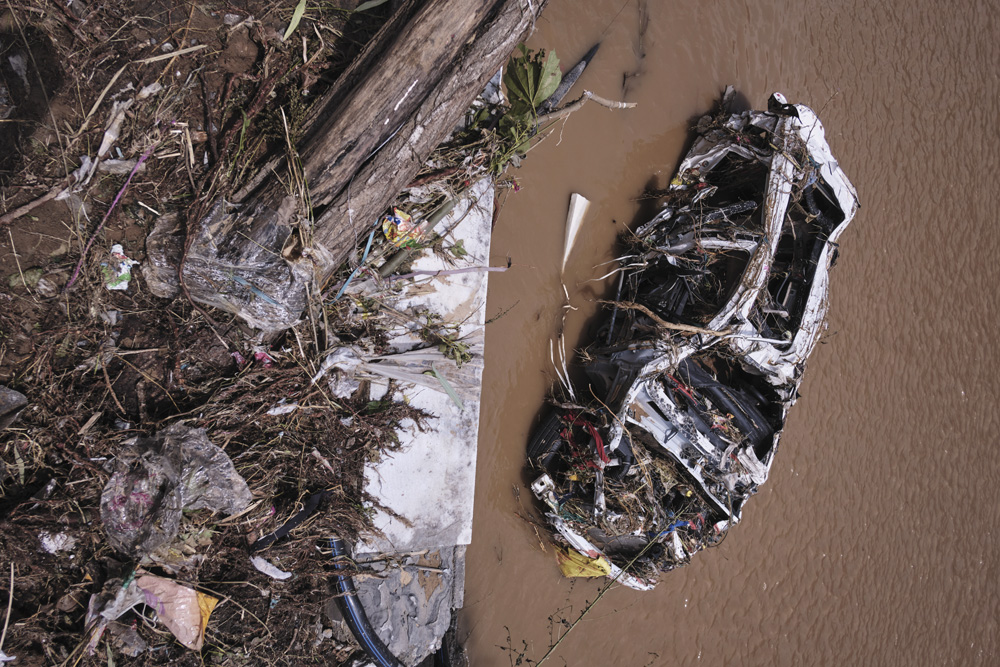 A damaged car in Mihe Town, Henan province, July 24, 2021. Wu Huiyuan/Sixth Tone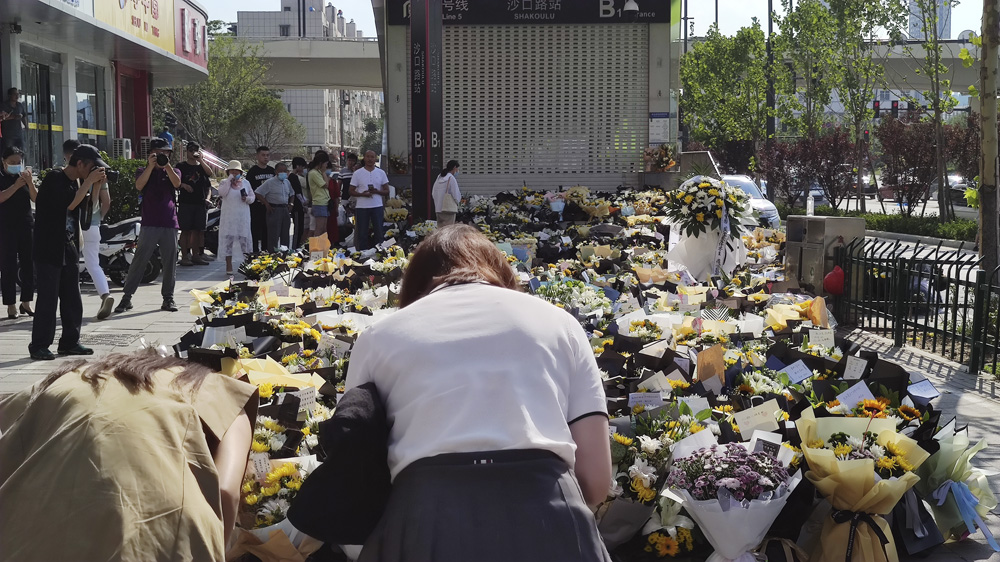 People leave flowers and mementos to honor people killed in the flooded Zhengzhou metro, Henan province, July 27, 2021. Fu Beimeng/Sixth Tone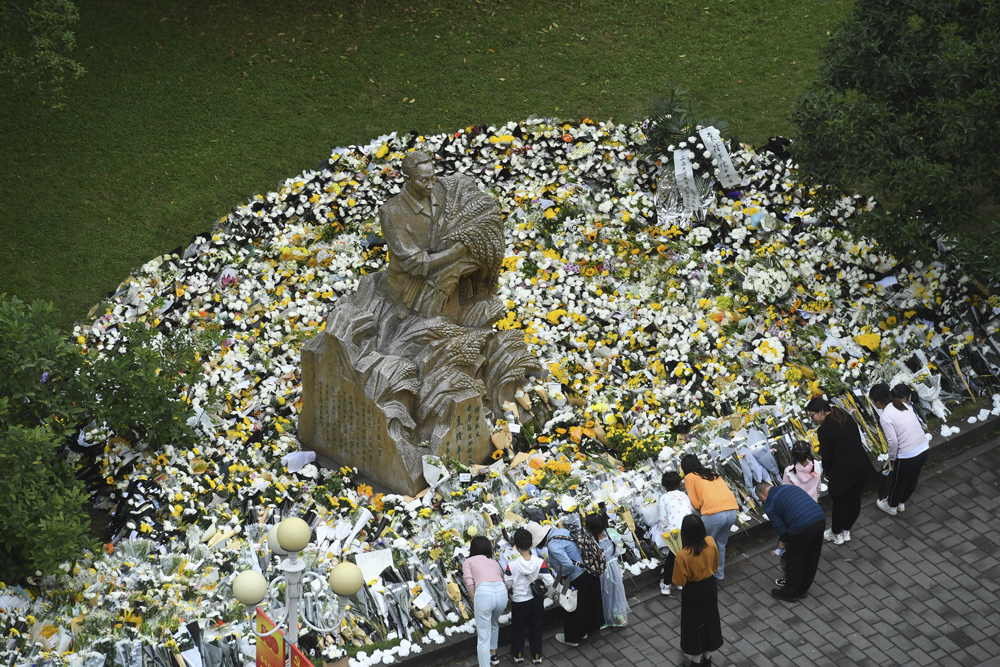 People leave flowers and other mementos at the statue of Yuan Longping on the campus of his alma mater, Southwest University in Chongqing, May 23, 2021. People Visual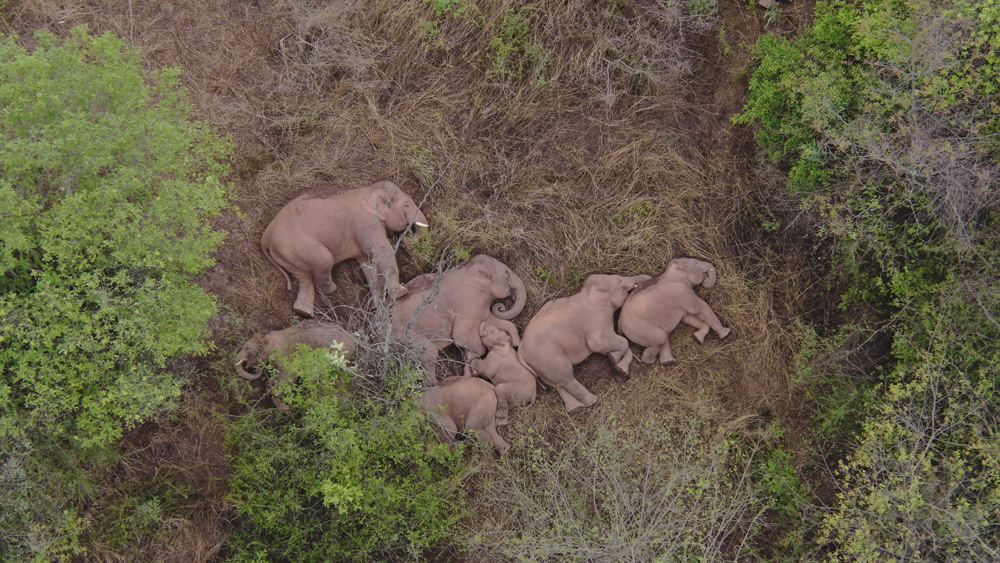 Several Asian elephants from a group of 15 whose long migration became an online sensation sleep in Puning District, Kunming, Yunnan province, June 7, 2021. Yunnan Forest Fire Brigade via AP
Tang Xijing and Guan Chenchen (No. 320) celebrate after the women's balance beam final as the United States' Simone Biles and Sunisa Lee look on, Aug. 3, 2021. Zheng Huansong/Xinhua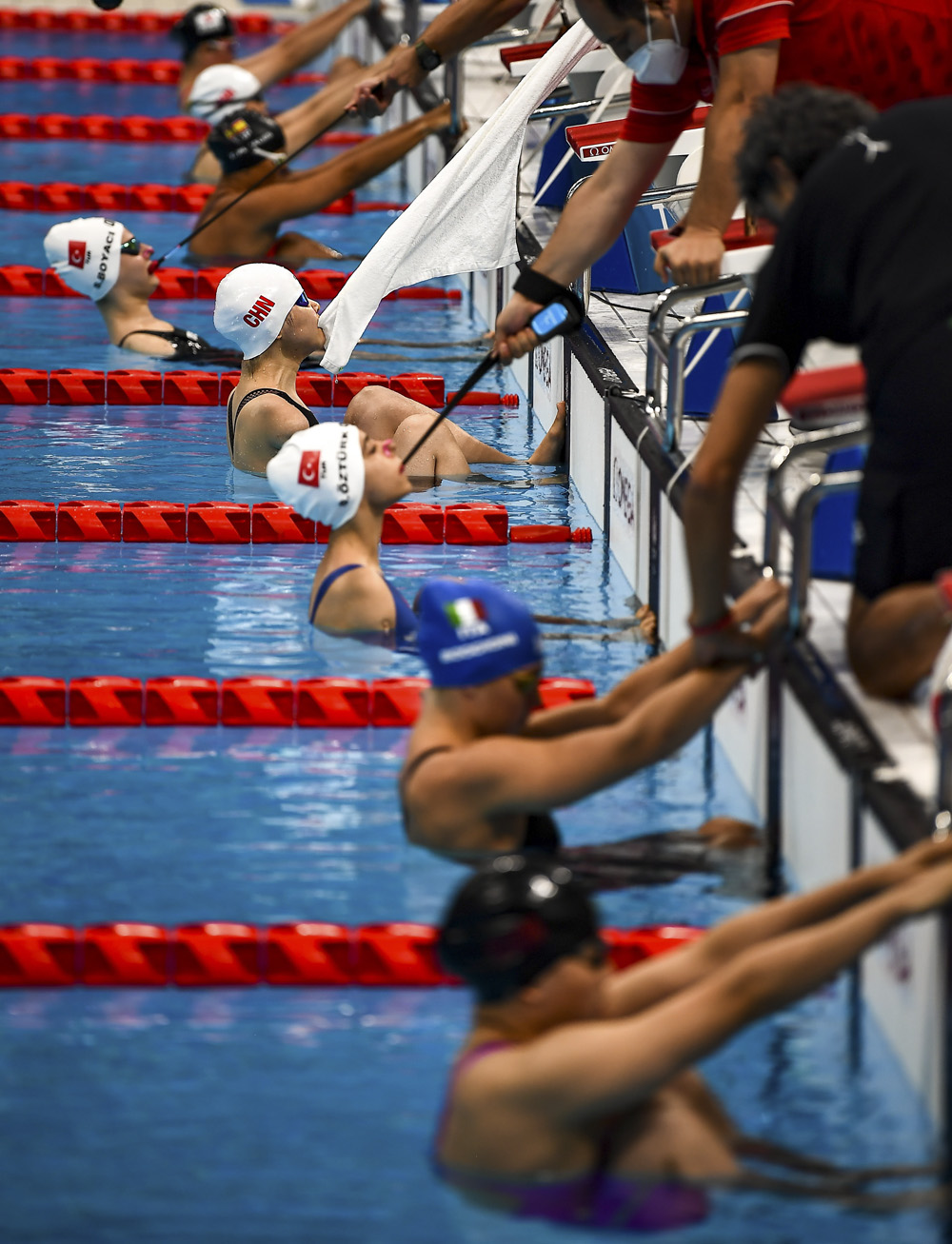 Lu Dong of China (clenching the white towel in her teeth) waits for the start of the women's S5 50-meter backstroke in Tokyo, Japan, Aug. 30, 2021. David Fitzgerald/Sportsfile via People Visual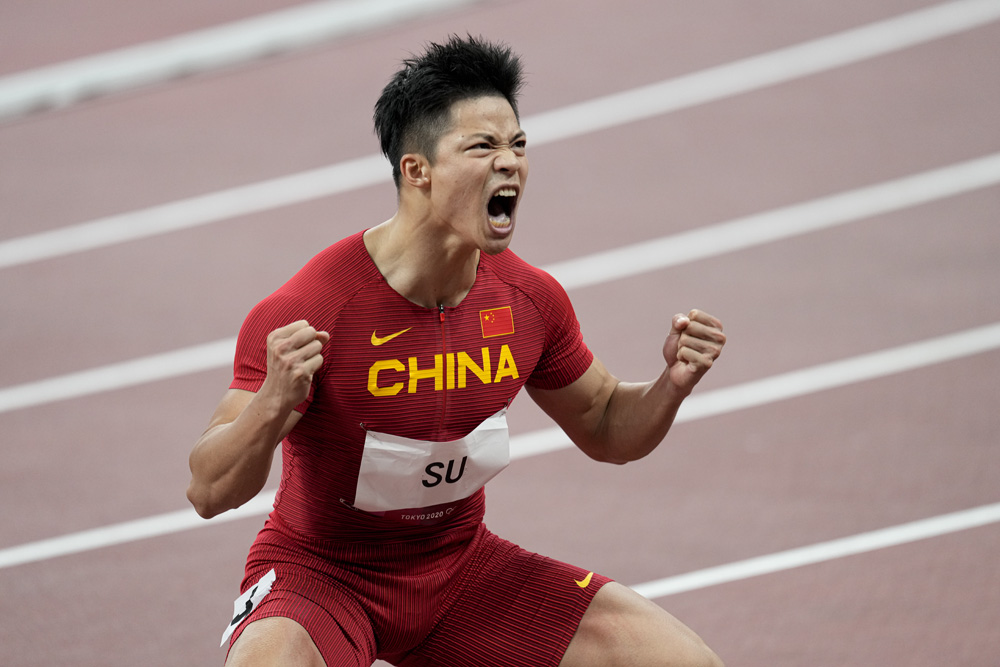 Sprinter Su Bingtian celebrates after winning a men's 100-meter semi-final, Aug. 1, 2021. Richard Heathcote via People Visual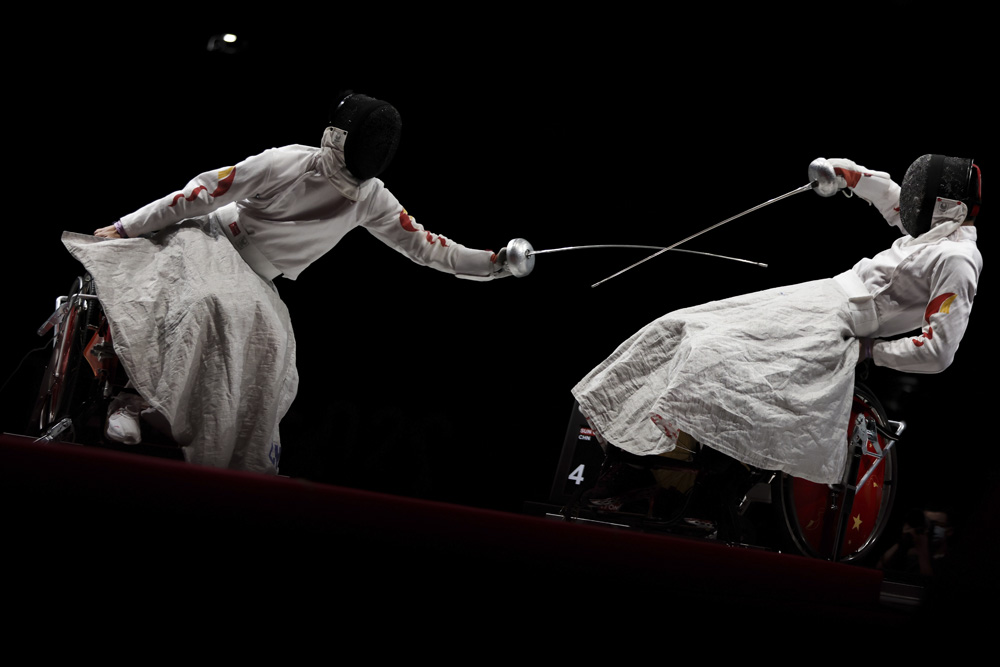 Tian Jianquan (right) competes against Sun Gang during a men's individual épée event in Chiba, Japan, Aug. 26, 2021. Zhang Lintao/People Visual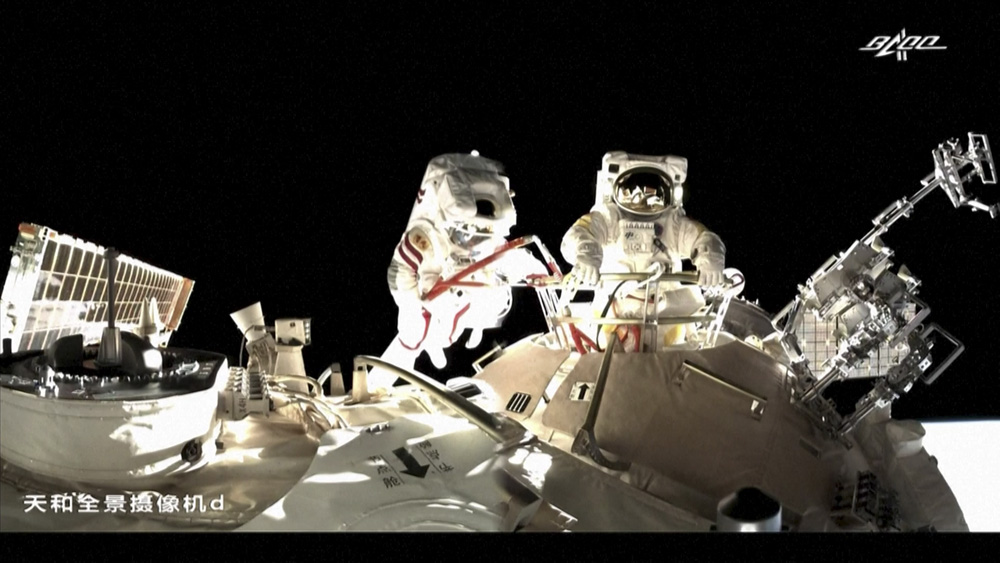 Taikonauts Wang Yaping (right) and Zhai Zhigang during a space walk, Nov. 8, 2021. CCTV+/People Visual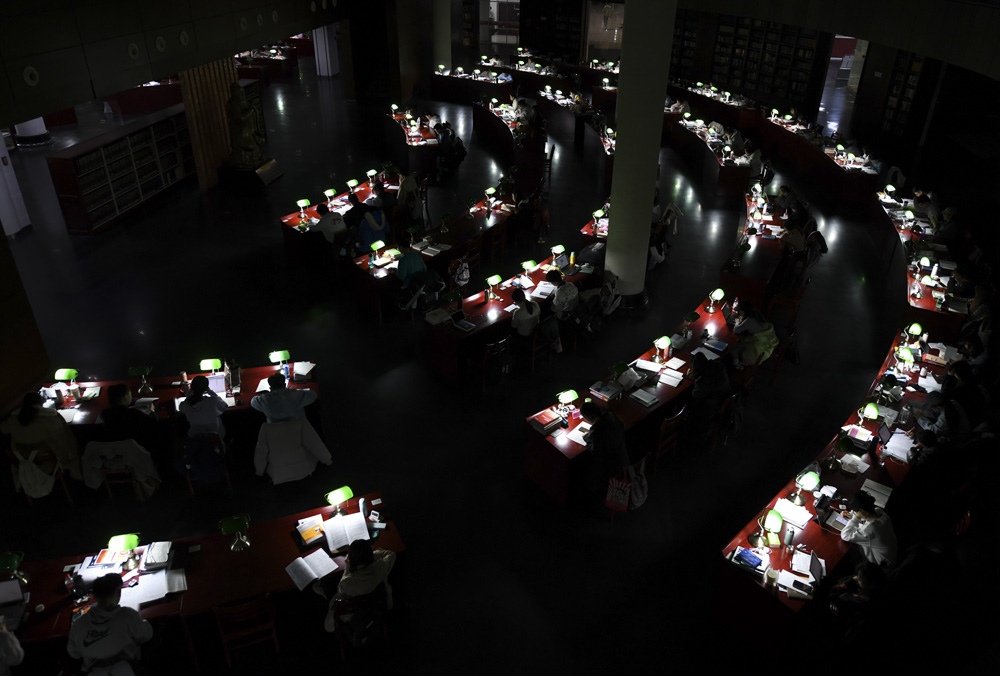 Students prepare for the postgraduate entrance exam at night in the library of Shanxi University in Wucheng, Shanxi Province, Nov 11, 2021. VCG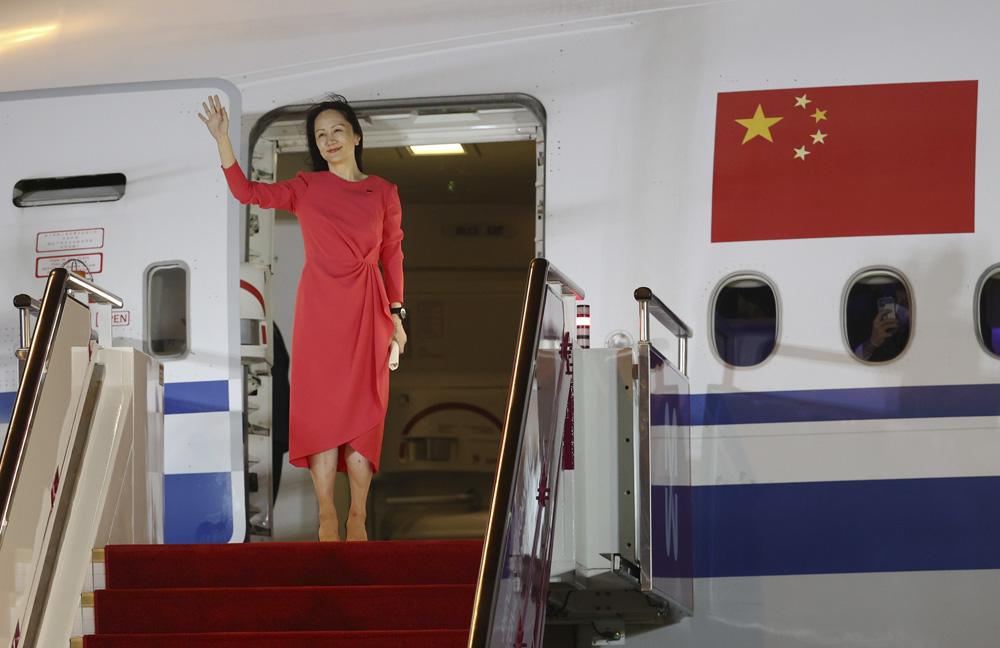 Huawei executive Meng Wanzhou arrives at Shenzhen Bao'an International Airport after over 1,000 days under house arrest in Canada, Sept. 25, 2021. Jin Liwang/Xinhua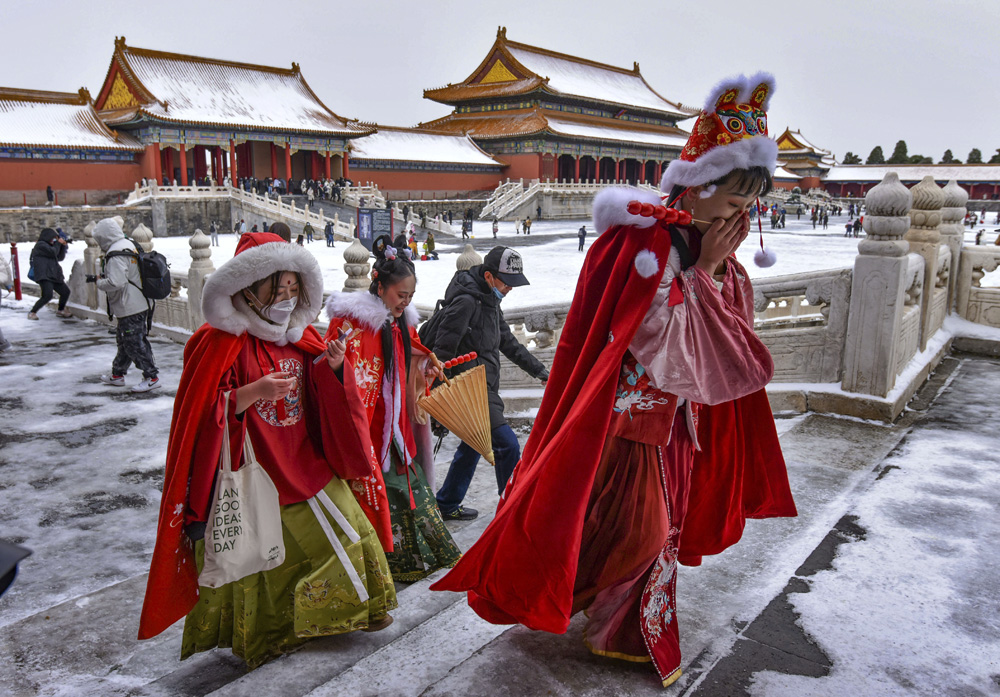 Tourists wearing colorful outfits visit the Palace Museum in Beijing after a snowfall, Nov. 6, 2021. Sheldon Cooper/Sipa USA via People Visual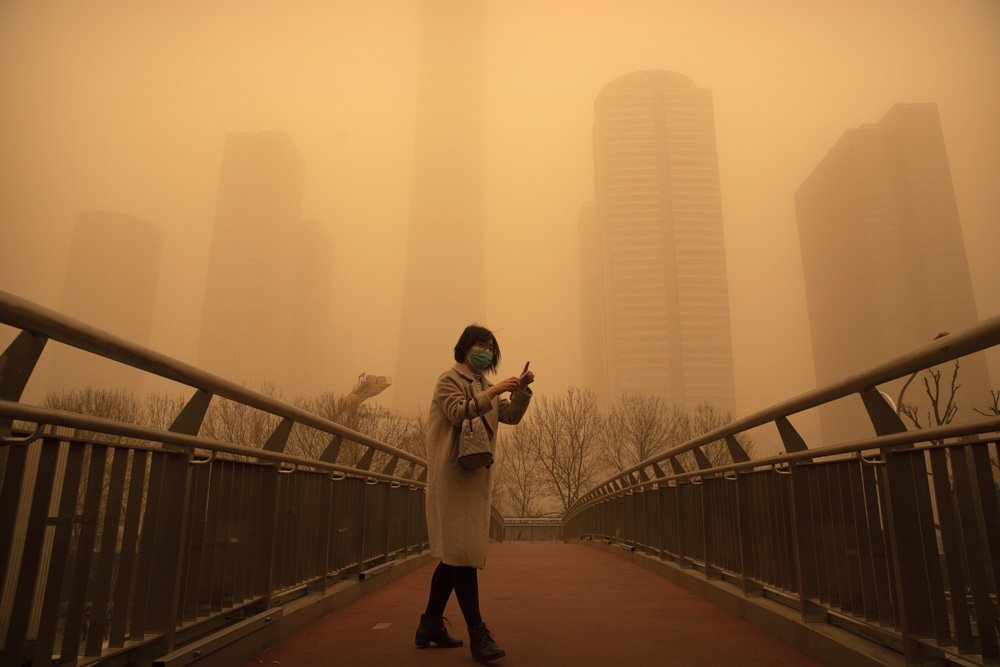 A woman walks along a pedestrian bridge amid a sandstorm during morning rush hour in the central business district in Beijing, March 15, 2021. Mark Schiefelbein via People Visual
A photo of China's Zhurong Mars rover and its landing platform, captured on the red planet by a camera detached from the rover, June 11, 2021. Xinhua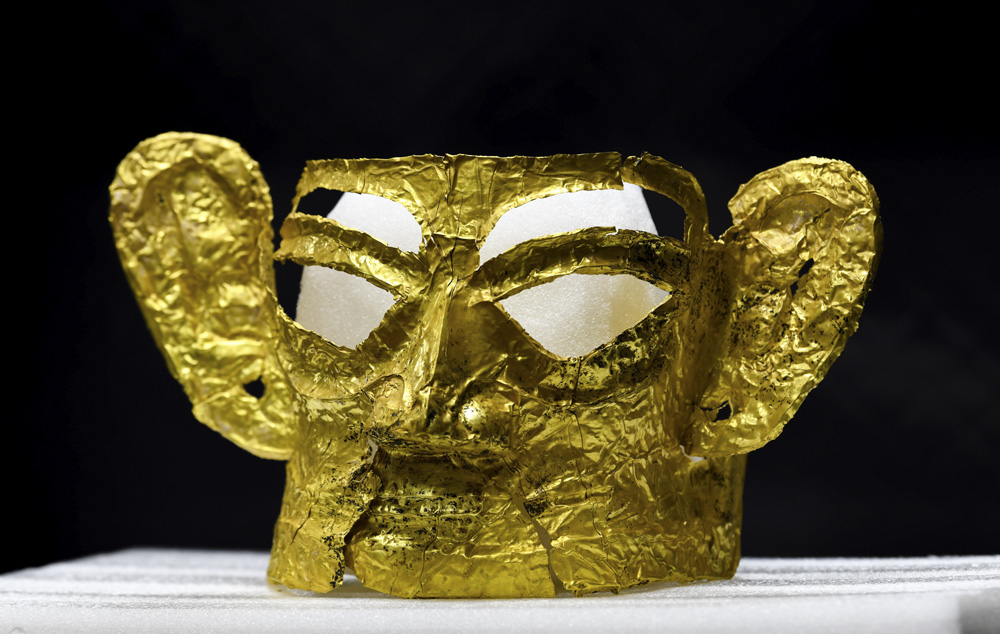 A view of a newly discovered gold mask found inside Pit 3 at Sanxingdui, Sept. 3, 2021. Wang Xi/Xinhua
The head and body of a statue of Chinese warrior-god Guan Yu is removed in Jingzhou, Hubei province, Sept. 27, 2021. People Visual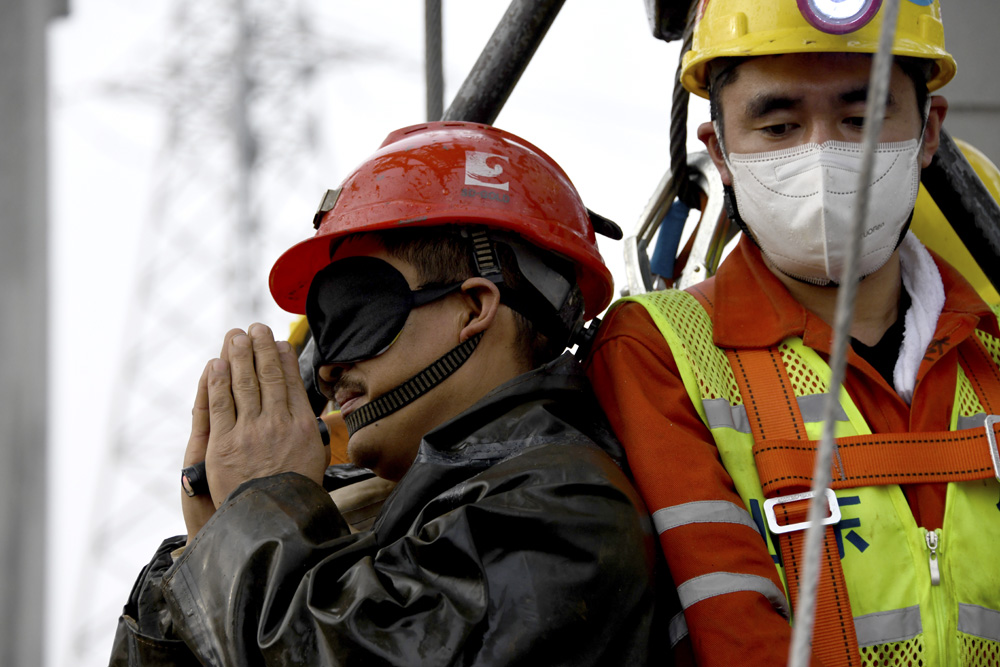 A miner is rescued after being trapped underground for two weeks following an explosion near Qixia, Shandong province, Jan. 24, 2021. Xinhua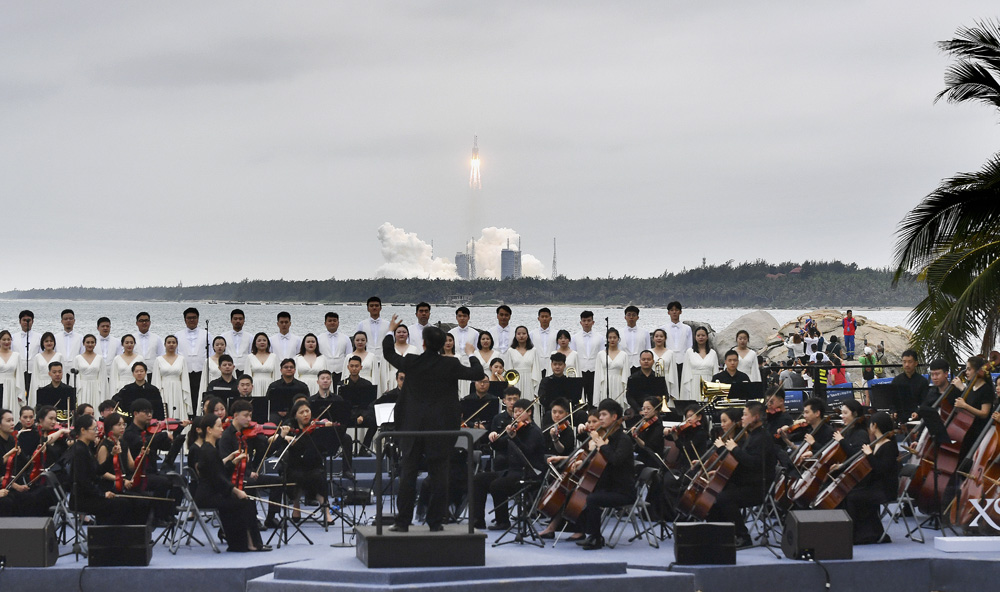 A Long March-5B rocket launches in Wenchang, Hainan province, April 29, 2021. Guo Cheng/People Visual
Residents watch a flight take off at Chengdu Tianfu International Airport in Chengdu, Sichuan province, June 27, 2021. Wang Qin/VCG
Contributions: David Cohen; editors: Qi Ya, Wu Huiyuan, and Ding Yining.