In March 2020, the return home of hundreds of medical workers who had helped fight COVID-19 in the city of Huanggang in Hubei province, the central province where the virus outbreak began, briefly brought China's most notorious middle and high school test prep books back into the limelight.
One member of the team, Du Qing, said in a widely shared interview that his 8-year-old son had asked for his father to bring him the "Huanggang Secret Exams," but had misinterpreted the Chinese character for exam paper, "juan," which can also mean rolls. "He thought it was a type of food," Du said.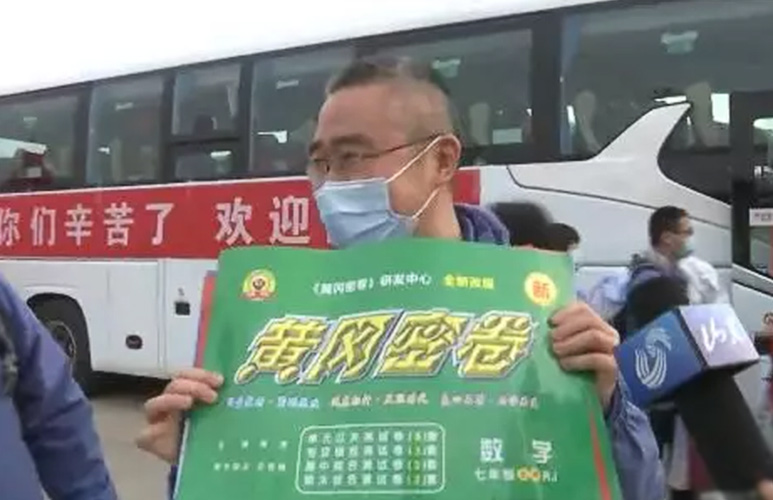 Du Qing holds a copy of "Huanggang Secret Exams," March 2020. From 齐鲁晚报 on WeChat
Around the same time, an equally popular fake news report appeared online about Wuxue, a county-level city under the jurisdiction of Huanggang, saying that the strict lockdown measures meant that anyone caught on the street who wasn't involved in the epidemic prevention and control work would be taken to a gymnasium in the city. Once there, they would not be allowed to leave until they had received a passing score on a "Huanggang Secret Exam" for graduating middle school students.
For generations of Chinese people, the books were the most popular method to prepare for the high school and college entrance exams. Their random reappearance amid the epidemic underscores the degree to which they are seared into China's public memory. They are, in perhaps equal measure, a source of thankfulness for allowing people to test into good schools, and a source of nightmares for their unrelenting difficulty.
Father of Mock Tests
Until the opening of a highway through the area, Huanggang and its surroundings, located at the foot of the Dabie Mountains, was a mostly rural area that was relatively isolated from the outside world. The only way to get to the provincial capital, Wuhan, was by boat up the Yangtze River.
In the past, young people here only had two options to obtain an "iron rice bowl," or a secure future: study or join the army. Wang Houxiong, the Huanggang native behind the books that haunt the dreams of China's former school pupils, chose the former.
One media report described Wang's early years as such: "During the mid-1980s when the market for teaching materials was disorganized, Wang, who came from a poor family, graduated from Huanggang Normal University. With just a canvas bag and no fondness for the city, he went to teach chemistry at a poor rural middle school in Tuanfeng County, Huanggang."
After arriving at his new school, Wang first went to observe another teacher who was giving a class about sulfur. The teacher started by showing the students a sample of sulfur, before reading out its physical and chemical properties from a textbook and then conducting an experiment showing the combustion of sulfur in oxygen. The students looked to be on the verge of falling asleep. Wang thought to himself that he couldn't just do the same — he had to innovate.
When it was Wang's turn to give the same class, he started by asking a few questions:
"Do you know the ingredients of gunpowder, one of the four great inventions of ancient China?" The students didn't know.
"Why do you think that products made from rubber, like car tires, are so elastic and strong?" The students didn't know that either.
"You've all been sick before and had your temperature taken. If the thermometer breaks, how would you deal with the toxic mercury when it spills out?" The students still couldn't answer him.
"Today, in order to help you learn these answers, we're going to look at sulfur," Wang said. The students thought that this rustic new teacher seemed fun.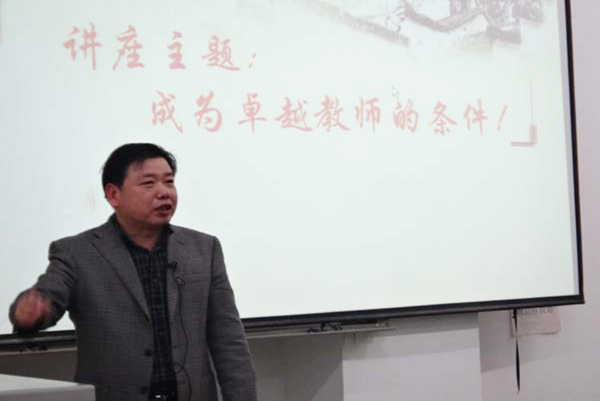 Wang Houxiong gives a speech at Central China Normal University in Wuhan, Hubei province, 2016. From Central China Normal University
Despite there being no internet at the time, Wang quickly made a name for himself. He later summarized his method of teaching — with its focus on objectives, the use of experiments, and stimulating students' enthusiasm — as "Wang's Activation Method," which was even published in prestigious national journals.
His students, who came from humble backgrounds and went to an underfunded school, scored the best in the entire county on the yearly chemistry exams. Less than two years later, star chemistry teacher Wang transferred to Huanggang County No. 1 Middle School.
In the early 1990s, editors from Central China Normal University Press approached Wang about compiling a book for tutoring students participating in the Chemistry Olympiad. There was a nationwide trend of middle school chemistry competitions at that time, but there were no suitable study materials. Wang took up the challenge. A few years later, he published the "Basic Course for the High School Chemistry Competitions" and "Tracking Guidance for the Middle School Chemistry Competitions." Within a year, the two books had become the hottest property in publishing, and the series soon expanded to include other subjects.
One oil worker in Xinjiang, in China's far northwest, even spent more than 2,000 yuan ($310 by current exchange rates) traveling to Huanggang in order to buy a few of Wang's books, which cost a total of just over 30 yuan. On meeting Wang in person, the grateful parent told him: "My child said that using your books makes him feel smarter and smarter."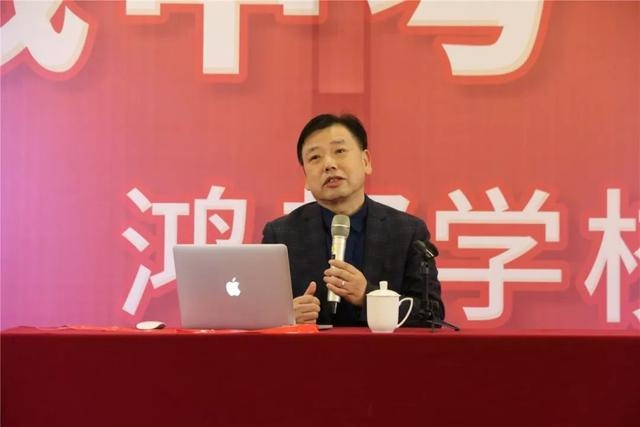 Wang Houxiong gives a speech in Huanggang, Hubei province, 2019. From Huanggang Daily
No Secret Exams in Huanggang
Since college entrance exams were reinstated in 1977, following the end of the Cultural Revolution, the enthusiasm of Chinese parents for education has been a constant.
In 1978, China was home to 105 publishing houses, producing fewer than 15,000 books a year, the majority of which were for studying. As the market economy began to develop, Chinese people showed great enthusiasm for mathematics, physics, and chemistry, and the publishing market entered a period of white-hot competition. In 1979, for example, Shanghai Educational Publishing House published the roughly bound and simply printed "Elementary School Math Exercises." The book later went through three revisions and was reprinted 24 times, selling over 2.4 million copies.
For a while, educational and children's publishers across the country followed suit, copying whichever approach did well. The supplementary study materials market was in chaos, with more than 10,000 books improbably touting that they featured "famous teachers" from Beijing's Haidian District alone. The blind pursuit of publishing quickly led to many of the books being highly flawed — some had incorrect maps, while others only required students to mechanically understand the problems. Still, the market was booming.
One editor at a publishing house wrote about how crazy the times were back then, with some editors able to afford cars and garden villas within just a few years. When it came to quality checks on the books they edited, their mentality was: "I edit 20 books a year, and my superiors will only check one or two. Even if they're not up to standard and I get fined, I'll still receive full payment for all the other books I edited."
It was at this time that Wang appeared on the scene, injecting new blood into the chaotic supplementary study materials market.
At this time, another school in Huanggang, simply named Huanggang Middle School, became well-known by virtue of its high results in the Math Olympiad. In 1990, two of the finalists in the International Mathematical Olympiad (IMO) came from Huanggang Middle School. The school received flattering coverage from party newspaper People's Daily, as well as in the nightly news program of state broadcaster CCTV.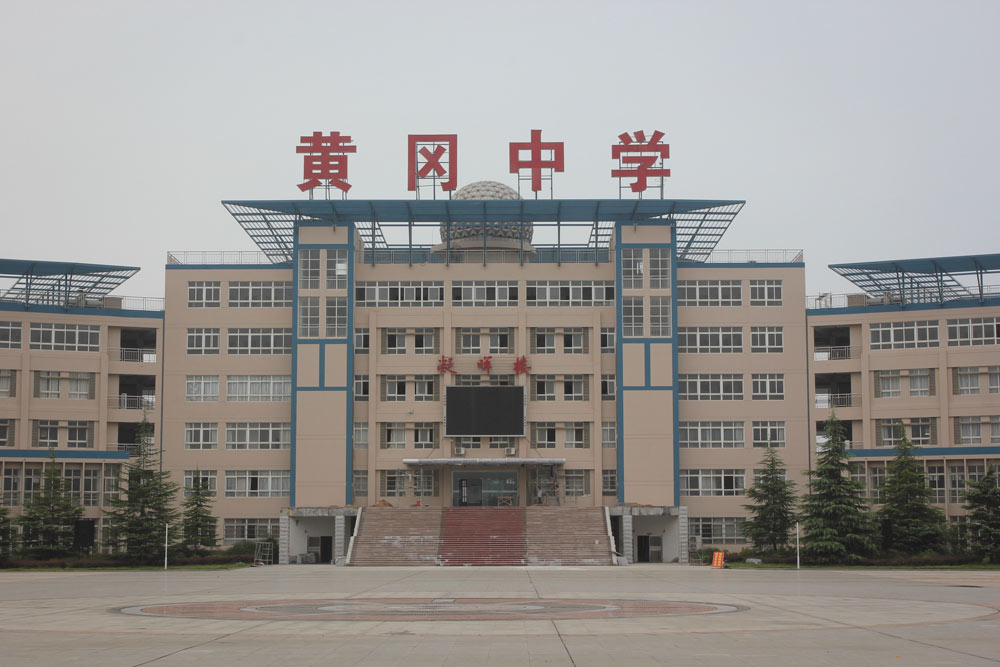 A view of the campus of Huanggang Middle School, Hebei province, 2014. Sun Xinming/People Visual
"Getting into Huanggang Middle School was a big deal," said Wang Shujie, a graduate of the class of 1999 who is not related to Wang Houxiong. He recalled that it was raining heavily the day he took the entrance exam. His father rented a motorbike to take him to the examination room and then kept watch outside under the eaves. Meanwhile, his mother knelt for hours in front of the family's ancestral tablets, lighting incense, offering wine, burning paper money, and chanting wishes.
Right at the time when the fame of Wang Houxiong — a "rising star" in the world of test prep books — coincided with that of the high-achieving Huanggang Middle School, the Huanggang Secret Exams were born. The series of books, covering all major subjects and aimed at students of all grades up until the final year of high school, was first published in 2002 and had Wang as its chief editor.
The books were widely, and wrongly, assumed to have been produced by the famous school. For years, from the principal down to the students, those at Huanggang Middle School have constantly had to explain that the school had no connection to the Huanggang Secret Exams. However, no amount of clarification seemed to be enough. Consumers happily conflated the two. But whether or not Wang originally intended to piggyback on the fame of Huanggang Middle School, his sales were in no small part due to the quality of his work.
Wang Houxiong, now a professor at Central China Normal University specializing in university teaching and examination research, has said: "The Huanggang series of teaching materials I edited are a distillation and embodiment of Huanggang's educational methods, experiences, and ideas, and do not utilize or abuse the 'Huanggang brand.'"
The Huanggang Secret Exams became highly popular. So much so that there are currently at least 100 similar works on the market, both legitimate and unauthorized, using the name of Huanggang. The Huanggang Secret Exams even featured in the 2018 child-raising simulation game "Chinese Parents," with players detailing in strategy guides how to get hold of this valuable in-game tool.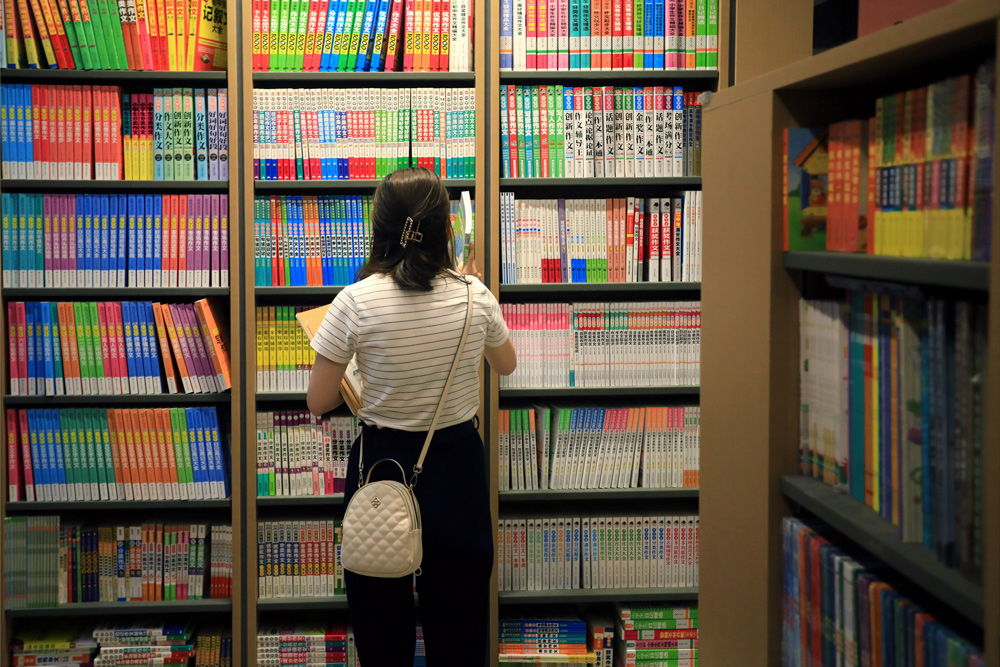 A woman picks out supplementary study materials at a bookstore in Huai'an, Jiangsu province, Aug. 29, 2021. Zhou Changguo/IC
Decline of a Legend
After 2000, there was a flood of supplementary study materials into the market, a development seen by the publishing world as a boon, and by brick-and-mortar bookstores as a savior. In 2017, the overall size of China's book market was around 180 billion yuan, among which educational books — the largest category in the publishing market — accounted for around 110 billion yuan.
Rivals to Wang Houxiong have been appearing ever since the late 1990s. Chief among them was the test prep book series "Five Years of College Entrance Exams and Three Years of Mock Tests." In 2014, CCTV News posted a short survey on microblogging platform Weibo, asking people, "Which book has had the biggest influence on you?" "Five Years of College Entrance Exams and Three Years of Mock Tests" ranked in seventh place, ahead of the classic Chinese novel "Dream of the Red Chamber" and Qian Zhongshu's modern masterpiece "Fortress Besieged."
The rise of "Five Years of College Entrance Exams and Three Years of Mock Tests" coincided with the decline of the legend of Huanggang. The Huanggang series has long disappeared from the top-10 list for exam preparation books on major online book-selling platform Dangdang. At present, they are mainly used by elementary school students, with the biggest sellers on ecommerce platform Taobao from the series being "Huanggang Little Top Scholar" and "Huanggang Essay Writing" for younger kids. One teacher left a comment saying that they had bought the books for their students as prizes in their midterms and finals.
A student flips through copies of "Five Years of College Entrance Exams and Three Years of Mock Tests" at a bookstore in Hefei, Anhui province, Sept. 5, 2020. IC
Coincidence or not, even though Huanggang Middle School repeatedly asserted that it was not associated in any way with the Huanggang Secret Exams, the two faded from view shortly after one another. One teacher recalled: "Huanggang has been struggling with the tide of exam-taking since the 1990s." In his opinion, the decline of Huanggang Middle School has not been because it hasn't had a student top the province exams, but because it gradually lost its own pedagogical style in the pursuit of exam scores.
Teachers' pay has also plummeted. Huanggang Middle School expanded twice, once in the late 1990s, buying a paper mill for 8 million yuan, and again in 2004 when it built a new campus, leaving the school over 100 million yuan in debt.
Another major factor was that after the Asian financial crisis, China focused on building infrastructure to drive economic growth. Completion of the highway network and the shift of finance to provincial capitals led to the concentration of resources in these cities, thereby deepening the divide with regional centers like Huanggang. As a result, provincial capitals were not only able to attract better teachers, but could also entice a large number of top students due to their geographical proximity. This resulted in a pattern whereby more rural areas fell far behind.
As far back as the 1990s, schools in Wuhan and in other provinces had set their sights on Huanggang Middle School. According to media reports, various study groups visited around the time of the school's 90th anniversary in 1994 with the intention of poaching its teachers for schools in other areas. In a region already economically underdeveloped, other cities simply needed to up their offers to poach its best teachers.
According to a 2015 media report, after nearly 30 years of glory, Huanggang Middle School had slipped from its pedestal. The school hasn't produced a single No. 1 student in the college entrance exams in Hubei province since 1999, nor has it won a medal at the International Olympiad since 2007.
Wang Houxiong, despite his fame, is now eager to keep up with the times. At a national conference on business transformation and upgrading in late 2019, Wang, speaking in his capacity as president of the WHX Study Mall's Test Institute, declared his entry into the "internet + education" industry. As he addressed the conference, the words "Father of College Entrance High Scores" were displayed in large letters on the screen behind him.
The Huanggang Secret Exams, meanwhile, are now largely seen as a nostalgic meme rather than an enduring key to academic excellence. They only started trending again because an 8-year-old boy mistook them for something he could eat.
A version of this article was originally published by Liquid Youth. It has been translated and edited for length and clarity, and is republished here with permission.

Translator: David Ball; editors: Xue Yongle and Kevin Schoenmakers.
(Header image: A student looks through supplementary study materials at a bookstore in Hefei, Anhui province, Aug. 31, 2019. People Visual)