Ming wanted to win over his girlfriend after she stopped talking to him. So he turned to a group of self-professed experts specializing in such matters.
The 23-year-old from the northern province of Hebei paid 1,000 yuan ($155) for an online service that advertised themselves as "relationship savers." He had found the group, titled "Sexy Men," on social platform WeChat, and they had promised to make Ming's relationship work.
But after a few days, representatives from Sexy Men went silent, only speaking to say that he would need to pay more for additional services. It was then that Ming then realized he had been scammed.
"I was very desperate because my girlfriend, who I was in a long-distance relationship with, stopped talking to me," Ming told Sixth Tone, only giving a pseudonym due to privacy concerns. "At first, they acted like a psychologist, analyzing my relationship and providing some suggestions, giving me the illusion that they could actually help me."
Ming's story is part of a larger trend in many Chinese cities, where fraudsters have often capitalized on romance and heartbreak in order to hoodwink people into handing over their money.
Last month, Shanghai police arrested 69 so-called relationship savers who preyed on people hoping to resolve their relationship woes, domestic media reported Tuesday. Promising to solve various issues, the group had swindled over 500 individuals, amassing a whopping 7 million yuan.
The group operated under the guise of an educational consultancy firm and advertised their relationship-related services online, according to the police. They charged anywhere from 2,880 to 12,800 yuan for their assistance, all the while pushing the client via text messages or WeChat to pay additional service fees.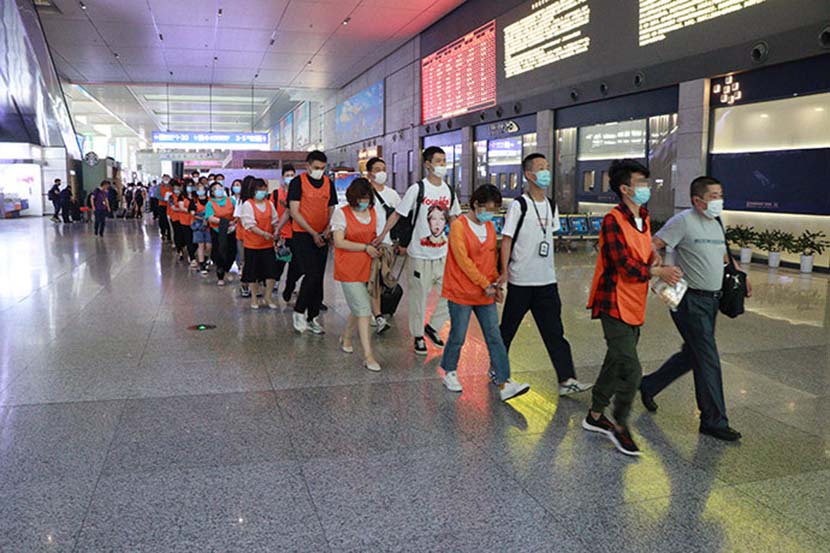 Police arrest suspected scammers in Shanghai, 2021. From The Paper
Ming confirmed that he messaged the "teachers" at "Sexy Men" via text message. Some chats seen by Sixth Tone show the respondent giving Ming tips on how to make his social media posts look more appealing to women. One such piece of advice was to pose at a coffee shop with a MacBook — a way, they said, to demonstrate that he had a decent job.
When Sixth Tone connected with "Sexy Men" on WeChat posing as a potential client who wanted advice on how to start a relationship with a friend, they immediately quoted a 1,800 yuan fee for a one-to-one session. They added that the session would "lure the other person into falling in love."
The group's WeChat, which features a profile image of a suave young man in a black suit, lists several success stories on its social feed about how they've helped people to either pursue a partner or win a significant other back after a falling out.
"The client's girlfriend found someone else, but he was able to ask her out successfully after our instruction," read one of the posts on the feed, coupled with a step-by-step guide on how to reply to messages. "Now they're back together."
"Using the wrong methods could only drive you further and further apart — only the right way can make love continue," the post continued.
With the advent of online dating, China's single souls, much like in the rest of the world, have turned to mobile apps in droves. However, an increasing number of users — including the elderly — look to matchmaking services, who are more than willing to cash in or take advantage of those seeking love.
In 2017, a Beijing court jailed five people posing as a matchmaking agency after they fleeced 4 million yuan from dozens of singles hoping to find romance. They charged clients up to 100,000 yuan to help set them up with "high-quality dates."
As attitudes change and broaden regarding what is considered acceptable when it comes dating, new business models catering to consumerist inklings — whether its romantic liaisons or counseling — have proliferated into a multi-billion dollar industry. In China, these so-called relationship savers operate in a gray area, approaching mostly students, single employees, or older "leftover" men and women with the promise of helping them find right partners.
Meanwhile, star-crossed lovers like Ming and others who are willing to shell out hundreds — or even thousands — in cash in the name of love continue to fall prey to swindlers.
"They chose to scam people like me who are desperate for love," said Ming, adding he was diagnosed with depression after the incident. "They're not just stealing my money, but robbing people of their hope for love."
Editor: Bibek Bhandari.
(Header image: People Visual)