A snow leopard that was found in a herder's pasture in the northwestern Qinghai province in May will be raised at a local wildlife park for at least a year, Sixth Tone's sister publication The Paper reported Thursday.
The decision came after wildlife park officials at Xining Wildlife Park deemed that the 1-year-old female cat has not yet developed the ability to survive alone in the wild. The animal — since named Ling Xia — is also said to be suffering from a bacterial infection that may be linked to prolonged exposure to the rain before she was rescued, the media report said, citing local wildlife authorities.
The snow leopard was captured in Gonghe County and taken approximately 260 kilometers to her new home at Xining Wildlife Park in the Qinghai-Tibet Plateau.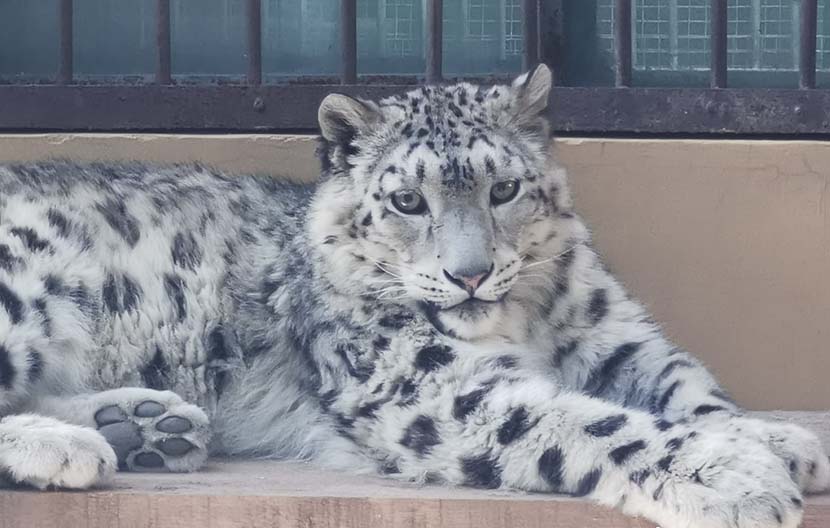 The International Union for Conservation of Nature classifies snow leopards as "vulnerable" species whose numbers are in decline. Currently, there are an estimated 2,710 to 3,386 snow leopards remaining in the wild worldwide, with 60% of their habitats located in China.
In China, snow leopards are granted "first-class" protection, with local governments, non-profit organizations, and some conservationists contributing to their protection. In 2017, Qinghai province set up a special conservation zone after a pair of snow leopard cubs were spotted in that area for the first time.
An official at Xining Wildlife Park told Sixth Tone that Ling Xia is in good health and regaining her strength but is "too young" to be released into the wild. Snow leopards usually start living independently in their second year, with the preceding time being critical for their learning of survival skills — including hunting — in the wild.
Ling Xia is the second snow leopard to be rescued by the Xining Wildlife Park this year. In March, an adult male snow leopard was rescued, released, and then monitored using a GPS tracker by wildlife park authorities.
Additional reporting: Zeng Chuchu; editor: Bibek Bhandari.
(Header image: Medical workers examine Ling Xia at the Xining Wildlife Park, Qinghai province, June 2021. From @西宁野生动物园 on Weibo)