On April 8, Li Ronghui took her son Chen Sihan to soak in a hot spring and then to get his hair trimmed. Her son was skeptical but for her, it was a ritual -- a symbolic break from the past. "I wanted to dispel all the rotten luck," she said.
That "rotten luck" began seven years ago when Chen was convicted of stabbing to death a school bully who had allegedly forced him into a knife fight. He was 15 years old then and, following a reduced sentence, had spent 2,495 days in jail.
The soak and haircut came just hours after the pair had finished the formalities for 22-year-old Chen's community corrections sentence at the justice bureau in their hometown of Fuquan City, southwestern Guizhou province. In the evening that same day, Li Ronghui ordered fish in sour soup for dinner to celebrate with their extended family. "Here's hoping Chen all the best in the future," everyone toasted as the wine glasses clinked.
Years ago, on April 30, 2014, Chen was a ninth grade student at Weng'an No. 4 Middle School. He was targeted by Li Hao, who had deliberately stepped on Chen's feet several times; Li Hao's gang of at least seven others then assaulted Chen.
Later that day, the gang dragged Chen all the way from his classroom on the fifth floor to an alleyway outside and challenged him to a "one-on-one knife fight." There, Chen claimed, another student placed a flick knife in his pocket.
In the brutal knife fight that ensued, Chen was stabbed in the back and later admitted to the hospital in critical condition, but Li Hao died of massive blood loss due to an aortic rupture.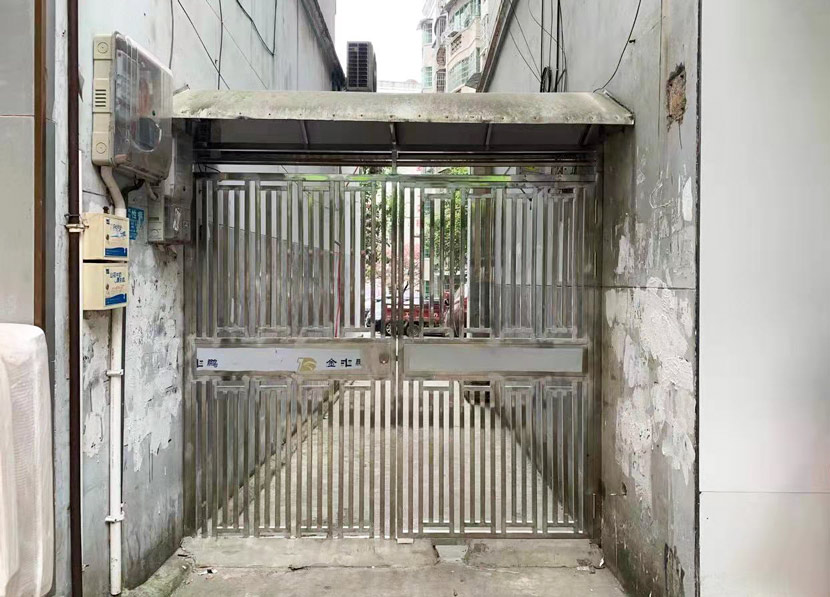 The alleyway where the knife fight happened in Guizhou province, 2021. Courtesy of Han Qian
A local court held that Chen had come prepared with a knife, and had both the motive and intention to hurt Li Hao. He was ultimately convicted of intentional assault and sentenced to eight years in prison.
Since the knife fight, Chen has insisted he had no intention to either fight or kill Li Hao, and that someone else gave him the weapon that had delivered the final, fatal blow.
In China, however, arguing self-defense has rarely ended in success. For years, courts followed a silent rule: "Whoever was harmed is in the right." But in September last year, China introduced new guidelines to standardize the premise of self-defense. The move came after several recent high-profile cases triggered heated debate and growing concern over the right to legitimate self-defense.
The new guidelines were a shot in the arm for Chen's appeal. The family's honor now depends on the answer to this question: Was his case intentional assault or justified defense?
"If we can get a definite answer, the family can return to a normal life," said Li Ronghui. The family is worried that if Chen still has a criminal record, it will further impact his life, whether in finding a job or even a partner.
The family's attorney submitted an appeal to the Supreme People's Court in March, and Chen is still waiting for a reply. In the meantime, he's learning what it means to return to a world that has changed exponentially throughout the last seven years.
Chen Sihan and his mother Li Ronghui walk down a street in Guizhou province, 2021. Courtesy of Han Qian
Homecoming
Chen has changed. In the six months since his release on Aug. 25, 2020, his parents said they've hardly seen him smile. They even stopped discussing the incident, afraid of touching a raw nerve.
His father Chen Shankun once asked him, "Do you want to talk about what happened?" His son stiffly responded, "There is nothing to say." After his sentence was commuted twice for good behavior, Chen was granted parole and released from prison in August 2020 — pending a community correction sentence, which ended last month.
Chen was much thinner after his release, had pimples on his face, and a back covered in eczema.
For six months, Li Ronghui used remedies gleaned from all over to nurse him back to health. She picked medicinal herbs and boiled them into solutions for him to bathe in; every morning, she cooked millet porridge and made him tea with American ginseng.
His eczema is slowly abating now, and he finally has a bit of color in his cheeks. "It's not just Chen. His father has been looking a lot better lately as well," said Li Ronghui with a smile.
Before he was released, Chen Shankun deliberately dyed his hair black to hide his stress-induced graying. Despite this, Chen has clearly noticed the changes: His father doesn't speak as much at home and has slowed down significantly. In conversation, Chen indicated, his father often jumps suddenly from one topic to another.
In his home village, Chen Shankun was once thought of as a talented mediator — whenever there was a conflict that couldn't be resolved, people would call on him to help out. But those calls have dwindled since the court case.
After his release, Chen occasionally spoke to his parents about his time in the youth detention center. He spoke about one holiday when the canteen treated inmates to fried chicken, and the older woman serving food for some reason gave all the pope's noses to him.
When he recounted this anecdote, everyone laughed, but deep inside, Chen Shankun said he felt a pang. To this day, Li Ronghui believes her husband still blames himself. "As a father, he feels useless for not having been able to help his son."
Since the conviction, the family has been under tremendous pressure. His parents recall the day of the verdict. They came back from court, lay down in bed, and cried the whole day. Sometimes, Li Ronghui collapsed to the ground without warning. She was even fired from her job for taking a two-month leave during the ordeal.
Three years ago, Li Ronghui started learning tai chi, which her older sisters believed would allow her to process her pent-up feelings of anguish. But she said it upset her husband, who wondered if her new hobby meant she'd given up on their son.
The family even lost their house. To cover medical expenses and compensation after the incident, they were forced to sell the family house in Fuquan for 200,000 yuan ($31,000). For five years, the family stayed in the attic of a hotel run by Li Ronghui's eldest sister. It wasn't until Chen's release last year that Li Ronghui was able to buy an apartment using loans from relatives. Her eldest sister covered the renovation costs.
Since the incident, Li Ronghui has witnessed several bullying incidents involving junior high school students in Weng'an. On one occasion, she saw more than a dozen students chasing and hitting a student from the school gate for 200-300 meters all the way down a commercial street. The boy leading them brandished a watermelon knife more than 20 centimeters long.
The bullies kicked the child, who fell less than a meter away from Li Ronghui, and his forehead, nose, and mouth were all covered in blood, she recalled. Li Ronghui managed to hide and even call the police, who arrived in minutes. But by then, the assailants had taken away the beaten child.
This scene plays over and over again in her mind, and she often imagines her son being in the same situation. She often wonders: If her son didn't have a knife in his hand that afternoon, could he have been the one to die?
It's why her son's appeal means so much to her and the family.
When the court upheld the original verdict after the appeal, on Jan. 22, 2015, the family filed petitions for review at the Intermediate People's Court of Qiannan Prefecture and the Higher People's Court of Guizhou Province.
Both courts rejected the petitions in 2015 and 2018, respectively. They upheld the original verdict saying that it was "based on clear facts and correctly applied the law, while the sentencing was appropriate."
Two years later, the family saw their first glimmer of hope. On Sept. 3 of last year, the Supreme People's Court, the Supreme People's Procuratorate, and the Ministry of Public Security issued new guidelines on applying the legitimate self-defense argument in law. This statement underscored that in cases meeting the conditions for legitimate self-defense, the court should rectify their prior approach of "whoever was harmed is in the right."
According to the guidelines, "in a conflict between two parties due to trivial matters, should one party cause illegal harm to the other and the other party retaliates — including instances of retaliation involving the use of tools — this retaliation should generally be regarded as a defensive act. The determination of the perpetrator's intention to defend themselves cannot be affected by any preparations that they may have made to this end in advance."
Li Ronghui said it was almost as if someone had written the new guidelines with her son's case in mind. They have given her and the family the confidence to continue appealing. Deep down, Li Ronghui also believes it's what Chen wants.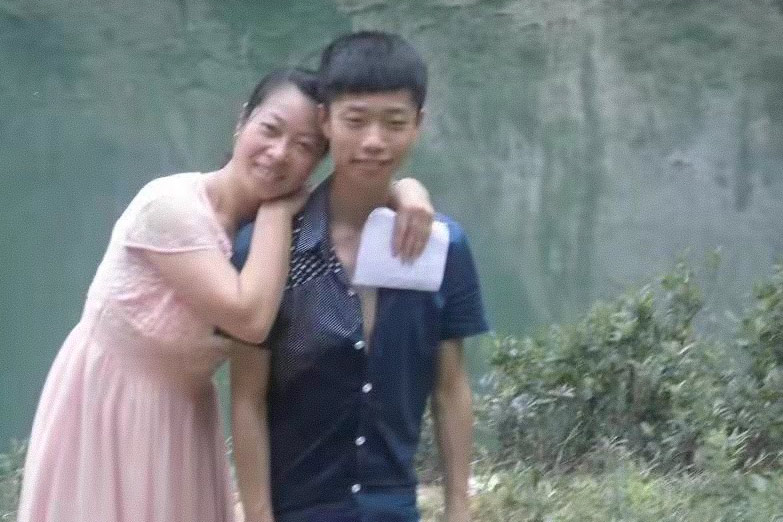 Li Ronghui and Chen Sihan before the events of the case unfolded. Courtesy of Li Ronghui
Out of sync
Amid the interminable wait to clear his name, Chen is still struggling to adapt to the outside world.
At times, he still seems like a teenager. When sitting down with his 33-year-old cousin, he still hugs him as tightly as he once did when he was a child. And when out with his mother, he still holds her hand.
Li Ronghui has even joked with him that when he gets a girlfriend, he can't keep holding his mother's hand, or "your girlfriend will call you 'a mama's boy.'"
After his parole, his parents bought him a smartphone. But when chatting with former classmates on social app WeChat, he still struggles to understand them and how to use new slang or phrases.
While at the youth detention center, his classmates sent Chen more than 100 letters — these became his spiritual pillar. While going to bed at night, he said he'd read the letters over and over again in the faint light of the hallway. The letters let him know his classmates hadn't forgotten him and even now, they are on his desk.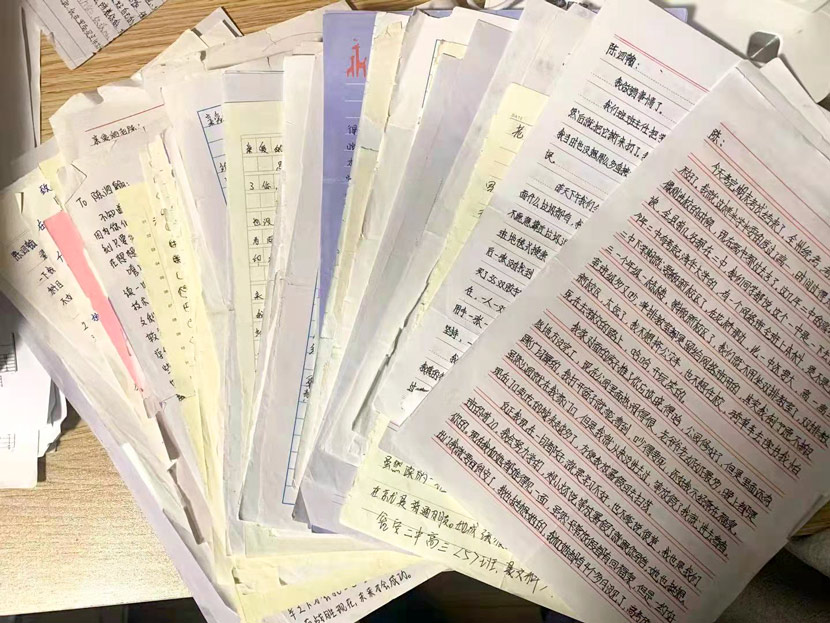 The letters Chen's classmates sent him. Courtesy of Han Qian
While interviewing Chen, he appeared calm, and it was hard to tell what he felt from facial expressions alone. But when asked about his interrupted middle school, Chen grew suddenly excited, and his hand gestures became so lively that it seemed like he was dancing.
From an early age, Chen said, he was passionate about learning — his favorite subject was math. Sometimes, he'd jump ahead and finish homework for later classes before his teacher even had the chance to teach the lessons.
When he and his friends studied math problems together, there were times when only he came up with the right answer. He said this gave him "a huge sense of accomplishment."
He recalled that in his worst-ever exam — in ninth grade — he still ranked in the top 300 among more than 1,000 students. "They didn't give us nearly enough time (to complete the exam)," said Chen, slapping his thigh in regret. To him, that memory is still fresh.
Since his release, Chen feels his relationship with his classmates has become more delicate: They have no common ground. Most of his former classmates are now scattered across the country, studying at different universities. Those not in university are already engaged.
Chen is still in touch with just a few close friends on WeChat. But they usually only exchange greetings on holidays. After a few quick messages — "What have you been doing lately?" or "What are you studying?" — the conversations soon fizzle out.
Between the age of 15 and 22, Chen spent his entire adolescence in the youth detention center. The first year or so was the hardest.
He remembers the moment the judge announced his eight-year sentence: He was stunned. His mind went blank and tears streamed down his cheeks, though he couldn't feel himself crying. "Later, I understood. Since I had no way of changing my circumstances, I thought I'd make the best of the situation."
And he did, by turning his thoughts to academics, studying hard while in prison to narrow the gap with his friends. He said he was always fascinated with computers and curious about big data, so he signed up for a computing course at the prison's specialized secondary schooling program.
But, Chen said, this program was more like "desktop repair and assembly" than actual computer science. When his family visited, he asked them to bring him a textbook on C programming. He did his best to study it but found that reading a book alone was not enough. "You need access to a computer to make sure that the code is correct," he said.
Chen also became a "model prisoner." He contributed to the prison newspaper, taught himself to write poems and play the guitar, took part in singing competitions, and joined classes to learn the saxophone. All this helped at the parole hearing.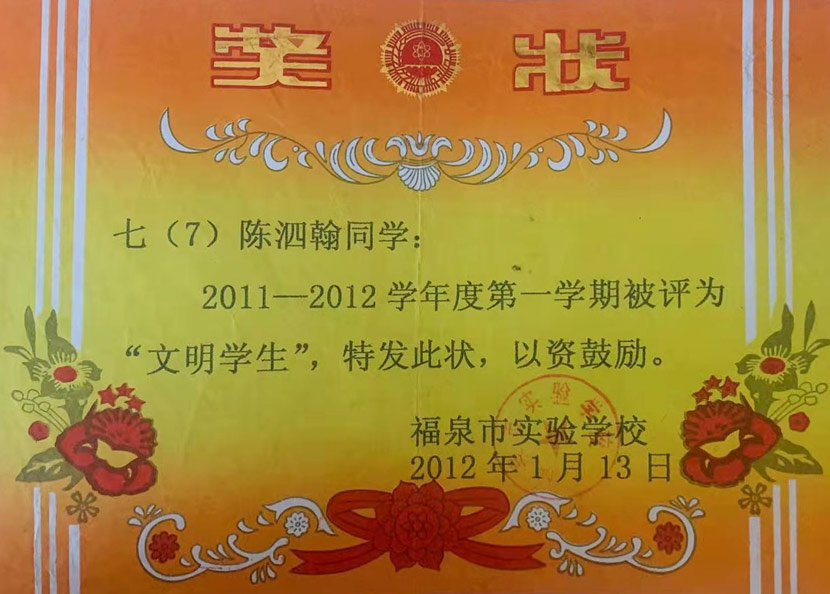 A school certificate awarded to Chen Sihan before the events of the case unfolded, in 2012. Courtesy of Li Ronghui
Breaking good
Despite the aptitude he displayed while in prison, Chen was always aware of the widening gap between him and his classmates. Recently, a former classmate shared news of him being accepted to grad school on WeChat. When Chen mentioned it to his mother, she replied, "Yes, I saw it too, and gave him a like."
After that, they fell silent.
To offset this rift, Chen managed to complete an associate degree in law while incarcerated. And after being released, his attorney Lin Lihong even made him an intern assistant at her law firm. There, Chen is responsible for writing legal documents and posts on the law firm's microblog Weibo and WeChat accounts.
Chen did have a job of sorts during his sentence. He earned a reputation among the other juvenile inmates as the "most civilized group leader" at the youth detention center.
He served as the group leader of the new inmates sector for more than two years, during which he managed around 400-500 inmates. And because group leaders normally "command using violence," correctional officers weren't initially sure if the meek and mild-mannered Chen was up to the job.
In his duties as group leader, Chen had to study each new inmate's case. Among them, robbery, intentional injury, and rape were the most common crimes.
Chen tried to understand these juvenile offenders, many of whom came from broken families, had suffered from domestic violence, or were "left-behind" children. He felt that because of their rough upbringings, many fell in with the wrong crowd at a young age, and naturally picked up toxic behaviors.
"They feel that bullying offers a kind of pleasure — by hurting others, they can make a name for themselves, and no one will dare provoke them," said Chen. In hindsight, he added, a lot of them found their past mentalities to indeed be "childish."
Chen also said that a "lack of love" is their shared trait. "Sometimes, if you do them a little favor, even if it's just giving them a packet of instant noodles, they're endlessly grateful."
When not discharging his duties as a group leader, Chen liked to be on his own, lost in thought, reading, practicing guitar, or writing poetry.
Others in his group soon, under his influence, also decided to take classes. He had an older friend at the institution who had started working before he had even finished elementary school, and had drifted from one job to another for seven or eight years before he was imprisoned. This friend often came to him for help with math problems.
Asked if any of the juvenile offenders reminded him of school bully Li Hao, Chen said that the name rarely came to mind.
After their release, Chen and some of his fellow inmates have remained in touch — most are now migrant workers. Chen himself has made progress in his work as a paralegal.
Of late, he's been allowed to independently write posts on the firm's social media accounts. For instance, on World Consumer Rights Day on March 15 this year, he produced three articles on protecting consumer rights. This required him to search for cases online and analyze them according to relevant laws and regulations.
He's also tried his hand at writing administrative reviews. After five or six days of revision, one finally came together. On one occasion, Chen pulled up the document on his phone and swiped through it. "I can't believe I wrote all this," he said.
At the law firm's annual meeting last year, he connected remotely and played a song on his guitar called "I Just Want to Love This World."
The lyrics went: "Repressed emotions I don't know how to express / No matter if I'm here or in there / It's like the call of a frightened insect / But I understand that I must do my best."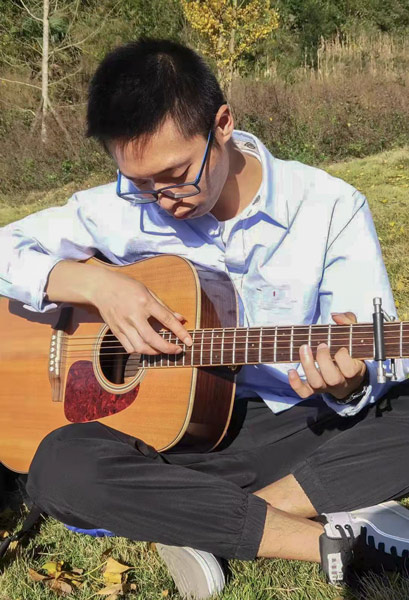 Chen Sihan plays the guitar. Courtesy of Han Qian
Finding a balance
Chen initially believed that after being paroled, life would return to normal: He'd go back to living quietly with his parents and prepare for the college-entrance examination to turn his associate's degree into a bachelor's.
These plans came to a screeching halt the day he got out of prison. That day, he was interviewed by two journalists. After a discussion, his mother Li Ronghui and attorney Lin Lihong decided the whole family would start giving interviews with their real names to strengthen their credibility. Soon, the family was caught in the media's gaze.
Chen doesn't like seeing his real name in the news, and even if the case is eventually overturned, he doesn't want anyone to talk about him. At the moment, the whole family's life seems to revolve around the past — a state of being that he strongly resents. He believes he's paid the price for the past and does not want it to affect his future any more than it already has.
In the final days of his parole period, reporter visits became more frequent. Li Ronghui took it upon herself to help her son mentally prepare for what was to come. "Before, I was running around getting things done. Now that you're out, you have to take on the main role. You have to come to terms with that," she recalled telling him.
On several occasions, she said she caught a glimpse of Chen reading the comments below stories about him.
In prison, Chen was more focused on good behavior in an attempt to have his sentence commuted. But as for whether his verdict can be overturned, Chen said he doesn't dare set his expectations too high.
He said he's seen how much his parents have fought over the past six months, and he does not want to let these efforts be wasted. Pushing for a retrial of his case and obtaining justice for his lost childhood is something he wishes for, too.
But Chen's thoughts are divided between facing the past and forging a new future, and his opinions waver back and forth.
On one occasion, he said he resented the media exposure, and said the way journalists constantly rehash events of the past was "extremely frustrating." But the next day, he said that he did not dislike journalists, as "media reports let more people know that I am not a real murderer."
He isn't sure which opinion he believes more. "It's more like half-and-half," he said.
But Chen understands that the road to redemption is destined to be long, and that he "can't stay tangled up in this matter and lose the time to do other things." For the moment, he has to learn how to find a balance between these two states of mind.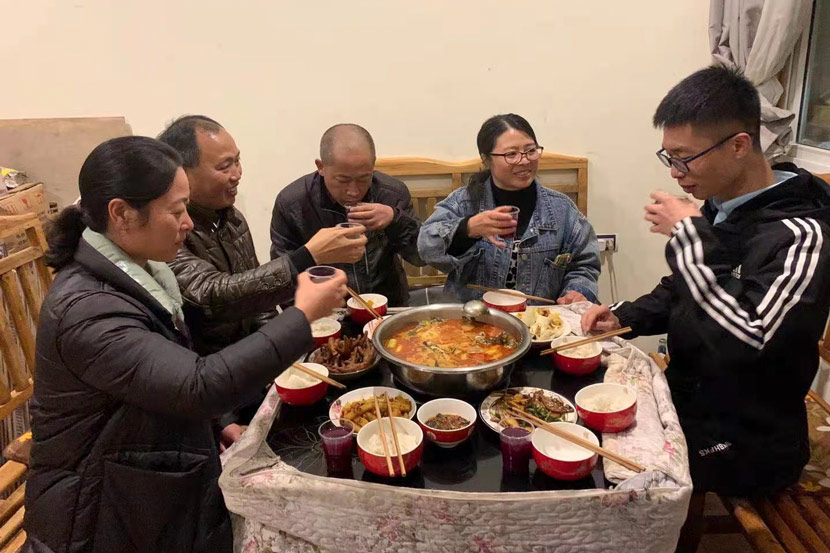 Chen Sihan and his family members share a meal. Courtesy of Han Qian
Chen doesn't often share his thoughts with people. Even with his parents, he rarely mentions his thoughts and concerns, and feels that no one can truly understand what he feels unless they've experienced it firsthand.
He also still feels a lot of pressure, though he cannot say where this pressure comes from — perhaps from his parents, from society, maybe even from himself.
He often stays alone in his 10-square-meter bedroom, rereading the letters he brought home from the youth detention center, books journalists gave him, and a Python programming textbook he bought himself. With all the time he's spent on his case, he's a little rusty on the guitar, and his fingers are not as strong as before.
When he has nothing to do, he likes to sit on the edge of the bed, look out through the window into the distance, and space out. In these moments, he feels much more at peace.
He and his parents have made a deal. Eventually, they'll go together to Fanjing Mountain. And in the evening, he'll lie quietly in his tent and admire the vast starry sky.
Li Hao is a pseudonym. A version of this article was originally published by Beijing Youth Daily. It has been translated and edited for length and clarity, and is republished here with permission.
Translator: Lewis Wright; contribution: Wang Zhaowei; editor: Lu Hua.
(Header image: Shijue Select/People Visual)