ZHEJIANG, East China — In a cramped storeroom adjoining his pigeon loft, Zhong Shengliang is frantically counting a heap of eggs piled inside a row of plastic boxes. Outside, a truck waits in the yard, its engine growling.
"I need to deliver them to the buyers before they change their minds," Zhong tells Sixth Tone.
For the 56-year-old farmer, Lunar New Year is always a crucial period. But this year's holiday, which begins Thursday, could determine the fate of his business.
A specialist producer of pigeon eggs — a delicacy that's highly prized in parts of eastern and southern China — Zhong makes the bulk of his profits from the rush of corporate events, weddings, and family banquets that traditionally take place over the festival.
The COVID-19 crisis, however, has flared up again in China at the worst possible time, threatening to deal Zhong's farm a fatal blow.
Though the recent outbreaks appear to have been contained, the Chinese government is concerned about the potential of a surge in infections over Lunar New Year, when millions of people traditionally return to their hometowns to visit relatives. Many local authorities have moved to restrict travel and mass gatherings ahead of the holiday.
The measures are causing Zhong intense anxiety. He's already received canceled orders worth around 1 million yuan ($155,000) due to local bans on companies hosting New Year parties, he estimates. Now, he's worried restaurants will cut orders even further, because they expect fewer families will eat out on Lunar New Year's Eve.
"My sales for the first half of the holiday season have been practically wiped out due to the massive cancelations of work banquets," says Zhong. "My only hope is that families' New Year's Eve dinners won't be affected that much."
Many businesses in China's vast food and catering sector are facing a similar predicament. The industry, which is still reeling from China's initial COVID-19 epidemic, is now struggling to cope with a second Lunar New Year disrupted by the virus.
For China's restaurants, Spring Festival is by far the most important time of year. In 2019, the catering industry generated 15% of its annual revenues during the holiday, according to the China Cuisine Association. When Beijing imposed strict lockdown measures just before Lunar New Year in 2020, eateries lost business worth 500 billion yuan in the first week alone.
While this year's restrictions aren't nearly as tight, businesses are less able to ride out any downturns after swallowing enormous losses in 2020. Between January and July, catering revenues in China were down nearly 30% year-over-year, according to the National Bureau of Statistics.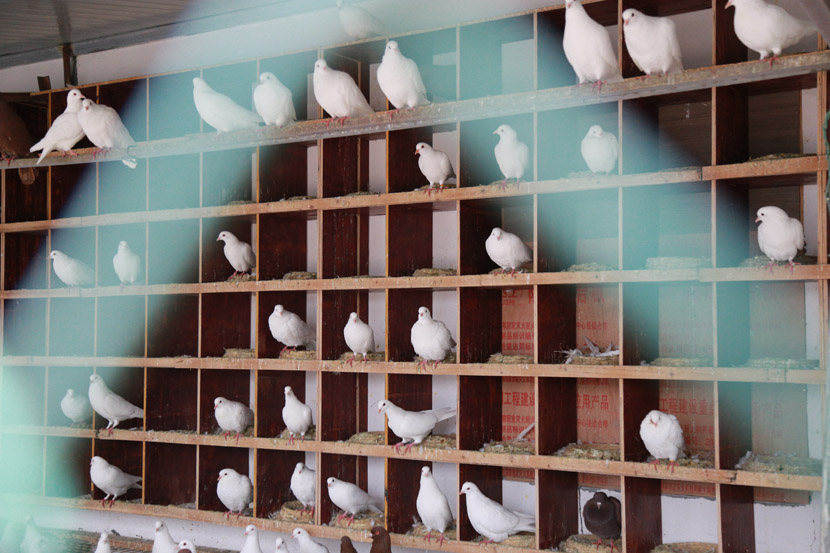 Pigeons are perched inside a building at Zhong Shengliang's farm in Pingyang County, Wenzhou, Zhejiang province, Dec. 12, 2020. Wu Peiyue for Sixth Tone
Zhong says his farm lost 2 million yuan last spring, as the decline in demand from restaurants rippled along the supply chain. The price of pigeon eggs, which normally surges to as high as 270 yuan per kilogram — 30 times the price of chicken eggs — ahead of Lunar New Year, fell by half.
"While my pigeons ate feed every day, no one ate the eggs they laid," says Zhong. "My farm can't afford another season of slow sales like last year's Spring Festival."
Restaurant owners express similar concerns, especially those running traditional Chinese banquet halls. Compared with other venues such as fast-food outlets, which pivoted to food delivery during lockdown, banquet restaurants have been hit hardest by social-distancing measures.
Xu Weimin, a board member at a restaurant group that owns more than 20 banquet restaurants in Shanghai and neighboring Zhejiang province, says over 50% of his company's sales normally come during the month of Spring Festival, due to the number of large functions held at that time of year.
This year, however, the restaurants have not only lost all their corporate bookings, they've also been affected by a decline in wedding banquets, after a string of COVID-19 infections in the northern Hebei province was traced back to a wedding in January.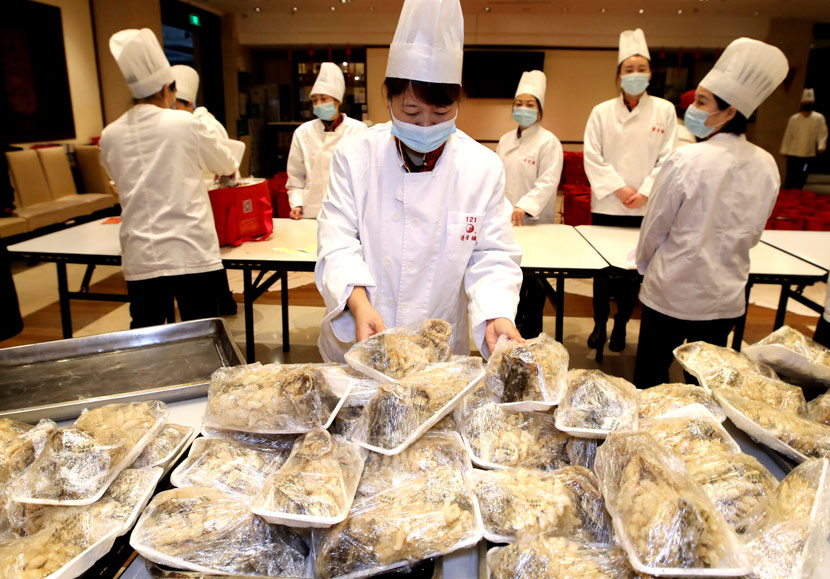 Kitchen staff prepare dishes for a Spring Festival meal at a restaurant in Suzhou, Jiangsu province, Feb. 9, 2021. Wang Jianzhong/People Visual
"Weddings used to happen all year, but now wedding banquets are mostly scheduled around Spring Festival, particularly in rural areas," Zhong explains. "It's the time for young people to return to their hometowns."
Around 10 weddings scheduled to take place at Xu's restaurants in February have been postponed or downsized to comply with local virus-control measures, he says. Overall, Xu predicts the company will suffer 100 million yuan in lost revenues during Lunar New Year, compared with 200 million yuan during last year's holiday.
Other industries struggling to cope with the fall in festive events include producers of expensive Chinese ingredients such as dried abalone, shark's fin, and bird's nest, according to Liang Ridong, president of the Guangdong Cuisine Association.
China's food industry has confronted several crises over the years, and industry insiders are hopeful that producers will find a way to ride out the pandemic. Zhong, the pigeon farmer, has already had to pick up the pieces after multiple setbacks.
In 1994, the farm on which Zhong had invested all his savings was flattened by a typhoon. Zhong managed to escape to safety seconds before the building collapsed, but nearly all his 10,000 birds were killed.
"There were around 200 pigeons that escaped," says Zhong. "They flew out of the crushed cages and circled around the ruins, as if they were searching for their family members. I'll never forget that scene as long as I live."
A year later, the farmer started again from scratch with borrowed money. The biggest lesson he learned from the tragedy, he says, is how vulnerable businesses like his can be.
"Small-scale farms don't have any ability to resist risks," says Zhong. "In order to run a pigeon farm long term, it's necessary to find a path to mass production."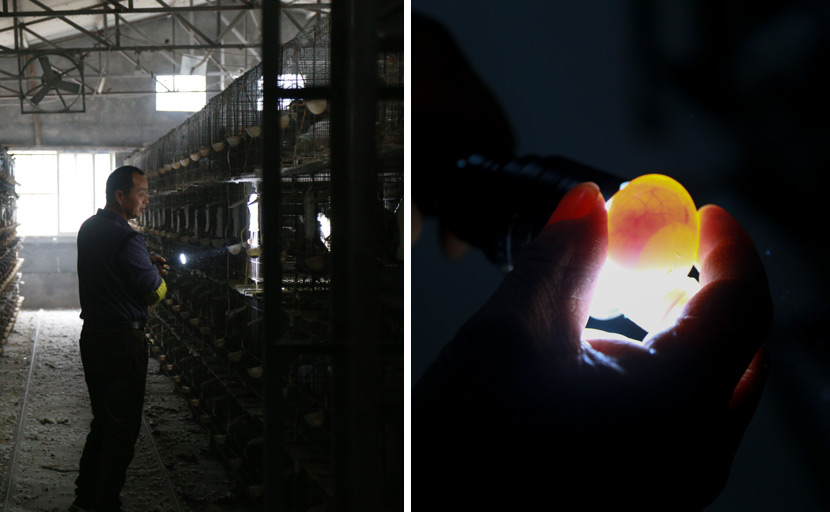 Left: A worker checks on the pigeons at Zhong Shengliang's farm; Right: A worker inspects a pigeon egg at the farm in Pingyang County, Wenzhou, Zhejiang province, Dec. 12, 2020. Wu Peiyue for Sixth Tone
An unlikely innovation helped resurrect Zhong's business. Until that point, pigeons were mostly bred for their meat in China, with the eggs sold as a byproduct. But Zhong was able to turn pigeon eggs into a profitable business by developing what he calls a "homosexual breeding technique."
In contrast with other poultry, female pigeons normally have to be paired with a male to lay eggs, and even then they only produce around four eggs per month, Zhong says. The farmer, however, noticed that in rare cases two females would pair up and lay eggs together.
"If the two females start to kiss and preen each other's feathers, that means they're falling in love," says Zhong.
Gradually, Zhong learned how to pair up large numbers of female birds, meaning he no longer had to keep male pigeons. The new method vastly reduced his costs and made it possible to produce eggs at scale.
"Before, the feed costs for a heterosexual pigeon couple to produce one egg were as high as the egg's average wholesale price," says Zhong.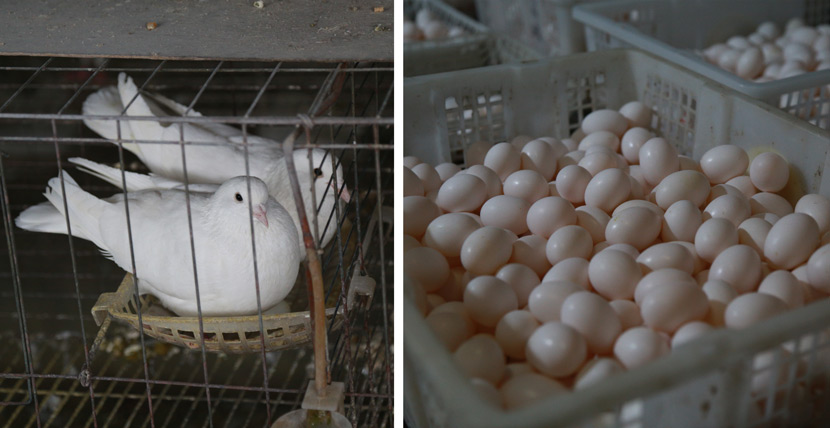 Left: A pair of pigeons sit in a cage together; Right: Pigeon eggs are piled in plastic containers at Zhong Shengliang's farm in Pingyang County, Wenzhou, Zhejiang province, Dec. 12, 2020. Wu Peiyue for Sixth Tone
The new technique brought new prosperity to Zhong's village near the eastern city of Wenzhou over the following years, and won the farmer multiple awards. In 2017, however, the pigeon industry was hit by its biggest crisis in living memory, as an outbreak of the H7N9 bird flu swept through China.
Pigeon farmers suffered losses of 350 million yuan during the epidemic, according to the China Pigeon Industry Association. Chen Yitian, the association's president, says it's unclear at this stage how large the industry's losses from COVID-19 have been, but they're unlikely to be greater than the impact from H7N9.
"Still, many small pigeon farms might not survive this year," says Chen. "Big farms may need at least two years to recover."
This time, Zhong hopes finding new sales channels will allow him to rebuild his pigeon egg business once again. The collapse in Spring Festival orders has taught him that he's too dependent on his banquet hall clients, he says.
The farmer is trying to rebrand pigeon eggs from a luxury delicacy to a health product. The eggs contain higher concentrations of iron and vitamin B than chicken eggs, and in Wenzhou it's customary for women to eat them every day during pregnancy.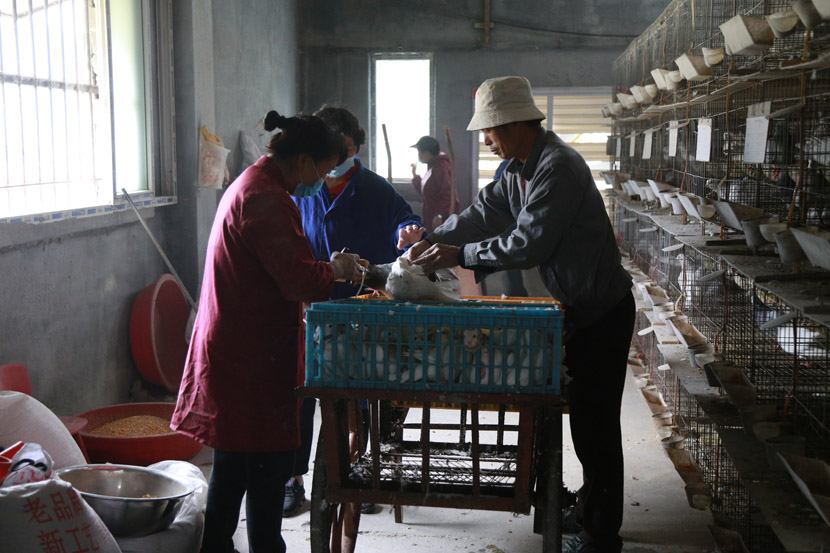 Workers unload supplies at Zhong Shengliang's pigeon farm in Pingyang County, Wenzhou, Zhejiang province, Dec. 12, 2020. Wu Peiyue for Sixth Tone
Over the past year, Zhong has signed deals to supply eggs to the major Chinese supermarket chain Lianhua and other retailers. He has also opened online stores on Chinese e-commerce platforms JD.com and Taobao, though he dislikes the cutthroat competition on the sites.
"Online buyers don't know how to distinguish between high-quality pigeon eggs and the bad ones," says Zhong. "They just go for the cheaper ones."
Restaurants, meanwhile, are simply focusing on attracting customers in any way they can. Hu Zhibin, who owns a seafood restaurant in the eastern city of Hangzhou, says he's waiving deposits for bookings over the holiday and asking families calling to cancel their reservations to wait a few days before confirming.
After losing 800,000 yuan in business due to canceled company parties, Hu says he's relying on families to show up for their New Year's Eve meals. But it's still unclear how many people will go ahead with those plans.
"No one knows what will happen over the next few days," says Hu. "Not requiring a deposit is one way to encourage people to come if the virus is under control by New Year's Eve."
Early data suggests, however, that family celebrations are likely to be low-key this year, as large numbers of migrant workers heed government calls to "celebrate in place." China's Ministry of Transport estimates only 1.15 billion trips will be made during the 2021 holiday, the lowest number since records began.
The pandemic has, at least, taught companies to become more adaptable, according to Liang, the Guangdong Cuisine Association president. This year, that skill is needed more than ever.
"After last year, all of us have prepared ourselves for the worst, and we know how to respond to emerging situations," says Liang. "We won't be caught off guard like last year."
Editor: Dominic Morgan.
(Header image: Pigeons stand next to two freshly laid eggs in Pingyang County, Wenzhou, Zhejiang province, Dec. 12, 2020. Wu Peiyue for Sixth Tone)