Chinese authorities have ordered a domestic company to suspend operations and recall its baby cream products after a third-party consumer advocacy group alleged that two such products contained excessive amounts of a powerful hormone.
Video and images of an infant girl's bulging cheeks, hairy forehead, and chubby limbs went viral on Chinese social media over the weekend. The child's parents and doctor suspect the abnormal development was caused by a supposedly "zero-hormone" baby cream product sold by Fujian Ouai Baby Health Care Products, a company founded in eastern China in 2017. It is not related to an American hair and skin care company with a similar name.
After the parents had applied the cream to their child's skin for over two months, an independent analysis found that it contained 30 milligrams of clobetasol propionate per kilogram. A powerful corticosteroid, clobetasol propionate is used to treat a wide range of skin conditions including eczema, dermatitis, and psoriasis. Under Chinese regulations, such hormones are banned from use in skin care products and daily use creams.
The results of the analysis were published Thursday by Daddy Lab, a Hangzhou-based company that assesses consumer products for quality and safety. Daddy Lab said it had tested samples provided by the parents, as well as from another Fujian Ouai baby cream product, in a qualified lab.
"I've tested hundreds of skin care products over the past five years, and we would consider less than 1 milligram of hormone per kilogram to be high," Wei Wenfeng, Daddy Lab's founder, said in the company's video.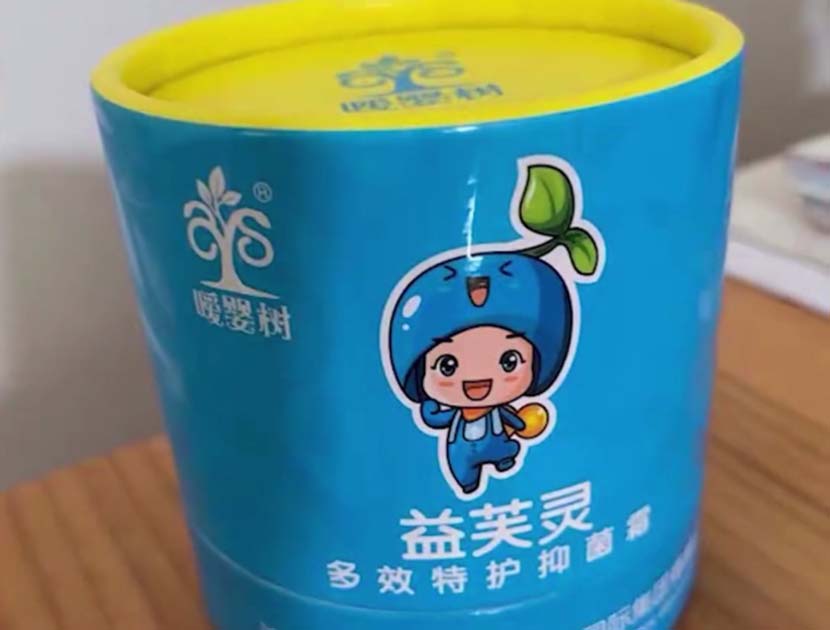 A supposedly "zero-hormone" baby cream product sold by Fujian Ouai Baby Health Care Products. From @连云港发布 on Weibo
Gu Wei, the doctor who treated the infant, told state-run newspaper Beijing Youth Daily that she showed obvious signs of Cushing's syndrome — a medical condition characterized by obesity, hypertension, and excessive hair growth, caused by an overactive adrenal gland or large doses of corticosteroids. "It's likely that the external hormone suppressed the baby's endocrine function," she said.
In an interview Saturday with Sixth Tone's sister publication The Paper, Fujian Ouai said all of its products pass quality inspections before they're sold on the market.
The health committee in Zhangzhou, the city in Fujian where Ouai is located, said on Friday that it is aware of the case and has ordered the company to recall its baby cream products. "The company has suspended production and must notify its distributors to take the products in question offline," the announcement said.
The health committee said it has also acquired samples of Fujian Ouai's baby cream products and will send them to authoritative testing agencies for further analysis.
This isn't the first time a baby cream product has faced allegations of strong hormone additives that can cause abnormal development in babies. In 2018, an 8-month-old infant was diagnosed with kidney stones after her parents had applied a baby cream containing clobetasol propionate. The following year, the China Consumer Journal reported that, out of eight anti-itching baby cream products they tested in labs, six were found to have added hormones.
The recent case involving Fujian Ouai has sparked a public outcry, especially after revelations that many baby cream products are actually approved as "disinfection products." Although official regulations prohibit such products from containing antibiotics and hormones, they don't require human testing prior to approval, and as such have a faster — and less scrutinized — route to the market.
Wei from Daddy Lab told Sixth Tone on Sunday that he felt outraged when he saw the test results. "Some unscrupulous manufacturers might not care about these 'flukes,' as it's hard to find out what kind of ingredients have been added by smelling or observing," he said.
Since Daddy Lab posted its video, the company has received replies from over 80 parents sharing similar experiences, nine involving severe health effects. According to Wei, Daddy Lab will help arrange qualified testing for these cases, too.
"In China, it's pretty much impossible for individuals to bring samples to testing agencies for inspection," Wei said. "So parents who find themselves in these situations often have no recourse."
Editor: David Paulk.
(Header image: Before and after photos of the infant girl who used a baby cream product allegedly found to contain a banned steroid hormone. From @连云港发布 on Weibo)