SHANGHAI — A few years ago, a full-bladdered Lü Caiqiang discovered his apartment building's shared bathroom occupied by his neighbor. Not nimble enough to dash across the street to a public restroom, he peed his pants. It was when Lü, 66, says he realized he was old.
It was also the moment he decided to tear out his built-in wardrobe, equip the extra space with plumbing and wiring, and turn it into a mini bathroom. Lü and his wife's 18-square-meter apartment had become en suite, and with that, the envy of his neighbors in Pengpu New Village, who nearly all rely on shared restrooms.
Built six decades ago, the buildings' defects go beyond a lack of toilets. "Whenever it rains, our room will flood," Lü tells Sixth Tone. "Mice, cockroaches, and slugs make frequent visits, so we have no choice but to raise two cats."
A Pengpu resident for over 20 years, Lü long ago grew cynical of rumors that the neighborhood's landlord, the Shanghai government, would do something about the buildings' dilapidated state. There was talk that Pengpu New Village would become one of the many neighborhoods in Shanghai marked for redevelopment and relocation — a prospect residents welcomed because it would mean being compensated with either a substantial sum of money, a newer and larger apartment somewhere else in the city, or both.
But it never materialized. "Several times, government officials or employees of real estate companies came to ask us about our opinion, and one time they even registered our information," Lü recalls. "But in the end, nothing happened." The reasons why are unknown, but residents speculate that having to rehome some 2,000 families to free up a relatively small plot of land proved not worth the trouble.
When government officials showed up again last year, Lü figured they'd have more empty promises. But this summer, red banners appeared around the neighborhood calling on residents to sign onto a multi-year plan for new houses.
Lü Caiqiang opens the door to enter his 18-square-meter apartment in Pengpu New Village, Shanghai, Nov. 4, 2020. Wang Lianzhang/Sixth Tone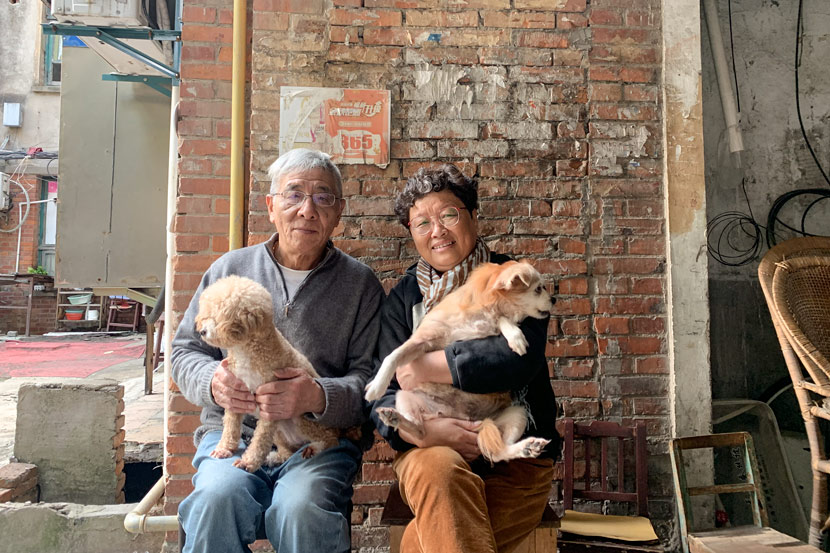 Lü Caiqiang and his wife pose for a photo in Pengpu New Village, Shanghai, Nov. 4, 2020. The couple raises two cats and two dogs. Wang Lianzhang/Sixth Tone
A complex mix of factors has made the Shanghai government decide to tear down the current apartment blocks and construct a set of new buildings in their stead. When those are done, Lü and all his neighbors can move back in, free of charge. To him, it's a dream deal. "We've been waiting for something like this for years," Lü says.
This method, called yuanchai yuanjian, or "demolishing and rebuilding in the same place," isn't new in China, but it has never before been applied on such a scale. The project has been widely covered in media. Some wonder whether yuanchai yuanjian will become the new normal for other such dilapidated neighborhoods throughout China. Officials from other cities have already visited to learn from Pengpu.
Pengpu New Village used to be famous for other reasons. In the late 1950s, it was among the first of about 200 such neighborhoods built in Shanghai to house the young socialist republic's growing ranks of factory workers. For the area, it meant those employed in the equally new Pengpu Industrial Zone that had replaced farmlands, graveyards, and streams on what were the then-outskirts of the city.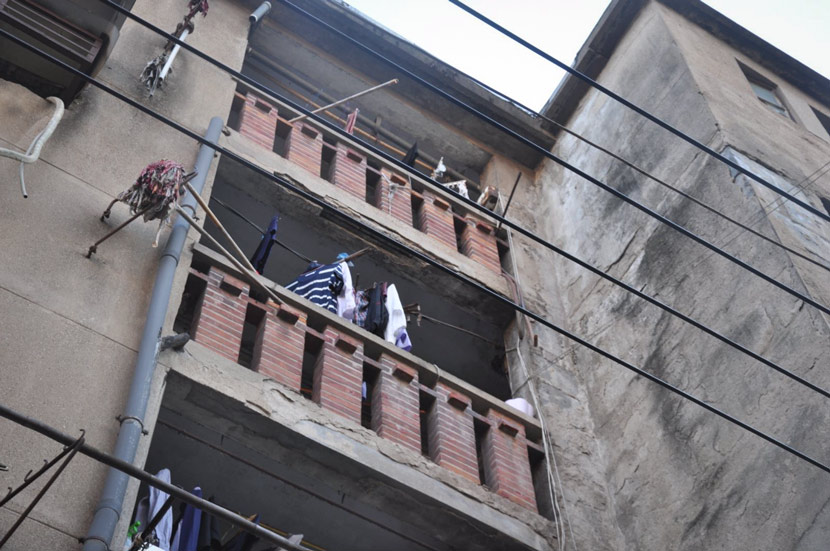 Without balconies, some families hang clothes out in the hallway, in Pengpu New Village, Shanghai, Nov. 4, 2020. Zhang Shiyu for Sixth Tone
At first, worker villages like Pengpu only welcomed people whose workplaces had awarded them with "model worker" or "advanced employee" honors. Slogans at the time reminded people that "if one could move into a worker's village, the whole factory would feel proud." Built in accordance with socialist ideals, the four- to six-story walk-ups featured shared bathrooms and kitchens. Apartments were usually 20-40 square meters in size.
But when China allowed a private housing market in the 1990s, and elevators, multiple bedrooms, and private bathrooms and kitchens popularized, the worker villages lost their luster. People who could afford to leave, left, and were replaced by out-of-towners whose tight budgets only allowed them to buy what were now undesirable homes.
Among them was Wang Liyuan. No longer able to bear living together with her mother-in-law, Wang, her husband, and her son moved into an 18-square-meter apartment in June 2000 for which they spent all their savings. It only fit two beds and a table. "To be frank, I was not satisfied with this apartment," Wang tells Sixth Tone. "It's so small and old, and the common areas are very dirty, but I had no choice." To guard against leaky overhead plumbing, Wang hung several umbrellas above the kitchen and toilets.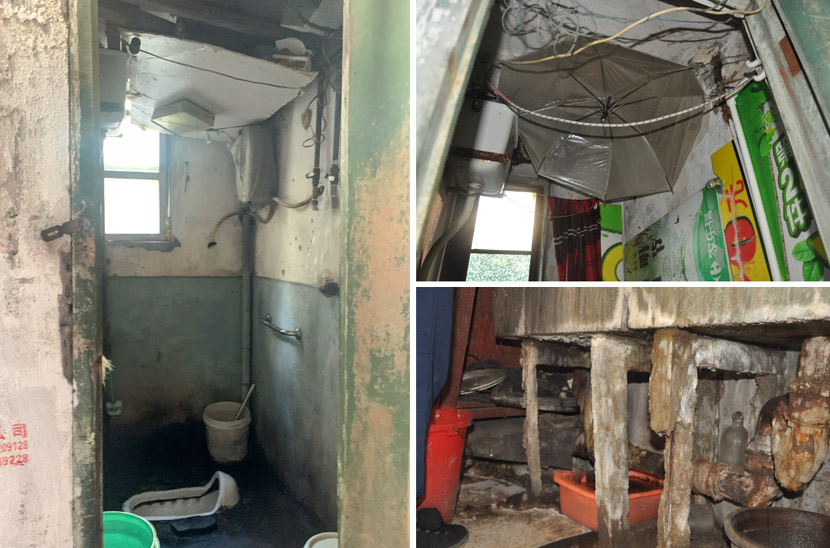 The shared bathroom and kitchen in Pengpu New Village, Shanghai, Nov. 4, 2020. To prevent water leaking from ceilings and pipes, residents have come up with makeshift solutions like empty mooncake boxes, umbrellas, and wash basins. Wang Lianzhang and Zhang Shiyu/Sixth Tone
The local government recognized Pengpu's poor living conditions and launched a refurbishing project in 2005. The move came a decade after a citywide mandate to improve the living conditions of people residing in houses without their own bathrooms or kitchens. However, such projects, known as jiugai in Chinese, are seen as "the most difficult thing in the world" by government officials because plans are rarely both affordable and satisfactory for residents.
It took nearly 14 years for Xu Bingrong, the head of Pengpu New Village's jiugai office, to finish the refurbishments of its third, fifth, and seventh subdivisions, or "villages." There, the office applied relatively small adjustments, such as rearranging spaces to create private toilets and kitchens and installing elevators on the outside of buildings. Sometimes, they would add new floors to make the necessary room. "But later, we found that these adjustments would be insufficient for the aging buildings (of Pengpu's First Village)," says Xu, 77, a former district housing management official who was reassigned to work on Pengpu's jiugai project after his retirement.
According to Xu, Pengpu First Village's situation is exceedingly complex, with over 2,000 households living in nearly 300 house types that vary in size from 7 to 110 square meters. Some 350 families have a member with disabilities, and about 100 have incomes low enough to qualify for state allowances. This variety makes designing an equitable and agreeable redevelopment plan a near-impossible puzzle.
The solution, in the end, was tearing down First Village's 40 walk-ups and replacing them with 17 high-rises on the same site. House type diversity has been reduced by two-thirds, and each household is to receive an apartment larger than the one they're leaving behind — Lü and Wang are each gaining 2 square meters — and will, on top of that, include private kitchens, bathrooms, and balconies. The common areas will be equipped with elevators, an underground parking garage, and activity centers with a swimming pool and theater. Residents will receive a monthly subsidy of up to 4,500 yuan ($680) to cover rent for the years Pengpu is being rebuilt.
Redevelopment projects can only go forward when enough residents agree, which sometimes presents a stumbling block. But Xu says their painstaking preparation paid off. As of mid-October, 99% of families have signed on, triggering a 30,000-yuan-per-household reward — one of several financial incentives to get people to sign up and move out early that, for many residents, can add up to several times their annual incomes. Quite a few government officials from other cities have visited Pengpu New Village to learn how Xu's team drew up its plans.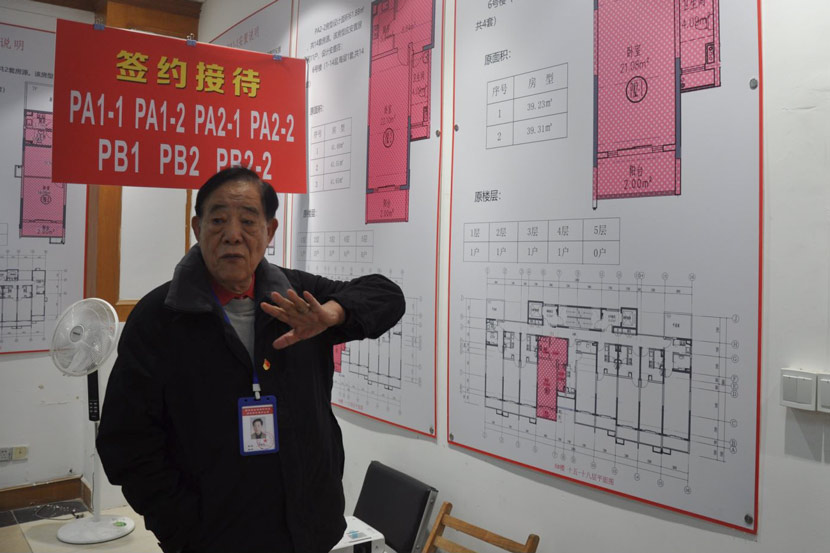 Xu Bingrong puts up plans on a wall for residents to see their new apartment house types, at a conference room in Pengpu New Village, Shanghai, Nov. 4, 2020. Zhang Shiyu for Sixth Tone
But there are still a few holdouts, known as "nail houses" in China. Pengpu New Village has a relatively large number of elderly residents, some of whom think moving houses in their sunset years will bring too much upheaval — or too much bad luck, according to some superstitions surrounding death.
"Some old people are reluctant to move out in the first place, because they are afraid it will affect their health," Hong Aizhen, a volunteer at the jiugai office tells Sixth Tone. "There are over 600 households with residents over 80 years old, and almost every family has a member who is over 60 years old."
One objector, 73-year-old Yu Songjuan, believes that the plan is neither fair nor enticing. She stands to receive a house 2 square meters roomier than her current apartment, but she cannot accept a balcony that will be 1.2 meters smaller. She's also not satisfied with the size of what would become her new kitchen and bathroom.
"I just want my 1.2 square meters back," Yu tells Sixth Tone. Since she learned of the plan, she has visited several government officials, who all rejected her request. "I offered my own solutions, that I could either pay some extra money to buy more space, or move to another apartment. Neither of my suggestions was accepted," Yu says. Xu and Hong, of the jiugai office, believe giving in to one household's additional request risks a deluge of similar inquiries.
Xu Leiqing, a professor specializing in architecture and urban planning at Shanghai's Tongji University, who is not related to Xu Bingrong, tells Sixth Tone that it's always difficult to get every side on the same page for redevelopment projects. The government and real estate companies have to consider costs, "But for residents, such projects are the last opportunity to turn their lives around, so they will fight for their interests," he says.
Xu Leiqing says relocation projects are often controversial because, commonly, it involves people having to move from city-center homes to new apartments in the suburbs. He hopes yuanchai yuanjian will become the standard urban renewal method. It's the government's obligation to improve people's housing, he says.
With enough residents on board to ensure the project will go ahead, Xu Bingrong says they will take legal action if they cannot soon come to an agreement with the holdout households. "They are hindering public interests," he says.
Those who already signed up resent what they see as selfish feet-dragging. "Even if the compensation or the subsidies are below their expectations, it's still much better to live in a new apartment than the current one!" Lü says with exasperation. With five months to go until the move-out date, he has already packed his bags. "I will be over 70 years old when I can move back in four or five years, and there won't be much time left for old people like us to enjoy the rest of our lives," Lü says.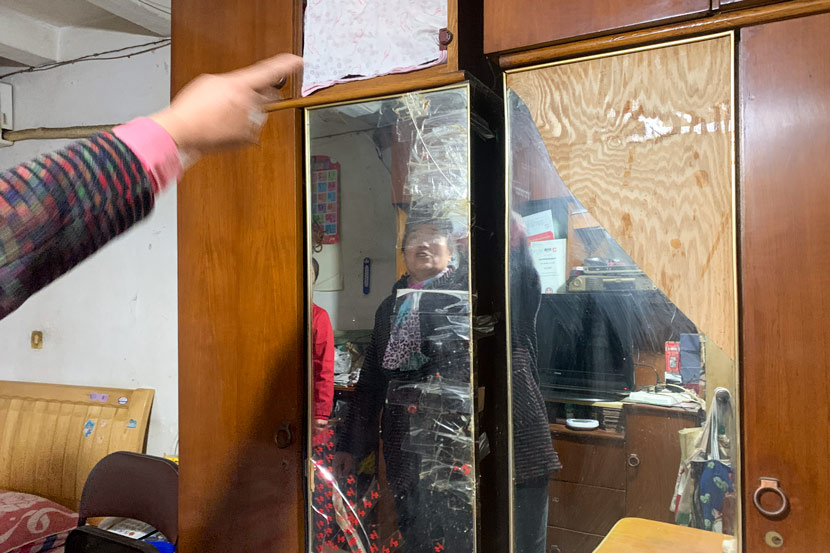 Wang Liyuan points to her closet's broken mirror in Pengpu New Village, Shanghai, Nov. 4, 2020. She dreams of a new one in her next apartment. Wang Lianzhang/Sixth Tone
When Wang heard about the proposed plans, she woke up early the next day to sign the paperwork as soon as possible. She's already dreaming of her new home. "If everything goes as planned, we can move back before I turn 70 years old," she says. "And I wish I could enjoy the rest of my life with a big television, a nice air-conditioner, and a bright and clean kitchen and toilet."
"Before my daughter-in-law married my son, I warned her that it might be tough for her marriage because we are too poor to prepare a house for them," Wang says. "But now, I'm relieved that I will finally leave something decent for them as an inheritance."
Additional reporting: Zhang Shiyu; editor: Kevin Schoenmakers.
(Header image: A resident brushes his teeth at the only sink in a shared kitchen, in Pengpu New Village, Shanghai, Nov. 4, 2020. Wang Lianzhang/Sixth Tone)