China should enact policies to deal with the coming wave of used electric vehicle batteries, Greenpeace says in a new report proposing that they be repurposed for less-demanding uses before being recycled to minimize their environmental footprint.
Sales of climate-friendly electric vehicles (EVs) are expected to keep surging in China, to 12.5 million annually by 2030, said the report, published Friday by environmental nongovernmental organization Greenpeace East Asia. As a result, it estimates, the country will need to deal with 7.05 million tons of retired EV batteries in the coming decade.
Greenpeace analysts call for more policies promoting so-called ladder utilization, where batteries are used for increasingly less-demanding purposes as their performance diminishes with age, as well as recycling measures to minimize the environmental toll of their production and the country's reliance on imported source materials.
China is the top consumer and producer of EV batteries, but 70% of the lithium and 96% of the cobalt used in their production come from abroad, according to Greenpeace. The mining of these materials has long been criticized for pollution and labor abuses.
Liao Qiangqiang, a professor of applied chemistry at Shanghai University of Electric Power who was not involved in the report, told Sixth Tone that, due to concerns over safety and mileage, "EV batteries are normally retired when their capacity has decreased to 80%." This aging process usually takes at least five years. "But that doesn't mean these batteries are useless," he said, citing energy storage, charging stations, and lower-speed vehicles as use-case examples.
Such ladder utilization could create a 43 billion yuan ($6.4 billion) industry in China by 2030, Greenpeace said.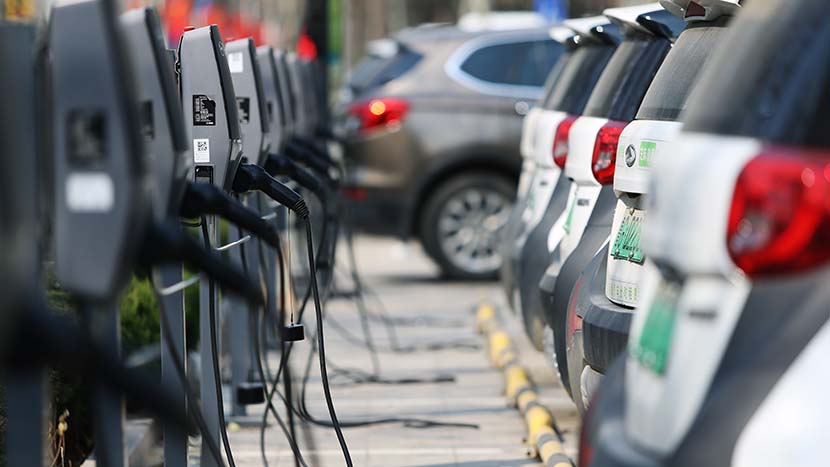 Electric vehicle charging stations in a parking lot in Weifang, Shandong province, March 24, 2020. People Visual
In 2018, the Chinese government released a guideline stipulating that EV manufacturers must take responsibility for collecting retired batteries, and earlier this month, the Ministry of Industry and Information Technology proposed a guideline for ladder utilization of such batteries.
But the Greenpeace report said more is needed. It called for government policies requiring manufacturers to track and re-collect all of their batteries, and argued for more research funding and official standards in product design.
However, high costs, technological bottlenecks, and a lack of standards hold back wide-scale ladder utilization of EV batteries, Liao said.
"Unlike the uniformity of new batteries, retired batteries are like people with different figures — tall, short, fat, and thin. When selecting for reuse, we need to group the ones that are highly similar (in terms of performance)," Liao said, adding that how to quickly evaluate retired batteries is a key technology bottleneck. He also called for national recycling standards.
"We're about to see a tidal wave of old EV batteries hit China," Ada Kong, senior program manager at Greenpeace East Asia, said in a press release. "Repurposing is central to manufacturers' responsibility to mitigate their carbon emissions."
"To make EVs a sustainable solution, battery manufacturers and automotive companies have a social responsibility to support circular economies," Kong said. "And governments have a responsibility to mandate recycling and repurposing systems for EV batteries."
Editor: Kevin Schoenmakers.
(Header image: Workers on a car battery production line in Huzhou, Zhejiang province, Jan. 7, 2015. Liang Zhen/VCG)