Since central authorities introduced ambitious guidelines in 2016 for digitizing government services to make them more accessible — what they call the "internet+" model of governance — localities across China have been scrambling for tech-based solutions to the morass of difficult, slow, and complicated bureaucratic procedures governing enterprises and the public. Although implementation has lagged in parts of the country, some regions, including resource-rich cities like Shanghai, have had success organizing their internet+ schemes under the banner of "one network to do it all and one network for management." That is, there's now one network for residents to get what they need from the government, and one network through which the government can manage the city.
Put simply, "one network to do it all" targets residents and enterprises, aiming to streamline their interactions with the local government. Instead of being spread across a hodgepodge of portals and offices, the resources residents and business owners need are now integrated into a single online government service platform, and you only have to log in once to navigate the entire network. "One network for management," on the other hand, is meant to promote safe and orderly management practices through the use of information technology.
There are obvious advantages to this approach. First, by centralizing key urban governance functions, it helps pave over the long-standing "final mile" problem of policy implementation, in which ambitious policy rollouts never reach those they're meant to help because of the intransigence of low-level and grassroots officials. "One network to do it all" allows residents to skirt local offices and access all kinds of government services online, for example.
Second, it is helping knock down information silos within the government by forcing departments to share data at their disposal. Whether out of self-interest or competition, it's common for government departments to hoard data, resulting in a low degree of information sharing and exchange, the collection of duplicate information, and a general waste of government resources. The digital "two networks" setup give regions leverage and impetus to force data integration. For example, Shanghai set up a big data center in 2018 to stimulate information sharing, break through internal information barriers, and provide data support for various urban decision-making and public services.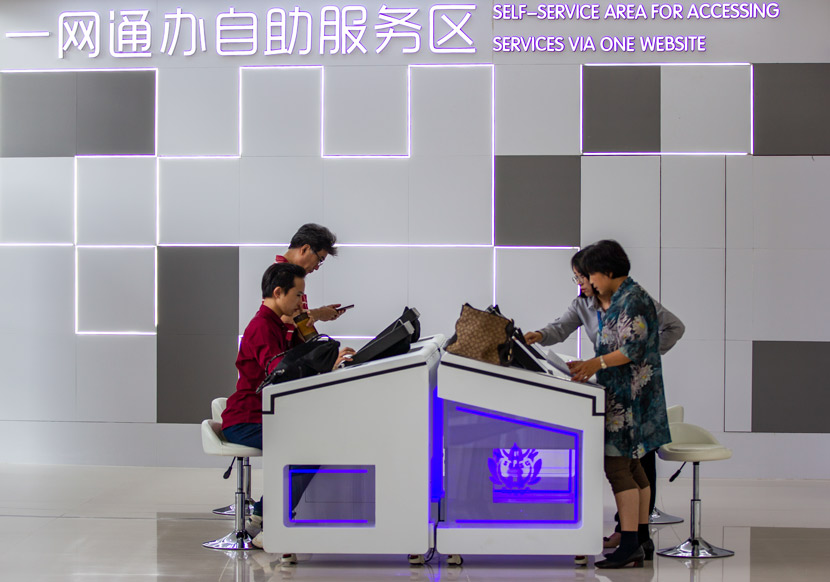 Residents use a portal to access government services in Shanghai, Sept. 12, 2019. Lü Liang/People Visual
In other words, underlying the two networks is a change in how the city government operates and conceives of its functions. The core of the current administrative approach is division of labor through specialization, in which different departments manage different tasks. But urban affairs are complex, and one project can require the participation of multiple departments, whether in preparing materials or getting it approved.
The result is all too often a bureaucratic slog. But the "one network to do it all" system has helped enable "one-stop processing" for thousands of initiatives. Meanwhile, the "one network for management" system has integrated the maintenance and management of 14.95 million street lamps, fire hydrants, and other urban infrastructure; 26,800 kilometers of underground pipelines; more than 5,000 construction sites; and over 14,000 residential areas and 3,000 historical buildings.
For all their benefits, however, the tech-centric approach the two networks model is based on is not a perfect solution to urban management problems.
To begin with, while the two networks approach has cut through barriers to data sharing between departments, it does not clearly delineate the relationship between the big data side of the operation and other, public-facing departments. The development of integrated management and service platforms has fueled coordination; behind the platforms, however, departmental fragmentation still exists. Meanwhile, because different departments use different standards in data collection and input, only a small amount of available data can be integrated.
And since data is a valuable resource in interdepartmental wrangling, some officials fear the emergence of a single, overarching big data center, with access to all the data collected by the city and empowered to manage the activities of other departments on the basis of algorithmic calculation. If this were to ever happen, the original departments would lose much of their prominence, and even the specter of such a shift has the potential to cause conflict between departments and big data teams. It is necessary to smooth this relationship, clarify the roles of big data departments and their traditional peers, and establish a clear line of authority between the two — or risk a vicious bureaucratic competition.
On a more fundamental level, the two networks approach raises the question: Does every aspect of governance really require the application of big data technologies? Big data and so-called smart technologies can indeed solve many problems and improve urban management, but there's always the risk of overdoing it.
In one eastern city, officials trumpeted the following a success story: The city was able to use AI-powered street cameras to automatically recognize a piece of litter, issue orders, and finally mobilize a grassroots worker to pick it up and place it in a garbage can. The entire process highlights just how far these technologies have come, but also how inefficient technology-based governance can be. What could have been done just as easily through traditional methods was instead accomplished through an exceedingly complex process.
Nor are such use cases unusual. In order to improve the accuracy and convenience of technology in a residential district of an eastern Chinese city, officials upgraded 620 surveillance cameras with AI scene segmentation technology, allowing them to rapidly locate "problems" such as building doors that had been propped open, laundry that had been hung out to dry, and dogs roaming off their leashes. Problems, once identified, were passed down the ladder to grassroots workers to solve.
But the issues these programs identify tend to be massive in number and miniscule in scope. There are thousands or even tens of thousands of people in any given community. Assuming that 10% of them do not latch a door when they should, that amounts to thousands of potentially unlatched doors a day, every day. Even if community staff members just go around closing them, they won't have enough time to finish – let alone get anything else done.
And I haven't even touched on the difficulties of tech-illiterate elderly Chinese in accessing these platforms. It can be tempting to view new technologies as a solution to deep-rooted governance problems, but they're not infallible. When it comes to solving the core problems of urban management, there is no substitute for systemic reform.
Translator: Matt Turner; editors: Lu Hua and Kilian O'Donnell.
(Header image: 500px/People Visual)