"Chaste women have smarter offspring." "Wearing revealing clothing is dangerous." "Masturbation is bad." These pearls of wisdom all have one thing in common: Until recently, they were displayed on the campus of a middle school in central China's Henan province.
Zhipu Middle School has been under fire since these sexist and unscientific advisories came to light last week. Principal Qiao Shiqing told Sixth Tone's sister publication The Paper on Monday that the Jiajinkou Town government — not the school — is in charge of what appears on the message board. When contacted by The Paper, Jiajinkou officials said they did not know who had posted the questionable content.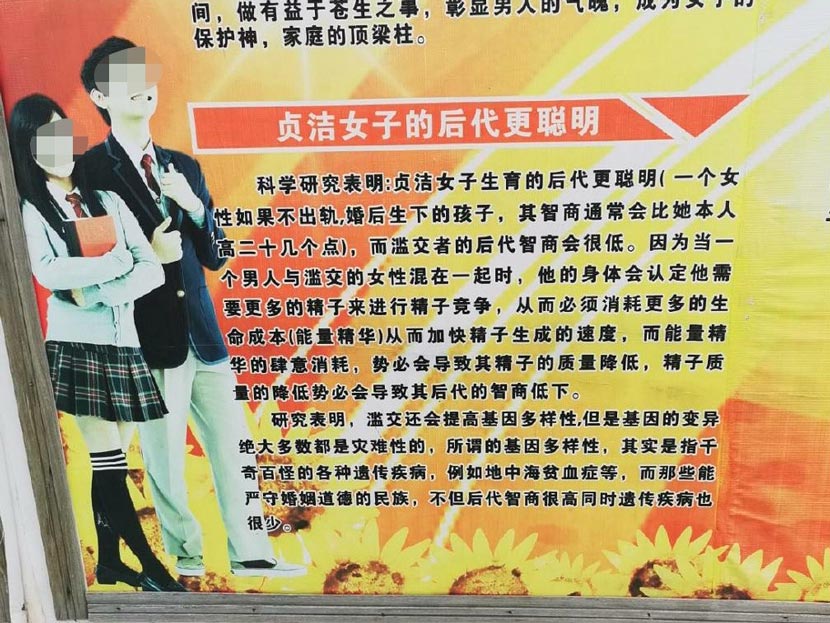 The message board displayed at Zhipu Middle School in Gongyi, Henan province, 2020. From Weibo
"According to scientific research, chaste women have smarter offspring. If a woman does not cheat (on her spouse), her child born within wedlock will usually have an IQ 20 points higher than hers, while spawn of the promiscuous will have very low IQs." Next to the paragraph of head-scratching text is an image of a boy and girl in school uniforms, both beaming proudly.
"People who masturbate lead crappy lives," reads another section. "If you don't stop masturbating, you can forget about being outstanding and bringing glory to your ancestors: Your life is over."
When Sixth Tone on Tuesday contacted the education bureau of Gongyi, the city that administers Jiajinkou Town, a staff member who refused to give his name or position said the information on the message board had not been put there by the school or the city government, but rather by a resident surnamed Xing. According to the official, the playground where the message board was located is open to the public when school is not in session.
The staff member added that on Saturday, the education bureau had removed the message board entirely.
Particularly in rural areas of China, it's not uncommon for boys and girls, or men and women, to be held to different moral standards. In recent years, workshops claiming to instill "feminine virtues" in participants have been lambasted for propagating the idea that women should submit to their partners unconditionally.
Although authorities have cracked down on some of these operations — which promote themselves as grounded in traditional or Confucian values — sexist teaching materials and gender-specific classes that instruct girls how to knit and boys how to build model airplanes still occasionally make waves as antiquated outliers in China's education system.
Editor: David Paulk.
(Header image: Peng Tong/People Visual)