Film enthusiasts are turning to secondhand platforms to secure seats for the upcoming Shanghai International Film Festival after tickets available through official channels were purchased within minutes, The Beijing News reported.
More than 100,000 tickets for the film festival, which kicks off Saturday, were snatched up within 10 minutes when online ticketing opened at 8 a.m. Monday, followed by tens of thousands more in the next hour, according to the media report. Now, some of those tickets are being resold for up to 1,500 yuan ($215) on secondhand marketplaces like Xianyu. Most tickets were originally priced between 60 yuan to 80 yuan.
Henry Leng, a 24-year-old illustrator, told Sixth Tone he paid 500 yuan on Xianyu to secure a ticket for "Harry Potter and the Sorcerer's Stone."
"It's five times more than the original price, which was inconceivable," said the "Harry Potter" fan. "But if I don't go to the cinema any time soon, I'll feel like I don't have a soul."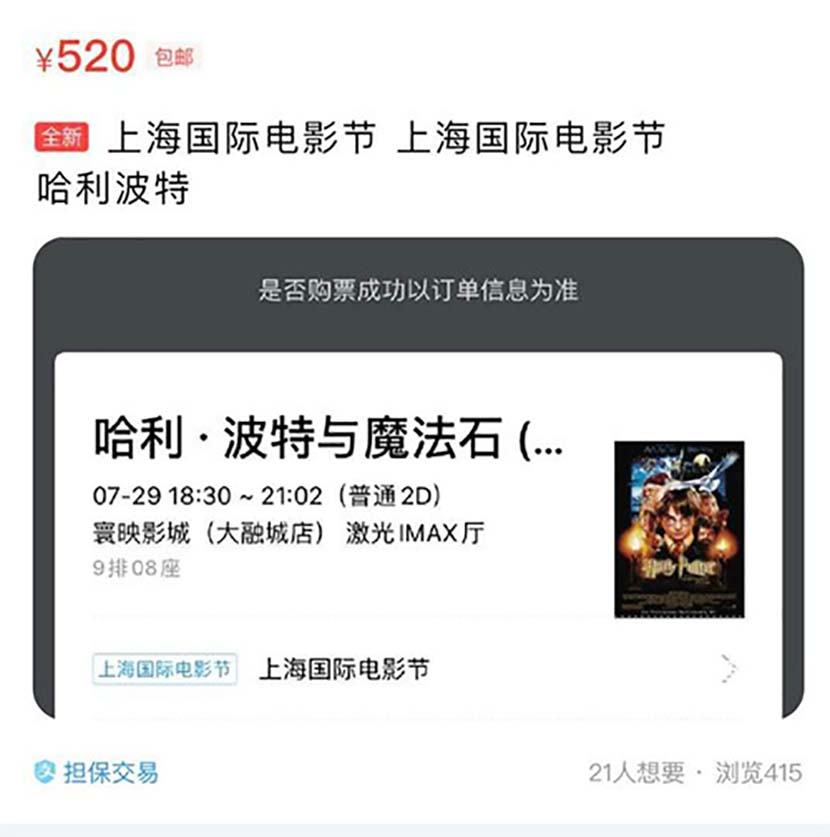 A screenshot shows tickets for the film "Harry Potter and the Sorcerer's Stone" priced at 520 yuan ($74). From @新京报 on Weibo
The Shanghai International Film Festival is one of the biggest organized movie events on the horizon in China as the country eases its coronavirus-related restrictions. On Monday, movie theaters in low-risk areas reopened after months of closure due to the pandemic, though seating was capped at just 30%, and popcorn and other concessions aren't allowed.
A Xianyu spokesperson told The Beijing News that the platform encourages sellers to offer movie tickets at reasonable prices. However, "abnormally high" prices could lead to ticket hoarding, which would only hurt the healthy, long-term development of the market, the spokesperson said.
"From today on, we will carry out text recognition for the list of films in the Shanghai International Film Festival, strengthen manual audits, and control scalpers' behavior for large ticket sales," the spokesperson said.
Movie buffs like Liu Jiayi are scrambling to online platforms other than Xianyu to find festival tickets. The 19-year-old, who attended last year's event, said the 2020 festival will be a "rare and unique" experience because of COVID-19, so she didn't mind paying 450 yuan for a ticket she found through social app WeChat.
"I don't regret buying the ticket at such a high price because this wasn't an impulse purchase," she told Sixth Tone.
Founded in 1993, the Shanghai International Film Festival is the first international film festival in China to be granted A-list status by the International Federation of Film Producers Associations. The 23rd event will be held from July 25 to Aug. 2, screening over 320 films from around the world.
Additional reporting: Guo Yiru; editor: Bibek Bhandari.
(Header image: People walk in front of a poster for the upcoming Shanghai International Film Festival, Shanghai, July 19, 2020. People Visual)