SHANGHAI — Lin Zhe always wanted a dog, but working long hours at a multinational company and traveling frequently for business have deterred him from getting one. When he started feeling lonely living in a big city by himself, a friend suggested he consider getting a pet gecko.
"Compared with dogs, geckos require much less space, time, and energy when kept at home," said the 25-year-old, who purchased a common leopard gecko online a few months ago and named him Yellow because of the animal's vibrant scales.
Now, every day when Lin gets home from work, he feeds Yellow, changes his water, and plays with him — at least, to the extent that it's possible to play with a reptile.
"He's quiet during the daytime when I'm away, but when I'm home, he likes to climb along the walls or on my computer screen," Lin told Sixth Tone.
Lin has joined a few groups on social messaging app WeChat, where he and others share their experiences of raising geckos. His posts about Yellow have caught the attention of his friends and colleagues. "I know at least a couple (of my acquaintances) were inspired to raise geckos after seeing pictures and videos of Yellow," he said.
In 2019, China's pet market was estimated to exceed 200 billion yuan ($28.6 billion) — a year-on-year increase of 18.5%, according to an industry report published in August. Though dogs and cats are still the most common pets in China, in recent years a growing number of less conventional pets have crept, slithered, or waddled into the public eye after achieving popularity on social media.
Zhuang Hao, a veterinarian with a Shanghai-based chain of pet hospitals, told Sixth Tone that he's been seeing more unusual pets at his clinic recently. Cute and cuddly critters such as chinchillas and hedgehogs are the most popular, he said, though he and his colleagues have also treated birds, alpacas, turtles, hamsters, rabbits, and other animals.
While traveling in the eastern Zhejiang province three years ago, Zhu Miaohan came across a hedgehog on a street corner near a closed pet shop. Though her family already had a dog, she decided to take the hedgehog — which she named Momo — home. To her relief, Momo and the dog were fast friends.
According to Zhu, imported food and toys for hedgehogs are available at pet stores. Compared with her dog, she spends less time and money on the hedgehog. "Keeping Momo brings me more happiness than anxiety, as he's less needy than the dog," the 17-year-old Shanghai resident told Sixth Tone.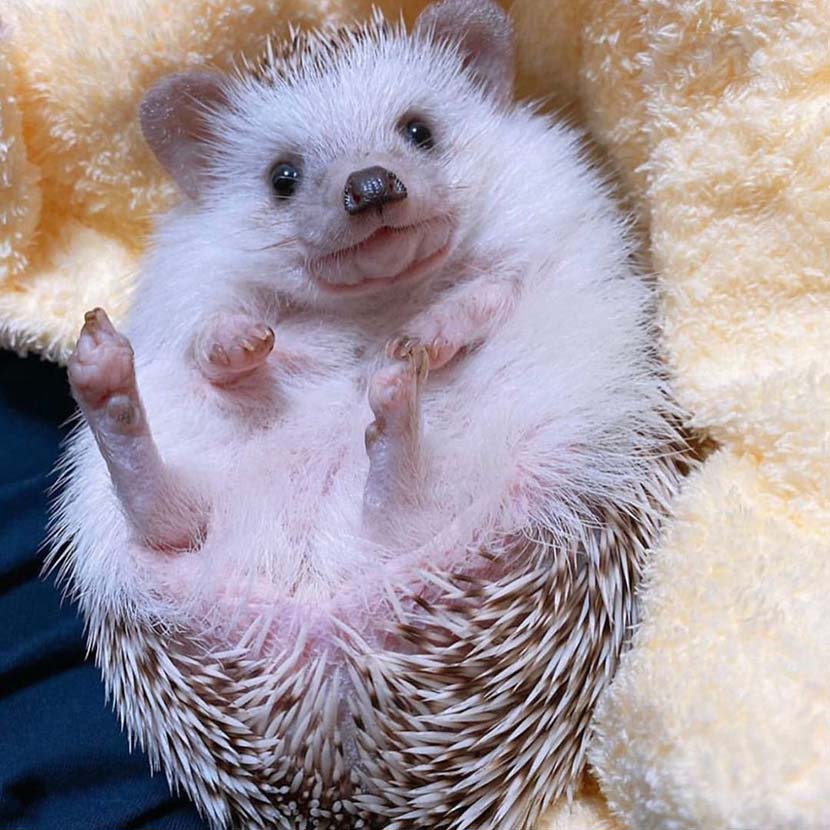 Zhu Miaohan's pet hedgehog Momo. Courtesy of Zhu
Hu Yue, a vet specializing in rodents and rabbits, told Sixth Tone that about 10% of the pets her clinic receives are exotic, and social media has played a big part in shaping public opinion about such animals.
"Ten years ago, it would have been unthinkable to keep a rodent as a pet," she said. "But now, it's not strange at all."
Hu has also noticed that gender seems to play a role in people's proclivities for exotic pets. "Women are usually more interested in cute-looking animals, while men pay more attention to 'really exotic' pets like lizards, snakes, and insects," she said.
According to a recent industry report, China's younger generation in particular is embracing the idea of keeping pets. Over 45% of the country's pet owners were born in the '90s, with 35.6% born after 1995. As for gender, women are the dominant demographic, with highly educated, high-earning professionals more willing to invest their time and energy into pet-rearing.
Sherry Wu, a fan of the popular Japanese cartoon "My Neighbor Totoro," purchased a chinchilla — an animal that looks vaguely similar to the beloved Hayao Miyazaki character — from a pet store in 2019. "Having a chinchilla was my childhood dream," she said. "It used to be my birthday wish."
Though chinchillas are nocturnal and not known for being affectionate with humans, Wu considers hers a "cute creature" that she enjoys "spending a lot of time observing every day."
Over time, Wu has become more attached to her pet: Wherever she goes, the chinchilla goes — even on transcontinental flights. "My chinchilla's an introvert, so it's better that we don't separate from each other," she said.
Young people favoring uncommon pets has also encouraged the rise of so-called animal cafés. At Mothy Garden in Shanghai, visitors pay an entrance fee of 88 yuan, which includes a complimentary drink, for the privilege of interacting with animals like alpacas, martens, guinea pigs, chinchillas, rabbits, bamboo rats, lizards, snakes, and spiders.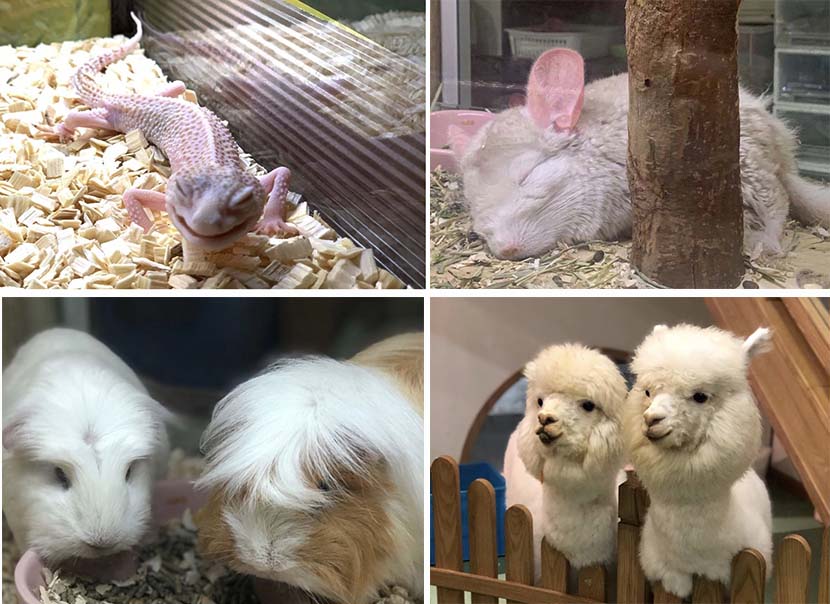 A selection of uncommon pets at an animal café in Shanghai. Courtesy of Mothy Garden
Most of Mothy's customers are couples with children. Staff say they've also seen an increasing number of 20-somethings visiting since the café opened in 2015. "People are usually amazed by the variety of pets we have here, as well as their friendliness toward human beings," a staff member surnamed Wang told Sixth Tone.
A few years ago, alpacas went viral on Chinese social media, leading to a surge in popularity for businesses like Mothy Garden. "Recently, we've seen growing interest in exotic pets like spiders and lizards," Wang said.
Wu, the chinchilla owner, says she spends around $50 on toys and food for her pet each month, which she considers "much cheaper" than the cost of owning a cat.
Others, however, have more expensive tastes in animal companions. Wang Xinda, a 40-year-old employee at a software company, bought a horse from a stable in Shanghai six years ago.
Compared with keeping a dog or cat at home, he prefers the "free and limitless lifestyle" he feels from owning a horse. He visits his 10-year-old "pet" — a handsome stallion named Goddess — at least once a week, practicing equestrian events and playing with the horse's favorite toy, a yoga ball.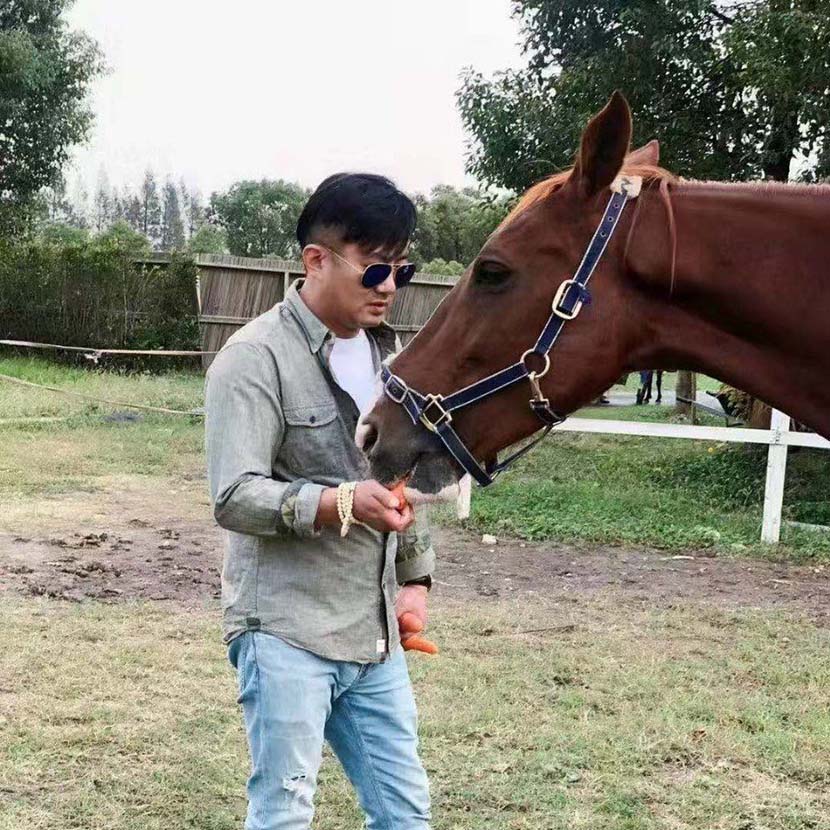 Wang Xinda and his horse Goddess. Courtesy of Wang
Goddess lives in a barn, where he's taken care of by a trainer. The horse's expenses, including feeding and training, cost Wang around 200,000 yuan a year. Goddess's food comes from the distant regions of Xinjiang and Inner Mongolia, while supplements such as protein powders and prebiotics have to be imported.
Owning a horse has brought Wang "satisfaction and joy," yet he admits that keeping such a large animal requires a great deal of responsibility and patience. "A horse's hooves are quite delicate and can get hurt easily," he said. "Then they take a lot of time and resources to properly heal."
On the smaller end of the uncommon pet scale, gecko owner Lin believes Yellow can recognize his own name, now that they've spent several months together.
"Most of the time when I call his name, he'll look at me and give me a smile with his tongue sticking out," he said. "Though I still want a dog, for now, a gecko is enough to keep me happy."
Additional reporting: Guo Yiru; editor: David Paulk.
(Header image: A woman peers into a lizard's terrarium at an animal café in Chengdu, Sichuan province, Oct. 29, 2019. People Visual)