This article is part of a series in which experts will analyze the role of science and technology in epidemic response and control in China and around the world.
As the COVID-19 pandemic rages across the world, some 10 nations — including major agricultural producers like India, Russia, Kazakhstan, and Vietnam — either considered or implemented varying degrees of grain export bans. Although some countries, including Vietnam, are already lifting their restrictions, fears of a pandemic-triggered global food crisis linger.
Circumstances may change, but China's food security does not appear to be in danger. The country's total grain production capabilities have seen a stable rise in recent years, and grain self-sufficiency rates have remained above 95% over the past decade and a half. According to official statistics, grain production totaled 664 million tons in 2019, and the country's wheat, rice, and millet storehouses hold tens of millions more. That's enough to meet the normal, day-to-day requirements of the Chinese population even in the event of a market-disrupting natural disaster or other unforeseen event.
However, there's an old saying: "When in safety, think upon danger." Just because COVID-19 doesn't pose a short-term risk to the country's food security, export bans on a larger scale could trigger soaring prices and aggravate normal market fluctuations. Thus, even in the current interwoven and globalized era, China must work to ensure stable yields and guarantee an adequate domestic supply of grain. The national government recently reaffirmed its commitment to this goal when it enshrined food security as one of the "six protects": key priorities for ensuring the country's stability.
Currently, one of the greatest threats to realizing this aim isn't infectious disease, but insects and other agricultural pests. Migratory desert locusts are already threatening to invade western China from Pakistan and India. More pressing, fall armyworms — many of them resistant to commonly used insecticides — established a foothold in 18 of China's province-level regions last year.
Fall armyworms are pests with prodigious appetites: A single larva can eat enough to ruin an entire corn seedling, and a female moth can lay between 1,000 and 1,500 eggs. After the species somehow crossed the Atlantic from the Americas to Africa a few years ago, swarms of fall armyworms devastated the continent's farms. Kenya lost more than one-fifth of its maize crop in 2017; other countries may have lost as much as half, according to media reports. And because of insecticide overuse, many fall armyworms are now resistant to otherwise effective toxins, including organophosphorus pesticides, carbamates, and pyrethroids. Indeed, it is the most insecticide-resistant pest I have ever seen.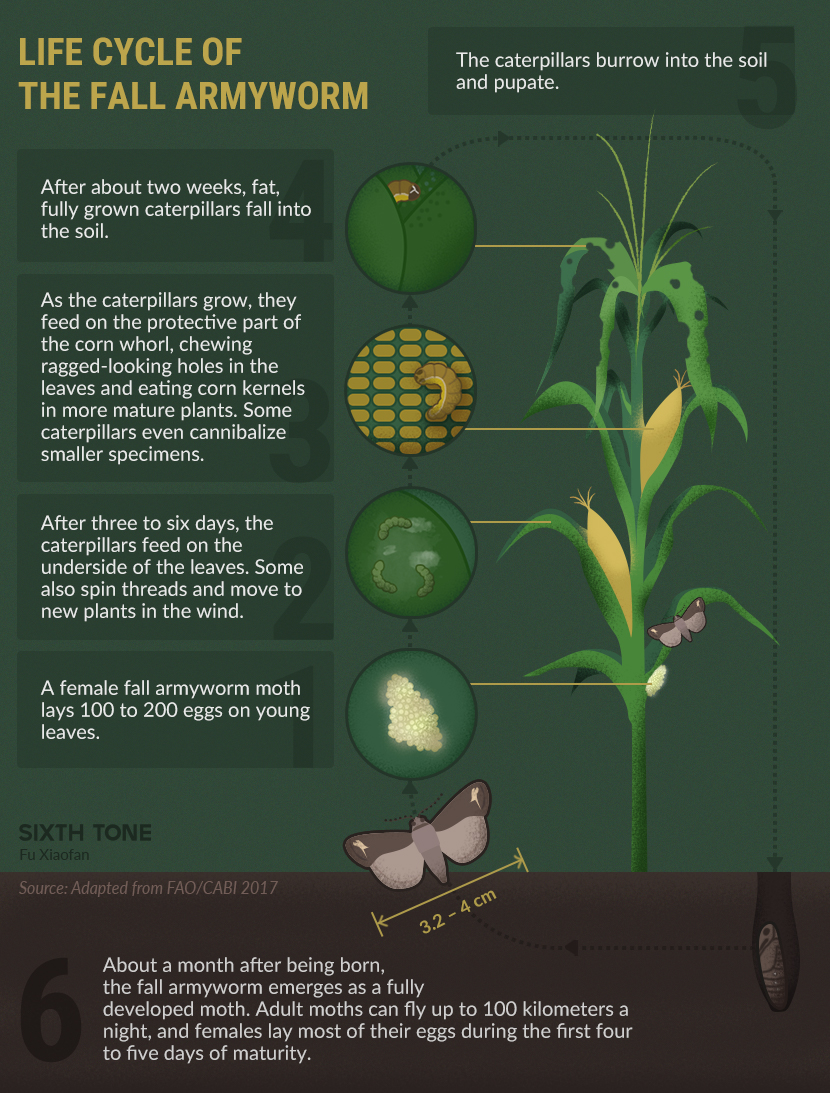 Capable of flying more than 60 miles a night, the fall armyworm quickly expanded out of Africa and into Asia. It arrived in China only last year, but already it threatens over 16.5 million acres of corn and wheat farmland. As of Feb. 10, the fall armyworm's range in China was 90 times larger than during the same period the previous year.
On Feb. 20, at the height of the country's COVID-19 outbreak, China's Ministry of Agriculture and Rural Affairs announced a contingency plan for dealing with the fall armyworm infestation. The plan called on agriculture officials to "plan early, warn early, prepare early, prevent early."
That's easier said than done. Yes, to battle an invasive species like the fall armyworm, the government must issue timely warnings and regulations for grain producers. Agricultural authorities at all levels must also strengthen the management of pest-monitoring networks and improve their understanding of pest varieties, including their main natural predators, their distribution and yearly population fluctuations, and any relevant field climate factors.
But faced with increasingly hardened opponents, we must also explore new strategies and technologies. One of the most promising is the molecular breeding of new seed varieties through biomarkers, gene-editing, or transgenic technologies. Although the fall armyworm is endemic to the Americas, North American farms have largely avoided serious harm, in large part because they use genetically modified seeds engineered to kill them. Even then, however, there are signs of growing genetic resistance in North American fall armyworm populations.
Seeds are often described as the "microchips" of the agricultural field, and finding good varieties is key to the future of long-term, stable agricultural development. Scientists in China have already achieved preliminary successes using synthetic biology to improve rice strains. But the fruits of China's molecular breeding technology push are as yet insufficient for large-scale use. In the interim, we need to find solutions that both improve yields and protect the environment. And the rational use of nonchemical pesticides is part of that.
One promising solution is so-called nanoagrochemicals, which apply nanotechology to increase the efficacy of the active ingredients in pesticides and insecticides while lowering their environmental footprint. Although many traditional insecticides have been rendered powerless against the fall armyworm onslaught, nanoinsecticides, which release their active ingredients more slowly, remain effective.
My team is developing China's first generation of nanobioinsecticide, which relies on biological molecules instead of chemicals to kill pests. It is currently being evaluated in the southwestern Yunnan province, where the fall armyworm was first detected in China. We are also developing cutting-edge RNA interference (RNAi) pesticides, which work by interfering with the transcription and translation processes of key development genes in a target pest. This limits their environmental adaptability and can even kill them outright.
Hailed as revolutionary, RNAi pesticides' high efficiency, precision, low toxicity, and potentially low cost will provide new solutions for sustainable development. Although they have yet to hit the market, companies such as Bayer are speeding up their research and development process. Research is ongoing, but because RNAi pesticides are designed to only affect certain genes, and the effects are not inheritable, many scientists who have conducted preliminary studies believe they pose a low environmental risk.
Faced with a potential crisis, China should take the opportunity to finally upgrade its pesticide technologies. Improvements in pest control will not only further boost food production and security, they can also advance the goal of greening the country's food production process.
Translator: William Langley, editor: Wu Haiyun and Kilian O'Donnell; portrait artist: Wang Zhenhao.
(Header image: Wang Zhenhao for Sixth Tone)