I was sitting alone in my shop in the central city of Wuhan one day in late January when I suddenly heard a voice blare out from the darkness:
"The city is now under lockdown!"
I had no idea what it meant.
I didn't lose my sight until I was 4 years old, but as far as I'm concerned, I've always been living in the dark. When someone says something is red or blue, I don't know what they mean: Colors are just words to me. I've completely forgotten what they look like.
I left my hometown, a small city about 150 kilometers from Wuhan, 10 years ago to study massage therapy at a school run by the provincial Disabled Persons' Federation. Now 36, I've spent the past decade working in massage parlors around the country.
On Jan. 18, however, I paid 50,000 yuan ($7,300) to take over a parlor of my own in Wuhan. Over 80 square meters in size, it has seven massage beds and four pedicure chairs. The rent is 5,200 yuan per month.
Although it's a little run-down — running my fingers over the wallpaper, I can tell it's peeling — I was really happy. I finally had my own business. I could start making money, I remember thinking, and maybe even find a girlfriend, too.
Five days later, the city was put under quarantine.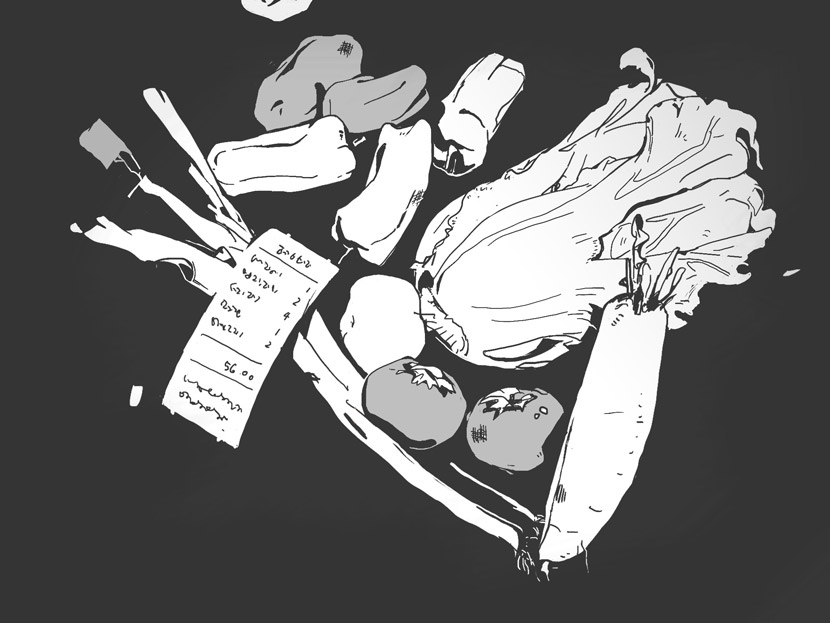 In the Dark
There weren't many customers in the two days my massage parlor was open for business. On Jan. 20, my workers went home for the Lunar New Year, and because I couldn't take care of the place on my own, I closed up shop. I planned to reopen on Feb. 1 — shortly after the holiday was originally set to end.
When I first heard about the lockdown, on Jan. 23, I figured it would probably last half a month at most, so I didn't pay it much heed. A friend told me to get face masks as soon as possible. When I replied that I had disposable massage masks, he told me those wouldn't cut it. I should buy surgical masks, he said.
I remained skeptical. How serious could things be? Eventually, I left the compound and tried a couple of drugstores nearby. In the third one I visited, the shop assistant said they had two packs of masks, but he could only sell me one. I was surprised, but I bought it without saying anything.
The next day, a friend who works in the hard-hit area of Hankou told me he'd seen a man walking along the street suddenly drop to the ground and not get up. I got really scared when I heard that. Only then did I realize this was really a serious disease.
From then on, I didn't dare step outside. I spent every day inside the massage parlor, on my own, with the door firmly locked.
The outbreak caught me off guard. I didn't know what to do or what was going on outside. At first, I called the mayor's hotline, but they told me to contact the Disabled Persons' Federation. I called them repeatedly, but no one picked up. Finally, I tried calling the local community office. They said I should stay indoors and that I could buy food through them.
Most of the good stuff had been snatched up early, but I paid 58 yuan for a vegetable medley package. It had cabbage, peppers, and tomatoes, among other things, though they weren't particularly fresh.
In the past, when I'd worked for others, the other employees and I used to live together as a group, so this was the first time I'd lived on my own. Early on, the delivery drivers would call to say that the compound's gate was sealed off because of the lockdown, and they weren't allowed in. I had to ask them to tell the community worker manning the gate that I can't see and to let the driver bring the groceries to my door.
On Feb. 28, 37 days after the lockdown began, I was cooking lunch at home when I heard a "puff" from the direction of my electric hot plate. I was scared to death: I thought it might be a spark. I found the hot plate had short-circuited, and the circuit breaker for my home had tripped too.
I didn't know what to do, so I called the community office. The staff there said that the electrician wasn't at work and told me to try calling the next day. I was alone in the shop, unable to see or fix anything. I couldn't cook rice or vegetables, but I knew I couldn't just not eat. There was nothing to do but call a friend, who helped me post a message asking for help online.
Soon, I was receiving phone calls with offers of help from all over the country. At 11 p.m., two volunteers arrived. They helped me get the electricity back on and even brought me some noodles.
Two days later, the metal grate protecting my shop suddenly stopped working. Fortunately, I managed to get in touch with the volunteers again. They brought me a new electric hot plate, a bag of rice, some vegetables, and helped me close the shutters.
I really appreciate what they did for me. I've decided that after the pandemic is over, I'm going to give them free massages.
I'm starting to lose track of time, however, and I don't know how much longer that will be. I'm often too anxious to sleep, so at night, I take out my cellphone and listen to the news, massage tutorials, or martial arts novels. When I'm in a good mood, I sing. Frequently, I can't get to sleep until 2 or 3 o'clock in the morning.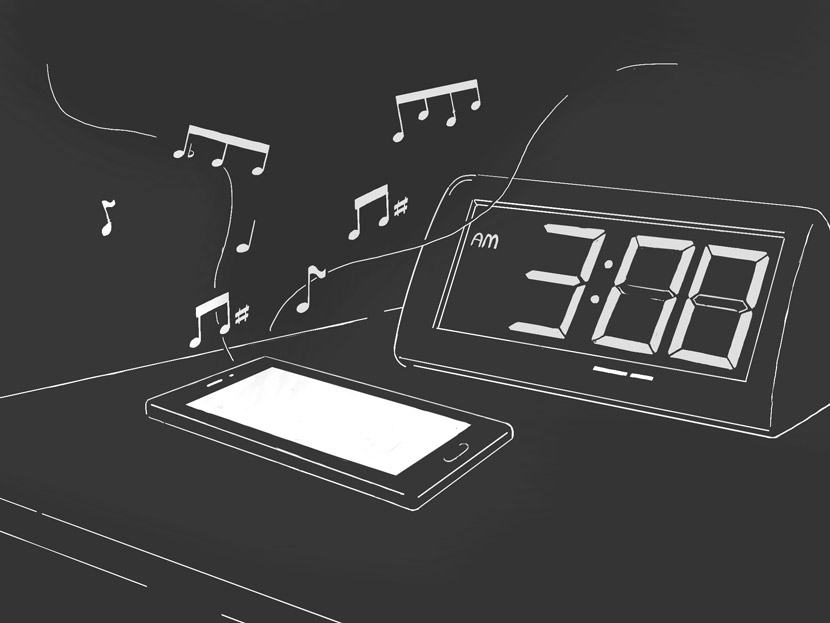 Investing in the Future
When I was 4 years old, I caught the measles and developed a high fever. I was taken to the hospital and was given penicillin shots, but I didn't get better. My parents told me my mother had used a folk remedy made with rat tails, which had caused my eyeballs to bulge out. They only went back in after I was given medicine and received injections.
Afterward, however, I couldn't see anything at all. At the time, the cost to cure a single eye at the hospital was between 50,000 and 60,000 yuan. Our family didn't have that much money, so my parents stopped taking me after a few visits.
Growing up, both my parents were busy working, and my two elder sisters had school, so I was brought up in the mountains by my maternal grandparents. I had a lonely childhood: I didn't have any friends and I never went to school.
When my parents retired, I decided I wanted to be independent. Choosing to leave my hometown 10 years ago was big for me. At first, my parents didn't approve, but they couldn't talk me out of it. I wanted to venture out into the world and learn more. I came alone to Wuhan and began studying massage therapy.
There aren't any other choices for blind people. I'm 36 years old. Over the past 10 years, I've earned 2,000 to 3,000 yuan a month — less than half the Wuhan average in 2018 — though my food and rent were covered by my employers.
I broke up with my then-girlfriend five years ago and have been single ever since. Working in a massage parlor doesn't pay well, so it's hard to find a match. I'm also getting older now, so I made the decision that I couldn't just keep on working for other people. That's why I wanted to open my own massage parlor.
Last summer, a friend told me that his boss was looking to sell his massage business. I'd been there before and spoken with the boss. I thought the business seemed good — the only sticking point being that the decor was a little past its prime. So, on Jan. 18, after raising 50,000 yuan, I took it over.
I used to think that by saving up money and buying this place, my life would change for the better. I never expected this.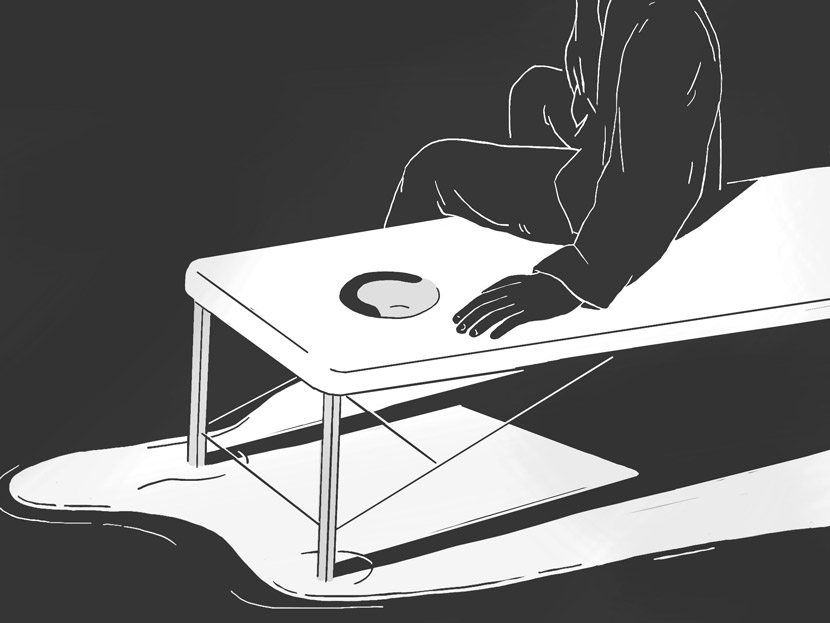 Living Costs
I'm in a group chat for visually impaired massage professionals in Wuhan. Before the city was put under lockdown, most of the 200 members had already returned to their hometowns. I'd chosen to stay: I had just taken over the massage parlor and my parents would bug me about getting married if I went home. I really regret my decision, but who could have predicted what would happen?
I wash my hands at least once every 10 minutes throughout the day. I also mop the floor with disinfectant three to five times a day and drink three to five bottles of boiled water. Before going to bed, I bathe and soak my feet in white vinegar for half an hour, which softens the blood vessels and kills bacteria.
The day the city went into lockdown, my parents called and told me to stay indoors. I always wear a mask when I take out the trash or go to collect things, so I'm not too concerned about myself. But my parents are old. Even though their hometown hasn't been as seriously affected as Wuhan, I still worry about them. I call them every day and remind them to stay indoors, wash their hands, and drink lots of water.
The price of vegetables and meat is much higher than usual. Because I can't open the parlor, I don't have any money coming in. I don't dare buy meat. On Lunar New Year's Eve, I spent a dozen yuan to buy some fish balls and meatballs. I cooked and ate them alone in the shop to celebrate. But I've been as vegetarian as a Buddhist monk ever since.
I currently only have a few dozen yuan left and can only wait for my mom to transfer me a little money to get by. I only just bought this parlor and I already don't know if I can hold onto it. I don't have any savings left and still have to pay rent and utilities.
To be honest, I've considered selling it. But I can't bear to give it up. After all, it's taken so much work to finally get my very own parlor. I don't want to go back to working for other people. I want to keep going, even if that means moving to a place where I can make a bit more money for a while, like Shanghai or the eastern city of Suzhou. If I can earn enough to pay the bills, then I can keep holding on to this place.
A while back, I asked the landlord if I could get a month's free rent, but he never replied.
As told to Ming Que.
A version of this article was first published on the website of Sixth Tone's sister publication, The Paper.
Translator: David Ball; editors: Cai Yiwen and Kilian O'Donnell; visuals: Wang Zhenhao and Ding Yining.