China's international travel hubs are screening arrivals from overseas and expanding mandatory quarantine policies to handle an expected influx of imported COVID-19 cases, according to a raft of official statements made this week. The stringent measures come as the country shifts its focus from identifying and treating domestic COVID-19 transmission to preventing a surge in infections from abroad.
In Shanghai, local officials announced Thursday that Chinese nationals and non-Chinese arriving in the city from any of 24 "key" countries must submit to a 14-day quarantine either at home or a designated hotel — the latter at the traveler's own expense.
That's up from 16 countries on Tuesday, with new additions Australia, Malaysia, and Greece joining pandemic hot spots South Korea, Italy, Iran, the United States, and the United Kingdom on the list. The same day, the city said it had set up 23 quarantine sites near its main international airport capable of accommodating around 12,000 individuals in total.
Beijing has been requiring all arrivals from abroad to submit to a 14-day quarantine period in city-designated observation sites since Monday. After images of logjams at Beijing Capital Airport's international arrivals terminal circulated widely online, the national government declared Thursday that some international flights from Moscow, Paris, Tokyo, and Toronto would be rerouted to smaller cities. Passengers would then be required to deplane and complete the necessary customs, immigration, and initial medical checks before the flight could continue to the capital.
The city also announced it was reopening Xiaotangshan hospital — a temporary facility built in 2003 to respond to the SARS outbreak — to treat imported COVID-19 cases.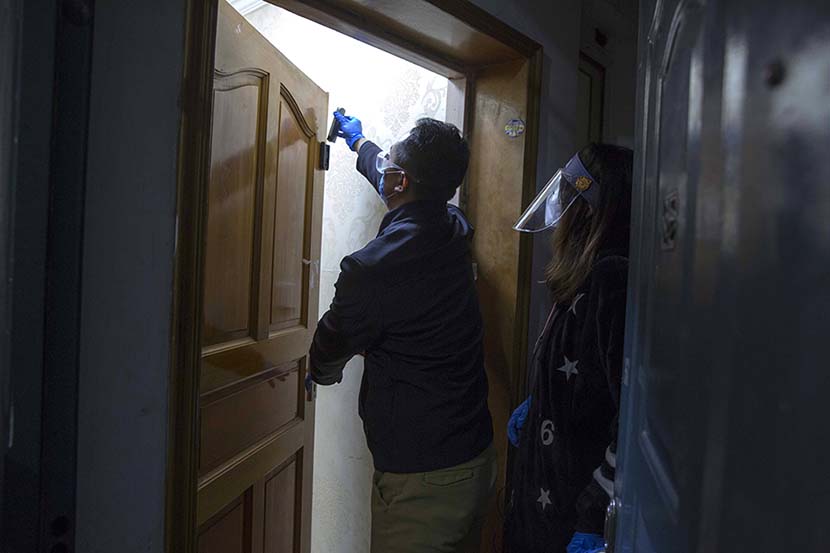 A neighborhood committee member installs electromagnetic sheets in the apartment of an Italian woman in Shanghai, March 18, 2020. The sheets are designed to monitor if an individual leaves their home. Ying Yi for Sixth Tone
As of March 20, the ongoing COVID-19 pandemic has sickened over 246,000 people worldwide, including 81,000 in Chinese mainland. But the number of confirmed cases of domestic transmission has fallen to record lows in recent days, and many experts and policymakers have begun to voice concern that imported cases now pose the bigger threat.
On Wednesday, prominent epidemiologist Zhong Nanshan warned that the country had to "be on guard" against imported cases and do full screenings of all arrivals from hard-hit areas, so as not to miss asymptomatic cases.
All 39 COVID-19 cases confirmed in China on Thursday were identified as originating abroad, according to national health authorities.
"The number of confirmed cases outside China is spiking rapidly," Wang Fenglong, an associate professor of political geography at East China Normal University, told Sixth Tone. "After getting the domestic outbreak under control, China is gradually trying to loosen restrictions and boost its economy, so the pressure (on the government) to control imported cases is high."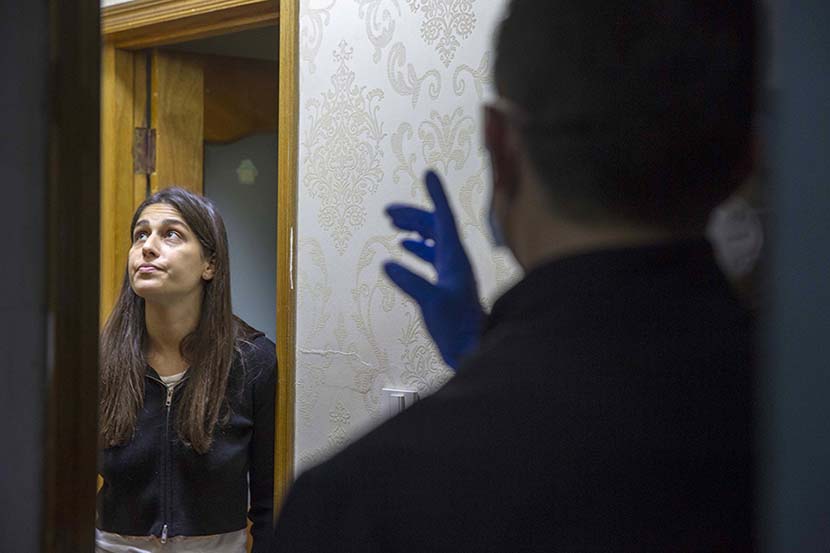 A neighborhood committee member explains the quarantine rules to a woman from Italy in Shanghai, March 18, 2020. Ying Yi for Sixth Tone
Arrivals from some countries have been subject to screenings for weeks. Longtime Shanghai resident Kang Naim returned to the city from Seoul in late February, just as offices and workplaces were beginning to reopen. The 28-year-old South Korean national told Sixth Tone that everyone on her flight was made to wait for an hour on the tarmac before staff in protective suits boarded and checked everyone for signs of fever.
Some passengers were then taken away for further screening. "It was frightening," Kang said.
After arriving at her Shanghai residence, community workers told her to stay inside and report her body temperature via a WeChat group every day for 14 days. They also left her some disinfectant, she said.
In an attempt to reassure non-Chinese nationals under quarantine, the Shanghai People's Association for Friendship with Foreign Countries is making visits and sending gifts to individuals quarantined in designated hotels, according to Huang Pinfang, the head of the organization's administrative office.
Not everyone is feeling the love, however. Online, some netizens had little sympathy for the wave of students returning from overseas, partly out of fear that they could bring the virus back with them. On Wednesday, Beijing's health authority asked students studying overseas not to return "unless absolutely necessary."
Others have expressed concern that quarantining arrivals at home may result in people ignoring the rules. In one high-profile case, a woman who returned to Beijing from Australia was fired by her employer this week after being filmed breaking her two-week quarantine order to go for a run.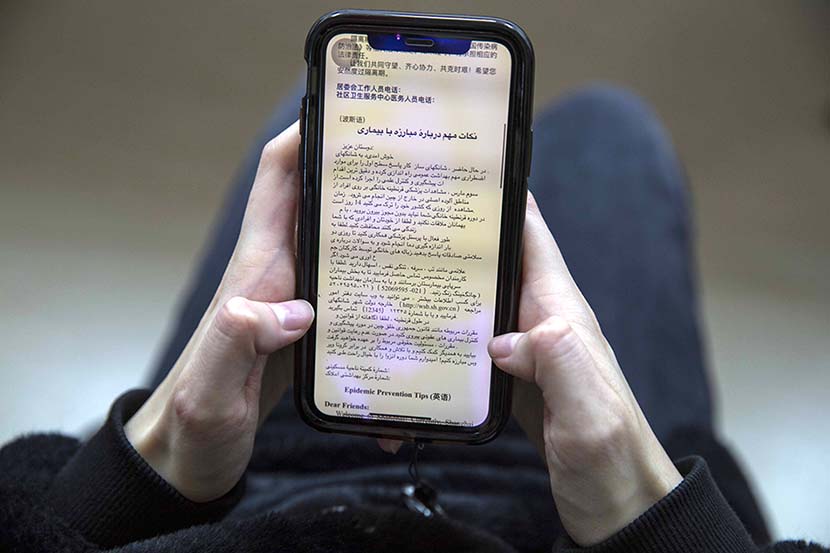 A volunteer displays a notice in Farsi explaining the quarantine rules for non-Chinese. Ying Yi for Sixth Tone
The academic, Wang, said China's international quarantine policies are hampered by unclear procedures. "Questions remain over management authority, information tracking, and who should bear responsibility for the cost of treatment (for foreigners)," he said, adding that the country had yet to resort to hard limits on entries from abroad.
"For international arrivals who do not comply with local quarantine policies or regularly report their health information, what department has the right to make them?" Wang said. "What coercive measures can be taken? These issues are still controversial."
On Friday afternoon, Shanghai officials announced plans to implement a so-called Four Hundreds policy, aimed at ensuring 100% of all arriving passengers undergo a health screening, receive a temperature check, have their health information cards reviewed, and are included in a customs epidemiological survey. Anyone exhibiting potential COVID-19 symptoms such as fever or a cough will be taken by ambulance to a designated medical institution, officials said.
Editor: Kilian O'Donnell.
(Header image: Medical workers register incoming travelers at Pudong International Airport in Shanghai, March 19, 2020. Xinhua)