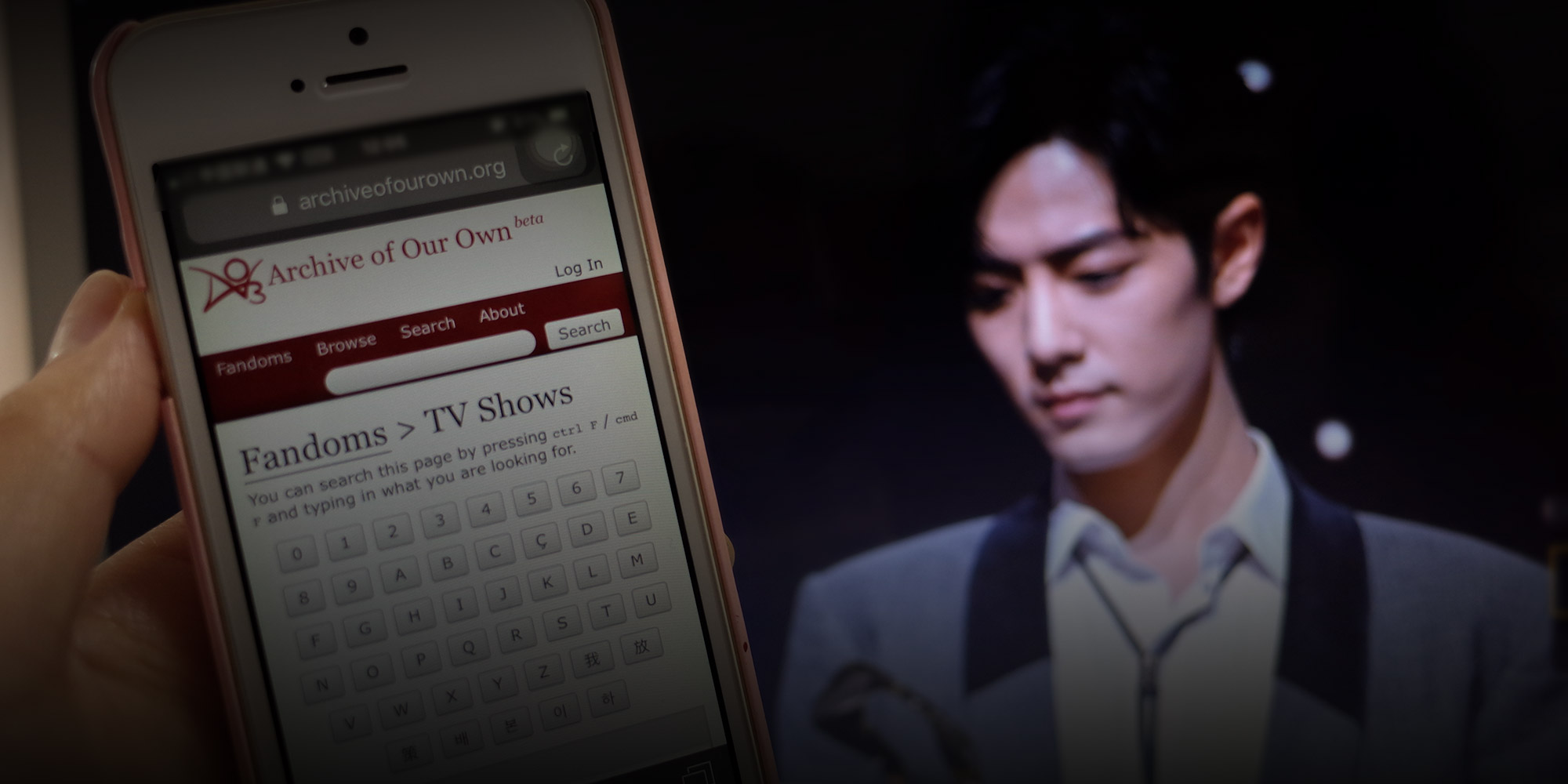 NEWS
Fan-Fiction Site Blocked in China After Celeb's Stans Complain
Fans of actor Xiao Zhan had mobilized to protest their idol being portrayed as a woman with a thing for teens on the popular content-hosting platform Archive of Our Own, leading to the site being blacklisted in China.
A Hugo Award-winning fan-fiction website has been banned in China after a celebrity's fans complained, en masse, about its alleged "poronographic content."
Archive of Our Own (AO3), a popular platform for user-generated art and writing, was no longer accessible on the Chinese mainland Saturday. According to domestic media, AO3 was taken offline after fans of 28-year-old celebrity actor Xiao Zhan reported the website to the authorities after they became aware of a novel series published on the platform that portrayed their idol as a trans woman pursuing a romantic relationship with a male high school student.
Created in 2008 by the Organization for Transformative Works, AO3 is a nonprofit open-source repository for fan fiction with a large and active Chinese community. In a statement Saturday night, OTW said it had received inquiries from users on the Chinese mainland who were no longer able to access the site.
"It seems to be due to a disconnection from the (telecom) supplier when the local networks attempt to connect to the overseas network," the statement said. "We don't know if this is due to a temporary, unplanned outage of supplier services or a long-term access restriction. Since the connection problem is not caused by the AO3 server, we have no way to resolve it."
OTW also tweeted Sunday that "Unfortunately, the Archive of Our Own is currently inaccessible in China. We've investigated, and it is not due to anything on our end."
Unfortunately, the Archive of Our Own is currently inaccessible in China. We've investigated, and it is not due to anything on our end. We're keeping Chinese users updated on our Weibo: https://t.co/B4r3IEj0fU

— AO3 Status (@AO3_Status) February 29, 2020
The web novel series at the heart of the controversy — "Xiazhui" — is an unofficial spinoff of the popular Chinese drama "The Untamed," starring Xiao and pop star Wang Yibo. The drama was itself adapted from a queer online romance novel.
Despite the LGBT origins of "The Untamed," the salacious storyline of its literary spinoff appears to have been too much for some to stomach. Last week, fans of the show organized an online campaign to protest the novel series and AO3, saying the stories had defamed their idol and asking people to report both the content and its hosting platform to China's internet regulators.
The campaign and the ultimate blocking of the website on Saturday have outraged AO3 users as well as those who believe that the existence of writing and other creative content should not hinge on universal approval. Many AO3 users announced they would boycott the actor, Xiao, demanding that brands endorsed by him cancel their agreements and leaving scathing reviews for Xiao's shows on the IMDb-like platform Douban.
On Sunday, one of the fans who initiated the campaign against AO3 raised the white flag, apologizing for the "terrible impact of my irrationality." Xiao's fan group, meanwhile, also apologized for "not acting in a timely manner to stop, guide, and speak out about some fans' extreme remarks."
The same day, Xiao's agency issued an apology, saying it had noticed "the recent controversy about Xiao's fans" and calling for everyone to "stan celebrities rationally."
To understand the online fervor, it's important to remember that many fans feel responsible for their idols' reputations, according to Zheng Xiqing, an assistant researcher with the Institute of Literature under the Chinese Academy of Social Sciences.
"Many fan circles feel that they have to assert their existence and sense of purpose through 'fighting'," said Zheng, who studies fan culture. But the fundamental reason for the tiff between the AO3 supporters and Xiao stans has more to do with reporting mechanisms in China, she told Sixth Tone.
"Why did so many people file complaints?" Zheng said. "People do it because it works — otherwise no one would bother."
The genres of real-person fiction and queer romance have born witness to the effectiveness of these reporting mechanisms. In late 2018, a court in the eastern Anhui province sentenced an author of gay erotica to 10½ years in prison for "producing, selling, or disseminating pornographic materials." And last May, a court in the central city of Wuhan fined another writer of queer romance novels 120,000 yuan (then around $17,500) and sentenced her to four years in prison for "illegal business operations."
According to Zheng, AO3 is the first nonprofit website to be founded by fans, for fans — many of whom migrated to the site after another popular platform for user-generated writing, LiveJournal, started strictly policing content. "There are no taboos on AO3," she said, as long as writers tag their posts with warnings and don't cross a few bottom lines.
The website has policies on tags, ratings, and warnings. The author of "Xiazhui" — the novel series that sparked the flood of complaints against AO3 — had marked her work as intended for mature audiences and included the content tag "underage."
Many readers who thought of AO3 as a sort of online comfort zone say its sudden disappearance is akin to the destruction of their spiritual home.
Zheng, who has been reading stories on AO3 since 2011, says she would check the website every night before bed. "It's a kind of psychological comfort, a way of life," she said.
Li Ying, a Shanghai-based AO3 reader, has been following fan culture and queer romance novels for over a decade. The 31-year-old told Sixth Tone that she and some fellow readers were worried that the website would be blocked after Xiao Zhan's fans organized their complaint campaign.
"I think the reporting mechanism is getting easier and easier now — it has become so simple that people don't even think they're filing a complaint," Li said. "For these teenagers, it may be just like completing homework assigned by other, more influential fans. It's like they need to contribute in order to claim digital victory for their idols every day."
Many online seem to share this sentiment, while stressing that the increasingly common phenomenon of reporting anything one dislikes and wishes to have stricken from cyberspace isn't constructive.
"Why are you people reprimanding those who file complaints? Because you're not aware that your criticism has no legal basis — the only reason is you have a different point of view," one user wrote on microblogging platform Weibo. "You don't understand that creative content deserves freedom, and that other views can coexist on the internet. Instead, you're just trying to destroy all the content you disagree with."
Editor: David Paulk.
(Header image: Sixth Tone)