SHANGHAI — For Qiqi, a security staff member at the Shanghai Pudong International Airport, a passenger wearing a mask and sunglasses used to be a rare and intriguing sight. The person was likely a pop star, an online celebrity, or a plastic surgery patient, the 29-year-old would tell her colleagues.
But things have changed dramatically in recent days: Nearly every traveler passing through Qiqi's scanner now covers their face.
"If they don't have medical-issue eyewear, they're wearing sunglasses or swimming goggles," says Qiqi, who withheld her real name because she's not authorized to speak to the media. "Everybody is fully armed."
The mood in Shanghai has been calm but tense in recent days as local residents do everything they can to protect themselves from the outbreak of a novel coronavirus that has killed over 630 people in the Chinese mainland as of Feb. 7.
The eastern Chinese city has so far remained relatively isolated from the epidemic — which started some 700 kilometers to the west in the city of Wuhan — with only one recorded death from the disease to date. But Shanghainese are leaving nothing to chance.
The Shanghai government declared a level 1 emergency Jan. 24. It has since extended the Lunar New Year holiday, shut down major tourist attractions, canceled music concerts, and forced airports and train stations to check the temperatures of every passenger before entering.
Two weeks later, the city's streets are still remarkably quiet as residents hole up at home. Most bars, restaurants, and stores remain shuttered. Many office complexes have sealed their premises entirely, with companies ordering employees to work from home.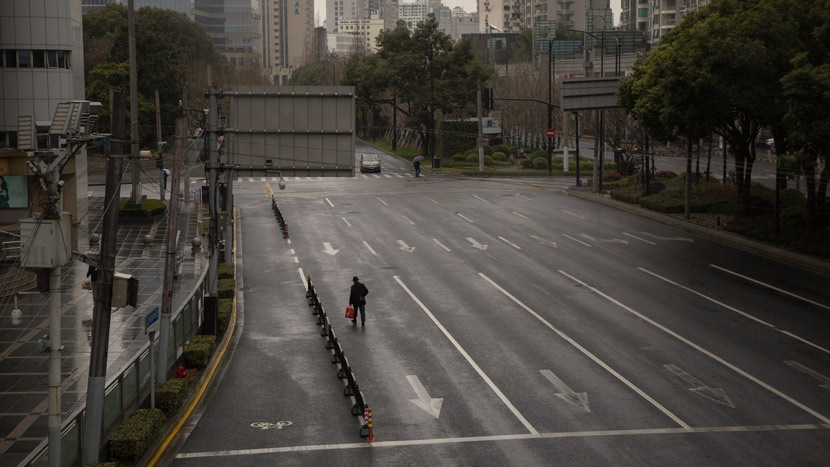 A view of a nearly deserted street in Shanghai, Feb. 6, 2020. Shi Yangkun/Sixth Tone
Most locals have fully embraced the safety precautions. Despite accounting for only 2% of China's population, Shanghai users were responsible for one-quarter of face-mask purchases on e-commerce apps Taobao and Tmall Jan. 20, according to online data consultancy Shenmou.
When lining up to collect face masks from distribution points, some residents have begun standing at 2-meter intervals, to minimize the risk of infection — a practice netizens have labeled "North European queuing."
Photos of the staggered lines bearing the tongue-in-cheek slogan, "in terms of fearing death, we're absolutely No. 1 in the country" have been shared by thousands of Shanghainese on social media apps WeChat and Weibo in recent days.
Inside the city's housing complexes, community organizers are coordinating local efforts to contain the outbreak, which has infected 269 people in Shanghai as of Feb. 7, according to official data.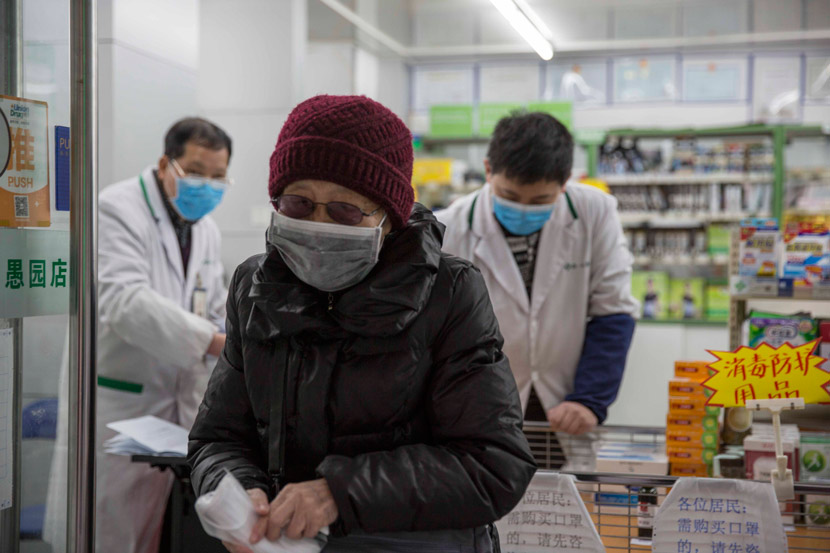 An elderly woman exits a pharmacy after purchasing five face masks in Shanghai, Feb. 5, 2020. Yi Chuan for Sixth Tone
Dong Chaxian, chair of the residential committee at the Shuitangjie complex in north-central Putuo District, says the workload is even more intense than during the SARS epidemic of 2003.
All seven Shuitangjie committee members are spending the entire day on virus-related tasks, according to Dong. Their duties include broadcasting health advice over public loudspeakers, putting up posters announcing new safety measures, and tracking the movements of the complex's roughly 2,000 households — especially the 25 families who come from Hubei, the province at the center of the epidemic.
The return of one family from Wuhan in late January triggered a frenzy of activity, Dong says. The 66-year-old received a call at midnight from an anxious resident informing her of the family's arrival. "Come on, go check their situation!" she recalls the man saying.
Dong knocked on the returnees' door first thing the next morning, informing them they were required to stay inside their home for 14 days. She also ordered the returnees to sleep and eat in separate rooms, have their temperatures checked every day, and update Dong on their health condition on a daily basis.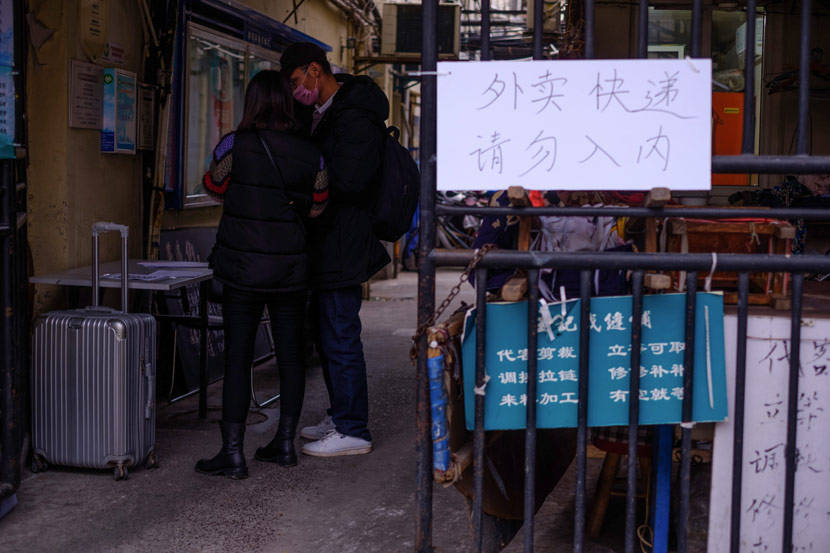 A man who has just returned to Shanghai fills out a registration form at the entrance of a residential complex, Shanghai, Feb. 5, 2020. Wu Huiyuan/Sixth Tone
A group of social workers, volunteers, and a community doctor come to the complex to conduct temperature checks twice a day. The quarantine policy, however, has proved difficult to enforce at times. Dong says she continually receives calls from residents complaining that their neighbors have left their apartments.
"I know the things we can do are only trifles — we tell them to wash their hands, stay at home, and if they have a fever, report it to us immediately," says Dong. "But communities are the small cells that make up society."
Shanghai's schools have been ordered to remain closed until March, yet local principals tell Sixth Tone they're also struggling to cope with coronavirus administration. Wang Qian, head of a downtown primary school who asked to use a pseudonym to protect her privacy, says she's required to keep track of nearly 2,500 students and dozens of staff members on a daily basis.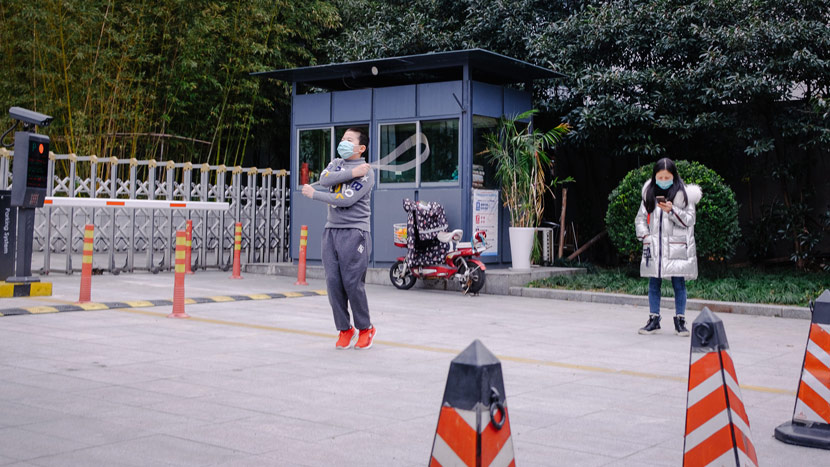 A child practices skipping outside a compound in Shanghai, Feb. 3, 2020. Wu Huiyuan/Sixth Tone
"We designed an online questionnaire for parents to report everywhere they've visited since Jan. 10 and whether they've had contact with any confirmed (coronavirus) cases," says Wang. "We also require parents to report their children's health condition every day."
Wang began stockpiling essential supplies as early as mid-January as concerns over the outbreak began to escalate, ordering 3,000 face masks and hundreds of bottles of hand soap and disinfectant. She's starting to worry, however, that these preparations were inadequate.
"We have to undertake a comprehensive cleaning and disinfection of the whole school before the new semester," says Wang. "If the epidemic isn't over by then, we'll need more supplies."
With no end to the health crisis in sight, the principal says she's already considering canceling plans for several events, including the student's graduation ceremony in June.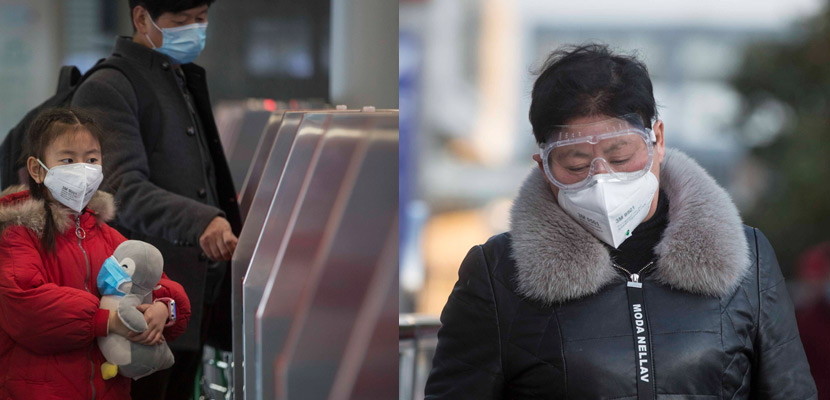 Passengers wearing face masks enter Shanghai Railway Station in Shanghai, Jan. 31, 2020. Yi Chuan for Sixth Tone
At Pudong Airport, Qiqi is also concerned about shortages of essential supplies, particularly face masks. She is required to wear a mask at all times during her 24-hour shifts, and she prefers to change masks every four hours for hygienic reasons. But in recent days, she has only been given one new mask per shift.
Passenger numbers at the airport are only around 30% of their usual levels, Qiqi estimates, as tourists scrap vacation plans and airlines cancel flights. Her work, however, has become more challenging due to the tense atmosphere.
"Passengers are reluctant to take off their masks and sunglasses, and they don't like it when we require them to open their suitcases," says Qiqi. "They think it'll increase the chances of them being infected."
The security guard says she canceled all her plans to see family members over the Lunar New Year holiday, and she stays at home as much as she can. 
Like many in the city, Qiqi is cooking most of her meals and relying on delivery companies to deliver her groceries, so she doesn't have to shop at crowded supermarkets.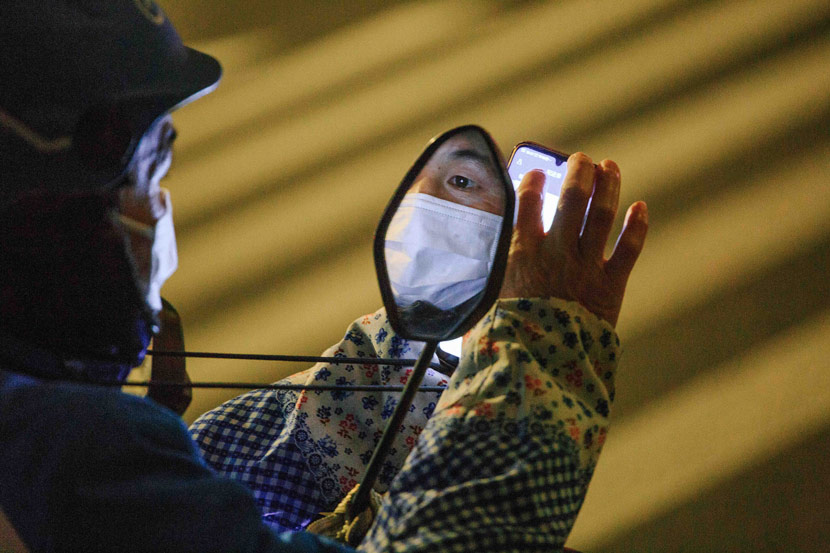 A delivery driver checks his cell phone in Shanghai, Feb. 2, 2020. Wu Huiyuan/Sixth Tone
Grocery delivery companies have been the main beneficiaries from the outbreak, and delivery drivers on scooters can be seen constantly zooming between different housing complexes. 
Lei Zhiqiang, a 33 year-old driver for Alibaba-owned supermarket chain Hema, says he's working from 5 a.m. to 10 p.m. every day, trying to keep up with the number of orders.
"Most of the vegetables are sold out. And even if they're not, we don't have enough delivery people," says Lei. "Normally, we have around 200 people to deliver orders, but because of the Spring Festival, there are only about 70 people working."
The upside for Lei is that, because the streets are so quiet, he's been delivering eight orders per hour in recent days, two more than usual.
"I can drive as fast as I like," says Lei. "Shanghainese are all staying home and are reluctant to go outside."
Lei, who is from the inland Henan province, tells Sixth Tone his customers are being extremely cautious during the epidemic. Most place large orders — enough to last several days — and tell Lei to leave the packages outside their doors, so they don't have to interact with him directly.
"They're afraid of meeting and having contact with strangers, especially someone like me who has an accent," he says.
The driver, however, says he isn't scared of the coronavirus. He's happy for the extra work — and looks forward to receiving his bonus. "If you're strong like me, you'll never be infected and beaten by the virus," says Lei. 
Editor: Dominic Morgan.
(Header image: A mother and her child walk past a pharmacy full of customers trying to buy face masks in Shanghai, Feb. 5, 2020. Yi Chuan for Sixth Tone)