SHANGHAI — The young women eye the pair of raccoons huddled on a cat tree for a moment. Then, one reaches out cautiously and touches the animals' fur. "Oh, they're so cute!" she says.
The group are customers at Raccoon Coffee, a small downtown venue that offers hourlong encounters with its resident mammals for a 96 yuan ($14) fee, drink included.
There are six raccoons in the cramped room along with seven people, most of them trendily dressed locals in their 20s. The visitors spend the hour feeding the animals small biscuits, snapping selfies, and peppering the café's owner, Li Ying, with questions. Afterward, they head to an adjoining dining area for coffee and cake.
Raccoon Coffee is one of a new wave of animal cafés opening across China that have ditched cats and dogs in favor of more exotic creatures, including alpacas, hedgehogs, and lizards. The businesses are proving hugely popular, but they are also facing increasing scrutiny over animal welfare concerns and potential disruption as China fights the spread of the novel coronavirus.
Exotic pet cafés are a booming industry in China, but they are also facing animal welfare criticisms. By Zhu Yuqing/Sixth Tone
Li, 28, acquired the raccoons from the United States last year via her brother, who runs an import-export business and animal quarantine center in the northern city of Tianjin. Each animal cost over 20,000 yuan, while the most expensive — a young raccoon with a rare golden coat named Xiaojin — was priced at 29,000 yuan. She says she fell in love with Pipi, the first raccoon she bought, as soon as she saw him.
"I felt an affinity at first sight," says Li. "I generally like furry, small, warm-blooded animals that can express feelings toward humans."
At first, Li and her husband kept the animals as pets in their home in Changning District — they still drive some of them back each Tuesday to bathe them. They opened Raccoon Coffee in November, after hearing about a similar business in South Korea.
Pet cafés have been popular in East Asia for years, with the world's first cat café reportedly opening in Taipei in 1998. Venues expanded beyond hosting cats and dogs in 2011, when a café in downtown Seoul introduced two sheep. Today, the South Korean capital is home to businesses featuring meerkats, wallabies, and capybaras, among other exotic animals.
But the pet café industry has expanded at a particularly frenetic pace on the Chinese mainland, fueled by social media hype and a relatively lax regulatory environment. According to data from listings platform Dianping, there are 86 pet cafés in Shanghai alone, and the top eight cities listed have a combined 412 such establishments.
For Li, pet cafés have taken off in China because people need a break from the hectic pace of life in the country's megacities, where long working hours and draining commutes are common.
"In a big city like Shanghai, many people rent a house and can't keep a pet themselves," says Li. "The furry and cute animals can bring people psychological relief … It's like a spiritual spa to massage their souls."
Most Chinese venues have only cats and dogs, but 2019 saw a surge in the number of cafés hosting other animals. The trend has been driven in part by the influence of celebrities like the actor Jing Boran — who keeps a pet pig named Xiaoxiangzhu, or "Little Fragrant Pig" — and the hapless entreprenur Wang Sicong, who likes to share photos of his pet duck on social media.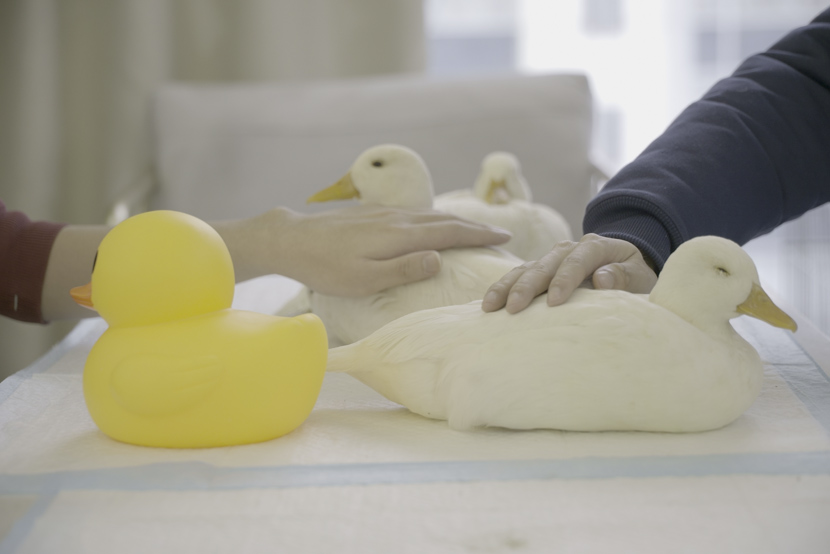 Customers pat call ducks at the Cute Duck Club in Shanghai, Jan. 16, 2020. Zhu Yuqing/Sixth Tone
Liu Jiawen is one of the business owners profiting from the sudden craze for alternative pets. The 27-year-old opened the Cute Duck Club — a small space housing 13 call ducks (the same breed favored by Wang Sicong) — in December.
Strategically located next to several Shanghai universities, the Cute Duck Club is packed when Sixth Tone visits on a weekday afternoon in mid-January. Several customers say they booked tables in advance, after hearing about the venue through Dianping and a viral article on social media app WeChat.
As each group arrives, the servers spread absorbant pads over a table, before bringing over one of the ducks and explaining how to pet it correctly. Most of the birds sit quietly on the tables, though some fly away in alarm to avoid the customers' attention.
"I feel quite good," says a 21-year-old student surnamed Yang, who withheld her full name for privacy reasons. "Its (the duck's) fur is so soft, making me feel comfortable and relaxed."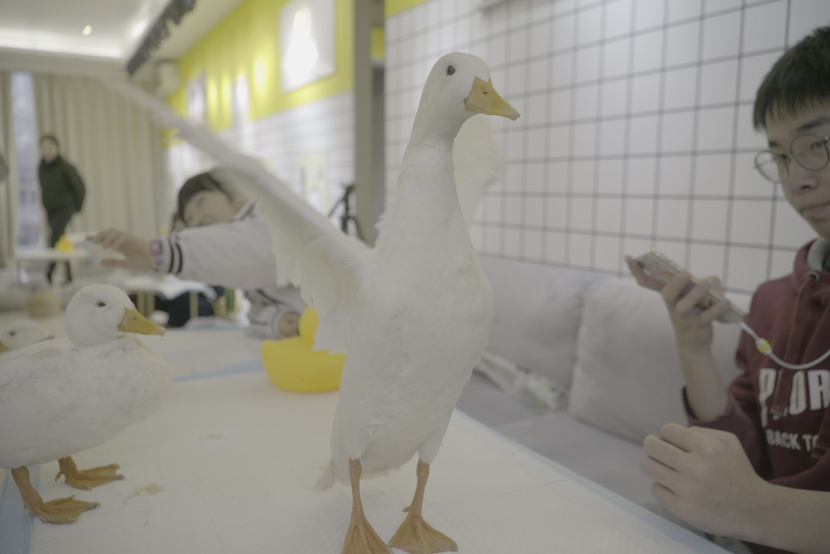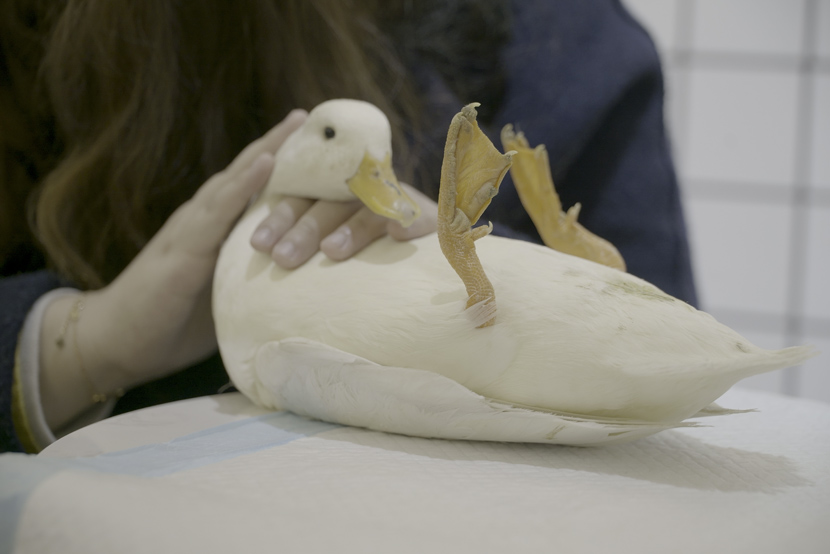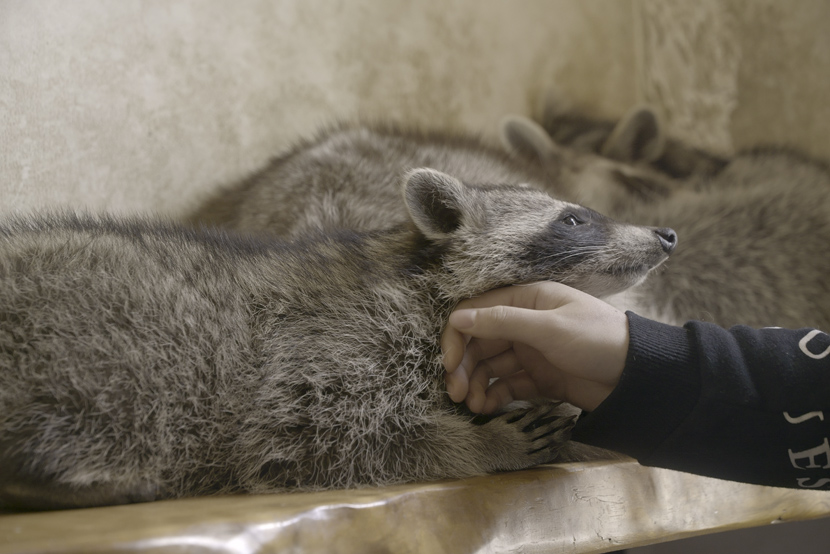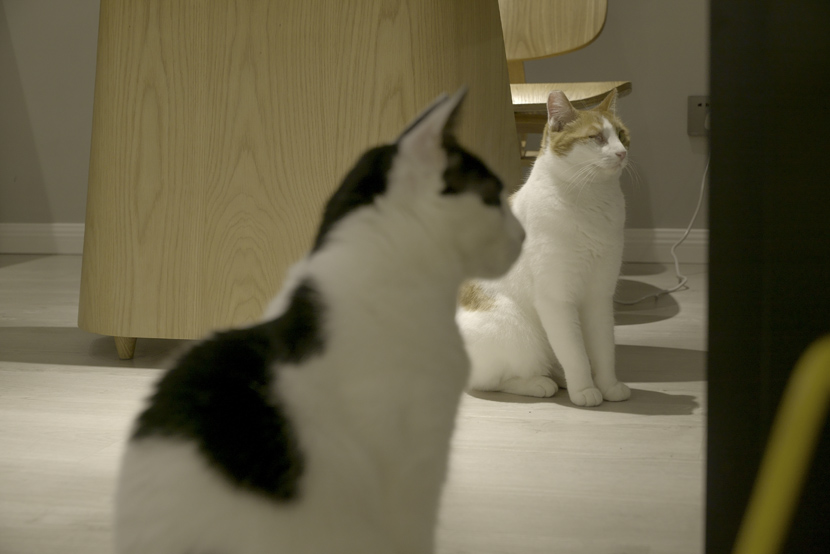 Not everyone, however, is so positive about the direction in which the pet café industry is heading. There has been a spate of controversies in recent months, as venues go to ever greater lengths to generate social media buzz and attract customers.
In October, a business in the southwestern city of Chengdu came under fire for painting its dogs to look like pandas. Two months later, a cat café in the nearby city of Chongqing was forced to return two red pandas — a protected species — to a local breeding center.
Chen Min, a writer who covers animals and zoos in China, tells Sixth Tone he's worried about the potential safety risks associated with keeping non-domesticated animals in pet cafés. For him, most animals are completely unsuited to life in such an environment.
"There's a huge difference between zoos and those cafés," says Chen. "The cafés' indoor environment isn't large enough, requiring the animals to always be in close contact with people, and it's impossible to make it like the animals' habitats in nature."
Though Li insists her raccoons are used to human interaction, she admits that several customers have received bites and have had to get rabies shots. Li covered the expenses in those cases, but she also points out that her customers should take responsibility for their own actions.
"They're animals — you can't expect them to behave just like your own cat or dog," says Li. She spends much of her day warning visitors not to hug or stroke the animals too vigorously.
In the café, customers have to sign a consent letter before entering the room housing the raccoons. Li has also posted the animals' immunization certificates on the door, as well as a memo with information about rabies.
"If a home-reared animal that has been immunized has never lived outside, and has not been bitten by a dog that has rabies, it's very unlikely that it could get infected with the disease," says Li.
The owner says she went through all necessary procedures before opening Raccoon Coffee. When her brother imported the raccoons, the animals stayed in quarantine for up to a month. During that period, customs officials administered rabies vaccines, and Li plans to take the raccoons for annual injections.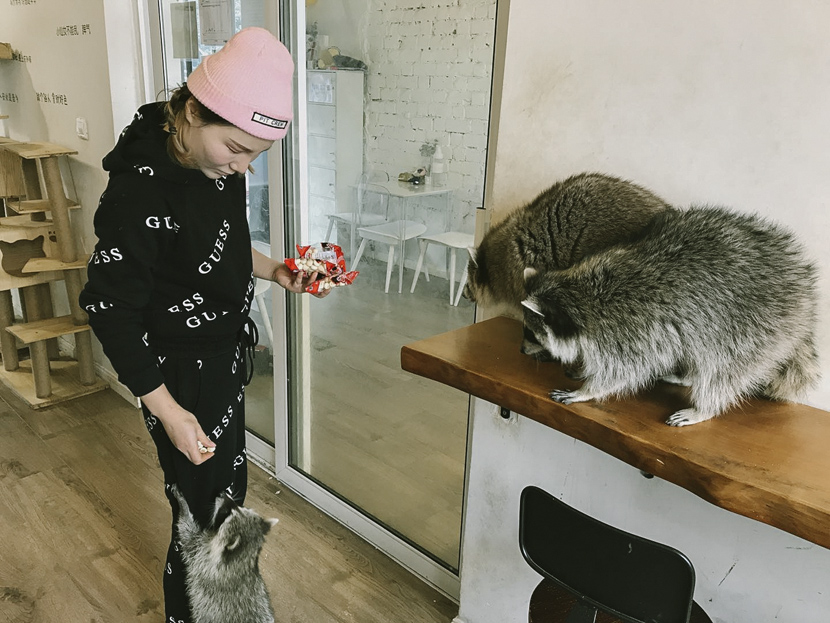 Li Ying, the owner of Raccoon Café, feeds her "employees" in Shanghai, Jan. 8, 2020. Cai Xuejiao/Sixth Tone
But it's notable how few regulatory steps Li had to go through. She wasn't required to obtain a specific license, for example, to open a raccoon café, she says.
China has strict laws governing sanitation and animal management. But responsibilities are divided between several different departments, and it isn't always clear which one should oversee pet cafés. 
Land animals fall under the purview of the National Forestry and Grassland Administration, while acquatic wildlife is handled by the Ministry of Agriculture and Rural Affairs. Commercial venues, meanwhile, are managed by urban management bureaus and the State Administration for Industry and Commerce
"Because this issue involves multiple departments, it requires coordination," says Sun Quanhui, a scientist at the international nonprofit World Animal Protection. "Sometimes there are regulatory gaps."
The regulatory situation, however, could tighten in the wake of the coronavirus outbreak, which as of Jan. 22 has killed nine people and infected 440 in regions across China.
Though there is no suggestion that pet cafés have contributed to the spread of the virus, the outbreak is believed to have started at a market in the central city of Wuhan where traders were illegally selling wild animals, according to Gao Fu, director of the Chinese Center for Disease Control and Prevention.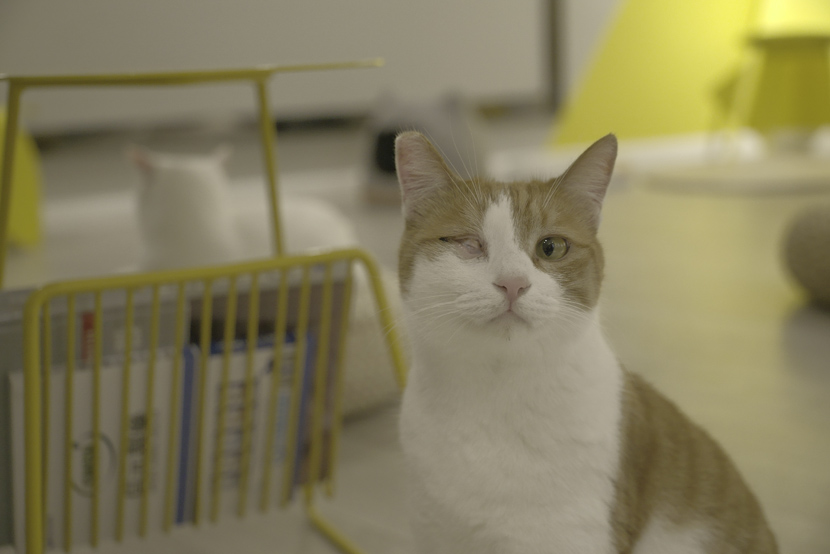 A feline, soon to be adopted, with a visual impairment at a cat café in Shanghai, Jan. 9, 2020. Zhu Yuqing/Sixth Tone
Concerns have already been growing about the lack of regulatory supervision of the pet café industry, which has allowed sanitation issues to go unchecked. According to a 2018 government guideline, catering businesses are banned from having animals on their premises. Though both Raccoon Coffee and Cute Duck Club comply with the rule — the former divides its venue into a café and raccoon room, while the latter doesn't serve food at all — many pet cafés do not. Veterinary industry professionals, meanwhile, have warned that keeping a number of pets in a confined space can increase the risk of parasitic infection.
The owners of Raccoon Coffee and Cute Duck Club, however, say they're not concerned about the virus and don't think their businesses will be affected for now.
Raccoon Coffee has already closed for the Lunar New Year holiday as planned, and will not reopen until mid-February, according to Li. "All our raccoons are normal, and there haven't been customers feeling unwell after visiting," she adds.
Liu, the duck café owner, expects she may have fewer customers due to the virus, but points out that staff disinfect the venue daily.
"Every customer that enters is required to use hand sanitizer, and the place is cleaned every morning and evening with disinfectant," says Liu. "There should be no cross-infection and no virus transmission."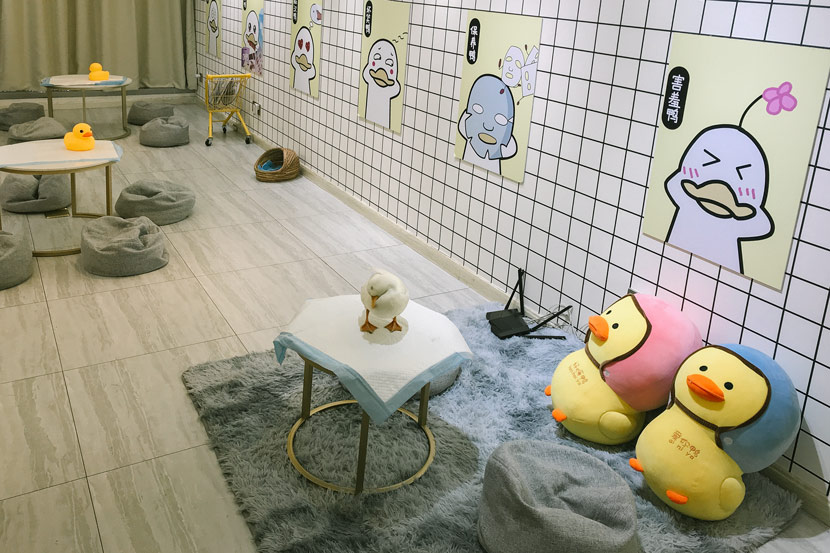 A general view of the Cute Duck Club in Shanghai, Jan. 16, 2020. Cai Xuejiao/Sixth Tone
In the long term, a more serious challenge for the pet cafés could be the hostility of animal welfare groups, which maintain that the businesses — especially those that keep wild animals — are cruel.
"The cafés' environments are not suitable for raising animals. We think it will affect the animals' welfare," says Sun. "The close contact between humans and animals can also cause tension and anxiety in the animals, which is unnecessary."
According to Sun, raccoons in particular shouldn't be kept as pets, as the animals' physical, psychological, and behavioral needs can't be met in a domestic environment.
"All wild animals, even those that are artificially propagated, have essential differences with domesticated poultry and livestock," says Sun. "They haven't developed some of the genetic characteristics that would make them suited for human feeding and contact."
When asked about the animal welfare groups' concerns, both Li and Liu — the owners of the raccoon and duck cafés, respectively — insisted they ensure the animals receive adequate rest and care.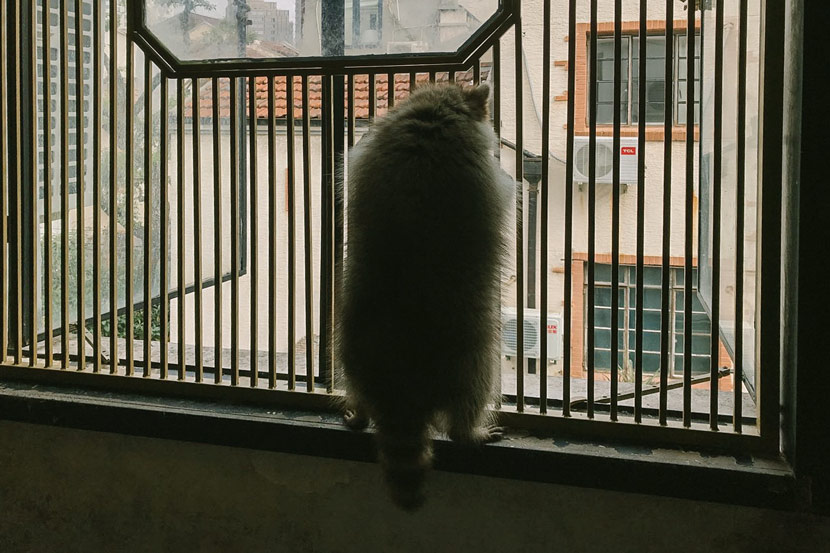 A raccoon stands by the window at Raccoon Café in Shanghai, Jan. 8, 2020. Cai Xuejiao/Sixth Tone
At Raccoon Coffee, Li limits customers' visits to one hour on weekends, and sometimes leaves hours free for the raccoons to take a nap. Liu, meanwhile, who also keeps dogs, cats, and pigs, says her team doesn't let all the animals serve customers at the same time.
"We think we're the best in the industry in terms of the animals' living conditions and welfare," says Liu.
As awareness of animal welfare issues grows in China, one group in Shanghai says they have pioneered a more ethical approach to running a pet café. Located in downtown Jing'an District, More is simultaneously a cat café and an adoption agency, allowing customers to take home the cats they meet at the venue.
Wei Ziqiang, 29, opened the venue with his girlfriend in early December. They get the cats from a local animal rescue group named PPAR, which has been finding homes for strays in the city for more than 10 years.
The café has around 10 cats onsite at a time, and each month one or two are adopted on average, according to Wei. The low number is mainly due to More's strict screening process for potential owners. "The number of people who are rejected is way higher than those who get accepted," he says.
For Wei, More is completely different from other pet cafés. "They (other cafés) make the cats into decorations and treat them as a gimmick, using this method to attract guests," he says. "What we do is not the same."
Whether other businesses follow More's example remains to be seen. Sun simply hopes that consumers pay more attention to animal welfare issues when deciding whether to visit a pet café.
"People like wild animals — that's understandable," says Sun. "But they should express this feeling in the correct ways, otherwise they'll bring harm to the animals."
Editor: Dominic Morgan.
(Header image: A raccoon plays with café owner Li Ying in Shanghai, Jan. 8, 2020. Zhu Yuqing/Sixth Tone)