Every year in China, doctors diagnose over 4 million new cases of cancer, with breast cancer the most common type among the country's women. In 2018, roughly 367,000 women were diagnosed with the disease, and nearly 100,000 died from it, according to the World Health Organization.  
Early screening can reduce breast cancer mortality rates, with the WHO calling early detection "critical." Such awareness, however, still remains low in China. According to a report from financial news outlet Caixin, only 20% of breast cancer patients receive an early-stage diagnosis, compared with up to 40% to 50% in Western countries. China's health authorities released a three-year plan for cancer prevention in September in a bid to promote early breast cancer and cervical cancer screenings, especially for women in rural areas.
But the country's health care providers may not be equipped to meet policymakers' goals. China's so-called medical device density is among the lowest in the world, with per capita spending on medical equipment less than one-fourteenth that of many developed countries, according to a U.S. government report. With policymakers pressing for better outcomes — and finally coughing up the funds needed to make it happen — hospitals have gone on a buying spree, and the country's medical equipment market grew 22% in 2018.
Currently, domestic producers account for the vast majority of sales to Chinese institutions, in part because of vigorous government support and opaque purchasing policies. Nevertheless, foreign equipment is widely considered superior in many areas, and remains highly sought-after at the country's top hospitals. 
It should perhaps come as no surprise, then, that some of the world's most advanced medical equipment providers would brave the headwinds for a shot at a massive, as-yet relatively untapped market. And with cancer prevention high on the agenda, international brands are showcasing their latest and greatest detection technologies in a bid to jumpstart sales.
At this year's China International Import Expo (CIIE), Siemens Healthineers — the German giant's health-centric subsidiary — exhibited its most recent mammography system, which it says can reduce patients' pain during the procedure, adding that the machines will be installed at major Chinese hospitals by the end of the year. And Philips displayed its new artificial intelligence-powered ultrasound system, AI Breast, which it claims can help lower the chance of a misdiagnosis.
Sixth Tone's visual editors took a closer look at the some of the breast cancer detection technology showcased at this year's CIIE.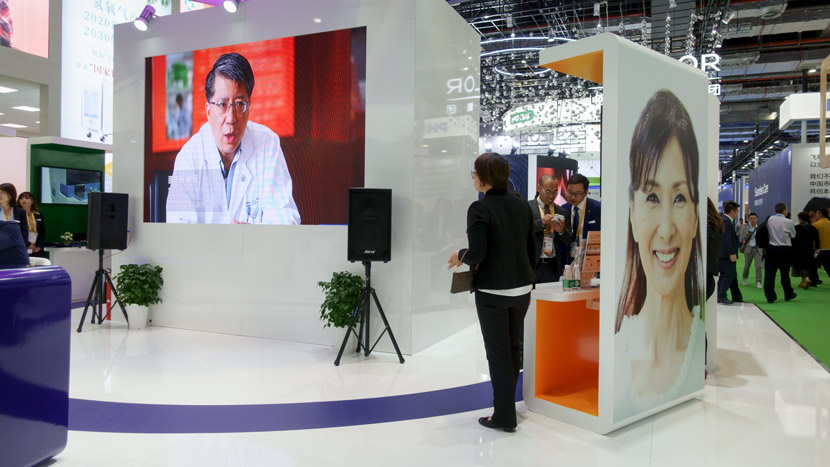 Hologic, a medical company focusing on women's health, promotes its products at the 2nd China International Import Expo in Shanghai, Nov. 5, 2019. Sixth Tone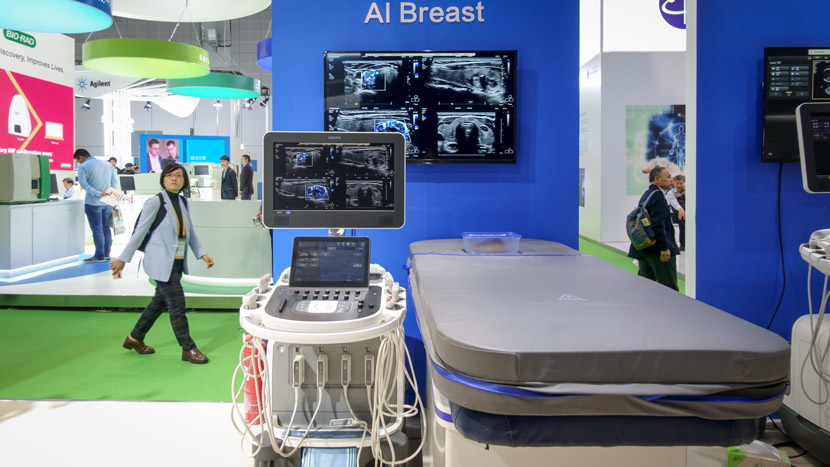 Philips displays AI Breast, an AI-powered ultrasound system for breast screening, at the 2nd China International Import Expo in Shanghai, Nov. 5, 2019. Sixth Tone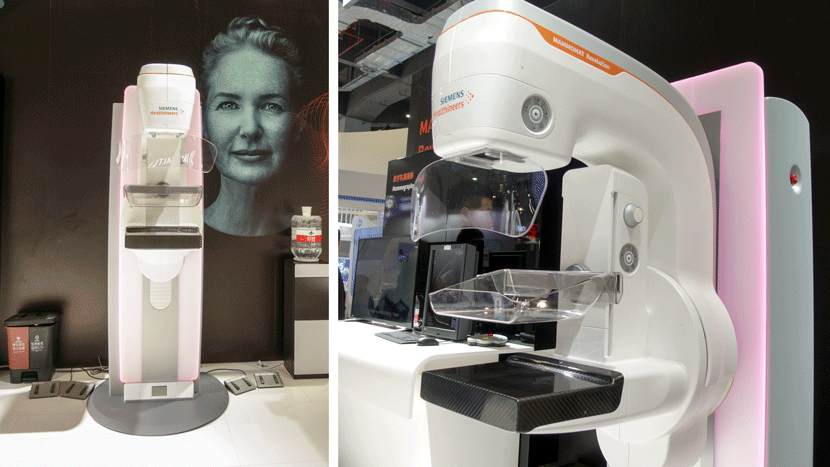 Siemens Healthineers introduces its new mammogram system at the 2nd China International Import Expo in Shanghai, Nov. 5, 2019. Sixth Tone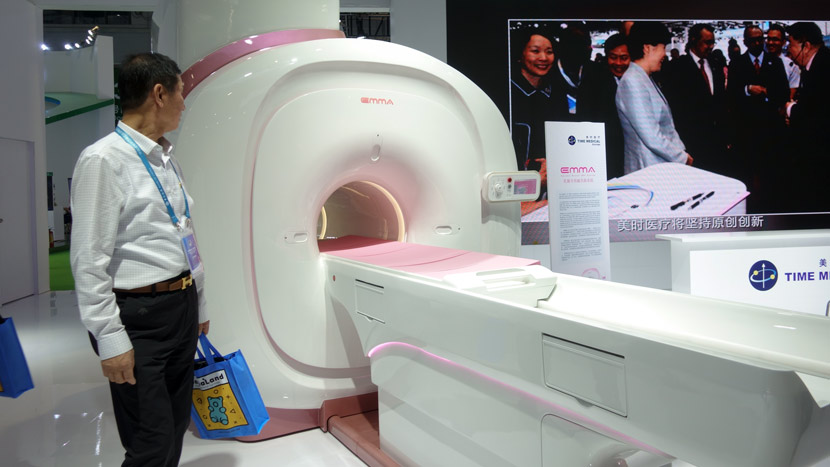 Time Medical shows an MRI machine designed specifically for breast cancer assessment at the 2nd China International Import Expo in Shanghai, Nov. 5, 2019. Sixth Tone
(Header image: A medical company promotes their products at the 2nd China International Import Expo in Shanghai, Nov. 5, 2019. Sixth Tone)