A highway overpass that killed three people when it collapsed Thursday evening in eastern China's Jiangsu province had been earmarked for renovation over concerns about the size and weight of the trucks using it.
At around 6:10 p.m., a section of China National Highway 312 in the city of Wuxi gave way, crushing three vehicles and killing three people, local authorities confirmed Friday. Five other vehicles — three cars and two trucks — had been driving over the bridge when it collapsed, and two people in them were injured.
In late July, the city's construction project management center had introduced a plan to renovate the highway, according to The Beijing News. The plan included reinforcing the section that collapsed Thursday.
A dash cam captures the moment a highway overpass collapsed Thursday evening in eastern China's Jiangsu province. By Sun Rui, Wang Jiwei, Zhang Zhiqiang, and Ye Yuhui/Sixth Tone
A preliminary investigation suggests that an overweight vehicle passing over the bridge may have caused the accident, according to the statement. Last year, a local deputy of the National People's Congress, China's top legislative body, submitted a proposal with Wuxi's city planning bureau to address the problem of trucks causing traffic along the highway, according to the National Business Daily newspaper.
A restaurant owner surnamed Yu told financial news outlet Caixin that he had been watching a truck carrying six industrial-sized steel rolls cross the overpass just before it collapsed. One of the steel rolls weighed 29,535 kilograms, Caixin learned from a transport certificate viewed at the scene. If all six rolls were the same size, they would have weighed nearly 180 metric tons.
The truck belongs to Wuxi Chenggong Transport Co. Ltd., Caixin reported. The company was closed on Friday morning, and its representatives are under investigation, police told the outlet. Between December 2018 and September of this year, Wuxi Chenggong was involved in at least six lawsuits stemming from traffic accidents, according to public records reviewed by Sixth Tone.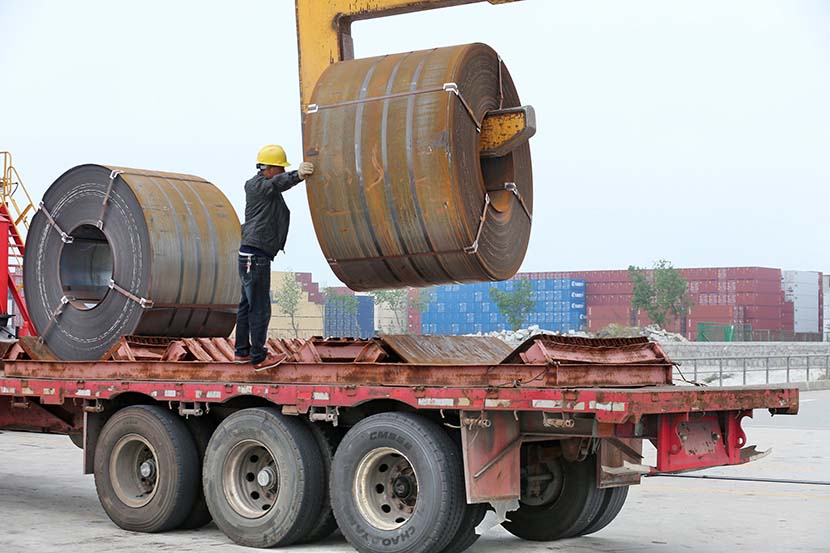 A worker uploads industrial-size steel rolls from a trailer in Qidong, Jiangsu province, May 19, 2018. Such cargo is too heavy for some bridges with load-bearing restrictions. IC
The highway section is located near several steel processing factories and logistics hubs, and the city of Wuxi has a reputation for supplying much of China's stainless steel, according to Caixin. Residents at the scene of the accident told the outlet that they frequently witnessed overloaded trucks traveling along the highway.
Less than a kilometer from the collapsed overpass is an industrial zone called East Steel City where hundreds of companies doing business in steel-related products are based.
A resident surnamed Chen who runs a steel business in the area told The Beijing News that the collapsed overpass was often used by trucks transporting steel rolls. "It's common to see overloaded trucks — even one carrying 300 tons a few years ago," the outlet quoted Chen as saying. "Supervision is stricter now, but a single truck might still be hauling 150 tons."
Contributions: Fan Liya; editor: David Paulk.
(Header image: A highway overpass killed three people when it collapsed in Wuxi, Jiangsu province, Oct. 10, 2019. IC)