BEIJING — During a blinding snowstorm in early 2017, dozens of vehicles piled into each other on a highway near Harbin in northeastern China. Smartphone footage of the disaster recorded horrific scenes of crumpled cars, drivers killed on impact, and others lying grievously injured on the snow.
The wintry conditions prevented emergency vehicles from reaching the scene, but within hours an unlikely source of help had arrived: A motley fleet of snow-ready SUVs cut through the freezing conditions and began ferrying victims to safety, later returning to tow vehicles.
The army of fearless rescuers was not made up of trained professionals, but members of a group known as FBLife — a network of amateur off-roading enthusiasts that has become famous for speeding into danger.
Wang Long, an off-road aficionado, explains how the sport is helping to liberate China's growing number of enthusiasts from the pressures of daily life. By Daniel Holmes/Sixth Tone
"Rescue operations like these happen all the time," says Wang Long, an off-roader from Beijing who until recently worked full-time as FBLife's media director. "With great power comes great responsibility."
Off-roading, or driving specialist vehicles cross-country, has emerged as a popular activity in China in recent years, and FBLife has grown from a niche website to a nationwide movement with over 10 million online members and hundreds of regional chapters. Each fall, the organization's Alxa Hero Festival sees more than 100,000 off-roaders gather in the rural Inner Mongolia Autonomous Region for four days of music, races, and driving challenges.
Mostly male, middle-class, and middle-aged, FBLife's members liken themselves to heroes from Chinese legends and have been labeled "the people's 911" by local media. Tales of derring-do by off-roaders regularly hit the headlines.
After heavy rain hit the central Hunan province in July, local media reported that an FBLife "Compassion Rescue Team" pulled 50 cars out of the floodwaters in a single day. Another cell in Harbin reportedly has more than 1,300 volunteers and has assisted over 3,000 stranded vehicles in the past two years. Group members have also been known to give lifts to migrant workers heading home for the Lunar New Year holiday.
But the movement is a divisive presence on Chinese social media, where off-roaders often post videos of their latest escapades. While many praise their acts of heroism, others criticize off-roading as an extravagant and dangerous hobby for the idle rich that is ruining the Chinese countryside.
A large-framed, goateed figure, the 41-year-old Wang arrives to meet Sixth Tone in a bright red Jeep that cost him around 480,000 yuan ($67,300). "Off-road-type vehicles are often totally unsuited for daily use in the city," he says. "So a lot of my off-roader friends have two, three, four, even five cars." Yet he insists that off-roading is not about showing off.
"Off-roading is rooted in a desire for greater freedom," says Wang. "When you go out into the wild, it's much easier to let yourself go."
Wang Long poses for a photo after driving up a rocky hill outside Beijing, Aug. 30, 2019. Kenrick Davis/Sixth Tone
The growth of off-roading in China has mirrored the rising fortunes of Wang's generation over the past two decades. When FBLife was founded in 2002, there were fewer than 10 million private cars on the road in China — around one for every 130 people. Customized vehicles capable of driving across rough terrain were the preserve of a tiny elite.
Today, however, car ownership is widespread, with SUVs accounting for over 40% of sales annually. Though off-roading remains an expensive hobby — requiring not only the purchase of a pricey, usually imported vehicle, but also frequent, expensive repairs — many people can afford it. A 2015 survey of FBLife's members found that 79% earned more than $40,000 a year — several times higher than China's average income — while 30% earned over $80,000.
Wang's first experience of off-roading came while working as an auto journalist in 2006, when he was taught off-road driving in the northern Tengger Desert. He says he was amazed at how the powerful vehicles transformed his experience of the world around him, turning a desolate, depressing landscape into a source of joy.
"With the development of the world's economy and science, humans have become massively disconnected from nature," says Wang. "Activities like off-roading can help us regain a sense of awareness."
Over the years, Wang has participated in road trips all over China and beyond, but he says what makes off-roading meaningful is the sense of community among FBLife members. Though meetups are often populated by factory owners and financiers, the dangers they encounter on the road strip away petty differences in wealth or social status.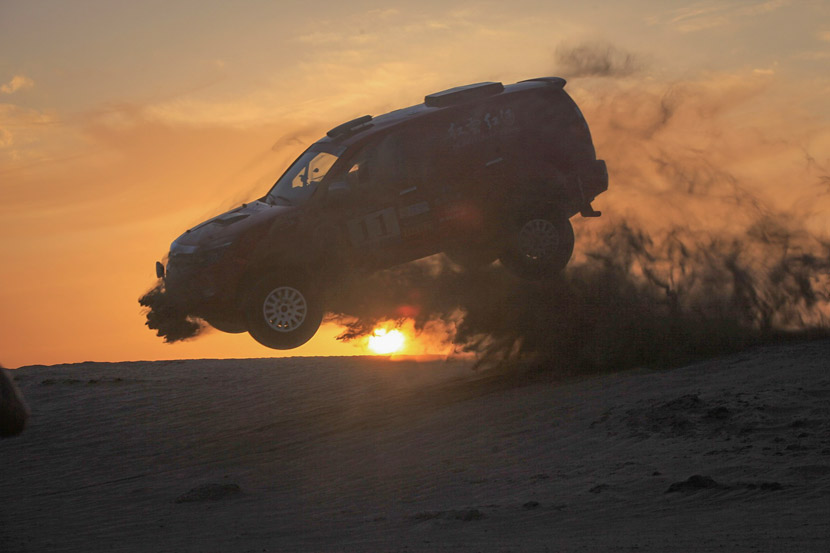 A car gains air while racing across a patch of desert in Alxa League, Inner Mongolia Autonomous Region, Sept. 17, 2009. Liu Puli/VCG
"If you and I cross a desert together, we'll have to depend on each other to survive," says Wang. "Everyone is very real in this kind of environment. … It's almost impossible to have this feeling in modern cities."
For Gao Chunyuan, a former farmer from the southwestern Yunnan province, off-roading is more about the sense of empowerment he feels when he gets behind the wheel. He bought his Chinese SUV, or "Beijing Jeep," after the local government requisitioned his land two years ago, and he says he felt a thrill of excitement the first time he scaled a steep slope near his home.
"It felt like I'd conquered something," says the 40-year-old Gao. "I think most off-roaders have this feeling."
Gao now drives with groups of off-roaders nearly every day, and has shared over 2,000 clips of his adventures on Kuaishou, a short-video app popular in rural China. "It's better than gambling all the time," he says.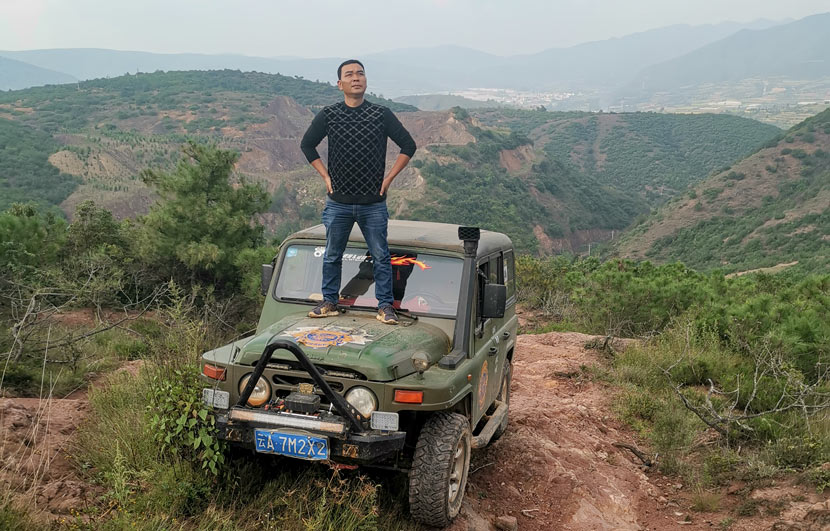 Gao Chunyan poses for a photo on the hood of his "Beijing Jeep" in a rural area in Yunnan province, Sept. 25, 2019. Courtesy of Gao Chunyan
Like Wang, Gao argues that off-roaders are a force for good in the countryside. The off-roaders in his area regularly make donations worth thousands of dollars to impoverished communities in the mountainous areas they frequent, he says, adding that they also make sure to rescue any vehicle that runs aground on Yunnan's muddy hillside roads.
"A lot of drivers will offer to take us out or buy us cigarettes, but we've never taken a dime from anyone," says Gao. "At least 90% of off-roaders are like that: They have warm hearts."
Shoe factory owner Tian Chaogao, however, has a less romantic view of the movement. For him, it's the danger and excitement of off-roading that's most enticing. The 32-year-old and his friends regularly venture out of Dongguan in the southern Guangdong province to climb rocky outcrops or cut paths through the region's subtropical forests. In many cases, hundreds of locals turn out to watch and cheer them on.
"We only do extreme off-roading," says Tian. "No one wants to do gentle, regular drives. It's very easy to break the car. It gets pretty expensive."
Tian doesn't consider off-roading to be especially dangerous, though he admits crashes are a common occurrence. An acquaintance from nearby Shenzhen recently died in an off-roading accident, he says, while another friend had to fork out 100,000 yuan on repairs after his car flipped, smashing its roof. In May, Tian got stranded in the forest and had to survive on bread and noodles for five days while a fellow off-roader went to fetch a mechanic and spare parts.
Former FBLife director Wang has heard of many off-roading deaths, including that of a close friend last year. The father of two, an experienced off-roader, lost control of his car while crossing a river in Siberia.
Most of the time, however, accidents happen because drivers are reckless or inexperienced, or use the wrong kind of vehicle. Wang once saw a car burst into flames because the driver forgot to turn off four-wheel drive mode. On Kuaishou, there are dozens of videos of minivans trying to tackle obstacle courses.
"We see a lot of people who are extremely brave," says Wang. "They drive into deserts in totally inadequate vehicles. They go in and get stuck."
Wang and Chen Xi, a fellow off-roader and vlogger, say they deplore this kind of reckless behavior. "We should come out to appreciate beautiful scenery, not to squander our lives," says Chen, adding that he once had to rescue an uncle and nephew stranded in the desert. "There are many different ways to prove how brave you are."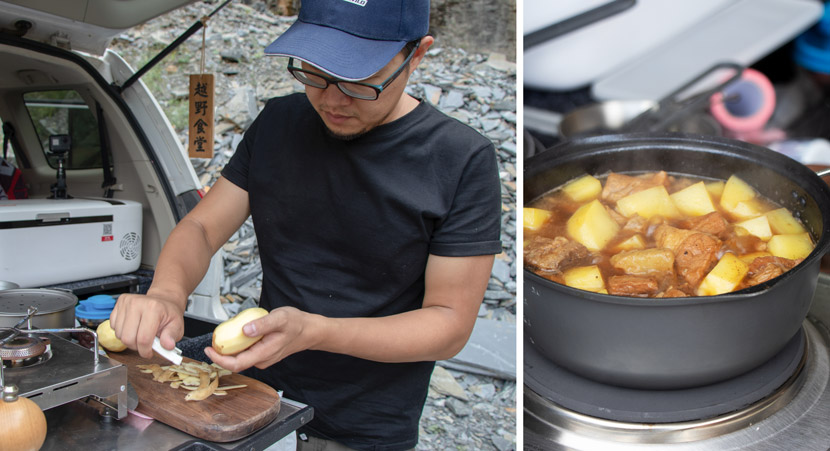 Chen Xi cooks lunch outside an abandoned quarry in Beijing's outskirts, Aug. 30, 2019. Kenrick Davis/Sixth Tone
Clips of crazy behavior by off-roaders often provoke criticism. Many Kuaishou users can't afford cars, let alone expensive, customized SUVs, and some accuse off-roaders of flaunting their wealth. "Rich people just do anything they want," one user posted under a video of Tian charging up a hill. "Poor people research ways to live, while rich people research ways to die," another wrote another under a similar clip.
Gao, the former farmer, says he attracts so much abuse on Kuaishou that he doesn't read the comments any more. "They often say we're just idle and have nothing better to do, loads of nasty things," Gao says. He used to upload videos of his charity initiatives but eventually stopped because they were met with cynicism.
More serious are accusations that off-roaders trash the rural areas they claim to cherish, after several high-profile controversies. In 2017, seven people were fined over 100,000 yuan after chasing a herd of Tibetan antelope in off-road vehicles at a national wildlife reserve, sparking outrage online. In August, netizens were again furious after footage emerged of off-roaders tearing up the grasslands of Inner Mongolia. "Illiterate nouveaux riches," reads one highly upvoted comment under a video of the incident.
Wang had a wake-up call in 2017 when a fellow off-roader challenged him to consider the real-world impact of his hobby during a road trip across Tibet. The man said that Tibetan locals were now more concerned about the damage caused by off-road vehicles crossing their land than poaching, which used to be a severe problem in the region.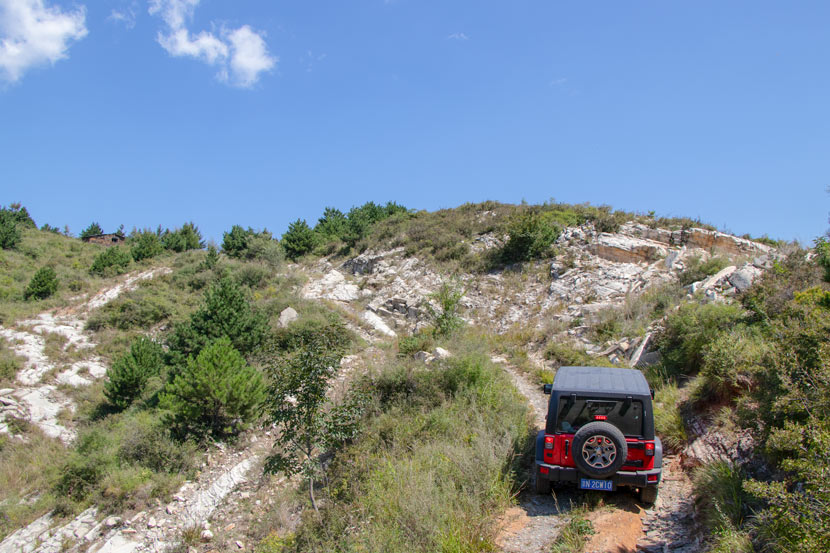 Wang Long drives up a steep trail outside of Beijing, Aug. 30, 2019. Kenrick Davis/Sixth Tone
"Going through with one car, it seems that all you leave behind are a few treads," says Wang. "But when a lot of cars go by, you'll find the whole place has been ruined."
Off-roaders often share exciting new routes they discover online, but Wang says he's now of two minds about doing this: While he hates the fact that popular routes are sometimes spoiled through excessive littering, he's also sure that such incidents are simply the growth pangs of a maturing movement. 
"A lot of people – especially those who've grown up in cities – have not seen grasslands, they haven't seen forests," says Wang. "They don't know that even a short drive around can be damaging. But as general knowledge about this spreads, I believe it'll happen less and less."
Editor: Dominic Morgan.
(Header image: A driver shows his driving skills at the 13th FB-Life Alxa Hero Festival in Alxa League, Inner Mongolia Autonomous Region, Oct. 3, 2018. VCG)