Summer vacation is an important time of year for museums, with families searching for ways to keep their kids occupied and maybe inject them with a little bit of culture in the process. But one institution in the southern province of Guangdong recently found itself at the center of a debate on permissive parenting for trying to keep its galleries from descending into playground anarchy.
"The staff are too strict!" one parent wrote on a feedback card that later went viral on the Chinese internet. "What's wrong with running, jumping, and touching the dinosaurs!?! Is that so bad? Isn't the customer always right?!"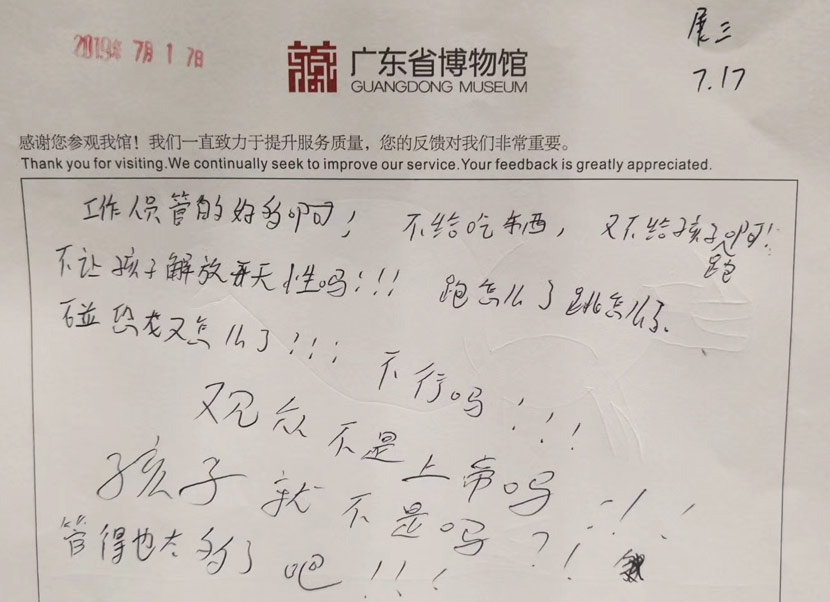 A photo of a feedback form left by a disgruntled visitor to the Guangdong Museum, July 17, 2019. From @广东省博物馆 on Weibo
Apparently not. According to a poll on the party-run People's Daily newspaper's official social media account, 93.6% of respondents disagreed with the parent and thought "children should be made to behave properly." The museum's own social media page was flooded with supportive comments. The backlash is just the latest manifestation of growing public discontent with China's "bear kids."
In recent years, it's seemingly become common to hear people complain about noisy, disruptive children running amok in public spaces and bothering everyone in sight while their parents passively watch. It was one thing when the issue was largely confined to parks and other outdoor spaces, but as Chinese parents have started taking their children to museums and art galleries, reports of destruction caused by bear kids have become increasingly commonplace — and public frustration has grown palpable.
But are the country's museum's really being overrun by bear kids? Or is the phenomenon just media hype? And are we sure we haven't lost perspective?
Over the past few years, I've taken my son to more than 50 museums all over China — including large national and provincial institutions, small municipal museums, and everything in between. In general, I've found that children behave in a fairly civilized manner in these spaces and are relatively capable of taking the exhibitions seriously.
It's worth noting that families willing to bring their children to museums have already gone through a filtering process: Those who are not interested in the exhibitions generally don't go to them. And museum management nowadays is quite professional, with staff and volunteers willing to quickly step in and address any inappropriate or prohibited behavior.
The noisiest I've ever seen museums isn't when parents are unable to control their children, but when some places force middle school students to attend museums after school. When children who aren't interested in the exhibitions are crammed into galleries, it's only natural for them to shout, run, and play hide-and-seek. They didn't come to see the exhibition; they came to have their cards punched.
The more kids there are, the harder it is for parents, teachers, and staff to keep them under control. In 2016, a staff member at the National Zoological Museum of China in Beijing posted pictures on social media of garbage that local primary school students left after a field trip. The photos quickly went viral and sparked a debate about the need for more active chaperoning.
But these incidents don't mean we should assume children and museums are like fire and water. Nor should we rush to judge and condemn young people as bear kids for simply acting their age. Context matters.
Meanwhile, if certain exhibitions prohibit visitors from touching the objects on display, then anyone who does so deserves to be criticized. But that doesn't mean kids' impulse to touch is wrong and out of place. Touch is an important sense that children use to understand the world, and internationally, the number of tactile museum exhibits seems to be increasing.
Museums of natural history, automobiles, and railways, for example, can and are designing immersive experiences to meet children's cognitive needs. They're also helping children learn to distinguish which exhibitions they can touch and which ones they can't, helping to develop good habits.
This summer vacation, Shanghai's China Maritime Museum organized an aquatic shipwreck exhibition. The organizer provided relics dredged up from the sea for a porcelain experience area, allowing visitors to handle porcelain that's over 300 years old. Close contact like this can have a profound and inspiring effect on children. Parts of other museums, such as the Guangzhou Metro Museum in southern China, increasingly resemble children's parks as they try to strike a balance between information and entertainment.
As for things like children eating in museums or the above-mentioned littering, such matters deserve scrutiny. But museums these days generally have cafés and cafeterias. Museum management simply needs to make sure people eat in the designated areas. Rather than ban dining altogether, museums should take full account of their visitors' dining needs in their initial planning stages and set up special dining areas to meet them.
Museums play an important role in public education, including for children. That doesn't mean they should be treated like playgrounds or places where children can run free, but if you think museums must be stony-faced and high-minded places unavailable to minors, I'm afraid you may be misunderstanding the true purpose of these institutions.
Finally, we should remember to keep online anger in perspective. The assumption that "bear kids" are the museum's natural predator is based on sensationalized reporting and should be treated as such.
Translator: Matt Turner; editors: Zhang Bo and Kilian O'Donnell.
(Header image: Children look at statues on display at the Suzhou Museum in Suzhou, Jiangsu province, July 5, 2017. Wang Jiankang/VCG)