HUNAN, Central China — Relaxing into his sofa, 56-year-old Qu Weiyuan gestures proudly at the shining red plaques behind him — gifts from the village government commemorating his family's formidable academic achievements. "Some of my peers are still laboring outside for a living, but I have no worries about money," beams the former migrant worker. "Having two kids with high academic degrees means my twilight years will be easy and happy."
By rural Chinese standards, Qu's family is exceptionally well-educated. His daughter, 35-year-old Qu Ting, was the first woman in the family's home village of Yangtian to obtain a Ph.D. and is now a lecturer at the highly regarded Tianjin University. And his 34-year-old son, Qu Qiangqiang, has a bachelor's degree from Northeastern University in the city of Shenyang and currently works as a civil servant in the municipal government of Liuyang, the nearest city to the family home.
But the Qus' impressive credentials are actually a little run-of-the-mill in Yangtian, known as one of the brainiest villages in China. Currently, 26 of Yangtian's 5,000 or so residents hold Ph.D.s in subjects including law, economics, and philosophy, and a few have even studied at renowned universities like Harvard, Tsinghua, and Peking. In total, Yangtian has around one doctoral degree for every 200 people, compared with a national average of one for every 1,650 people. (Around 1 in 8 Americans has a master's, professional, or doctoral degree, according to the 2018 national census.)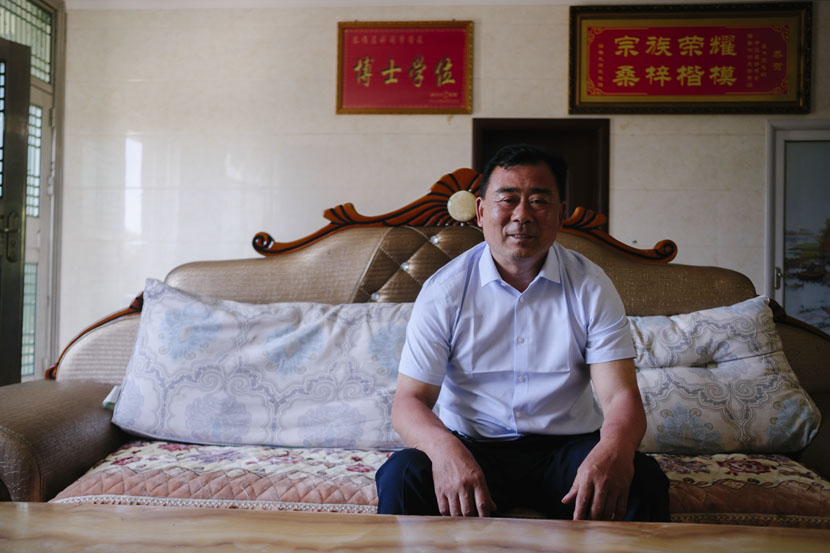 Qu Weiyuan poses for a photo at his house in Yangtian Village, Hunan province, June 4, 2019. Wu Huiyuan/Sixth Tone
Villagers trace Yangtian's commitment to education to the late 1990s, when local farmers began migrating to nearby cities for work, where they could make more money than in their impoverished hometown. As their wealth increased, they invested heavily in their children's education, taking an uncommon amount of pride in their community's scholarly accolades.
Nowhere is Yangtian's reverence for study more obvious than on its so-called Ph.D. Wall. Built in 2015, the wall stands at the edge of the village and is presided over by a statue of Confucius. It exhibits profiles of all of the village's Ph.D.-holders, including Qu Ting, the Tianjin-based university lecturer.
When Qu Ting was in primary school, her parents moved to the nearby city of Zhuzhou, where they worked on a pig farm and helped dispose of kitchen waste. They sent money back to Yangtian and only came home twice a year. Qu Ting and her little brother lived alone — a situation that existed in a legal gray area at the time.
Despite having to fend for herself, Qu Ting enjoyed reading as a child, was self-motivated, and was surrounded by other adults in Yangtian who encouraged her studies. She consistently performed well academically and ranked at the top of her class at the middle school she attended in a nearby town, later entering one of the best high schools in Liuyang. "In those days, learning was the only clear path out of the countryside," she says.
In 2003, Qu Ting won a place at the Tianjin-based Nankai University to study philosophy. When her classmates graduated and went to work in other industries, she stayed on to get a Ph.D. — a decision she partly attributes to her underprivileged upbringing. "As a child of a poor rural family, I'm naturally very risk-averse," she says. "I'm just good at learning things, so for me, doing well in exams and going all the way to Ph.D. level felt quite natural."
These days, Qu Ting often returns to Yangtian during her vacations to give pro bono speeches and tutoring sessions to local children. Her services are much sought-after by parents eager to see their kids emulate Qu Ting's accomplishments. People like 42-year-old villager You Huanhong, who never went to university, for instance, tend to see further education as a constant safeguard against poverty. "With a high degree, you don't need to worry about employment, no matter where you go," she adamantly tells Sixth Tone.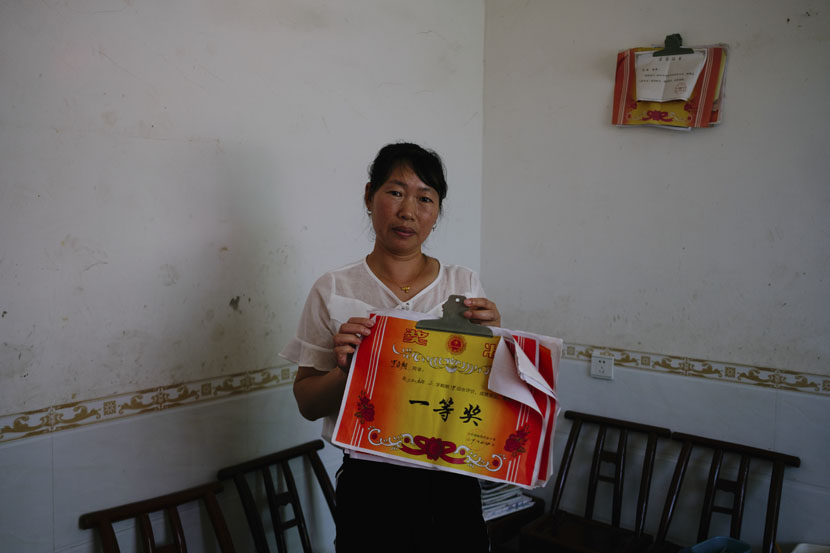 You Huanhong holds her son's academic certificates in Yangtian Village, Hunan province, June 4, 2019. Wu Huiyuan/Sixth Tone
You has high hopes for her 11-year-old son, a fifth grader who consistently ranks at the top of his primary school class. Unlike other rural schools in China — many of which are emptying out as families move to wealthier urban areas — Yangtian's two primary schools are thriving. They've won more government funding than other schools in the area, hosting nearly 400 students and receiving mountains of applications every year from teachers normally reticent to work in rural areas.
You proudly shows off a stack of certificates awarded to her son for his good grades. "He told me that he wants to see his name on the Ph.D. Wall one day," she beams. "I'm excited that he has that ambition — having a kid with a Ph.D. brings immense glory to the family."
Qu Ting, however, is more equivocal about the value of an advanced degree. While she's happy to have done her family and village proud, she feels that her education has brought little material improvement to Yangtian. "Emotionally, I want to give something back to my village and make it a better place," she says. "But in reality, I don't know how my knowledge can change anything. At the end of the day, I'm just an average university teacher with a doctorate."
There are other signs that people in Yangtian are beginning to question the role of education as a route to fame and fortune. In the past decade or so, certain people from average educational backgrounds have gotten rich by working as contractors on construction projects in southern China, in some cases bringing home enough money to build lavish courtyard homes. As a result, school-shy youngsters are starting to push back against Yangtian's study-above-all-else mentality, locals say.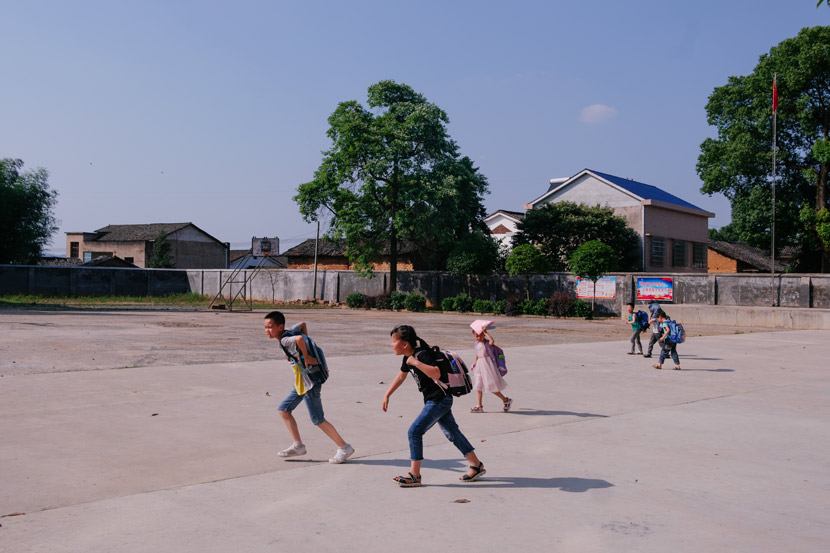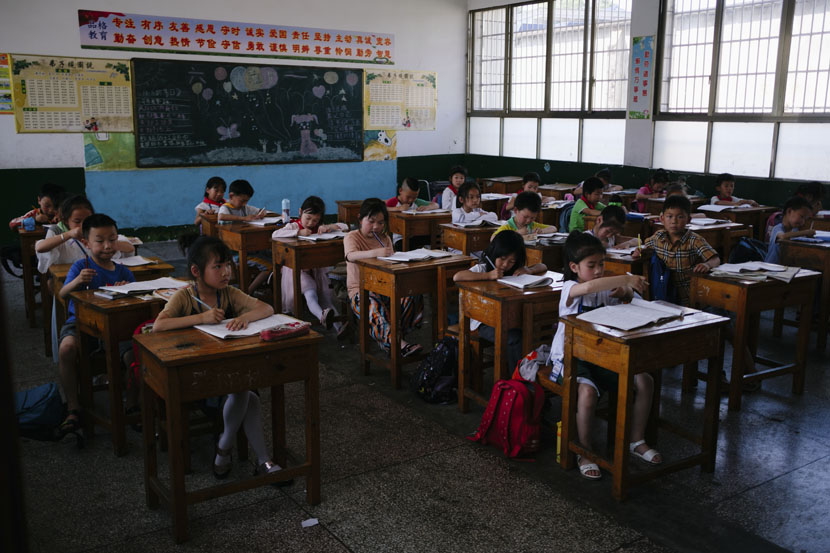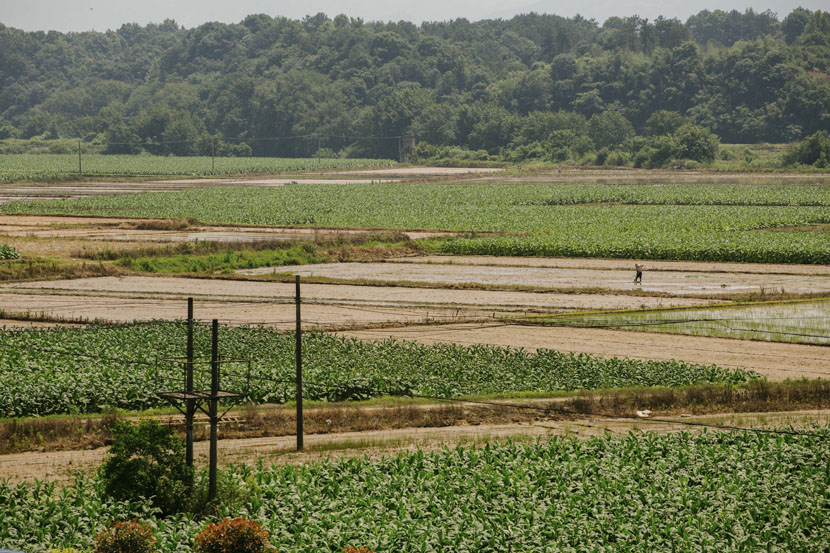 "In the old days, children were much more driven to study hard. They saw how difficult it was for their parents' generation to work either in the fields or in labor-intensive jobs in the cities, and they wanted to change their own destinies through study," says 61-year-old Luo Jianhua, who lives in a plain-looking bungalow behind the Ph.D. Wall. "But nowadays, students lack that determination. Life is no longer that hard and they have more to distract them, so they concentrate less on their studies."
The fact that Yangtian's wealthiest villagers have struck it big through their business acumen and not through academic achievement encourages some high schoolers to leave their studies and throw themselves into making money, Luo Jianhua adds. "Long years of poverty have made many villagers yearn for wealth. Some young people don't want to wait for years to finish school — they start hunting for jobs as soon as they can. They see another way out besides studying."
It's a sentiment that rings true to Luo Ting, a 20-year-old teacher trainee with no relation to Luo Jianhua who, despite being enrolled at a university, doubts she'll do a Ph.D. For her, advanced study is a question not just of attitude, but also of raw ability. "None of my classmates dropped out of high school or anything like that," she says, "(but) most of us were average students."
Luo Ting says she and her peers are more concerned about attaining financial security as early in life as possible. "My family just wants me to pursue a stable job, and I'm fine with that," she says.
Not long after Yangtian's Ph.D. Wall was built, a rival monument sprung up less than 100 meters away. Dubbed the "Wall of Merits and Virtues," it lauds wealthy villagers who have made generous public donations. One exhibit profiles three businessmen who, in 2013, gave 4 million yuan (then $652,000) to help build Yangtian's state-of-the-art sports and entertainment center, which boasts an indoor basketball court, a golf simulator, an indoor gymnasium, and an outdoor square. None of the investors have a college degree.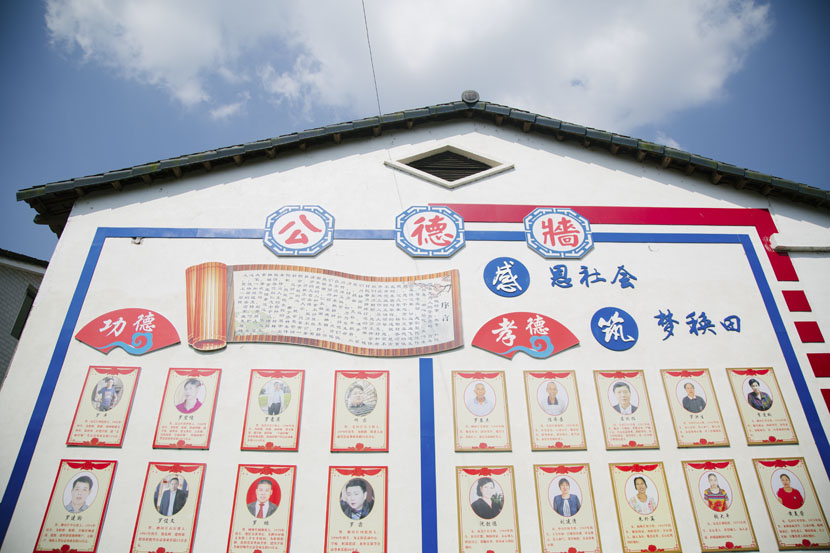 A view of the "Wall of Merits and Virtues" in Yangtian Village, Hunan province, June 4, 2019. Wu Huiyuan/Sixth Tone
Qu Ting is realistic about the cultural change sweeping Yangtian. Previously, virtually every family equated a Ph.D. with financial security, she says. But as young people realize that better-paid jobs exist outside academia, they and their families are increasingly considering alternative paths to wealth. "Certain farmers are very pragmatic — they want to see (their children's) college degrees translate into cash as quickly as possible," she says. "But this misconstrues the nature of a Ph.D."
Now the mother of two daughters herself — one is 6, the other 2 — Qu Ting just tries to ensure that her kids enjoy the process of learning, regardless of how far they eventually take their education. "I hope they can figure out what they are passionate about in life and end up doing something they like," she says.
But old habits die hard when it comes to her father, Qu Weiyuan. "Given my daughter's academic background and my son-in-law's (master's degree), I'm sure my two grandchildren won't let us down," he says. "They'll end up just as smart as their mother and carry on our family's traditions."
Editor: Matthew Walsh.
(Header image: A statue of Confucius stands in front of the Ph.D. Wall in Yangtian Village, Hunan province, June 4, 2019. Wu Huiyuan/Sixth Tone)