"Blood cleaning" — an emerging cosmetic trend in China — has come under fire following a Saturday report by Beijing Youth Daily about its potential health risks.
The procedure involves drawing around 100 milliliters of a person's blood, injecting it with ozone gas, and then transfusing it back into their body. While some on Chinese social media are lauding the treatment as a panacea, others are wondering whether it might do more harm than good. As of Monday afternoon, the hashtag "cosmetic blood cleaning investigation" had been viewed over 8.5 million times on microblogging platform Weibo.
Earlier this month, Zhang Mofan, a web celebrity with over 11 million Weibo followers, shared her experience of undergoing blood cleaning in Japan, noting that her blood changed color from a deep crimson to a healthy-looking bright red. "This procedure boosts metabolism and clears away toxins," Zhang wrote. "It's good for your skin and helps with weight loss." She also claimed that after the procedure, she would feel energetic all day on just five hours' sleep.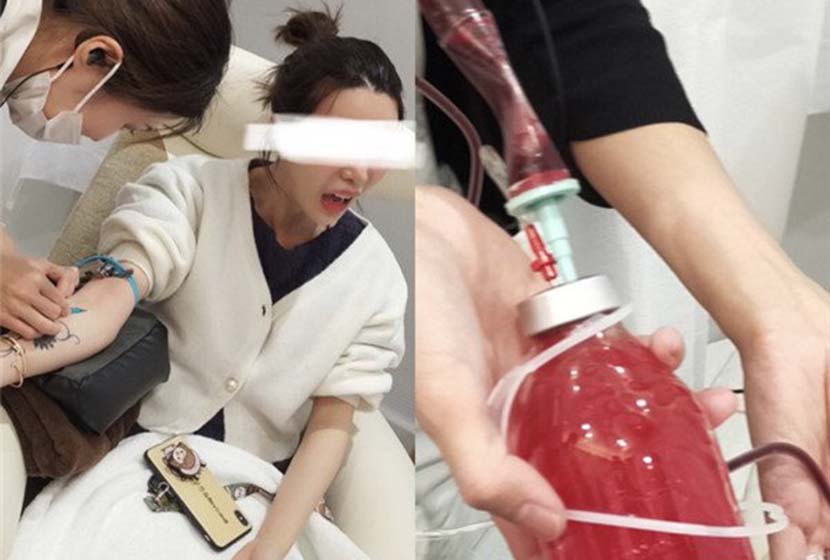 A Chinese web celebrity undergoes a 'blood cleaning' procedure in Japan. From @张沫凡MOMO on Weibo
Cosmetic surgery clinics and private hospitals in Chinese metropolitan areas offer the service, too, charging anywhere from 3,000 to 50,000 yuan ($450 to $7,450), according to Beijing Youth Daily's investigation. One cosmetic surgery hospital in the eastern city of Nanjing promotes the procedure as an anti-aging treatment. When Sixth Tone called the hospital on Monday, a staff member who answered the phone declined to comment.
According to the U.S. Environmental Protection Agency, ozone gas can cause chest pain, coughing, shortness of breath, and throat irritation when inhaled. While the agency does not address ozone-infused blood, it warns against dubiously marketed ozone products. "Manufacturers and vendors of ozone devices often use misleading terms to describe ozone," the agency says. "Terms such as 'energized oxygen' or 'pure air' suggest that ozone is a healthy kind of oxygen. Ozone is a toxic gas with vastly different chemical and toxicological properties from oxygen."
China's medical experts, meanwhile, are reminding would-be customers that blood transfusions are more invasive than purely cosmetic treatments — and because proper sterilization practices can't always be guaranteed, there's a higher risk of cross-contamination and infection.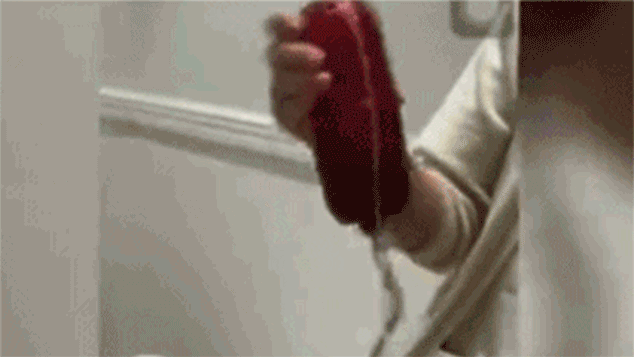 A GIF shows a staff member at a beauty salon in Guangdong province aerating a bottle of blood during a customer's 'blood cleaning' procedure. From @北京青年报 on Weibo
Chen Xiaofang, a cosmetic surgeon at Beijing Hospital of Integrated Traditional Chinese and Western Medicine, told Sixth Tone on Monday that blood cleaning would not be welcome at her hospital's cosmetic surgery department. "We've never offered a procedure like that," she said. And in an interview with state broadcaster China Central Television, Liu Yin, a cosmetic surgeon in the southwestern city of Kunming, said that ozone can damage the structural integrity of the body's cells. "It poses a danger to people's health," he said. "Ozone should not be used for standard cosmetic procedures."
Nevertheless, the fad has proved hard to stamp out, in part because of widely shared but poorly sourced articles that extol its supposed virtues. One promoted post on lifestyle and e-commerce platform Xiaohongshu — or "Little Red Book" — claims that ozone can prevent cancer, boost immunity, and delay signs of aging by "clearing away toxic elements," "revitalizing cells," and "nurturing the organs."
On Monday, an employee for a German manufacturer of ozone treatment machines told Sixth Tone that his company sells to a wide range of accredited buyers. "As long as they can prove they're licensed medical institutions, we'll sell them the equipment," he said. When asked about the potential health risks of ozone-infused blood, he declined to comment.
Editor: David Paulk.
(Header image: E+/VCG)