HAINAN, South China — It's a balmy, 25-degree Sunday afternoon in January, and a crowd of homebound travelers are gathering outside the train station.
The group, mostly men in their 40s and 50s, lounge on benches surrounded by all manner of containers: suitcases, rucksacks, buckets, trash bags, and rope-bound fabric bags. One man dressed in a khaki green jumpsuit and faux leather shoes chats with another man, smoking under a palm tree as he keeps his large, candy-pink suitcase close. Behind him, large red characters read: "Haikou Station Welcomes You."
Millions of Chinese travel home for Lunar New Year in late January and early February. By Luo Zihan, Zeng Yinzi, He Wei, and Wang Kanyi for Sixth Tone
These people represent just a fraction of the hundreds of millions traveling home for China's most important festival: Lunar New Year. Over the 40-day peak travel period before and after the festival, which this year falls on Feb. 5, passengers in China will make an estimated 406 million trips by train and 73 million by plane.
This particular train route, now in its 10th year of running, is longer than most. It's a 48-hour, 3,911-kilometer ride over land and sea from China's southernmost tip — the tropical island province of Hainan — to Harbin in the country's northernmost province Heilongjiang, where winter temperatures average minus 19.7 degrees Celsius and can sink to as low as minus 38.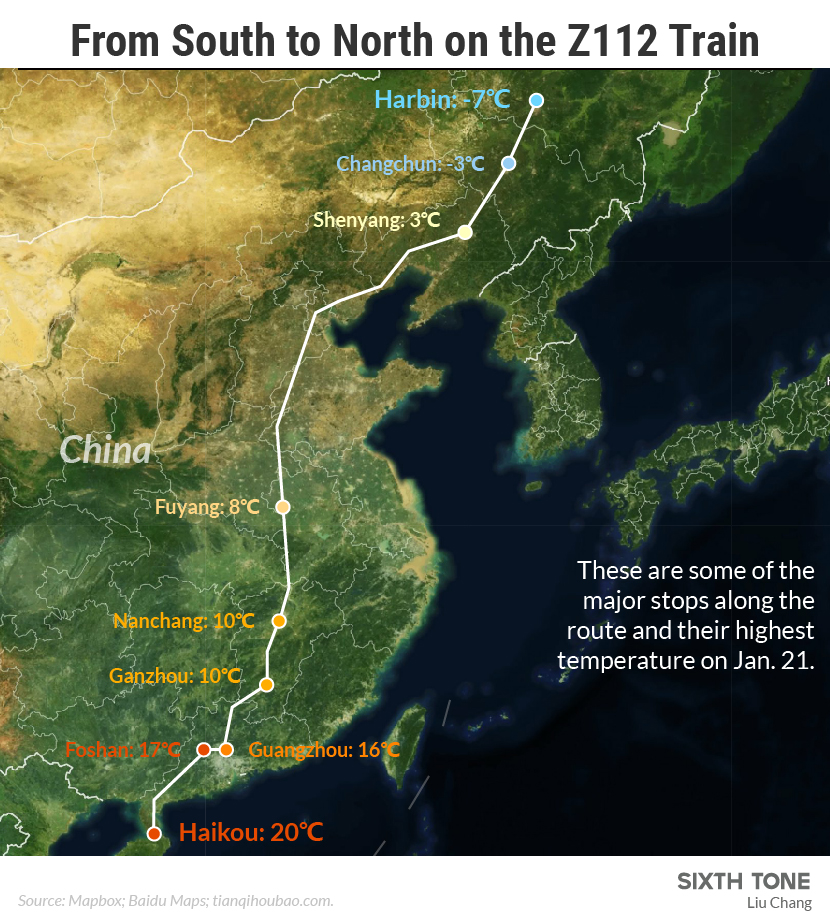 I'm taking the dark green train from Hainan to Harbin to meet travelers heading home for the holidays. Most passengers taking this route are rural migrant workers — laborers eking out a living in cities and factories, often away from their hometowns. For many of this so-called floating population, who numbered 287 million in 2017, the festival is the only time of year they can be home with their spouses and children.
A ticket from Hainan to Harbin in the hard-seat carriage sets passengers back 450 yuan ($67), while a hard-sleeper ticket costs around 850 yuan — a significant sum for migrant workers, who on average earned 3,485 yuan a month in 2017. In the hard-seat carriage, one passenger uses a noisy electric shaver as he watches the train leave the station. Behind him, a tanned man in his 40s sprawls across a row of unoccupied seats, his belly exposed.
Once we reach Haikou's harbor, the train is loaded onto a ferry, with cars and buses on the upper deck. As the ferry sets sail to China's mainland, portside passengers watch the sun set over a purple-tinted ocean.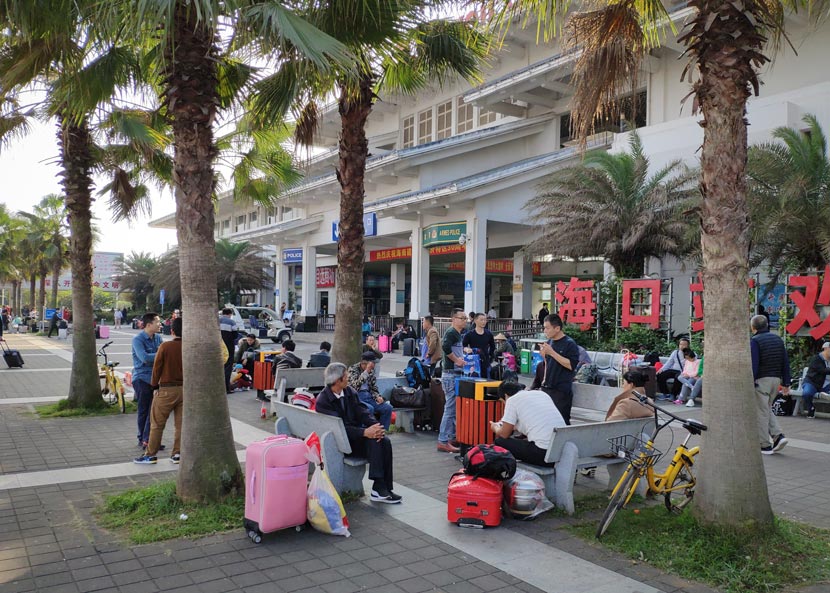 People wait outside the Haikou Railway Station in Hainan province, Jan. 21, 2019. Kenrick Davis/Sixth Tone
Yu Bingzhi, a 49-year-old welder at a powerplant in Hainan's city of Sanya, sits on a bar stool in one corner of the dining car. It'll be 41 hours before he reaches the city of Jinzhou, in northeastern Liaoning province, where he'll have a monthlong break.
For 10 years, Yu grew ginseng in his hometown. He shows me pictures on his smartphone of the plant, called "human root" in Chinese for its resemblance to a person. Eight years ago, he switched to soldering for its higher wages, boosting his monthly salary from 600 yuan to over 8,000. He's since done 16 three-to-four-month stints at powerplants in cities from coastal Shanghai to western Urumqi, returning home to his wife and adult daughter after each job.
Powerplant welding is dangerous work: Five of Yu's former colleagues have died on the job. Although he liked it at first, he's now concerned about the harmful fumes and radiation, as well as the damage to his eyes from exposure to harsh UV rays. In each bloodshot eye, there's a small white protrusion on the edge of its iris. "What can I do? I'm not well-educated like you," he tells me.
Fellow migrant worker Zhou Chenbao, a 46-year-old with several missing teeth and a large birthmark on his left cheek, stands with his arms crossed in the corridor between carriages. Five years ago, Zhou left his wife and three children behind in eastern Jiangxi province to work as a machine technician in Hainan. He misses his family while he's away and talks to them each night on messaging platform WeChat. But he needs to make money so his son can get married one day — a typical dowry in his region is over 100,000 yuan. "What can you do?" he says. "I have many kids. It's a lot of pressure."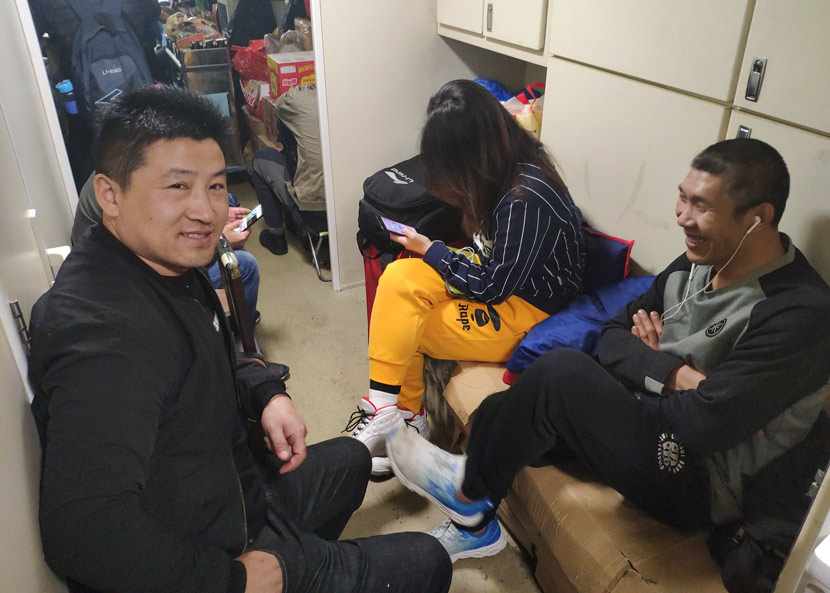 Yan Zhenquan, left, a decorator from central Henan province, sits in the train corridor in Jiangxi province, Jan. 21, 2019. Kenrick Davis/Sixth Tone
Yan Zhenquan, a decorator from central Henan province, sits next to him. Like Zhou and Yu, he has a standing ticket, so he's sitting on a bucket that once held decorating adhesives and now serves as his luggage container. In Hainan, Yan works 10 hours a day and seven days a week at Ocean Flower Island, a 160-billion-yuan luxury resort being built off the province's coast. He estimates that over 90 percent of the men in his home village are decorators like him.
It's past 9 p.m. when I head back to our sleeper compartment several carriages away. Bunk bed lamps cast streams of light along the smoky, narrow passageway, where rows of feet poke out from mid-level bunks. A chorus of snores and tinny movies from mobile phones blend with the continuous low chug of the train. Children squeal excitedly as they scare each other in the dark, and a family of three plays a card game on a pillow. Near our compartment, two men chat quietly over beers and a large pile of sunflower seeds.
At 7 a.m. the next day, the train pulls into the sprawling southern metropolis of Guangzhou and more passengers board.
Two carriages from ours, I find 41-year-old migrant worker Ceng Fali sitting on a bottom bunk with his aunt and uncle, snacking on home-cooked sweet corn. The trio are heading to their home village near the coal mining city of Shuangyashan, a seven-hour train ride from Harbin.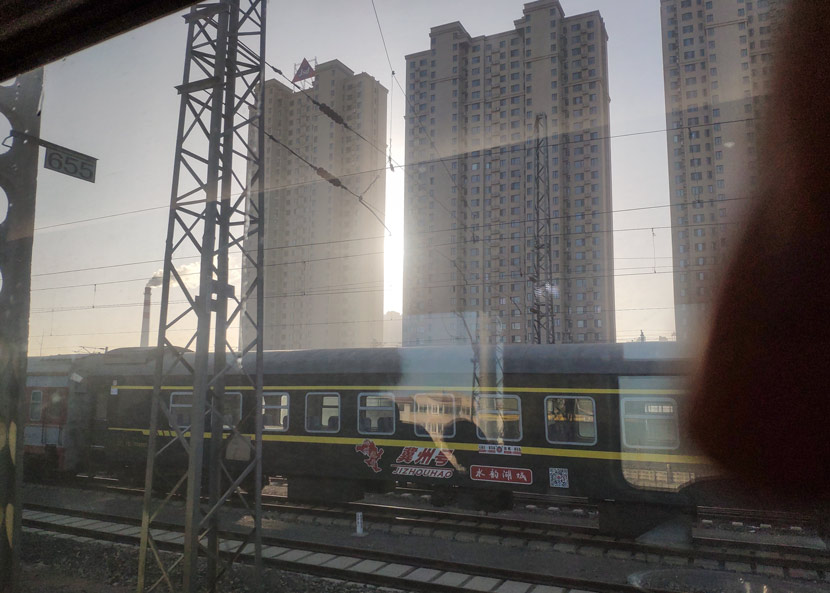 A train passes through a railway station in Liaoning province, Jan. 22, 2019. Kenrick Davis/Sixth Tone
Ceng and his family used to work as farmers growing sweet corn and soybeans but moved south three years ago, hoping for higher incomes and more stable work. In their home province of Heilongjiang, construction and farming work ceases over the long, cold winter.
After working in the eastern city of Nanjing for two years, they made the move to Foshan, in southern Guangdong province, where they work on a construction site nine hours a day. They never have a day off, but say they're used to it and don't get too tired. Instead, their gripes are Foshan's stiflingly humid 30-degree summers and the local dialect, which Ceng says is as unintelligible to them as English.
Ceng's aunt is wearing plastic slippers with Peppa Pig on them, though she says she's never heard of the cartoon. "We're so looking forward to going back: It's our home," she says, smiling broadly.
Soon, Ceng and the surrounding bystanders turn their questions to me. "What's your salary? We're interviewing you now," he says with a grin. My interviewers want to know whether the U.K. or China is better, and whether the U.K. is a rich country. "Anything he answers will be wrong!" quips a bystander gleefully, as I try to compose a diplomatic response.
Not everyone's headed home. In a neighboring carriage, several well-to-do families from Foshan are headed to Harbin over the vacation. They plan to visit the city's famous ice and snow sculpture parks and go skiing. Boys pass their time playing popular survival shooter game PlayerUnknown's Battlegrounds on a mobile phone and iPad. The younger one laments that he keeps getting killed.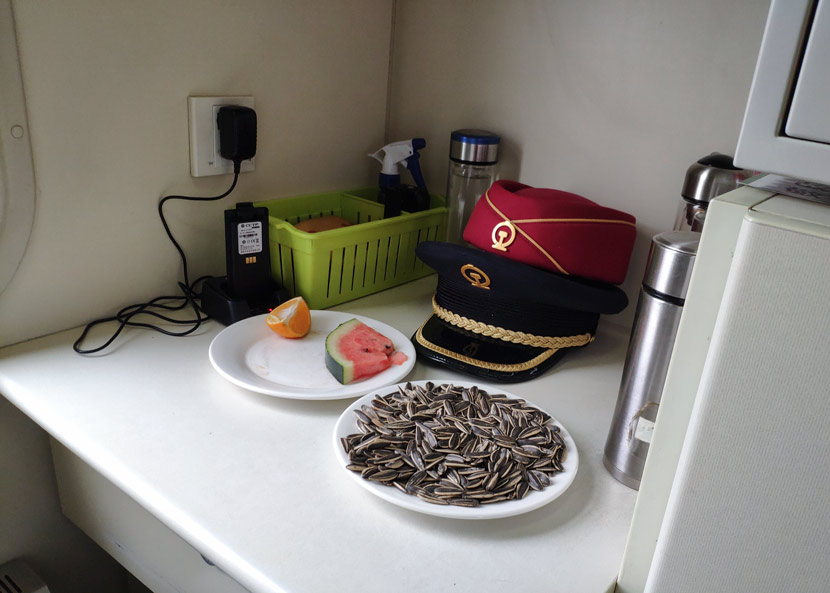 Fruits and sunflower seeds on a train conductor's table in Jiangxi province, Jan. 21, 2019.
Kenrick Davis/Sixth Tone
After passing Guangzhou, the train swerves north, cutting through Guangdong and into hilly, landlocked Jiangxi province. We pass multistory brick homes, fish farms, hillside graveyards, and seemingly abandoned rice paddies.
At Ganzhou city in southeast Jiangxi province, passengers dressed for warmer climates grip their arms as they step out onto the platform for a cigarette and some fresh air. The outside temperature has already dropped to a much cooler 9 degrees. A tanned man in his late 50s tells me he makes 200 yuan a day working at a construction site in Hainan. The northeastern Liaoning province native often feels lonely there: He's the only one from his region on his building site, and he often doesn't understand what other workers are saying.
Smoking next to him is a short, charismatic middle-aged man with a high-pitched voice who works at a door factory in Foshan. He'll be off work a whole month, as logistics networks shut down completely during Lunar New Year. He still has at least 30 hours of traveling ahead of him, but he's in high spirits. "I'm not working, I'm resting. I'm on holiday!" he squeals. He never flies home — he doesn't like not being able to smoke.
Around him, the cluster of other smokers lament that Lunar New Year isn't half as festive as it used to be. It's a common complaint in fast-changing China. In the past few years, more and more cities have enacted firework bans, putting an end to the long-held tradition of setting off fireworks on the new year. Others decry the decline in customs, such as visiting neighbors and relatives to wish them well.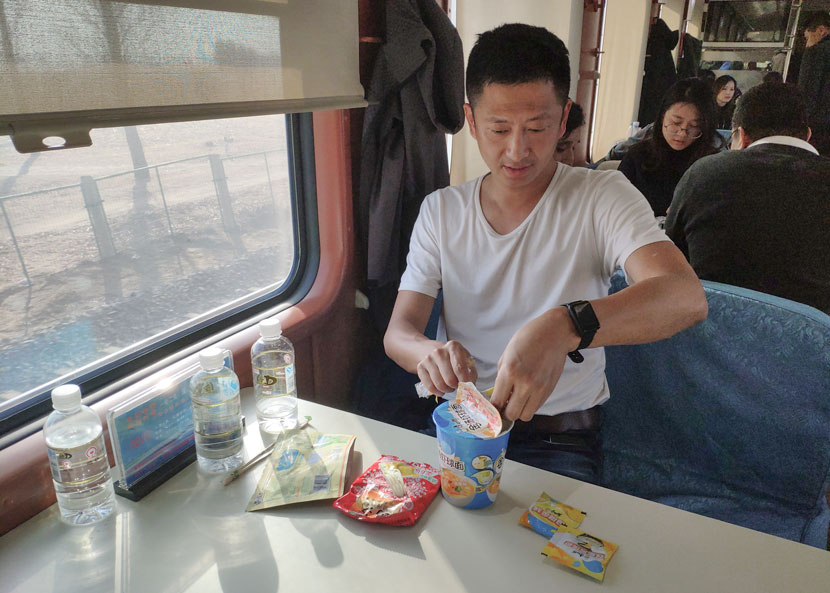 Zhang Ziqiang prepares instant noodles in Liaoning province, Jan. 22, 2019. Kenrick Davis/Sixth Tone
Back in the dining car, a new batch of people are settling in for a long ride. Zhang Ziqiang, a 43-year-old internet security specialist in the southern tech hub Shenzhen, works on his Apple laptop at one of the tables. It'll be another 32 hours before he gets to Changchun in northeastern Jilin province, where his wife and 8-year-old son are waiting. He now earns more than double what he used to and hopes his wife and son can join him in Shenzhen soon.
Traveling home is much faster and more comfortable than it once was. When he was around 9, Zhang and his father traveled all over China by train. Back then, trains were often as packed as the Shanghai subway during rush hour, he says, and passengers would spend entire journeys sitting in the overhead luggage compartment.
On the third and final morning, the train approaches China's northeastern provinces. Outside, the view has changed completely: Green hills have given way to flat, arid farmland with the occasional powerplant bellowing out huge plumes of smoke.
"I like the barrenness of the north," says 38-year-old Liu Tianhua, looking out the dining car window. Over a decade ago, Liu left her rural hometown near Dehui, in northeastern Jilin province, and moved to Guangzhou after hearing that it was developing well. The move changed everything for her: She's now married to a Jiangxi native, has a teenage son, and co-owns a lighting business with over 160 employees. There's little trace of her rural northeastern roots in her accent these days. Liu and her husband part ways and head to their own home provinces every Lunar New Year — an unusual decision for a Chinese couple. Her family are particularly diligent in maintaining New Year traditions. For instance, no food can be cooked on the first and second days of the lunar calendar.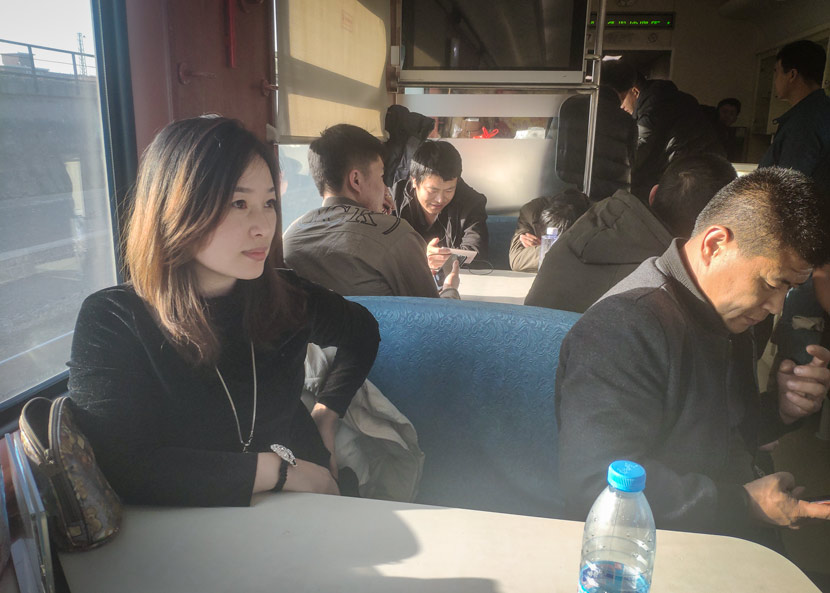 Liu Tianhua poses for a photo in the train's dining car in Liaoning province, Jan. 22, 2019. Kenrick Davis/Sixth Tone
Liu could have flown back, but she prefers the train. She likes being surrounded by fellow northeasterners and their familiar accents. Despite buying a standing ticket, she's still found a comfortable place to sit. "Sometimes I like to experience difficult things; that's more meaningful," Liu says. "If you suffer a little, you'll appreciate life."
"Can I ask a sensitive question?" she asks me, after looking out the window for a few minutes. "What do you think your biggest weakness is?" I tell her I care a little too much about others' opinions, and she says she used to be the same. An hour later, when I return to the dining car, Liu has put on a face mask and is playing on her phone.
As we pass through the final cities, the train slowly empties. In Harbin, the last of the passengers pour out into the minus-18-degree night air. Instead of cigarette smoke, trails of vapor stream from their every breath. At long last, they head home, with their suitcases, rope-bound fabric bags, and buckets in tow.
Editor: Julia Hollingsworth.
(Header image: A father feeds his children on a train in Jiangxi province, Jan. 21, 2019. Kenrick Davis/Sixth Tone)