HENAN, Central China — In the spring, when the wheat's grown green, it's time to spray pesticide. With that in mind, Zheng Xiaochao and his team members drove their pickup truck to the fields this April and unloaded their drones.
In Lufang Village, Zheng's relatives still spray pesticide by strapping a tank and a pump to their backs and zigzagging through their fields. But an agricultural drone can do the same work faster and with fewer chemicals, while the farmers needn't break a sweat.
At least, that's the pitch. Zheng and his two colleagues have been touring the countryside to give drone-flying demonstrations, mostly by invitation from local governments. But farmers remain skeptical.
China's cabinet, the State Council, released a strategy document in February on how to revitalize China's countryside. It suggested finding ways to encourage city-dwelling young adults to return to their rural roots. Agricultural drones are one possible solution.
Young people return to the countryside to help farmers spray pesticides using drone technology. By Shi Yangkun/Sixth Tone
In the future that these proponents envision, teams of drone pilots would roam the countryside, hired by local farmers to spray their fields. Xincai, the county where Lufang is located, and surrounding governments are in on the rural revival drive. They use funds appropriated for crop protection to hire Zheng's team to show farmers — few of whom use tractors or other modern machinery — the benefits of drones.
And so Zheng has spent the spring explaining what his team does. Zheng, who studied cartography in school, plans the drone's route; his high school friend Mei Yuan prepares the pesticides and the batteries; then, they both take turns handling the drone, which flies mostly autonomously. A cousin of Zheng's also helps them out. Their truck is their mobile office, and they sometimes sleep in it when business is at its peak.
The allure of drones made Zheng, 22, and Mei return to Xincai to set up their business. Mei worked as a cook in a Korean restaurant. Zheng had thought about finding work in the city, but decided otherwise. The area where Zheng grew up abounds in wheat, corn, and beans. But there are fewer and fewer people to work the fields. "Labor is a problem." Zheng says. "Most people my age work elsewhere, and few of them would like to work as farmers in their hometowns."
When he was young, Zheng's parents worked away from home while he went to school in the county seat and later in a nearby city. He would only go back to the village and see his grandmother and other relatives during big festivals. With his new career, he can be closer to home. He's already been back to his village four times this year.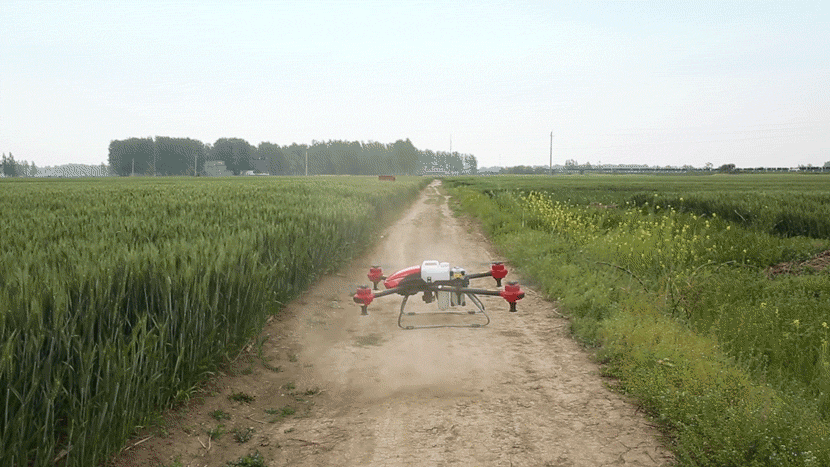 An agricultural drone takes off in some fields, Zhumadian, Henan province, April 21, 2018. Shi Yangkun/Sixth Tone
Today, Zheng will show his own village what the future could hold for them. The promise of seeing a drone spray about half a hectare with pesticides in just a few minutes has attracted farmers in droves. One elderly man is curious, because spraying that much farmland, he says, takes him at least half a day.
So far, convincing people that drones are the way to go has been difficult. "Farmers haven't seen them before; they don't know what it's like when [the drones] fly, or if the pesticides will actually hit the ground when sprayed, and what the effect will be if they do," Zheng says. "Farmers aren't very receptive of these drones."
Nevertheless, Zheng is optimistic. Whether any of his neighbors were convinced by the demonstration, he'll know next spring.
Editor: Kevin Schoenmakers.
(Header image: An agricultural drone sprays herbicides in a field, Zhumadian, Henan province, April 21, 2018. Shi Yangkun/Sixth Tone)