A man in northern China is accusing a local government of illegitimately occupying his grassland — and he's on a mission to reclaim it.
Jing Jianhua, a 50-year-old farmer from Inner Mongolia, said the government of New Barag Left Banner, a county-level administrative area, is using the green pastures he owns as cremation and waste disposal sites without his permission. Jing, who has spent over a decade trying to reverse the effects of desertification in the area under an agreement with a lower level of government, called the allegedly ill-gotten occupation "banditry."
"Two generations of my family have devoted a lot of money and over 12 years to fighting desertification," Jing told Sixth Tone on Monday. "It's never an easy job, and my family is still in debt. But the government leveled the place with bulldozers in just a few minutes."
Jing's case came to light on Monday after China National Radio reported on the decadelong dispute. An official at the county bureau of law enforcement told the radio station that construction of the waste plant "had not gone through the proper channels, though the county government [still] recognizes it." Sixth Tone's repeated phone calls to the administrative office of the New Barag government went unanswered on Monday and Tuesday.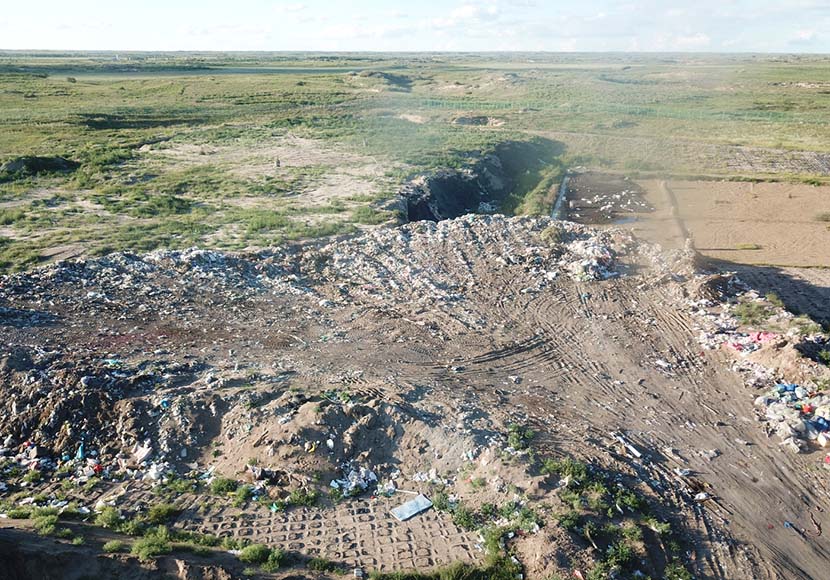 The waste-disposal site in New Barag Left Banner, Inner Mongolia Autonomous Region. China National Radio
The conflict between Jing and the local government escalated in 2011, when the county's civil affairs bureau secured a one-year temporary agreement, seen by Sixth Tone, to use 5,000 square meters of the grassland. However, according to public legal documents, the government currently occupies 120,000 square meters of land, on which it has built a funeral home and an office building. Jing even sued the New Barag government in 2015, demanding compensation and full land use rights, but the court ruled against him.
"I feel screwed," Jing said, "like a bastard child: You give him all the work but no dinner."
Desertification affects 27 percent of China's land mass, impacting some 400 million people. In Inner Mongolia, logging, overgrazing, and drought have changed the topography of over half the region's land area, according a 2016 government survey. To counter this trend, the authorities have turned to local communities and involved them in afforestation projects.
Jing's family was one of hundreds that agreed to transform government-owned parched pastures into flourishing fields in return for the right to sell the products they grew or raised on the revitalized land. Though the local forestry bureau lauded Jing and his family for their years of support in fighting desertification, he claims they were never given documents guaranteeing their rights to the land. According to media reports, vague contractual agreements and incomplete formalities frequently give rise to such disputes.
"The desertified land doesn't have much value, but it becomes valuable after conservation efforts turn it into forest or arable land," said Wang Tao, deputy director of the Chinese Academy of Science in Lanzhou, in a 2013 interview with China Business Journal. "Thus, ownership and land use rights over a period of time must be clarified by the authorities."
Editor: Bibek Bhandari.

(Header image: The crematorium and an under-construction parking lot in New Barag Left Banner, Inner Mongolia Autonomous Region, 2018. China National Radio)