This is the sixth article in a series on "Old Photos," a Chinese-language publication that collects images of the country's modern history. Parts one, two, three, four, and five can be found here.
Most of us have spent some time flipping through old family photo albums. A face, a smile, a pose, a piece of jewelry — these make us take a closer look at ourselves and our families, or bring memories flooding back.
About 20 years ago, not long after I started publishing "Old Photos," I solicited submissions from people who had dug through their family albums to find photos from decades past. Many contributors wrote pleasant reminiscences of their own lives and those of their forebears captured in each shot. Most contributors had never been published before, and few have been published since.
Qiu Sanbao was one of my early contributors. Two decades ago, he was working as a tailor in the central Chinese city of Wuhan. On unlined, rough paper — probably the same paper he used to sketch out his clothing designs — Qiu recounted his father's story. He wrote that his father was born a peasant and came of age in Mao-era China, where movement was heavily restricted. But Qiu's father wanted more than a lifetime tilling the fields, so when he was a teenager, he started an apprenticeship with a construction team. Over the next few years, he traveled across the country, working on various projects.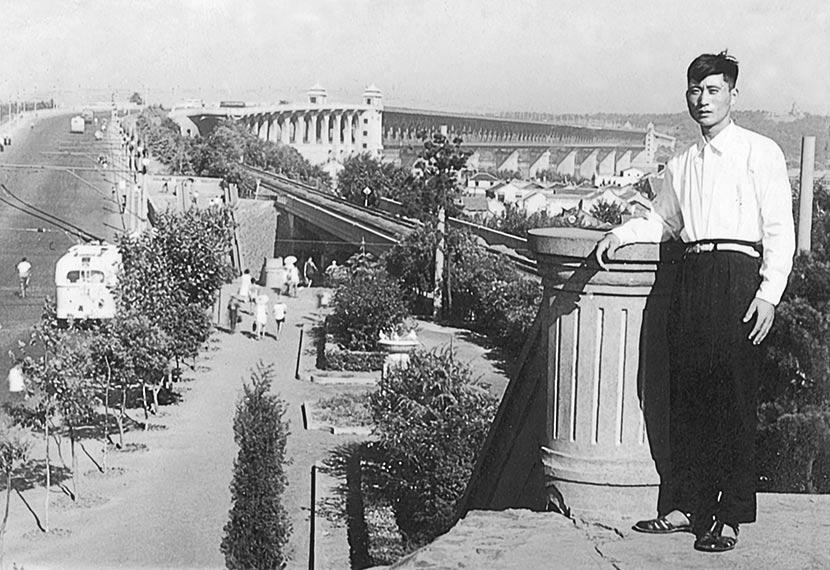 Qiu's father poses for a photo on the Wuhan First Yangtze Bridge, Hubei province, 1965. Courtesy of 'Old Photos'
Alongside a 1965 photo of his father standing on the Wuhan First Yangtze Bridge, Qiu wrote: "My father is dressed here in a white shirt, blue pants, and a pair of leather sandals. His shirt is tucked into his pants in the style popular among urban youths in the 1960s. Looking at him, it's hard to tell he came from the countryside — perhaps because he had already spent so much time in the city. Standing on the side of the bridge, he stares melancholically off into the distance. Maybe he was feeling tired of his rootless existence, or perhaps the stress of his life was getting to him."
The bridge in the photo was one of a series of grand architectural projects undertaken with the aid of Soviet advisors. Opened in 1957, it was the first major bridge spanning the Yangtze River. It connected the railroads of northern and southern China — which up until then had been divided by the river — and helped to stimulate economic development between the two halves of the country. The bridge became an important nation-building symbol of the so-called new China.
In a way, the fact that Qiu's father was able to break through the controls on population migration and leave his hometown made him a pioneer for the millions of rural migrant workers who have followed in his footsteps during the reform era. When Qiu himself grew up, he joined this new generation of migrant laborers, eventually seeking work in the very city where his father had been photographed. "Now," Qiu wrote, "when I stand on this busy bridge, everything is different. The vicissitudes of the last 33 years have changed everything, and the brave young man who posed for a photo on a bridge has become an old man in his 60s." Toward the end of his article, Qiu lamented: "My father will never be young again. I am following in the footsteps he traced as a young man. Everyone who is old was once young, and every young person will gradually become old, until the day they eventually disappear from the earth."
After Qiu's piece was published, our editors sent a copy to the address listed on his letter, along with the photo and his author's fee. To our surprise, however, they were all returned to sender. Even after publishing notices in two consecutive issues, we received no response: Qiu had vanished into the ether. Even now, I worry about him. His photo remains preserved in our files, and I truly hope that one day I will be able to return it to him personally.
Photos from family albums retain a more personal feel than the historical grand narratives in which they were set. The image at the top of this article is a staff picture taken in August 1952 at a department store in the northern city of Taiyuan. Almost everyone in the photo is wearing brightly patterned outfits. At the time, it was considered taboo for men to do this; the period's revolutionary films are filled with snappily dressed villains and Nationalist agents.
But here, the desire to consume Soviet imports, including patterned fabric, overrode other considerations. Years later, the original significance of this photo has faded away, but the eye-catching floral prints stand as proof of the short-lived Sino-Soviet honeymoon period before relations between the two countries soured during the late 1950s.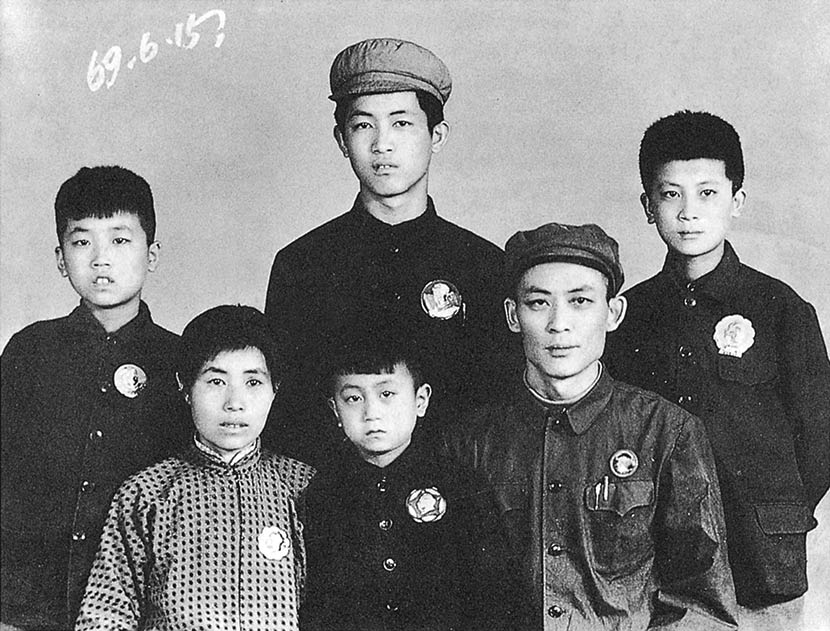 A family poses for a photo wearing buttons emblazoned with Chairman Mao's portrait in 1969. Courtesy of 'Old Photos'
The above family photo was taken at a photo parlor in the coastal city of Dalian in 1969 — just as the family's eldest son prepared to leave for the countryside as part of a Cultural Revolution campaign to teach urban youngsters the perceived wisdom of rural peasants. Everyone in the photo looks solemn and wears a button emblazoned with Chairman Mao's portrait. Under Mao's rule, China had witnessed near-constant political campaigns. By this point, almost everyone had been caught up in politics in one way or another.
The father in this picture was a worker at an aquaculture farm. In the essay he submitted with this photo, his son Jiang Weiping wrote that when his father was young, he had loved literature, and once tried to become a novelist. Later, he became passionate about technology and invented a machine capable of separating seaweed seeds. His accomplishments made him the subject of a documentary by the Changchun Film Studio, a leading moviemaker in the post-1949 period.
Yet soon after the documentary, Jiang wrote that his father's life took a gradual turn for the worse. "The reasons for this were complicated, and remain a mystery to this day," Jiang wrote. "I suspect it had something to do with the times he lived in, and a political system that had everyone wearing buttons with Chairman Mao's face on them. My father spent his whole life seeking individual liberation, but life at that time required uniformity and conformity.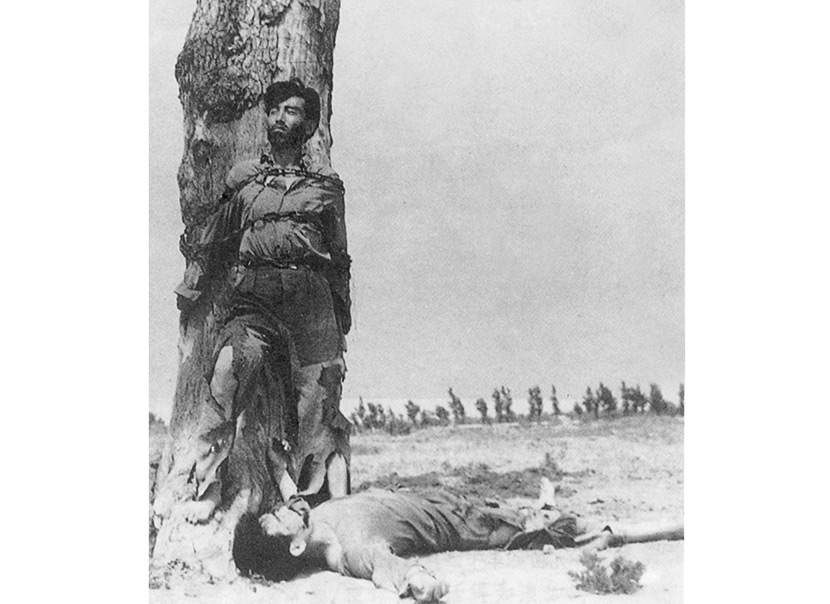 Young people pose for a photo commemorating the movie 'The Red Detachment of Women,' in 1970s. Courtesy of 'Old Photos'
This final photo depicts two young people in the 1970s. As the story goes, after watching the 1970 movie adaptation of the ballet "The Red Detachment of Women," the two were so moved by the protagonist, who dies a martyr's death, that they decided to shoot a photo commemorating the story. They scraped together an iron chain, fake beards, and red ink; found a big tree in the wilderness; and staged their little piece of performance art. The author of the accompanying article, Wang Bing, is the one chained to the tree. "Perhaps our behavior may appear childish to modern eyes," he wrote, "but in those days, our idolization of these heroes was both ardent and true."
Chinese society in the 1970s was constantly immersed in an atmosphere of hero-worship. Art from this period teemed with strong, ideologically pure, all-powerful beings. The pervasive hero complex was everywhere, and resulted in some extreme acts: I remember a story from 1969, when a 20-year-old man named Jin Xunhua tried to recover two electric poles — pieces of public property — by jumping into floodwaters without a moment's hesitation. The act cost him his life, but his deeds were honored across the country. I recall that many were left uncertain as to which was more important: two electric poles or a young man's life. They paid homage to the man's heroism, while his individual life was devalued and neglected. Thankfully, people today are gradually becoming aware that a country's social progress is not measured by acts of heroism, but by the individual freedoms enjoyed by its people.
Translator: Kilian O'Donnell; editors: Zhang Bo and Matthew Walsh.

(Header image: Workers at a department store pose for a photo in Taiyuan, Shanxi province, August 1952. Courtesy of 'Old Photos')