Update: On July 24, 2019, a Wu'an court sentenced Li Lijuan to 20 years in prison for crimes including blackmail and disturbing public order.
The founder of an orphanage in northern China has been detained on suspicion of blackmail and disturbing public order, calling her decades-long reputation as a philanthropist into question, Sixth Tone's sister publication The Paper reported Monday.
Forty-eight-year-old Li Lijuan was apprehended by police from Wu'an, a city in Hebei province, while she was in Beijing on Saturday morning. The previous day, Li's orphanage was deregistered by the government of Wu'an for failing to undergo annual inspections since 2014.
Since 1996, Li has adopted 118 orphans — some of whom she found herself and others who were left at her door. In 2006, Li was given the province's "Touching Hebei" award for her philanthropy. After she received the award, the local government approved and registered Li's orphanage as a nongovernmental nonprofit.
In an interview with Beijing Youth Daily on Thursday, before her arrest, Li said that she had had her nonprofit license renewed in March, and that no government officials had informed her that annual inspections were required. But according to an article from the Wu'an publicity department, Li had repeatedly refused to cooperate with civil affairs authorities in transferring orphans to public institutions. The authorities described Li's orphanage as an "independent kingdom" that even police could not access.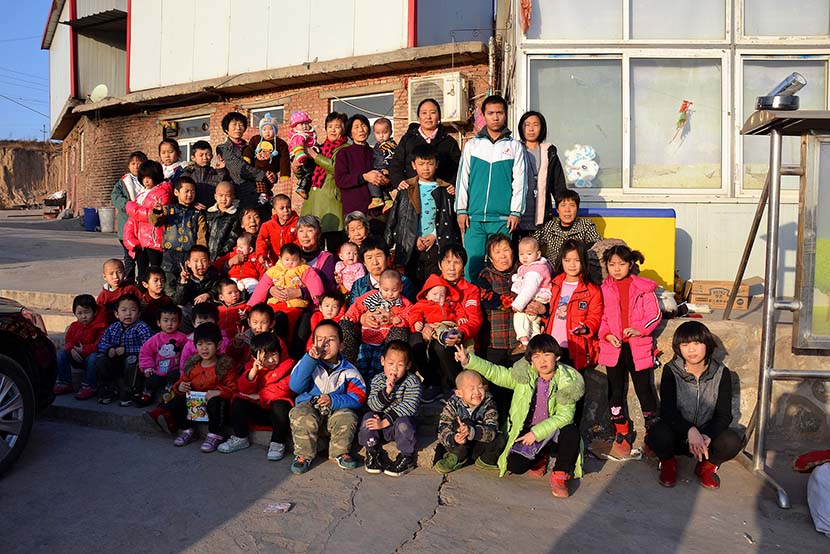 Li Lijuan poses for a photo with her adopted orphans in Wu'an, Hebei province, Dec. 24, 2017. Yi Tu/VCG
The publicity department claimed that Li had used the orphans in her care as a means for blackmail. Citing a police investigation, the article said that when a company tried to install a cable passing over the orphanage, Li had asked the company for 100,000 yuan ($16,000), claiming the cable would produce harmful radiation. Even after the company had moved its project to another location, the article claimed, Li had amassed a group of people to protest. In another case, Li allegedly ordered orphans to jump into an excavated pit to obstruct construction and demand money. According to the publicity department's article, residents also told authorities that they believed some of the orphans were victims of child trafficking.
A police investigation also revealed that Li had amassed a fortune through the orphanage: Authorities found over 20 million yuan in bank accounts under Li's name, and said that in 2017 alone, she had received a total of 1.27 million yuan from the local government in subsidies and grants.
But in a previous interview with The Paper in February 2017, Li had said she was around 2 million yuan in debt from the children's medical expenses. A 20-year-old who grew up in the orphanage defended Li to the Beijing Youth Daily: "Those who doubt [Li] can try switching roles with her. Some people complain all day about raising just one child, but my mother brought up more than 100 children."
On Saturday, the municipal civil affairs bureau said that all 74 children who were living at Li's orphanage had been relocated to local health centers and schools, and that further placements would be arranged after medical checks.
Li's fall from grace reminded many of the case of Yuan Lihai, a philanthropist in Henan province who also adopted over 100 abandoned children, most of whom had birth defects. In 2013, after a fire killed seven children at Yuan's orphanage, many questioned her qualifications and how she had come to acquire her properties. Though few doubted Yuan's charitable intentions, the incident led to calls for better management of children in foster care.
According to a 2016 UNICEF report on China's child welfare system, there were 511,000 orphans in 2015 but only 89,000 in institutional care. An earlier report by the Ministry of Civil Affairs found that in 2005, more than half of China's orphans were "in need of assistance."
A commentary from a publication under the Supreme People's Procuratorate published today called for more government support for and supervision over charities caring for orphans. "These nongovernmental welfare institutions start off with good intentions before they turn bad," the commentary said. "Given that the government cannot take care of all orphans, the participation of nongovernmental welfare institutions remains indispensable."
Editor: Qian Jinghua.
(Header image: Li Lijuan holds a young orphan in Wu'an, Hebei province, Dec. 25, 2011. Hu Xiaohua/IC)