Barbie is more than just a feminized plastic doll — she's also a source of inspiration to children across the globe.
For the first time, Barbie fans will be able to draw said inspiration from three Chinese celebrities, now that Volleyball champion Hui Ruoqi, actress Guan Xiaotong, and ballet dancer Tan Yuanyuan are among the 14 contemporary leading ladies added to the "Shero" collection this year. Barbie's parent company, Mattel, debuted the collection in April 2015 to honor real-life role models from around the world and to "remind [girls] that they can be anything."
Hui, a former national team captain, is a popular sports icon in China, where her fans adoringly refer to her as a "volleyball goddess." She was the top server at the 2012 Summer Olympics in London and led her team to gold at the 2016 Rio Olympics. Last year, the 27-year-old established a women's volleyball development fund to help athletes and coaches who have contributed to growing the sport.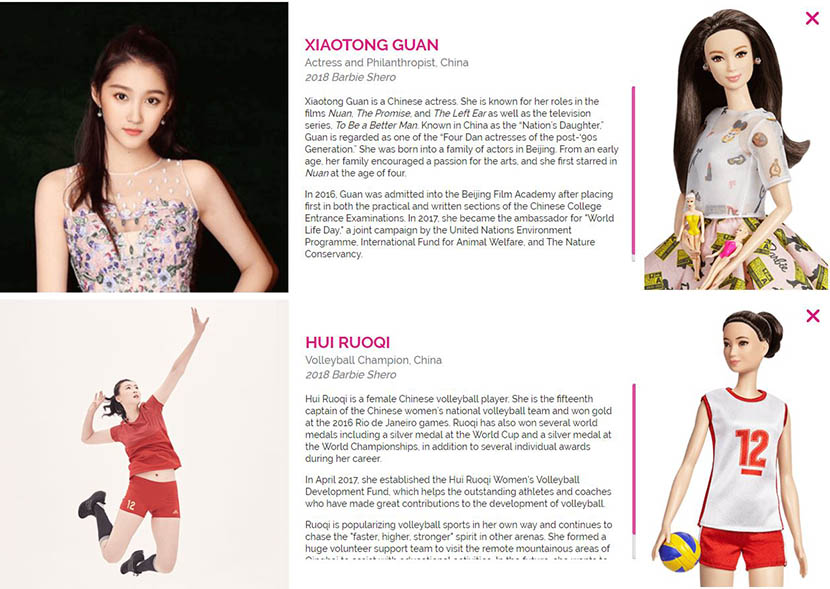 Above: The Barbie 'Shero' version of actress Guan Xiaotong; below: the Barbie 'Shero' version of volleyball champion Hui Ruoqi.
British boxer Nicola Adams, Polish journalist Martyna Wojciechowska, and American fencer Ibtihaj Muhammad are among the other international heroes featured in this year's collection. Also this year, Mattel unveiled its first "Inspiring Women" series: Mexican artist Frida Kahlo, American mathematician Katherine Johnson, and American aviator Amelia Earhart.
The campaign has been praised for giving more visibility to women's achievements, but also criticized by some women's rights advocates, who argue that regardless of any good intentions, Mattel is effectively cashing in on commercialized feminism.
"The company's behavior is profit-driven: It's capitalizing on feminist values," Lü Pin, director of Beijing-based nonprofit Feminist Voices, told Sixth Tone. "Is it truly necessary to add a halo of feminism to an already successful woman, and then sell this image to all women?"
To achieve success in China, women must struggle against a notoriously patriarchal society — one in which single women can be shamed for not getting married, women who get pregnant can be fired by their employers, and certain schools teach antiquated "feminine virtues." In recent decades, however, women including Eileen Chang, author of the acclaimed novella "Lust, Caution," Nobel Prize-winning scientist Tu Youyou, and pioneering journalist Hu Shuli have served as role models for young Chinese women.
Li Xuan, an assistant professor of psychology at New York University Shanghai, told Sixth Tone that Mattel's choices of Chinese icons offer a narrow view the country as a whole, given that they do not encompass a wider range of ages and social classes. "Women from the labor force are not represented at all," Li said, adding that more comprehensive representation might include female scientists, business executives, and astronauts.
Lü of Feminist Voices echoed this sentiment. While the athlete-actress-dancer trio is celebrated in China, Lü said, they don't represent women at the grassroots level. She believes women like Qiu Jin, a feminist and writer who fought for gender equality during the late 19th century, could also serve as role models and should still be remembered by the current generation.
Regardless of China's modest advances in women's rights, experts like Li say one of the major challenges is a lack of support from men, most of whom cling to their advantages without reflecting on their privileged positions. "As a group, men are not taking enough social and family responsibilities," Li said, "and that's an important issue in the Chinese context."
Additional reporting: Qian Zhecheng; editor: David Paulk.
(Header image: A promotional photo for the Barbie 'Shero' series, which hopes to inspire girls around the world by honoring a diverse range of women role models. From @Barbie on Twitter)