Tsinghua University has renewed the contract of a professor who has been in detention for nearly two years under suspicion of corruption.
Fu Lin, a professor in the university's School of Architecture, was detained in March 2016. The prosecutor of Haidian District in Beijing issued a formal warrant for his arrest in April 2016, and in May 2017 charged him with unlawfully gaining and embezzling millions of yuan in research funds.
Yet Fu has never stood trial for his charges, and Tsinghua recently renewed his contract for the second time since his arrest, financial news outlet Caixin reported Thursday.
Wang Xing, one of Fu's defense lawyers, told Sixth Tone that the contract renewal shows that Tsinghua still has confidence in Fu's innocence.
Fu was once a nationally celebrated scholar. A pioneer of cleaner and more efficient central heating technologies, Fu in 2013 won a second-class prize in the National Technology Invention Awards, a prestigious award funded by China's cabinet.
Before his detention, Fu headed a research center within a university-owned enterprise under the School of Architecture. He was also in charge of two companies registered under his wife's and parents' names. Both the research center and the two companies were involved in his research projects.
The corruption charge Fu is facing relates to a 2008 partnership between his company and one in Inner Mongolia. The prosecutor charged Fu with misappropriating research funds, alleging that Fu had sold equipment developed using government funding to the company for 3.8 million yuan ($600,000) when the grant conditions forbade such transactions.
But Jing Shusen, the head of the Inner Mongolian company, told finance magazine China Economic Weekly that the issue resulted from a misunderstanding: His business had given Fu the money as an investment, Jing said, but marked the transaction as "equipment procurement" for simplicity of bookkeeping.
Fu has also been charged with embezzling 6 million yuan for a project under his research center. According to the prosecution, Fu asked a company in Shanxi to deposit money for the project into the account of his own company, rather than the research center's account. The Shanxi company reported the transaction to Tsinghua University's anti-corruption office in 2015, but the commission did not find any wrongdoing.
Sixth Tone attempted to contact Tsinghua University and Fu's research center on Friday, but neither answered.
"Tsinghua University ought to be the victim [of Fu's crime], according to the prosecutor … yet Tsinghua wants to employ him. Who on earth is the prosecutor protecting?" Zhou Ze, another of Fu's lawyers, wrote on microblog platform Weibo.
Though the people's court of Haidian District accepted Fu's case last May, it has repeatedly postponed his trial. According to China's criminal procedure, a case brought by a state prosecutor should reach a verdict no later than three months after the court accepts it.
Wang, Fu's lawyer, told Sixth Tone that the court has not given any reason for the delay. "We think it violates human rights to restrict someone's freedom for so long when they have not been judged guilty," he said.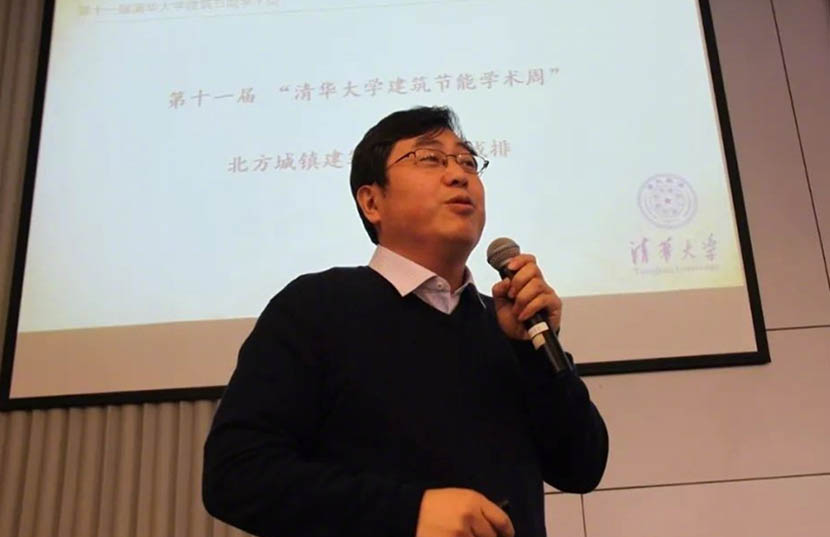 Fu Lin gives a speech during an academic conference at Tsinghua University in Beijing, March 2015. From Weibo
In the eyes of other academics, Fu's case also shows that there is a lack of guidance on how scholars can commercialize their research.
"In the past, the intellectual rights of professors belonged to the nation, so there was no clear ruling on how they could [financially] benefit from their research," Yuan Weixing, a professor at Beihang University, told China Economic Weekly. Yuan said it would be a pity if university professors could not financially benefit from their studies, because profit can demonstrate the value of research.
In 2017, Fu was again nominated for the National Technology Invention Awards, but he was denied leave to attend. His research was praised as a significant contribution to the country's campaign against smog.
"Fu now just spends every day sitting in the detention center, unable to do anything, let alone research," Wang said. "He is waiting for the trial and killing time."
Editor: Qian Jinghua.
(Header image: A woman on a scooter passes by a power plant in Fuxin, Liaoning province, March 16, 2010. Miao Ao/VCG)